Last week, we shared about WATERLICHT, a light show that offers an "underwater" experience. The unique art illustration is part of Dubai Design Week, which is the largest creative festival in the Middle East. This year's edition is being held from November 12 to 17, 2018.
ALSO READ: 10 Futuristic Inventions at GITEX Technology Week 2018
Under the patronage of Her Highness Sheikha Latifa Bint Mohammed Bin Rashid Al Maktoum, Vice Chair of the Board of Directors, Dubai Culture & Arts Authority, the event showcases Dubai as the "regional capital of design." It is staged in coordination with Dubai Design District.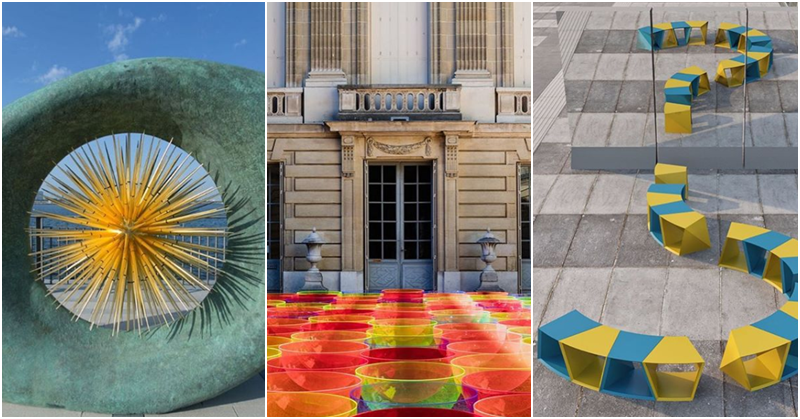 Dubai Design Week Features Stunning Art Pieces
Dubai Design Week is currently being held at Dubai Design District and different areas across the city. During this fourth edition of the festival, art lovers can expect to see exhibits by:
Downtown Design, the leading design fair in the region;
Downtown Editions, which features limited-edition designs;
Global Grad Show, which displays projects from innovative universities worldwide: and
Abwab, a project that showcases designs from the Middle East, North Africa, & South Asia.
What can you expect to see at Dubai Design Week? Here's a glimpse of some amazing pieces on display:
Containing 256 aluminium spikes, Aeon is a nature-inspired sculpture by David Harber that is best viewed from a distance!
Imagine 169 acrylic bowls arranged on the ground, shining in different colours. AGLOW is one eye-catching installation, indeed!
Who wouldn't want to sit on one of these? Check out this colourful "chair of the future:"
Fascinated by the colours of the sea? Here is Global Grad Show's underwaterworld-themed exhibit:
Golden leaves, gold velvet fabric… need we say more? Come and see this piece!
The great thing about some of these exhibits is that viewers can "interact" and take pictures from different angles, just like with the Trapeza and it's question mark design:
We've already shared about this in a previous post, but WATERLICHT is simply worth mentioning again. A dreamlike landscape, creating an "underwater" illusion… you'll have to see it to believe it!
There's still a few days to go, so be sure to come and visit Dubai Design Week. It's FREE to attend! For more information about this event, please visit the Dubai Design Week official website.