We have been using the Entertainer Book when we eat out or visit resorts in Dubai. This is a booklet that is filled with discount coupons from various establishments in the UAE. From hotels, restaurants, gaming centers, theme parks, travel agencies, or simple food shops; you can take advantage of great offers without spending much. This is a great treat for those who want to go out often and want to find great deals in Dubai.
Sometimes, we don't know when the Cobone Deals or Groupon Deals will be available that we might spend full price on Entrance Fees of various establishments. Hence, we bought this booklet.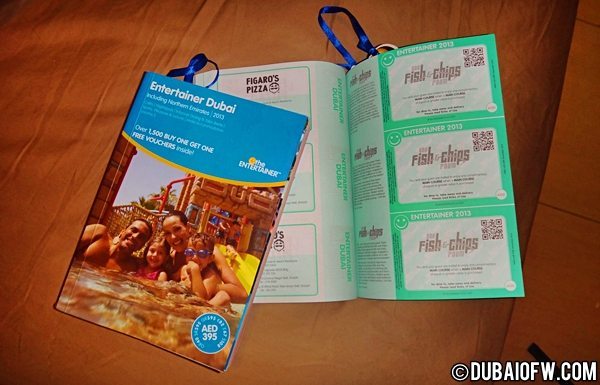 Entertainer Coupons
Dubai Entertainer Coupons
The Entertainer coupon book costs 395 Dirhams and it includes two books of coupons.
Just getting a Buy One Take One offer in Ferrari World and Yas Island is already enough to pay for the book. If you're new in Dubai, and you want to try out all the theme parks and other recreational activities within the year, I suggest you buy this book.
I'm not sure if we'll be buying another Entertainer Book this 2014, since we have used up some of the coupons and we will not go to these theme parks anytime soon. Still, with the loaded discounts of food and meals, you can still get a better offer with this booklet. You can also share the coupons with your friends who want to go out and explore Dubai.
You can buy this Dubai Entertainer coupon set in bookstores and even supermarkets like Carrefour and Spinneys.