Some people think that keeping fit these days is much harder than it was before – with the closure of gyms and sports facilities due to the ongoing pandemic. However, this doesn't have to be the case, especially for those living in Dubai as there will be dedicated 'villages' with safe socially distanced settings where residents can join activities and get active once more through the Dubai Fitness Challenge, which will run from October 29 to November 27- free of charge!   
The Dubai Fitness Challenge, which is returning on its 6th edition this year, aims to promote health, wellness, and fitness to residents of Dubai and the rest of the UAE.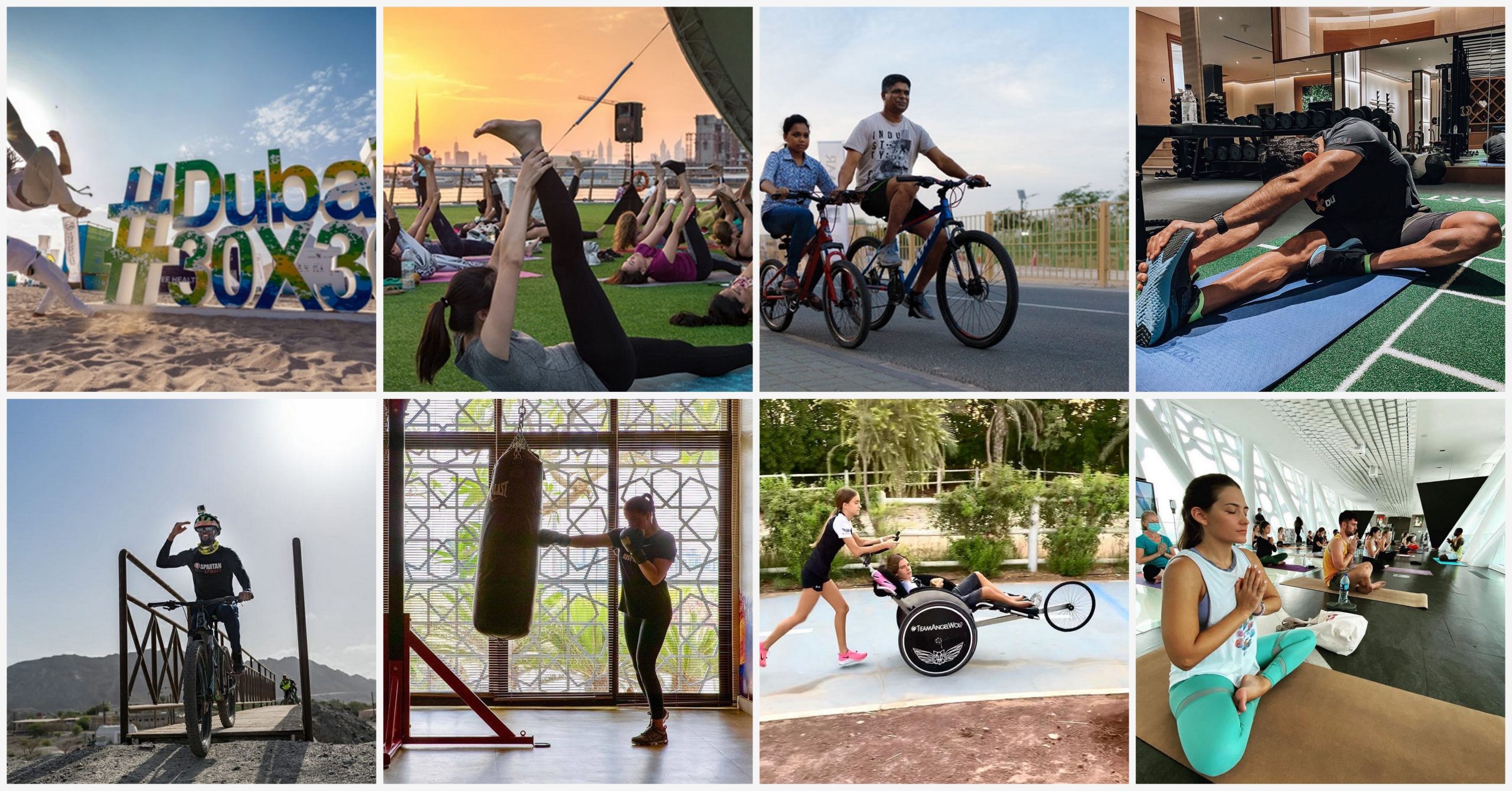 What is the Dubai Fitness Challenge?
The Dubai Fitness Challenge was established by the Department of Tourism and Commerce Marketing in partnership with the Dubai Sports Council with a simple goal in mind: complete 30 minutes of activity each day for 30 days. The event aims to foster a fitness-focused mindset among residents and inspire everyone to establish healthy and active lifestyles.
The month-long event will see a series of exciting activities offered virtually and in safe physical locations with socially distanced settings and modifications to ensure the health and safety of all participants and the general public. 
30×30: 30 Minutes of Physical Activity in 30 Days
Last year's edition of the Dubai Fitness Challenge has set a record of 1.1 million participants enjoying various shows and taking part in several wellness-centric activities. 
Among the events successfully held last year was the Dubai Run 30×30 on Sheikh Zayed Road, various sports challenges, fitness hubs, school programs, and wellness classes. 
And for this year's edition of the Dubai Fitness Challenge (DFC), the organizers will introduce 3 dedicated fitness villages, 10 community-centered Fitness Hubs, over 200 virtual sessions, and more than 2,000 classes taking place across 150 locations throughout the month. In line with this, participants can also expect to see the DFC's flagship programs, which include the biggest city-wide fun run with Dubai Run.
Activities and Events
There's definitely a lot to look forward to in the Dubai Fitness Challenge 2022 as this year's edition of the event is a program of free, weekly guided Dubai Running Tours. In partnership with Arabian Adventures and sports brands Asics, the Dubai Running Tours aims to provide a unique, on-foot perspective of iconic spots across the city. 
Participants can choose from three different routes with varying levels of difficulty:
a 5-km run around Burj Lake in Downtown Dubai;

an advanced 10-km beach run along Kite Beach; and

an exhilarating self-guided, 3-km 'treasure hunt' style quest in the Dubai Creek area, in which residents can join for free using the Questo city explorer mobile game

.
Where is the Fitness Challenge Held?
As mentioned, there will be three exciting themed Fitness Villages where the activities and challenges will be held throughout the month. These villages are located at Kite Beach, Al Khawaneej, and Dubai Festival City Mall. These were the ideal locations that have been selected for the Dubai Fitness Challenge that will best complement ten community-centric
Fitness Hubs across Gate Avenue, Hamdan Sports Complex, DMCC, Zabeel Ladies Club, Sustainable City, Dubai Police Officers Club, Dubai Sports Council, and Dubai Sports City, The Outlet Village, and Hatta to promote the active spirit across the city and offer accessibility to several workout locations. 
DB World Fitness Village Kite Beach
Take part in a variety of outdoor activities within a safe, socially distanced, and open-air setting at the DP World Fitness Village Kite Beach. Set in an expansive area with full access to the sun, sand, and sea, participants can choose from several workout opportunities for every level, with a range of safety measures in place to ensure a fun and safe workout during the event.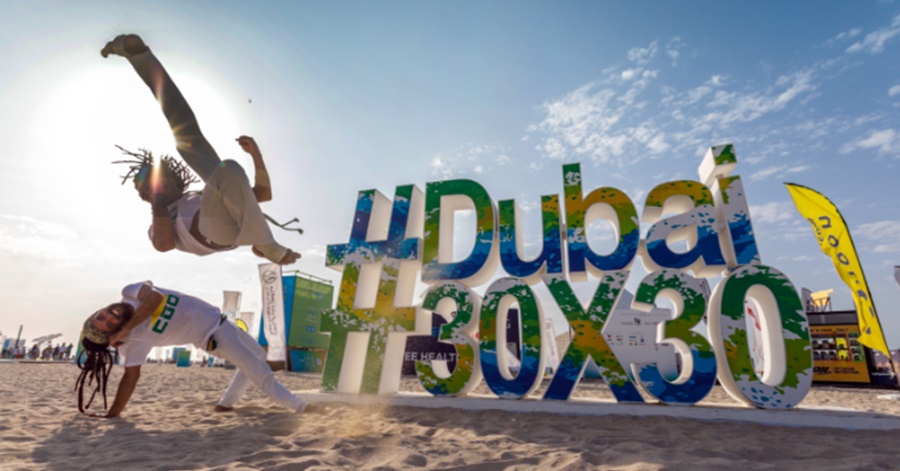 Get to experience full-body HIIT workouts and family fun at the Aqua Park or enjoy playing sports such as volleyball and football on the beach. Once you've had a good 30-minute session with any of these activities, you can come back another day to try something new that's just as fun and exciting while keeping at your goals for the challenge. 
Other new activities added to this year's offerings of fun and exciting events are the trampoline workouts at Rebounder, a Ladies Pavilion, the Teen Fit Area for 13-18-year-olds, as well as the Kids Camp for the little ones.
Location: KITE BEACH
Entry: FREE
Timings:
SUN-THUR: 2 PM-11 PM
FRI-SAT: 7 AM-11 PM
Emirates NBD Fitness Village Al Khawaneej
Pedal your way to health and enjoy some of the most exciting family-focused activities at the Emirates NBD Fitness Village in Al Khawaneej. With a wide selection of standing bikes to use, there's a lot of ways for you to stick to your fitness goals for 30 days even on two wheels! Just make sure to time your visit to this village as the half-hour cycling slots are allocated on a first-come, first-served basis.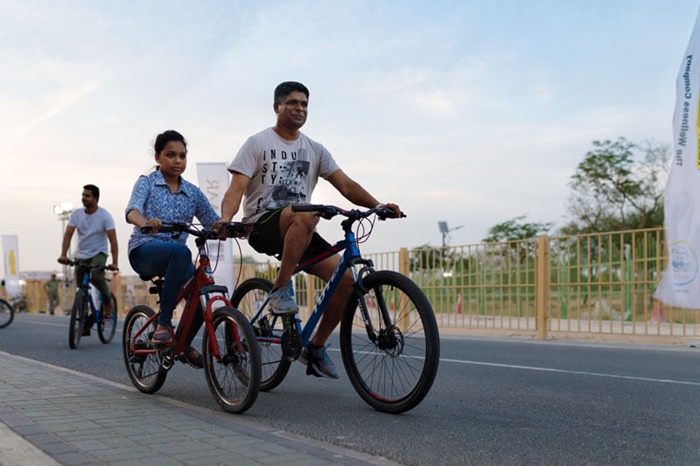 Even if you choose to take a break or hand out with friends on your bike, there are plenty of motivational events and activities that will inspire you to keep moving throughout the day. 
And if you're bringing the kids, then make sure to check out the Family Fitness Zone. This wide area has daily programs for group classes and open workouts for all fitness and experience levels. 
Also, new in this year's edition of the DFC is the Kids Skill & Play Area which features junior boot camps, functional training, low climbing walls, and parkour obstacles – all with dedicated on-site staff ready to assist you and your little ones.
Location: AL KHAWANEEJ
Entry: FREE
Timings:
SAT-WED: 4 PM -11 PM
THUR-FRI: 4 PM – MIDNIGHT
Mai Dubai Fitness Village Festival City Mall
Get ready to rediscover your favorite hangout spots at the Dubai Festival City Mall as a huge fitness facility that's packed with lots of fun and family-friendly activities and attractions.
Challenge your core and test your strength in climbing a wall with five routes, a 200-meter zip line, plunging bag jump, and the thrilling Quick Jump – the massive leap of faith from a 12-meter platform that is sure to send your heart racing and knees shaking.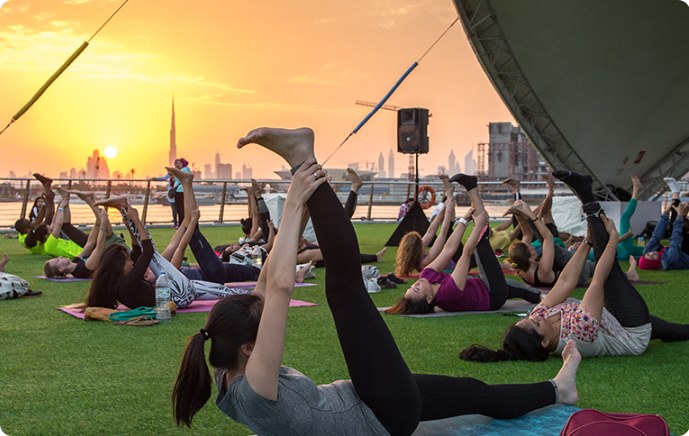 If you're also into sports you can have fun playing football and basketball on-site. And if you're missing to hit the gym with your buddies, you can join the IMAGINE Fitness Workout with Fitness First or join the sessions at the Workout Stage in a variety of special exercise routines and motivation throughout the Dubai Fitness Challenge.
Location: DUBAI FESTIVAL CITY MALL
Entry: FREE
Timings:
SUN-WED: 2 PM-10 PM
THUR: 2 PM -MIDNIGHT
FRI-SAT: 10 AM -MIDNIGHT
Important: Those who are interested to join the DFC need to register first on www.dubaifitnesschallenge.com.
How to Register for Dubai Fitness Challenge
Ready to take the 30×30 Challenge? Great! Here are the steps to register for the DFC 2022:
1. Go to www.dubaifitnesschallenge.com. 
2. Click the 'Register Now' button.
3. If you're a new user, create your profile first by entering your email address, then click Next.
4. Input your user information such as your name, mobile number, email address, and your residential address. Click Register Now.
5. You will then receive a verification number that you need to use to confirm your registration for the event. 
That's it! The next thing you need to do is to pick the locations you wish to take the challenge. Remember, you can join this year's festivities even from the comfort of your home because there are over hundreds of virtual sessions to help you commit to your 30×30 goals so there's no pressure to leave the house if you don't want to!
How to Download the Mobile App
Currently, the DFC does not have an available app both for Android and iOS users to download. That said, you can join the event by registering via their official website. Participants will receive notifications about fitness events via email and they can also upload posts on social media with the hashtag #Dubai30x30.   
And for a limited time only, participants can have free premium access to seven incredible fitness apps, simply by signing up for the Dubai Fitness Challenge. Check them out below:
2. NEOU
3. Daily Burn
4. Les Mills
5. FIIT
7. STEPPI
Video: Dubai Fitness Challenge
Are you ready for this year's Dubai Fitness Challenge? Check out the following videos to get you motivated to get fit and to join the fun-filled activities that come along with it!
Contact Information:
Website: https://www.dubaifitnesschallenge.com/
Follow Dubai Fitness Challenge on their social media accounts:
There you have it! It's been a year since the last Dubai Fitness Challenge was staged and more than half a year since an event as big as this will be held in the emirate. For a good reason and with proper safety and security measures set in place, the DFC is a big opportunity for residents to have cautious fun while keeping themselves safe and healthy. Make sure to register today so you won't miss out on the fun as well as the benefits you can get from this free city-wide event like no other! 
ALSO READ: Top 5 Fitness Trackers You Can Order Online