Dubai has opened its newest attraction back in 2015, the Dubai Garden Glow. This year 2020, it reopens for its 6th season with the theme "Back to Nature". Located in Zabeel Park, you can expect glowing trees, flowers, animals to structures inspired from different attractions around the world. You will see how these displays light up the park at night. This tourist spot is a great experience for families to take their children even at night.
Buy Dubai Garden Glow Tickets via Klook Here
The park opens at 5pm so you have time to experience the spectacular change of day to evening. The garden which is art by day changes to glow by night. As you stroll with your family, you could see the transformation when the place lights up right before your eyes.
Related Post: Dubai Miracle Garden in Dubailand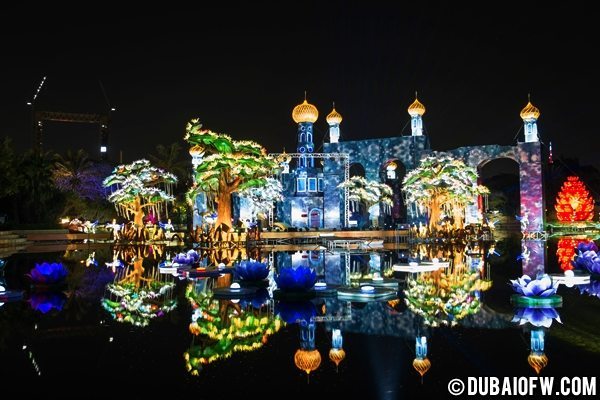 stage for the presentation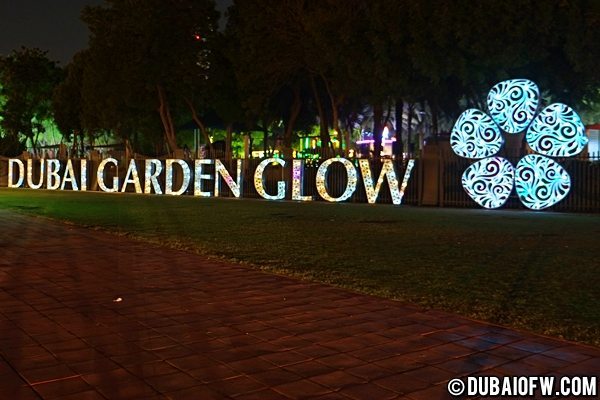 Entrance sign of this tourist spot
Buy Dubai Garden Glow Tickets via Klook Here
Dubai Garden Glow – World's First Unique Theme Garden – Photos – Location – Review
A daily water show is present as well as a famous light show could to entice you further. For animal lovers, animal safari would be a good destination and for the children (or children at heart), visit the candy land.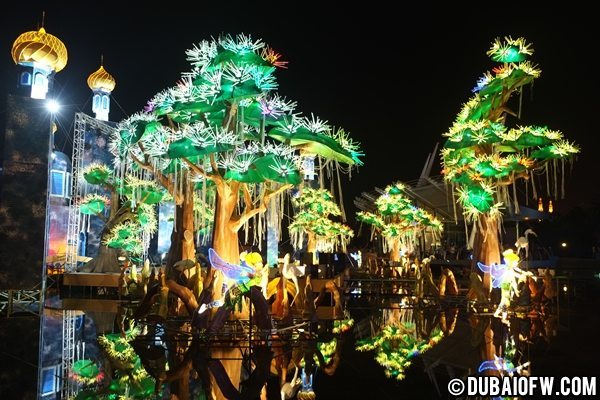 Zabeel park – gate 6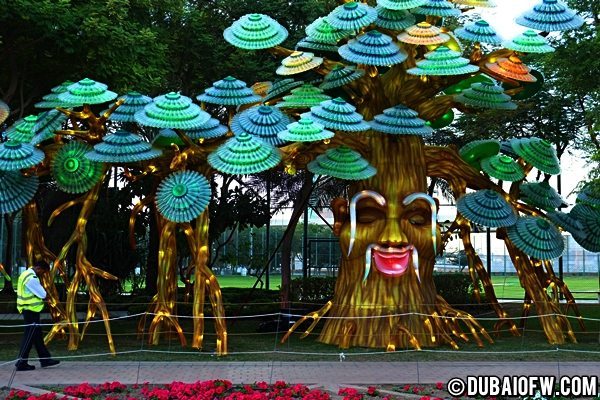 talking tree
Featured Activities
There's actually a lot of activities to do so you will never be bored while prancing around. For you to not get lost in this land of fantasy, here's the layout that's easy to understand. If you're the random adventurer, you can just walk and take yourself anywhere as you'll find yourself amused with the entire place.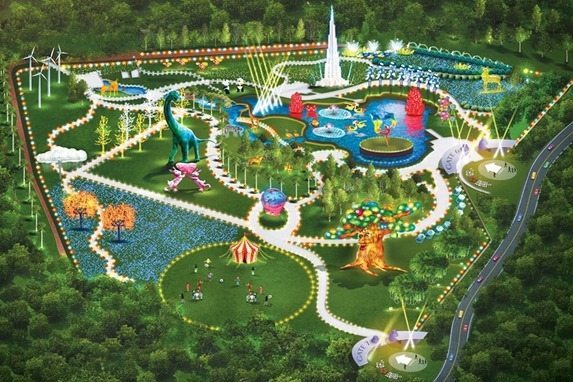 DGG layout. photo taken from the Dubai Garden Glow website
Buy Dubai Garden Glow Tickets via Klook Here
Eco-friendly Garden
When you first look at the materials used to build the gigantic garden, you'll think that it's crafted from expensive items. But this Dubai Garden Glow uses eco-friendly materials from recyclable items such as plastic bottles. Thousands of porcelain cups, plastics, medicine bottles and colorful low electricity consumption bulbs are utilized for the aim to educate people the importance of reducing carbon foot print and preserving the our beloved mother earth.
Candyland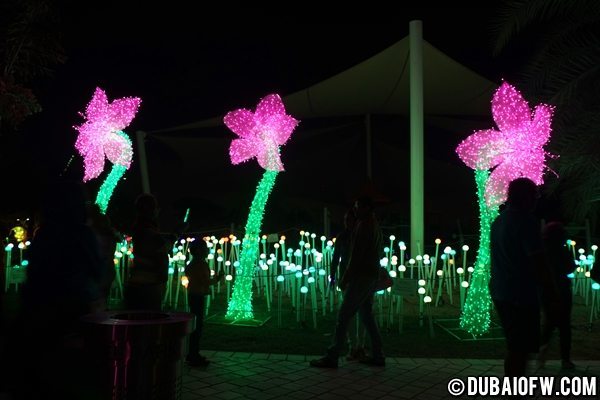 flowers and bulbs
The further you go to other parts of the magical garden, you'll have a chance to spot live performances from artists and performers across whether they're a band or a group of acrobats! If you're interested in musicals, you could even watch a live musical stage available.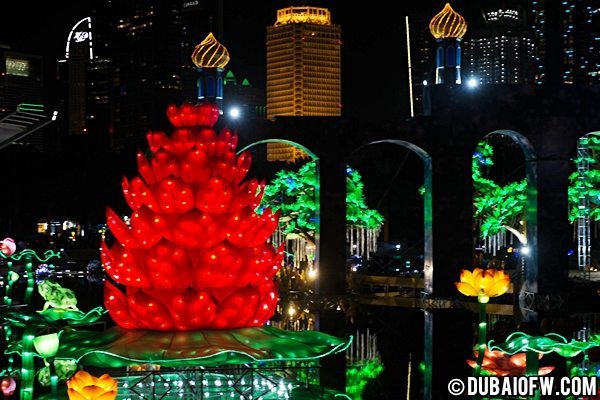 lights at night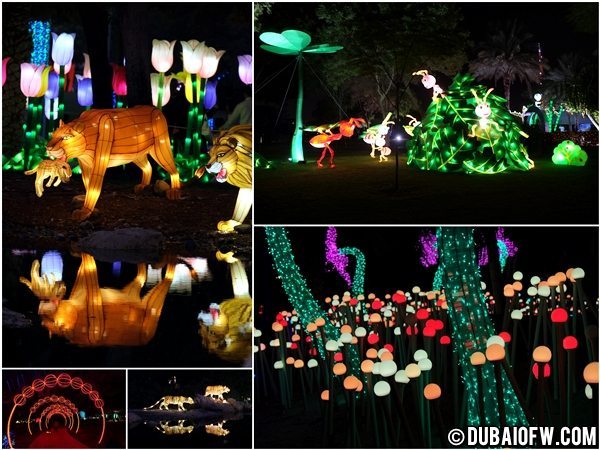 attractions inside the park
Buy Dubai Garden Glow Tickets via Klook Here
Snacks in the Park Available
Okay, so I'm sure you're already tired and hungry but you still want to tour the whole place further later. You can actually eat while still touring. There's an available large area that contains famous delicacies. Your taste buds would surely travel from one place to another just by eating a dish.
lights on the ground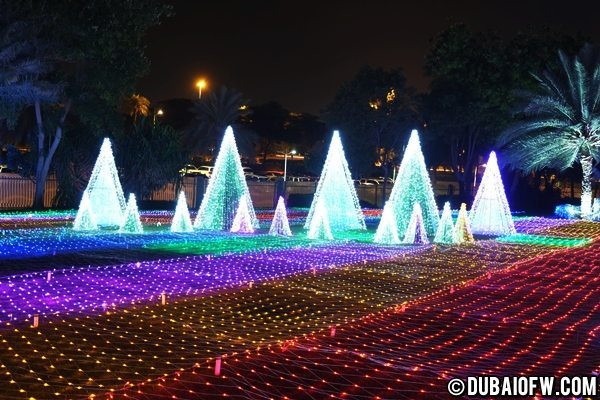 this is open until April next year!
flamingos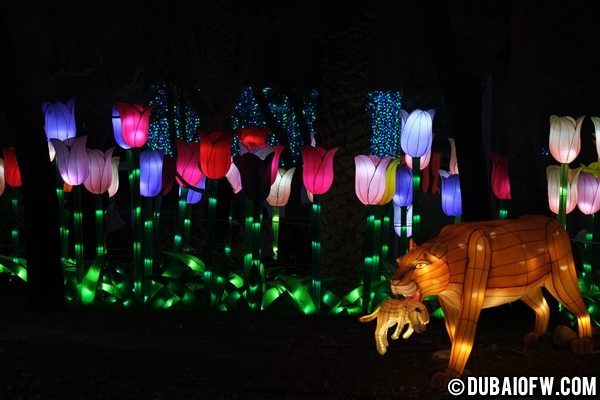 tulips and safari
So if you're already full, you could continue your adventure again in your own pace but here are some suggestions for you to travel to. You could go back to the age of dinosaurs or visit the talking trees and as I've already mentioned, catch the laser light show and the other shows in the garden! You wouldn't dare to miss something fantastic when you're in the location itself.
Buy Dubai Garden Glow Tickets via Klook Here
Photos of the Dubai Garden Glow
Here are some photos of this newest themed attraction in Dubai.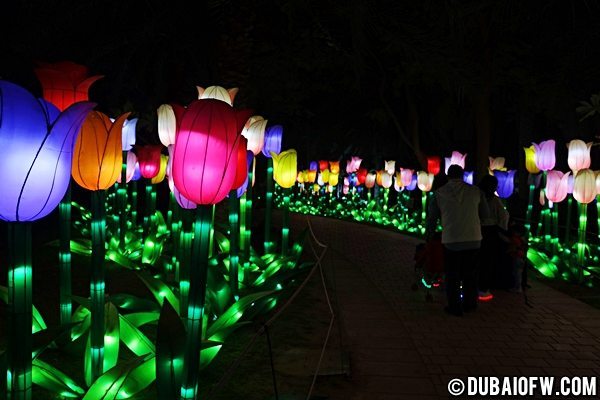 tulips!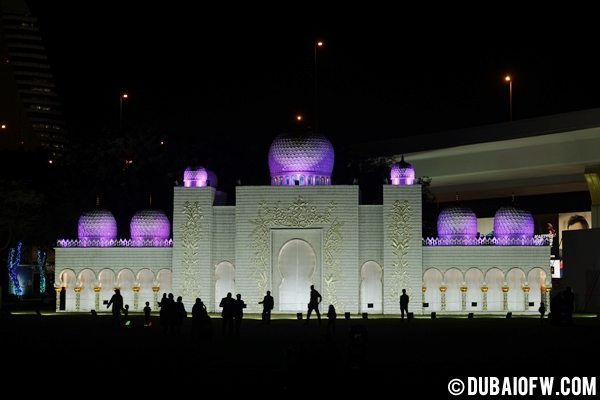 Sheikh Zayed Grand Mosque replica in Dubai Garden Glow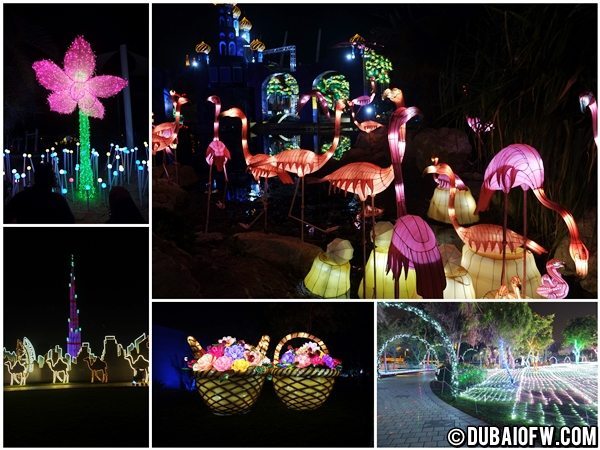 #dubaigardenglow
Garden Glow
Video of Dubai Garden Glow
Here's a video we've taken during our visit to this garden. These are just a few of the areas we've recorded.
How to Get There and Entrance Fees
Question now is how much does it cost to go inside the Dubai Garden Glow and how do you get there? The nearest metro station to Dubai Garden Glow is Al Jafiliyah Metro Station – Red Line, but you may have to ride a taxi to get to the entrance gate which is in Gate 6.
Entrance Fee to Dubai Miracle Garden + Dinosaur Park is 65 Dirhams per person – Free Entry to Children 3 years old and below and handicapped persons
Buy Dubai Garden Glow Tickets via Klook Here
Contact Information
Dubai Garden Glow
Address: Zabeel Park Gate 6
Telephone Number: +971 55 918 8126
Website: dubaigardenglow.com
Instagram: @dubaigardenglow
Facebook: @dubaigardenglow
Google Map Location
Below is a map guide location to Dubai Garden Glow. Most convenient transport is via Taxicab.