Dubai Municipality, in cooperation with Al Rawabi, has installed fridges in public parks across the city. Each fridge is filled with dates, dairy, and juices for park goers who are taking walks, jogging, or engaging in exercise.
The fridges are part of Ramadan Walk, a new initiative that seeks to promote health awareness in the community. Mohammed Mubarak Al Mutaiwei, Dubai Municipality's Assistant Director General for Communication and Community Sector, said that the fridges are in line with the Year of Giving initiative and coincides with the Holy Month of Ramadan.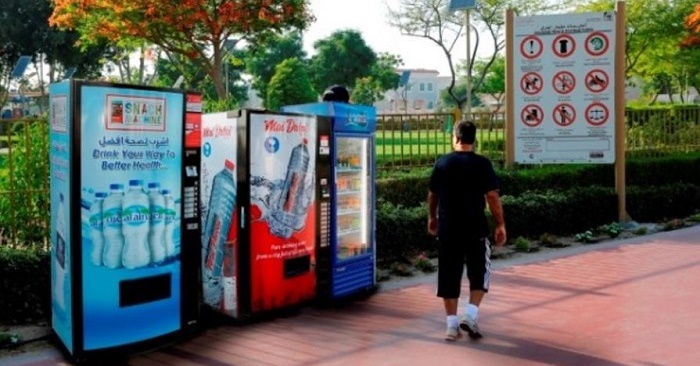 Ramadan Fridges Launched in Dubai's Public Parks
According to Al Mutaiwei, they have installed 30 fridges in 22 parks across Dubai. These include: Abu Hail, Al Barsha 1, Al Khawaneej, Al Nahda Pond Park, Al Quoz, Al Tawar 1, Al Tawar 2, Al Tawar 3, Al Warqa 2, Al Warqa 3, Mirdif, Mizhar, Muhaisnah, Nadd Al Hamar, Nadd Al Sheba, Quran Park, Qusais, Safa, Sufouh, Umm Suqeim, Uptown Mirdif, and Zabeel.
"The Ramadan Walk initiative will instill health awareness on the importance of exercise during the Holy Month, especially the fact that the month of Ramadan urges to take care of health," Al Mutaiwei explained.
"Exercise plays an important role in maintaining the body's balance of fluids, muscles, fat and bones, and in the prevention of disease," he added. "Dubai Municipality has also set up running tracks in parks to encourage the community to exercise."
Here are some posts on social media about the Ramadan fridges:
After an energizing walk in the park, grabbing a cool drink from the fridge sounds very refreshing! Indeed, the Ramadan Walk is a fantastic way to promote exercise and a healthy lifestyle. Let us take the time to go to Dubai's parks, not only during this month, but all throughout the year.