UPDATE: Please check with travel agencies first if you are thinking about going for your Exit. As per UAE visa updates, there are now more options for residents who wish to convert their tourist visa to a residence visa without the need to Exit the country. This article was written back in 2013 and there are more convenient options for you to change your visa status in the UAE.
My employer told me to book a ticket to Kish Island in Iran as I will be doing my Exit there. I had to exit Dubai, UAE in order to have my passport stamped with an Employment Visa once I come back.
Many Filipinos use Kish Island as the exit point to re-enter Dubai with a new visa type. It's only about a 30-minute plane ride from the Dubai Airport Terminal 2 going to the destination which makes it a convenient airport-to-airport exit plan. Others use Oman, but there was a problem before that Oman was blocked for a certain period. Just not very sure this time.

Exit to Kish
A Day in Kish Island – Iran: Visa Run Exit Experience
The only airlines that flies from Dubai to Kish is Kish Airlines and with the number of Filipinos and other nationalities flying between these countries, it's difficult to book a flight on the same day. Depending on the availability, sometimes you'd have to wait for the next day for the tickets. This means that you have to spend at least an overnight stay in Kish Island.
Difference Between Airport-to-Airport (A-to-A) and Exit
Other passengers are doing just an airport-to-airport while others need to stamp out of Dubai first and spend a day in Kish Island. So what's the difference between these two?
Basically, an airport-to-airport exit will require the person to have a return ticket back to Dubai on the next available flight which is normally on the same day. They don't have to get out of Kish Island International Airport, but will only spend the few hours until the return flight. They will have to book ROUNDTRIP flight airfares.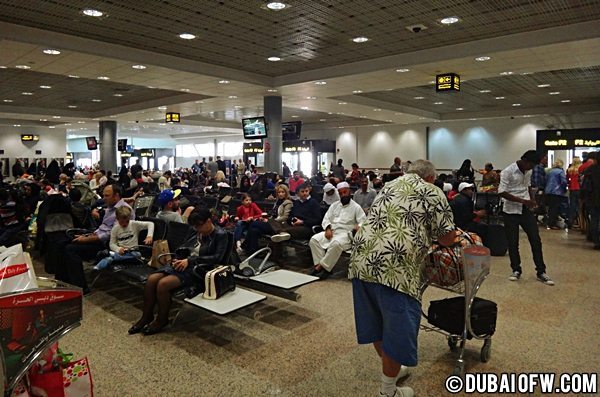 Dubai Terminal 2 Boarding area
On the other hand, the EXIT means that the person has to exit Dubai first by having a stamp out of the country at the airport immigration counters. Once they have stamped out of Dubai, that's when the work visa can be processed by the employer. Once processed, the employee will have to book a flight back to the Dubai once they have stamped out.
Note: Travel agencies in Dubai will not let you book a RETURN ticket from Dubai to Kish and back UNLESS you already have an employment visa.
In my case, I had to get out of Dubai first before my employment visa could be processed. Hence, I only booked a one-way ticket to Kish Island. Once I arrived at Kish, and I will have my work visa ready, that's when I could buy my return ticket to Dubai.
I'm not certain if I've explained it properly. Anyway, I was able to book a flight to Kish with my return flight in an 'OPEN TICKET' state. This means, that I could just get my air tickets from Kish to Dubai anytime. This is very useful especially when you have to wait for your WORK visa from your employer.

Kish Airlines ticket
I was already at the Terminal 2 for my flight. There was a sandstorm the previous day and a lot of people were stranded in the airport. They've been there for about 14 hours plus and were waiting for the next available flights. I was supposed to be part of that group if I had gotten tickets early. At least I didn't stay up in the airport and sleep on the floor.
It was still raining when I boarded the plane. Us passengers took a shuttle and even so, there was no possibility that we wouldn't get wet. Anyway, it was only a short flight of stairs to the plane. I went to my assigned seat and examined the aircraft.
Inside Kish Airlines Plane
I could see signs of wear and tear inside the plane. There was hardly any space, some wires were not covered, some equipment was not working. It was pretty surprising at the beginning because you'd wonder if the plane would fly properly. It was my first time to ride that type of plane. I just thought to myself that it was only a short flight and I was one in more than a hundred passengers.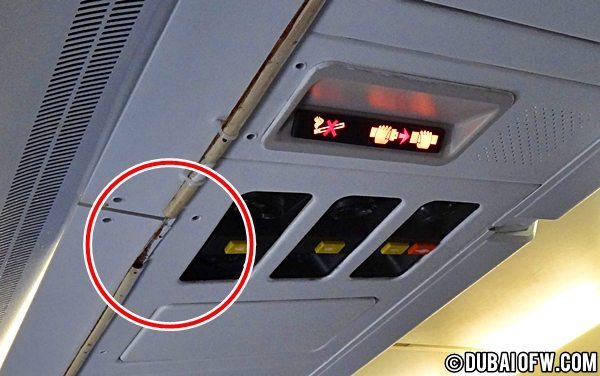 Kish plane
The plane departed late and it took about an hour in the tarmac before it took off. While waiting, the Kish Airlines flight stewards served food. I was happy that we had a quick snack even with the 30-minute ride. They gave us sandwich and juice though I only opened them upon arrival.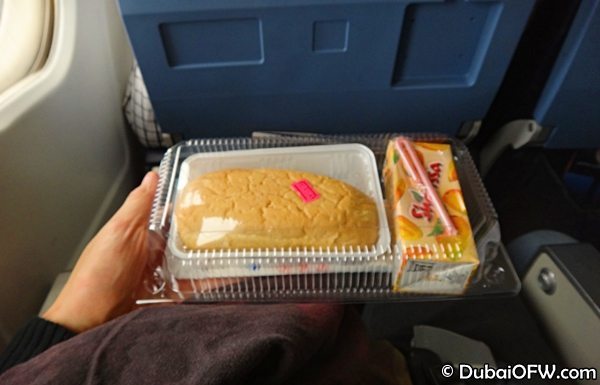 Kish Airlines Food inside the plane
Welcome to Beautiful Kish Island
The flight went smoothly even if it was delayed. From the Kish airplane, I could see a view of this island in Iran being dry. I got off the plane and started heading to the immigration counter.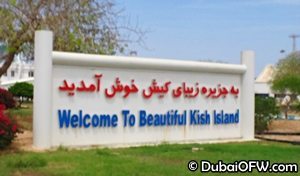 "Welcome to Beautiful Kish Island"  is what greeted me and every visitor of this island. Judging from the airport, the place seems very silent and bare. I proceeded to the terminal building and the women were already fixing themselves by covering their head with scarves.
Note: Ladies are advised to wear "sheilas" or scarves to wrap their heads. Iran is a conservative country and women need to be covered. That means NO sleeveless shirts and NO skirts. No wearing of anything that will reveal your skin. I could see many Filipina women bringing scarves and long-sleeves and then wearing them before proceeding to the immigration counter in Kish.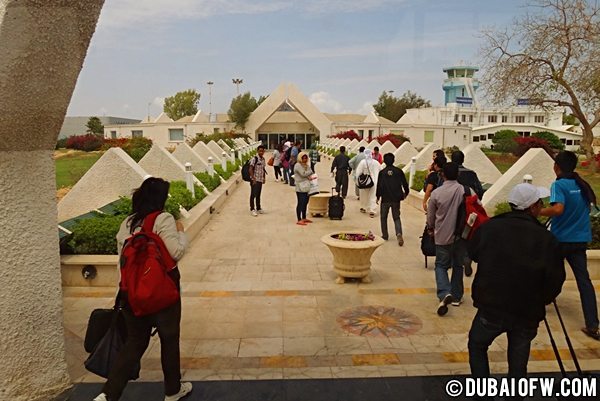 arriving at Kish international airport
As for the immigration counter, I did not have any problems having it stamped. Afterwards, I surrendered my passport to one of the personnel before the exit.
I felt scared at the thought that they would take my passport but I was already informed beforehand that this is a normal occurrence. You surrender your passport, and you will ride a bus going to the hotel where you will check in and they will bring your passport there. You will simply claim it (your passport) once you have checked out of the hotel where you are staying.

Riding the shuttle bus to the city
Reserving my my Return Tickets
All of us lined up at Farabi Hotel, just a short 10 minute-ride from the airport. Since there was a long queue, I hurried to go to the Kish Airline office (which was just beside the hotel) so I could book my flight back to Dubai.
I already brought my employee visa with me because my employer emailed the work visa after I stamped out. If I could book the next flight back to Dubai within the day, I wouldn't have to stay overnight in Kish Island.
Kish Airlines booking office in the city
Unfortunately at the Kish Airline office, the representatives told me that the evening flight was already full. The next available flight was 9:45 am the next day. I got my printed air tickets and then proceeded to the hotel to check in.
From Farabi Hotel to Venus Hotel
Another unfortunate scene was that the Farabi Hotel was already full, and all of us remaining guys were advised to go to the other hotel, which was Venus Hotel. We walked going to Venus Hotel and checked in. Now, I've heard from online forums that Venus Hotel in Kish Island is not a safe place to stay. Reading horror stories of drugs and rape (even with fellow men) terrified me.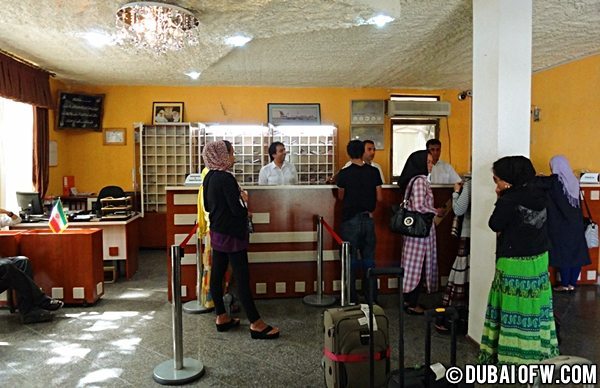 Lobby of Hotel Farabi in Kish Island
I was just glad that I met another Pinoy at the Farabi hotel lobby who's not a stranger to Kish Island. He also had the same flight the next day. Hence, I followed him and a few other guys to hotel Venus and we got a room for ourselves.
Venus Hotel has a lobby with a lot of sofas where guests can watch movies on a flat screen tv. They also have an internet shop, pool table where regulars are always playing, karaoke bar on one of the floors, and mini grocery store for those quick snacks.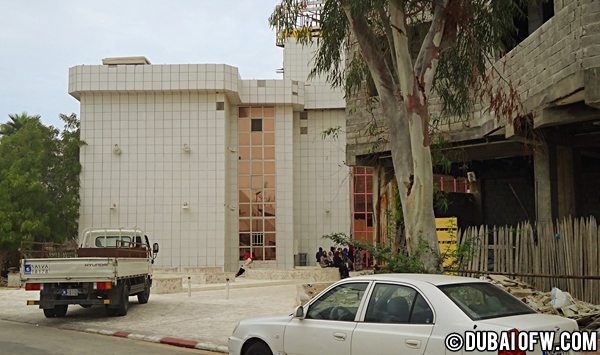 Hotel Venus in Kish, Iran
Here in Kish Island, Filipinos will have to share rooms with each other. Each room can accommodate about 8 people. I tried to inquire if there were was another room good for one person in Farabi Hotel. I didn't mind paying about 200 Dirhams for a room all to myself. Besides I was only staying for one night, but I was just shrugged off.
So I joined other Pinoys and we got a room in the second floor Venus Hotel, which was already occupied by about 4 Filipinos. I took my blanket, bed sheet, and pillow case from the laundry shop. You need to keep this as you'll have to return this when you check out.
The Room in Venus Hotel
The room had about 6 beds and there were 6 of us guys that shared 2 beds. We combined the top mattresses and placed them side by side. This made it possible for us to share. There were no other available space in the other rooms that's why there were a lot of us in that room.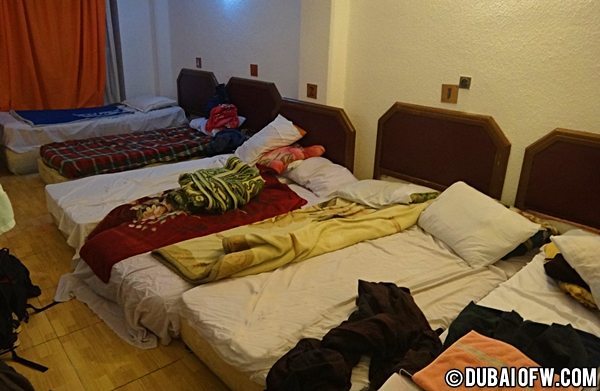 shared beds in Venus Hotel
To be honest, the beds were not that clean. The room was dingy and although the temperature was cool because of the cold climate, there's a feeling of uneasiness when using the garments that we took from the laundry. I've heard rumors that these hotels in Kish Island are plagued with bed bugs. Even the comfort room didn't look comforting.
My Pinoy companion said that the room that we were in is actually one of the best rooms and the bathroom was already clean in that standard. Despite this, I only used the bathroom sink and did NOT take a bath.
Filipinos Stuck in Kish Island
Filipinos have been living in the hotel and have been stuck in Kish Island for weeks and even months while waiting for their visas. Some are there because they used up the remaining days of their tourist visas in Dubai and have to stay in another country for about a month to re-enter Dubai with tourist visas again. So it can get crazy especially when you're stuck in an island and living off with whatever allowance you have. So sad for others who don't have enough funds for their day to day expenses. To think that they were there actually out of the country to find work.
I brought canned food and biscuits and together with my companions, offered them to the longer-staying guests inside the room. It was a great gesture knowing that we didn't want any negative impressions from them. We were there as visitors for a few days. From then on, we were able to listen to the stories of longer-staying guests why they were still there inside the Venus Hotel. It was humbling to hear these experiences from fellow Filipinos. It made me realize how lucky I was that my work visa was already emailed to me before I even arrived at Kish.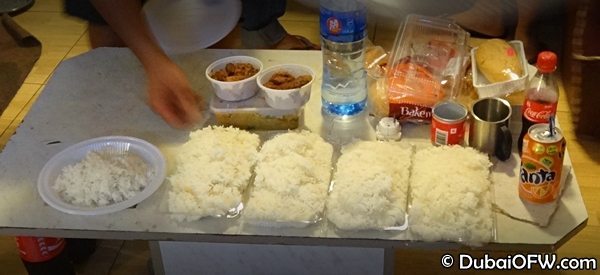 dinner with fellow kabayans
We spent the remaining hours by resting and having dinner. We even prepared food for the whole room and had dinner where everyone contributed to the small feast. Food that is shared is always the best food. There was a karaoke bar upstairs so we also dropped by that floor of the building to kill time.
Plane from Kish to Dubai
During the next morning, my companions and I woke up early to get dressed. We surrendered the bed items and paid 40 Dirhams for the overnight stay. Normally, the overnight stay would've been covered by the airline ticket that you've purchased.
But because we transferred to a different hotel, we had to pay extra. We hailed a cab to take us to Kish airport. From there, we waited for our flight back to Dubai, United Arab Emirates.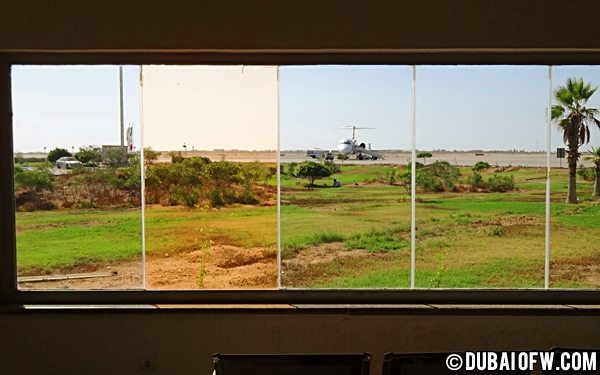 Kish to Dubai plane
Thoughts about My Stay in Kish
Contrary to negative stories I've read online, my experience in Kish island wasn't that bad. Sure, the amenities of the hotel weren't nice, but the overall stay was just alright. Kish is a peaceful island, you just have to make sure you don't put yourself in a vulnerable state.
Do NOT go out at night, watch your belongings and practice caution. Plus it doesn't hurt if you are nice to everyone. You have the opportunity to learn about the plight of other overseas Filipino workers and other nationalities.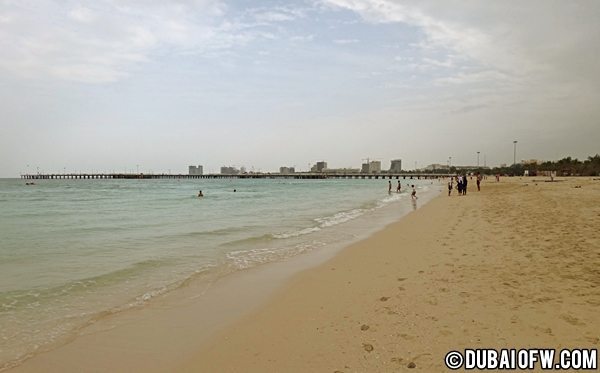 Kish Island beach
Kish is a quiet place and the pace is slow. The island has a beach you can stop by to relax. Far from the hustles of the Middle Eastern city that is Dubai. I inquired from the hotel staff about tour packages cause I wanted to explore this island in Iran. But after calculating my time, I didn't have much so that plan was cancelled. Maybe some other time.