As the UAE National Day celebrations draw near, and with a much-awaited 5-day long weekend coming up, everyone across the emirates is excited to participate in the festivities!
ALSO READ: Emirates Hailed as World's Top Airline in 2019
In particular, Emirates, the flagship carrier of Dubai, has rolled out a special aircraft: an Airbus A380 featuring "Year of Tolerance" livery, to embark on its first flight this weekend.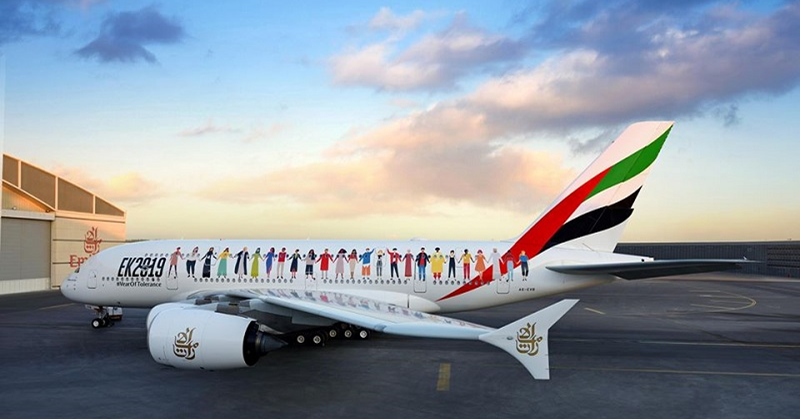 Aircraft Design Symbolizes Multicultural Diversity of the UAE
Through a press release earlier this month, Emirates announced that it will operate a historic flight on Friday, 29th November 2019 — as part of an effort to gather and celebrate the UAE's diverse, multicultural communities in a single flight.
Flight EK2019 will embark on a special journey around the country. The aircraft features colorful "Year of Tolerance" livery on both sides, characterized by a group of people from different cultures, holding hands and signifying the multicultural diversity of the UAE.
Residents of the UAE have been invited to apply for a seat on the special flight, with the aim of accommodating as many nationalities as possible, The National reported.
Flying on a low altitude, flight EK2019 will be on the air for about one hour and 30 minutes. Throughout this period, people on the ground will be able to catch a glimpse of the aircraft as it passes by these areas at the following times:
11:45 am — off the coast of Umm Al Quwain
11:55 am — Ras Al Khaimah
12:05 pm — Fujairah
The aircraft will then change its course to fly over these areas at:
12:25 pm — off the coast of Abu Dhabu
12:35 pm — Sharjah corniche
12:45 pm — Ajman
Flight EK2019 will then fly along the Dubai coastline before returning to the Dubai International Airport at around 1:00 pm.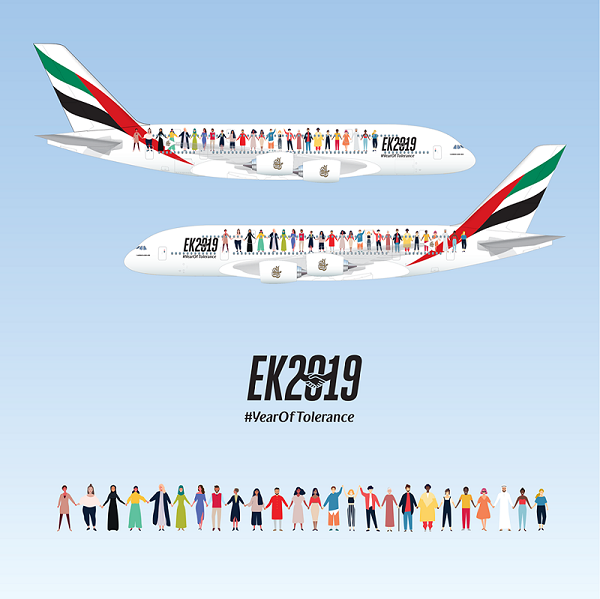 Notably, the airline also plans to make the special flight more environment-friendly, with an Emirates spokesperson sharing that they are looking at ways to offset the flight's emissions.
After this historic journey, the Year of Tolerance Airbus shall go into regular service and join the airline's network of Airbus A380 destinations for the next 12 months.
ALSO READ: President HH Sheikh Khalifa Bin Zayed Al Nahyan Orders Release of 662 Prisoners Ahead of UAE National Day
Unless you are one of the lucky passengers who will be riding on the Year of Tolerance Airbus, you can always catch a glimpse of the aircraft at the times mentioned above. And speaking of the flagship carrier, we can also look forward to the upcoming Emirates Dubai Jazz Festival 2020, which will feature Lauryn Hill, Lionel Richie, and One Republic!