Ever since the current pandemic began, countries all over the world have imposed travel restrictions and safety protocols, such as social distancing and quarantine — for everyone's safety. These apply to all travelers, including overseas Filipino workers (OFWs) who are returning to the Philippines.
In today's post, we'd like to feature Decy G., a Filipina vlogger and OFW in Dubai. She arrived in the Philippines on August 3, 2020. Through a series of videos, she talked about her experiences upon departing from Dubai, arriving at Clark International Airport, and spending time in a quarantine facility — before finally getting home to her family in Tarlac province.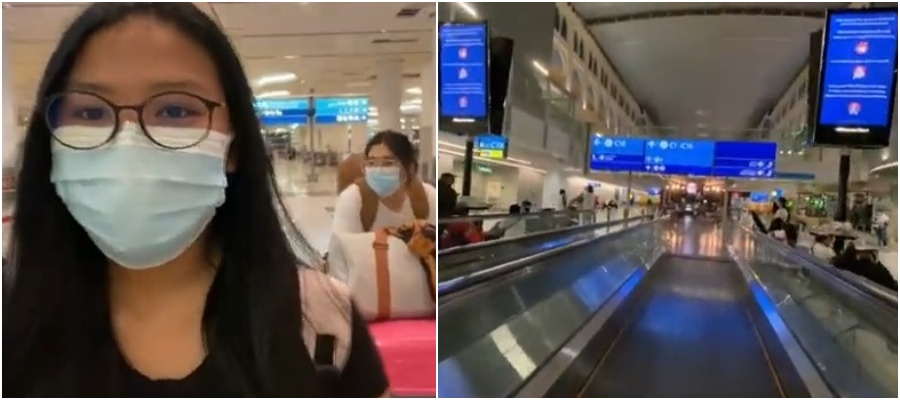 WATCH: A Returning OFW's Experience with Travel and Quarantine
Decy G. and her cousin recently travelled from Dubai to the Philippines for vacation. In the first video, she talked about their arrival at Dubai International Airport and the process that they went through. They were running a little late, but fortunately had confirmed their flights in advance (through 24-hour online check-in), and went directly to baggage check-in.
According to the vlogger, their experience at the airport was relatively smooth, although the regulations are noticeably stricter than before. She also showed a "travel emergency kit" provided by Emirates, which included facial masks and other essentials. Decy G. expressed some nervousness regarding their travel, but then went on to board the eight-and-a-half hour flight that would take them from Dubai to Clark International Airport in the Philippines.
Here is the video featuring the vlogger's departure from Dubai, as shared on her official YouTube page:
In the second video, Decy G. shared her experience upon arriving at Clark International Airport. She stated that social distancing was strictly followed. There was an airport official/staff who guided them throughout the whole process. She was asked to accomplish a form (Form 5), and everyone was also asked to submit a "health declaration card." Staff were there to assist them the entire time.
Also at the airport were officials/representatives from the Overseas Workers Welfare Association (OWWA), who assigned them to different hotels, where they would spend their quarantine period. Decy G. mentioned that the list included five-star hotels. However, since she was a resident of Tarlac City — which followed its own protocols — she would automatically go to a quarantine facility assigned by the Tarlac Provincial Government.
She then underwent a swab test for COVID-19. Having experienced a similar test before, she wasn't really bothered, although she mentioned that others may have a slight "feeling of irritation" for a few minutes. Still, she shared that the procedure is totally safe.
After the test, Decy G. and the other passengers passed through immigration and took their bags from the conveyor. Later, another staff approached them to "separate" the OFWs from the tourists. As a resident of Tarlac, she was ushered to a bus assigned by the Tarlac Provincial Government, which would take them to the assigned quarantine facility.
Even in the bus, everyone had to follow strict social distancing. The vlogger also had to wait for one and a half hours until all residents of Tarlac were on board. She was handed food (Burger Yum) and drinks during the waiting period. Whew!
Listen to Decy G. as she talks about her experience at Clark International Airport in the following video:
The third video features the quarantine facility where Decy G. was brought to — New Clark City in Tarlac. This is where she would stay while waiting for the results of her swab test.
Before getting off the bus, a doctor was there to "welcome" them. All of their bags were taken down and sanitized. Each one filled up a registration form and were given a key card to their rooms. At this point, she mentioned that the facility followed a strict "one person per room" policy.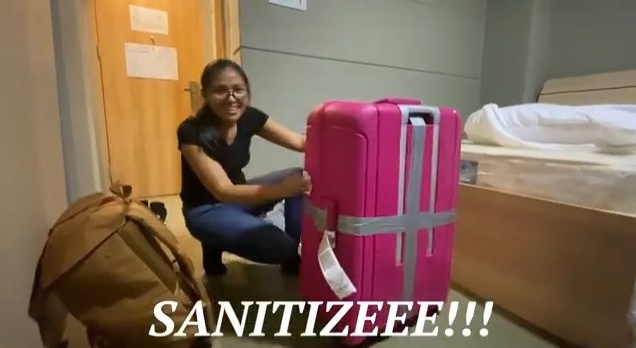 During her stay, Decy G. commented on the clean rooms and the polite staff (all of whom wore personal protective equipment or PPE) in the facility. FREE food was given to them round the clock — breakfast at 7:00 am, lunch at 12 noon, dinner at 6:00 pm, and even merienda (snacks) in between! She was also happy to receive a "welcome gift bag" from the Tarlac Provincial Government; it contained coffee, biscuits, and toiletries.
After four and a half days of waiting, the vlogger finally received her test result… negative. Yay! She was also happy to share that her co-passengers, all the way from Dubai, to Clark International Airport, to New Clark City — also had negative results. Double yay!
From New Clark City, Decy G. was brought to Tarlac Provincial Hospital as the "drop off point." Here, she and her fellow travelers were officially welcomed and given "gift bags" once again — containing alcohol, face masks, vitamins, and other goodies. They were also asked if their families would come to pick them up, or if alternative transportation had to be prepared.

In her case, the vlogger's family came to pick her up. Before going home, they went to their respective Barangay Hall first. Here, she registered her name, the country where she traveled from, and of course, the health certificate showing her negative test result.
Finally, she's home! But still, Decy G. decided to undergo "self isolation" in her room for 14 days, to make sure that she and her family would be safe. She also reminded everyone to take care, saying: "ingat [tayo] kase hindi natin kita ang kalaban natin (let us be extra careful because the enemy cannot be seen)."
In her video, the vlogger once against reiterated that her entire experience — the quarantine accommodation, food, transportation — was provided absolutely FREE. She is thankful for her smooth and safe experience, and is keen on spreading positive vibes!
Watch Decy G. share more about her experience through the video below:
DISCLAIMER: The above videos are presented for information-sharing purposes only. For more details about the vlogger's travel experience between Dubai and the Philippines, as well as about her life as an OFW in Dubai, simply subscribe to her official YouTube channel. 
Thank you, Decy G., for sharing your experience with us and our readers! Indeed, this will definitely be helpful for other OFWs who are planning to travel back to the Philippines soon. As you said, we shall strive to remain positive, helping one another during these trying times!