Last month, we shared the video of Decy, a Filipina vlogger who talked about how she prepared for her return to the UAE. She is an overseas Filipino worker in Dubai, and she recently spent a vacation in the Philippines, amid travel restrictions caused by the pandemic.
According to Decy, she was supposed to return earlier, but was unable to board her flight because her swab test results exceeded the maximum allotted time of 96 hours.
Fortunately, she was able to rebook her Emirates flight, undergo another swab test, and return back to the UAE. Keep on reading to learn more about her experience and the procedures involved!
OFW Talks About Travel Procedures from Clark to Dubai
In the video, Decy recalls her experience on traveling from Clark Airport to Dubai International Airport. Because she was unable to board her flight last time, she contacted Emirates via https://www.emirates.com/livechat to rebook her flight. Fortunately, the rebooking was made free of charge!
3 Days Before Clark to Dubai Flight
Three days before her flight, Decy underwent a "drive thru" swab test at Green City Medical Centre in Pampanga, which is near her hometown in Tarlac. The test turned out to be negative, so she was finally able to proceed with her flight back to Dubai!
Requirements at Clark Airport
Decy also shared about the documents required at each "counter" at Clark Airport. Before proceeding to check-in, an officer looked at her passport and travel permit.
At the check-in counter, she was asked for her
passport,
online ticket,
PCR swab test result,
health declaration form, and
Overseas Employment Certificate (which is actually an "Exemption" in her case since she was returning to the same company).
At immigration, she showed her passport, OEC/Exemption, and boarding pass before proceeding to the departure gate.
Inside the Emirates Plane
During the flight, Decy noticed that the plane wasn't full, perhaps less than two hundred people. Each passenger was given a travel kit, which contained a face mask, gloves, hand sanitizer, and antibacterial wipes — a safety measure that is a must these days!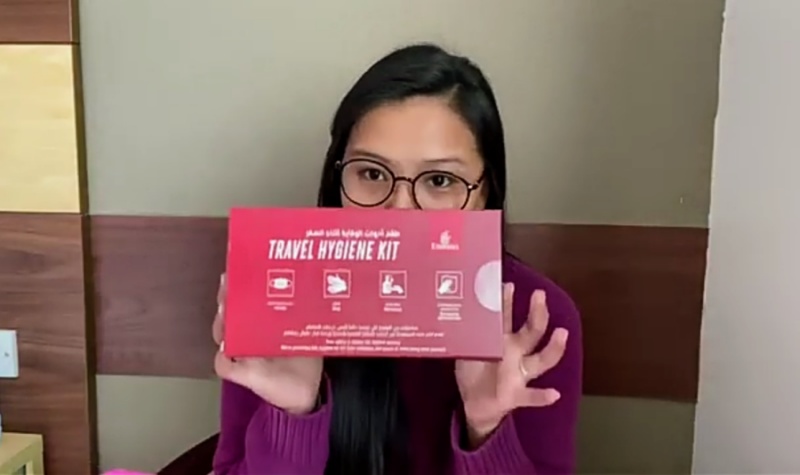 Arriving at Dubai Airport – Swab Test
Upon arriving at Dubai International Airport, Decy saw that there were many passengers arriving from different flights; hence, the queues were long! Fortunately, the officers and staff were very helpful, providing guidance and assistance to all passengers.
Aside from showing her documents at the counters, Decy underwent another swab test, which is mandatory for all travelers arriving in the UAE.
Quarantine in Hotel
All in all, the entire process was smooth, and she was finally able to go home! Well, not "home" exactly, but a hotel where she is spending quarantine time before returning to her shared accommodation in Dubai.
Watch the full video about Decy's experience below, as shared from her YouTube channel:
Tips When Travelling during Pandemic
By sharing her experience, Decy aims to inform other OFWS and residents about the requirements and procedures for returning back to the UAE. She also mentioned a few tips:
Always wear a face mask;
Bring alcohol or hand sanitizer;
Don't touch other things/surfaces unnecessarily; and
Bring light "hand carry" because the queues can be long!
Once again, we would like to thank Decy for sharing her experience with us and our readers! Indeed, we can never be too careful when traveling these days. If you are planning to return to the UAE anytime soon, be sure to read about the experience of our fellow kababayans!
READ NEXT: OFW Interview with Decy, Event Sales Executive and Vlogger in Dubai