Filipinos are known for many things. Some of these traits include friendliness, hospitality, perseverance and work ethic, but one that outshines all these is Filipino talent, especially in singing.
Peter Rosalita is only ten years old, yet his vocal prowess earned him a spot on the season premiere of "America's Got Talent."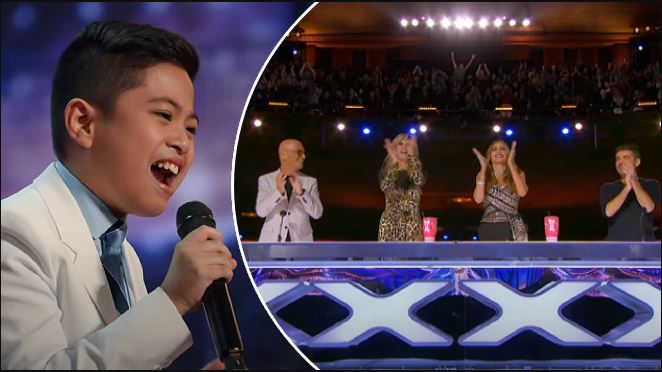 [WATCH] 10-Year-Old Pinoy Wunderkind from Abu Dhabi Receives Standing Ovation from AGT Judges
The Filipino contestant nailed the high notes of "All By Myself," which stunned everyone in the audience, including the judges and host of the show.
After his performance, judges Howie Mandel, Sofia Vergara, Heidi Klum, and Simon Cowell all gave him a standing ovation.
"You have an amazing voice, an amazing personality, an amazing energy," Cowell gushed. "Everyone is gonna fall in love with you after this audition."
Fellow panelist, Heidi Klum, warned, "Mariah better watch out."
"I think you are incredible. What do your neighbors say when you rehearse these types of songs?" Heidi asked the Pinoy talent.
And to this, the 10-year-old answered, "They got surprised."
If Peter were to win the $1 million grand prize for the performance competition, he said that he would buy a Nintendo Switch and a laptop for his online schooling. After all four judges voted him through to the next round, he's one step closer to his 10-year-old goals, which everyone in the audience absolutely loved.
Meanwhile, Howie Mandel told Peter, "You're amazing. You're so cute even when you talk to us. I predict you will go far in this competition."
Simon said that there have been several parts in Peter's performance that gave him goosebumps.
"That was an incredible audition. There were parts during that audition which literally gave me goosebumps. You have an amazing voice, amazing personality, amazing energy, everyone is gonna fall in love with you after this audition," Simon remarked.
"I think America's gonna love you," Sofia said.
"I think the world's gonna love him," Simon added.
The judges gave Peter four yeses, and he will advance to the next stage of the tournament.
As of this writing, his audition video has received over 2.8 million views.
Catch Peter's full performance below as posted by America's Got Talent via YouTube:
What do you think of Peter's performance? Do you agree with the judges' sentiments about his audition piece? Let us know what you think by leaving a comment in the section below!
READ NEXT: WATCH: Khalid and Salama Say Goodbye to Nanny, Surprises Her with Big Wedding Gift