Khalid Al Ameri, in his latest vlog, shared a life event with his wife Salama and their children, sending off their nanny of six years, Sarah, who's leaving for Uganda to settle down and start a family of her own.
Also Read: [WATCH] Emirati Vlogger Khalid Al Ameri Plans Surprise for Filipina Nanny and Visits Her Hometown
In the sentimental video, Khalid and his family expressed their gratitude for Sarah and her being a part of their family, staying with them, and taking care of everyone, especially Abdullah, Khalid's son, since he was two years old.
[VIDEO] Khalid Al Ameri And Salama Bid Nanny Goodbye, Surprise Her With Big Wedding Gift
According to Khalid, Abdullah, growing up for the most part in the care of Sarah, their nanny, since he was two has formed a special bond with her.
He added that Sarah, during all this time, has been a sister to them, and to his wife, Salama.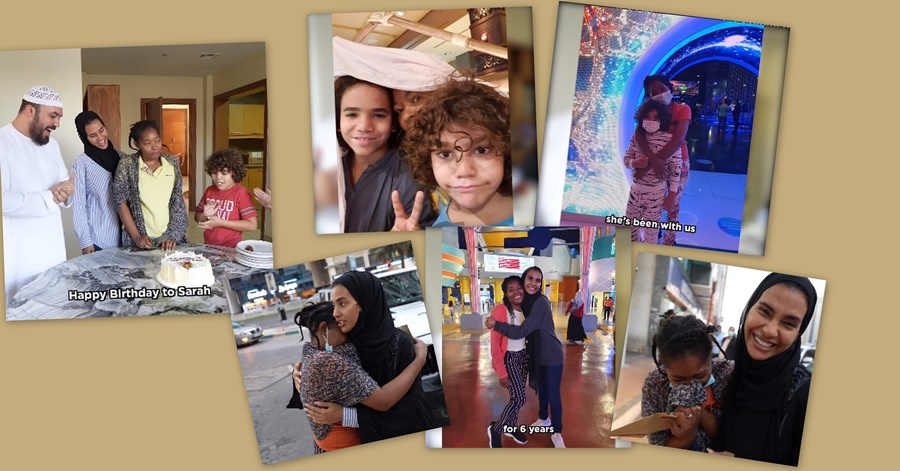 In the video, Khalid and his family dedicated one whole day to "send off" Sarah and personally thank her by expressing their gratitude for everything she has done for the family.
In response to this, Sarah had nothing but praises for her "family" in the UAE. She shared that she was well provided for. She even said that whatever she needed, the Al Ameri family would provide her and be there to support for 100%.
When Khalid asked Sarah what she would miss the most about the UAE, she answered smiling and teary-eyed: "McDonalds" and the room burst out in laughter.
The family even prepared for her a "see-you-later cake" because they plan to visit her in Uganda for her wedding in January. As they asked Sarah to slice her cake, the couple light-heartedly asked everyone to sing "Happy Birthday" for Sarah (even though it was obviously not her birthday) since there's no other way to sound happier than by singing a birthday song, even for someone who's leaving.
Also Read: OFW Life: Domestic Worker to Cleaner to School Bus Attendant, Pinay shares inspiring story
Salama also revealed that they have been preparing a surprise gift for Sarah. During the last month, she shared that they have been "digging around" trying to figure out how much Sarah's wedding is going to cost. They wanted to give her that amount as their wedding gift – without her knowing it (of course) because that's what their surprise is about!
When Sarah was about to remit some money to her family back home in Uganda, Salama approached her and handed her an envelope, saying that they would like to pay for her wedding expenses as their gift for her.
And Sarah, at that moment, said: "These people, [Khalid and Salama] they are not only my bosses. They are my brother and sister. And we are friends. They are my friends!"
To cap off the entire heart-warming moment with family, Khalid quoted a famous saying:
"Family isn't always about the blood that connects us. It's about the people who welcome us into their lives and accept us and love us for who we are. And that is what Sarah did. She came into our home, she came into our lives and accepted us and loved us and we will never forget you. You will always, always be a part of this family. And we're just going to miss you so, so much!"
Watch the entire clip here as posted via Khalid Al Ameri's page on Facebook:
READ NEXT: [WATCH] Emirati Vlogger Khalid Al Ameri Plans Surprise for Filipina Nanny and Visits Her Hometown