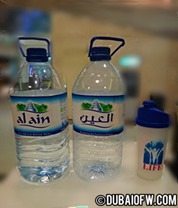 I've been buying a 5L water bottle in Carrefour lately. I switched from buying two 1.5L a day to getting six 1.5L bottles to getting this big one. I figured it would be a lot cheaper especially when this is a regular purchase for me.
I already acquired a free tumbler in result of my Optimum Nutrition 100% Whey Protein purchase from Life Pharmacy, and I always bring it to work with me.
It's been my goal to drink a gallon of water a day. The regular water intake for a healthy dose is 2L (average), but since I started working out and drinking whey protein in Dubai, I increased the amount to at least 3 Liters.
Especially in the Middle East, 2 liters of water is nothing compared to the heat you have to battle through in Dubai. Some of my colleagues can't even finish a 1.5L bottle, and I guess I'm trying to discipline myself to ensure I get the proper nutrients my body needs.