Have you taken a PCR test and are now waiting for the results? Or are you a COVID-19 patient under quarantine, worried about your family members? In any case, be sure to follow some tips and guidelines for managing your health and well-being while on home isolation.
A Dubai Health Authority (DHA) top official recently shared home isolation tips for patients as well as those who are waiting for their PCR test results. She also gave some mental health tips, along with guidelines for family members and close contacts of people under quarantine.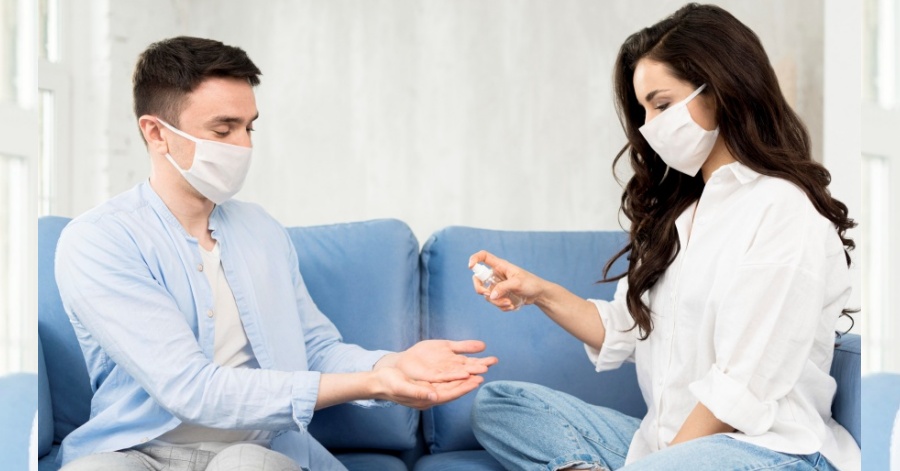 What to Do After Taking a PCR Test?
In a press release shared by ZAWYA.com, Dr. Hind Al Awadhi, Head of Health Promotion and Education at DHA, talked about what a person should do after taking a PCR test and while waiting for the results.
"If you have taken a PCR test due to any medical reason and not for travel purpose, you must take all precautions assuming that you have COVID-19 until proven otherwise with a negative PCR test," she said. "Other than visiting the [testing] centre for the PCR test, you should not go to work or school or step outside your home until you receive the results."
The doctor explained that isolation is an important step towards protecting family members, close contacts, and the community in general. If a person exhibits any flu-like symptoms, then home isolation is all the more necessary.
What if I Get a Positive PCR Test Result?
Let us suppose you get a positive test result and become a COVID-19 patient. According to Dr. Al Awadhi, your period of isolation shall begin from the date of taking the PCR test. If you are asymptomatic (no symptoms exhibited), your period of isolation shall be 10 days.
The case is different, however, if you exhibit symptoms. "If you have any symptoms, such as fever, then you should continue your isolation period until you have no fever (without using any fever-reducing medicine) for the last 3 consecutive days and other symptoms should have subsided," she advised. "Only then you can end your isolation in 10 days. If that is not the case, you need to continue your isolation period."
Moreover, the doctor said that the first thing to do would be to speak to the family doctor, who can determine if you can isolate at home. Otherwise, you may need to be admitted to a health clinic/hospital, so that your oxygen levels and other readings can be monitored daily.
She also urged patients to maintain a healthy diet, drink plenty of fluids, and follow all the instructions given by their family doctor. If they experience any difficulties in breathing, they should seek medical consultation immediately, and contact an ambulance if needed.
Where Can I Go for Medical Advice?
Aside from consulting the family doctor, Dr. Al Awadhi mentioned other options, including:
Visiting DHA's COVID-19 centres at Al Bada and Al Khawaneej (for those with symptoms that need medical intervention); and
Availing of DHA's "Doctor for Every Citizen" telemedicine service (for those with mild symptoms or are asymptomatic).
What About Family Members and Close Contacts?
Family members and close contacts of a COVID-19 patient should also undergo a 10-day home quarantine, the doctor stated. They do not need to take a PCR test unless they develop symptoms; nevertheless, they can still take the test if they want to.
NOTE: If you are a family member or close contact of a patient, and your PCR test turned out negative — you should still complete the 10-day home isolation period — as this is a mandatory requirement.
Home Isolation Tips to Protect Family Members
To protect family members and close contacts, Dr. Al Awadhi advises patients to:
Stay in a separate room (preferably with its own bathroom).
If you use a shared bathroom, leave your room only when you need to use the bathroom.
Wear a face mask.
Use disinfectant wipes or liquids to clean commonly used surfaces after every use. Frequently used surfaces include door knobs, faucets, and toilet seat covers.
Collect all your trash in a separate garbage bag. Use gloves when closing the bag and sanitize your hands afterwards.
Collect your laundry in a disposable laundry bag.
Correspondingly, she advises family/house members of patients to:
Place the patient's food outside his/her room door. The patient should use disposable cutlery and containers only.
Wear a mask and gloves while disposing of the patient's trash in a designated place outside the house.
Wear a mask and gloves while handling the patient's laundry. After washing the patient's clothes, the washing machine must be disinfected (you can use disinfection liquid and run a complete cycle with high temperature water). Afterwards, wipe the machine using disinfection wipes.
As an alternative, you can also ask your laundry service if they will accept your laundry, and if they are approved by the Dubai Municipality. Be sure to inform them that the clothes belong to a COVID-19 patient.
How About Professional Disinfection?
Dr. Al Awadhi explained that professional disinfection should be done only after the patient has had no fever (without using fever medication) for the last 3 consecutive days and after completing the isolation period of 10 days (or longer, depending on the patient's case).
Before disinfection is carried out, the disinfection company should be informed that a COVID-19 patient had used the room. Family members should also wait until disinfection is finished before using the room, the doctor said.
What to Do After Completion of Isolation?
"After completion of the isolation period, it is not mandatory to take a PCR test," Dr. Al Awadhi stated. "However, the person should ensure symptoms have subsided and the person is fever-free for the last 3 days prior to completion of home-isolation."
After home isolation is finished, the doctor also urges recovered patients to continue building immunity. They can do this by eating healthy foods, drinking lots of fluids, and taking multivitamins as advised by their physicians.
Mental Health Tips While on Home Isolation
In addition, Dr. Al Awadhi gave some tips on caring for one's mental health and well-being while under home isolation:
Take charge of your health. Make sure that you are recovering well, and that your symptoms are manageable from home.
Stay in touch with your family doctor.
Connect with family and friends regularly using digital technology, to avoid feeling socially isolated.
Take a rest as much as you can.
Do some light stretching to prevent body stiffness.
Read books that are inspiring and share positive messages.
Consider using meditation apps or watching videos to practice 10 minutes of mindfulness daily.
Write in a journal and list down all the things you are thankful for.
Indeed, these are some great and helpful tips for patients, family members, close contacts, and even those who are still waiting for their PCR test results. After all, prevention is better than cure, and it is better to be safe than sorry! Meanwhile, here are more health tips that you can follow, so that your home can remain clean, safe, and germ-free for your family.