Each mall in Dubai features its own unique style and design. The Ibn Battuta Mall, for instance, is inspired by the life and travels of Ibn Battuta, an extraordinary adventurer!
From the beautiful halls of India, colourful vessels of China, majestic temples of Egypt, and many other places, the Ibn Battuta Mall combines shopping, dining, and entertainment with a cultural and history experience unlike any other mall in Dubai… or in the world, for that matter!

Exploring the World at Ibn Battuta Mall
According to the mall's official website, Ibn Battuta was only 21 years old when he set out to travel the world, way back in June 1335. Throughout his 24-year journey, he explored six different places and had lots of adventures. He encountered storms and pirates at sea, dined with nobles and commoners of different lands, and even served as a judge and a scholar. What an incredible life, indeed!
Six Places, Six Different Courts
Indeed, Ibn Battuta's exciting adventures inspired the making of a mall named after him, and it features the following six courts, based on his travels:
Tunisia Court. Tunisia was the first leg of Ibn Battuta's journey, and it was filled with magnificent mosques, palaces, academic institutions, and gardens. As for the Tunisia Court, it was modeled after the coastal towns of Tunisia and Carthage, featuring wrought iron works, stained glass windows, and mosaic tiles.
Egypt Court. Ancient Egypt is known for its historic pyramids, temples, and pharaohs. With papyrus columns, sandstone walls, and carved hieroglyphics, the Egypt Court reflects the country's rich legacy as experienced by Ibn Battuta.
Persia Court. When Ibn Battuta journeyed to Persia in the 14th century, it was a major hub of culture and learning. Hence, the Persia Court showcases a magnificent chandelier, arched passages, and a mosaic hallway reminiscent of Persia's golden age.
India Court. The India Court reflects the legacy of India's Mughal period, with features inspired by the Red Fort, Wind Palace, and the world famous Taj Mahal. Still, you can't help but notice its enormous centrepiece — an Elephant Clock with awesome figures that come alive every hour, on the hour!
China Court. The centrepiece of this court is a Chinese Junk or vessel, which pays homage to Ibn Battuta's unforgettable journey — storms, pirates, and all — to China. White marble columns, royal motifs, and giant dragon medallions showcase the unique history of Imperial China in this court.
Andalusia Court. Andalusia marks the final chapter of Ibn Battuta's journey. There's a Fountain of Lions and star-shaped ceiling inspired by the Alhambra Palace, and lofty halls with arches inspired by the Grand Mosque of Cordoba. Simply magnificent!
Shopping, Dining, and Entertainment Galore
While walking around and marveling at the beautiful courts, don't forget that this is a shopping mall! Indeed, the Ibn Battuta Mall offers fashion brands, accessories, cosmetics, home furnishings, electronics, shoes, sports goods, books, toys, and much, much more!
Ibn Battuta Mall also hosts numerous cafés, restaurants, and food courts serving dishes from around the world. So whether you're craving for Italian-style pizza, some Indian curry, American burgers, or Chinese noodles — you'll never go hungry here!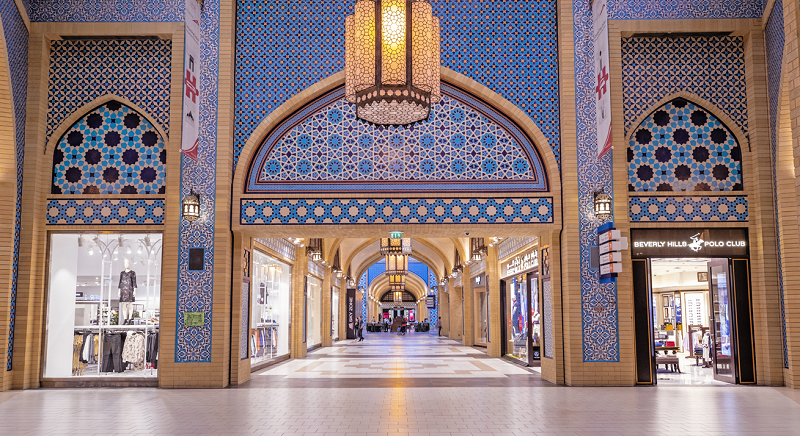 When it comes to entertainment, Ibn Battuta Mall has something for the whole family, including:
Novo Cinemas. With 21-screens offering the ultimate IMAX experience, Novo Cinemas as Ibn Battuta Mall is the perfect place to catch the latest blockbuster movies! Don't forget the popcorn and soda!
Chuck E. Cheese. This family entertainment centre is filled with play areas, video arcade games, and a kid-friendly restaurant serving delicious pizza! It also has a dedicated space for special events, like kids' birthday parties.
Sky Zone. Bring out the kid in you and enjoy the zone's trampoline courts, sky slam, skyline, free climb, drop zone, freestyle jump, dodge ball, and other fun games!
Switch Bowling. Aside from bowling lanes, this place also has billiard tables and karaoke rooms where you and your friends can sing your hearts out!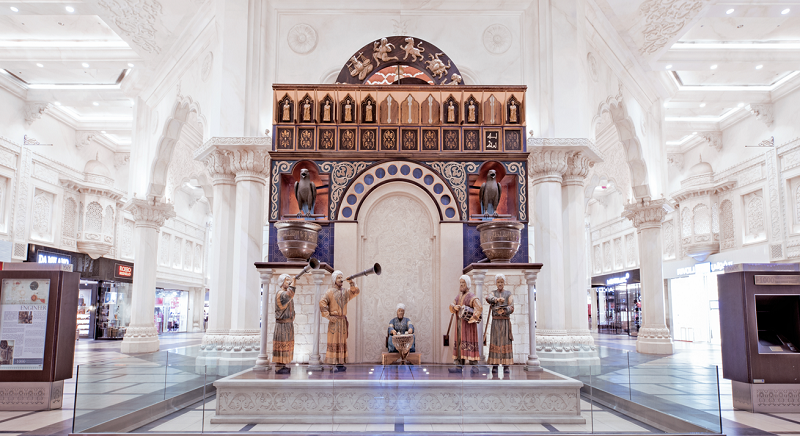 Services at Ibn Battuta Mall
Aside from all the retail, dining, and entertainment outlets, Ibn Battuta Mall also provides different services to make your everyday life easier! There's a pharmacy, fitness centre, banking, delivery, auto care, and more!
If you are pressed for time and worried about finding a good parking spot, for instance, the mall's valet parking service is available at Tunisia Court – Parking 3 and China Court – Parking 6.
Likewise, if you are tired from walking around the 1.3 kilometre mall, you can always hop on their shuttle service for just AED 5. Just head to the pick-up and drop-off points located near the Chinese Junk at China Court, Al Arrab Restaurant at Persia Court, and Fun City at Tunisia Court.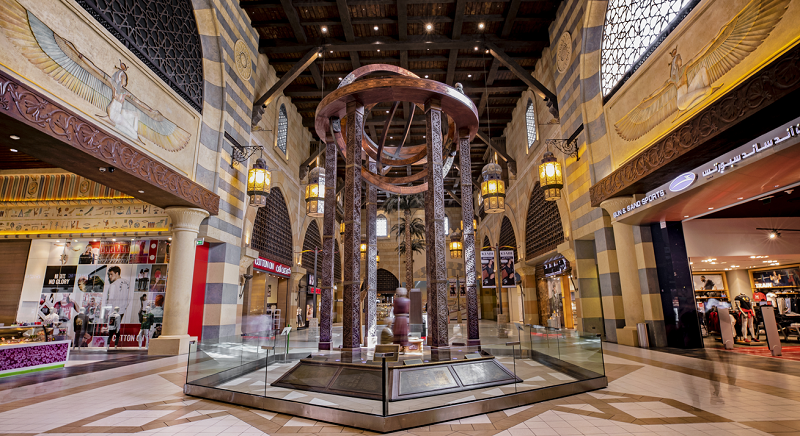 Opening Hours
The Ibn Battuta Mall is open daily, from 10 am to 12 am. During Ramadan, shopping and entertainment remain open until 1 am, and dining until 2 am!
Contact Information — Ibn Battuta Mall
Address: Sheikh Zayed Road Dubai, UAE
Telephone: +971 4 390 9999
Email: info@nakheelmalls.ae
Website: https://www.ibnbattutamall.com/en
Facebook: https://www.facebook.com/IbnBattutaMall
Instagram: https://www.instagram.com/ibnbattutamall/
Twitter: https://twitter.com/ibnbattuta_mall

How to Get There
Ibn Battuta Mall is situated adjacent to Sheikh Zayed Road, between Interchanges 5 and 6. When traveling by car, you can easily access the mall from Sheikh Zayed Road and nearby communities.
You can also take a taxi to the mall from anywhere in Dubai. At the mall, you can find taxi stands at the Andalusia Court Entrance, China Court Main Entrance, and Persia Court Main Entrance.
If you are traveling via the Dubai Metro, take note that the Ibn Battuta Station (situated right next to the mall) is on the Red Line in Zone 2.
Here is the Google map location of Ibn Battuta Mall, for your reference:
Video – Ibn Battuta Mall
Check out this exciting video of "roaming entertainment" that the mall featured recently, as shared by the Ibn Battuta Mall Facebook page:
It's not everyday that you get to go shopping while passing by a Chinese vessel, dine beneath a domed ceiling, or buy groceries while marveling at Egyptian hieroglyphs. The Ibn Battuta Mall offers all these and more! Meanwhile, if you are short on budget and looking for low-cost activities, here's a list of
free things to do in Dubai
! Enjoy!