Today's OFW interview features Jacklynne, a 24-year-old Filipina living in Dubai. Having accomplished her Bachelors Degree in Communications, she currently works as Lead of Content & Digital Marketing for the biggest IT and Tech Distribution company in the region. Prior to this, she has held similar jobs in the Philippines and Qatar.
Jacklynne enjoys her job, but there's another thing that she is truly passionate about… In fact, she has made quite a name for herself when it comes to traveling! Have you heard about the self-made Filipina who traveled around the world when she was just 21 years old? That was her!
According to Jacklynne, she was able to fund her world trip, even though she doesn't come from a rich family. This could be attributed to her excellent financial management skills, despite her young age. In the following post, she talks about the importance of saving money, making wise investments, and improving oneself. She also shares some pictures taken during her globe-trotting adventures. Read on and be inspired by Jacklynne's exciting story!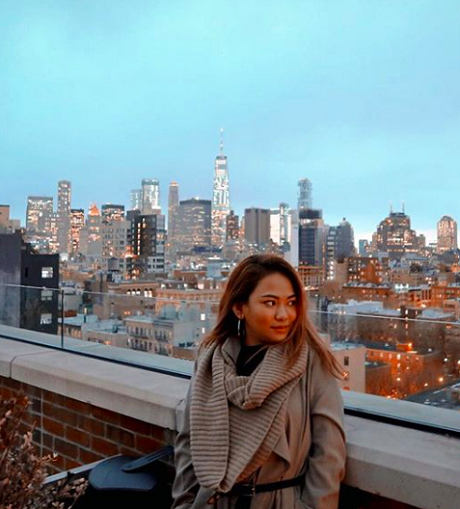 OFW Feature: Lead of Content & Digital Marketing in Dubai
Name: Jaclynne Lambino
Age: 24 years old
Current Profession: Lead of Content & Digital Marketing
College Degree: Bachelors Degree in Communications
Years in Dubai: 9 months
1. Tell us about yourself.
Hi! I'm Jacklynne Lambino, 24 years old, and currently the Lead of Content & Digital Marketing for the biggest IT and Tech Distribution company in GCC. Less than 3 years after graduating from Adamson University with a Bachelors Degree in Communications, I tried my luck in Middle East. I was first hired in Qatar from the Philippines as a Senior Digital Marketing Specialist for a government company, then I moved here in Dubai just 9 months ago.
Aside from my professional life, I'm also into traveling! I've been featured in different websites such as Cosmopolitan, Rappler, and When in Manila for being a self-made Filipina who funded and traveled my own world trip when I was just 21 years old! I can say I am really determined in reaching all my goals, even though I didn't come from a rich family. Having grit is what I am known for within my circle.
2. Why did you come to Dubai?
Dubai has always been one of my dream cities where I can pursue my career. This city is known to be one of the best places for Digital Marketers like me, as the technology here is fast-evolving and I can learn and experiment in my field. I was perfectly happy with my job in the Philippines, but when the opportunity to work in Middle East knocked on my door, I grabbed it as fast as I can! Not only is the money the most exciting here, but it's the learning!
3. What were your previous jobs?
I worked for Lazada as an SEO Writer and Analyst before I graduated from college. After that, I worked for an American consultancy firm as a Digital Marketing Specialist, then I was hired as the Head of Digital Marketing for a Southeast Asian FinTech company. That was my last job before I moved to Qatar to be a Senior Digital Marketing Specialist for a government agency focused on sustainability and environment. I then moved to Dubai, where I'm currently the Lead of Content and Digital Marketing for an IT/Tech Distribution company. So yes, my jobs are strictly into Digital Marketing and I don't think I'll ever get tired of this field. I love it!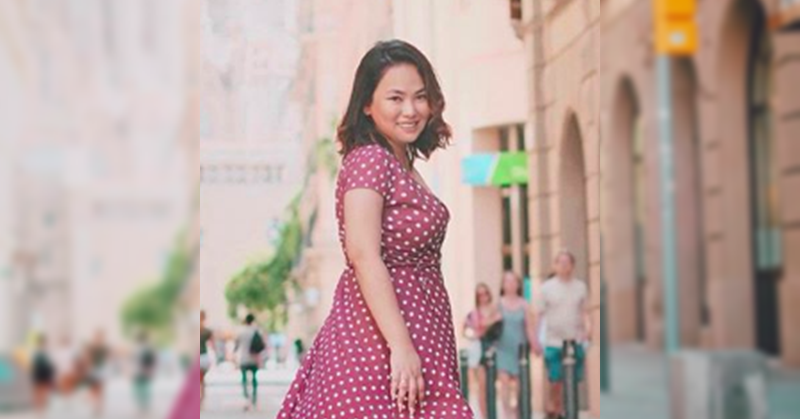 4. How do you find your current job? Are you happy/satisfied with it?
Absolutely! It really is my dream job! I do campaigns for brands such as Apple, Microsoft, Lenovo, Dell, and HP, to name a few. Seeing these go live makes me so ecstatic. All my hard work are so worth it whenever I see the audience response to a campaign where I am a part of. I really take pride in every work that I do; that's why I'm never complacent. Even after being in this industry for years now, I still go home and study, see what else I can do to improve as a Digital Marketer. It really helps that I work in an amazing environment where people are extremely smart and hardworking. It inspires me to be better everyday.
5. Are you able to save in Dubai? Why/How?
Yes, I am able to save and invest in the Philippines with the salary that I am getting here in Dubai. Every month, I have an allocated budget for my investments, insurance, and expenses back home. It's fixed and non-negotiable. I cut back on other things, just as long as I will be able to have that fixed amount every month. I don't have any luxuries as I believe that one working phone and laptop are enough! I also buy a 3-month unlimited Nol card for my transportation and that helps me save a lot. I have my priorities sorted; that's why I am able to save and invest.
6. Is it difficult to live in Dubai? What are/were your struggles? What's life like outside work?
I admit, it was hard at first. I came here not knowing anyone — no family or friends to support me, except for my college classmate whom I had not seen for 7 years. She has been my rock ever since I came here (Hi Kaye!). Not knowing anyone here is hard. Sure, you can Google things but it's easier when you find friends whom you can trust and ask for advice. I met my blog readers and my vlog followers and they became heaven-sent when I moved to Dubai. I struggled a bit at first because I didn't know what's practical and what's not, where it's cheaper to buy this and that, and how to be at my absolute best here in Dubai. Finding friends who had been here for quite some time made my life a lot easier. They know Dubai like the back of their hands, they can give meaningful advice, and they make my stay in Dubai more fun! Since then, being homesick got manageable and I finally had life outside work!
I feel lucky because I've been blessed with a great company which lets their employees take a breath and enjoy their leaves. This Eid, I took a leave and went to Germany, Norway, Sweden, Denmark, and Spain. Looking for a good employer should be #1 in an OFW's checklist when looking for a job.
7. What do you like about Dubai?
In Dubai, you can be whatever type of person you aspire to be! I came here to be better at my field and because of the opportunity here, I am exactly that! I learned a lot in just a span of 9 months! You want to be one of the best in your industry? Strive hard and you can be just that. Want to save money and invest for the future? A lot of companies here can give you salary that can do that, just as long as you prove yourself to be valuable. People who want to be at their very best should come to Dubai. It might be a very competitive city, with all the talented and smartest people from all around the world, but I believe that if we work hard enough and believe in ourselves, we can be on top. Thank you Dubai for all these opportunities!
8. What do you NOT Like about Dubai?
Aside from the unbelievable heat and humidity, it would be the high cost of living. People from all walks of life — no matter how much you are earning, you'd agree how absurd the prices are here. For my first 3 months in the Middle East, I kept on converting prices in AED to PHP and it made me so frustrated. For example, a burger from a fast food chain would cost 45 pesos in Philippines; here, it would cost 150 pesos! It's really hard to buy things when you see such difference. However, it is what it is. All we can do is to set a budget and be practical about our finances.
9. What are your plans in your career/family/future?
I am still enjoying Dubai very much and I don't see myself leaving this city for the next couple of years or so. I feel like I have the potential to succeed here and provide more for my family. Career-wise, I want to keep improving and improving. It excites me so much, working for all these giant brands as I'm learning a lot. I'm just 24 years old so I have no plans of having a baby or starting my own family yet. Everything I'm doing right now is for self-love, finding myself, and also for my family whom I love very much. It has been almost a year since I have seen them… so yes, that's my plan for now — to visit my home country and hug my family.
It would also be amazing to see more countries while I'm working here in Dubai. Airfares are cheaper, so I have to take advantage of them! 😛
10. You have any tips for Kabayans when working/finding work/living in Dubai?
For Kabayans looking for a job, don't think that your effort is enough. You have to be crazy when applying for a job! I didn't get this job that I had overnight. I think I had applied for more than 500 jobs before landing this one. Know your value and don't ever let anyone lowball you because they think you're desperate enough in looking for a job here. Learn when to say no when you think the offer is not in line with your potential contribution to the company. Improve your skills, learn something new everyday, so that companies will come chasing after you.
For people who are already working here, don't be too self-satisfied. You might be the best at your field, but that doesn't mean you're irreplaceable. Once you go idle and your learnings become stagnant, the company can easily replace you, so believe what Steve Jobs said: "Stay hungry, stay foolish."
For those living in Dubai, don't fall into a debt trap! A lot of Filipinos here have been tempted into swiping those latest gadgets and other luxuries, then get shocked with the bills + interests. We don't need to impress anyone — not our fellow Kabayans in Dubai nor our friends or family back in the Philippines. Be mindful of all your expenses and don't forget to set up Philippine saving accounts. Every payday, transfer money from your Dubai bank account to that account. It doesn't need to be a big amount, just as long as you make it a habit every month!
That's it, and I hope I have inspired you one way or another. Enjoy Dubai!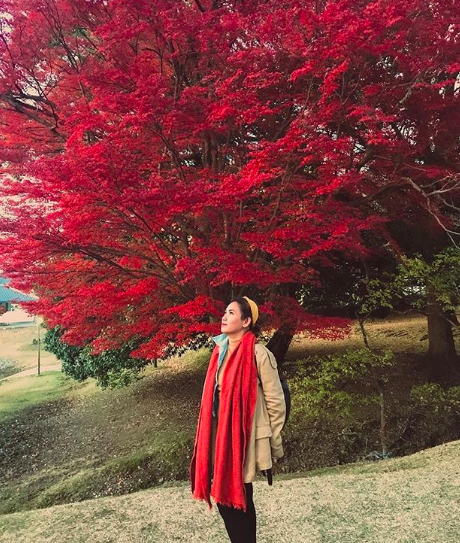 Connect with Jacklynne on Social Media
To know more about Jacklynne, or to ask questions (she gives free advice on getting US, Europe, and Japan visas), simply follow her through these accounts:
Instagram: @jacklynne
Facebook: Jacklynne Lambino
YouTube: Jacklynne L
Website: Jacklynne.com
—————-
*Photos provided by Jacklynne
Are you an expat in Dubai? Do you want to be featured in the website? Send us an email telling us you want to be featured at admin@dubaiOFW.com and we will send you the set of questions! Let's help other Pinoys who want to come to Dubai understand what life in the UAE is like through your story.