Gulf Kids know that Al Karama is one of the oldest districts in Dubai, Karama means dignity, and until now, it has stood the test of time, brimming with history and nostalgia for people who have worked and grown up in the city. If you're in a shopping mood, you can visit the Karama market to find various fashion items or souvenirs, buy fresh produce in the Karama market, and more!
Today, Al Karama is accessible. All you have to do is go down to the ADCB metro station, and you can hop on bus no. 33 to go down in Al Karama if you want to do more sightseeing on the way; Karama will always be close to my heart since it's where I spent my childhood; I'll be giving you a run-through of all the nostalgic places for me and the must-visit places in Karama in and around Al Karama and why they are worth visiting! 
1. The Old Buildings and Apartments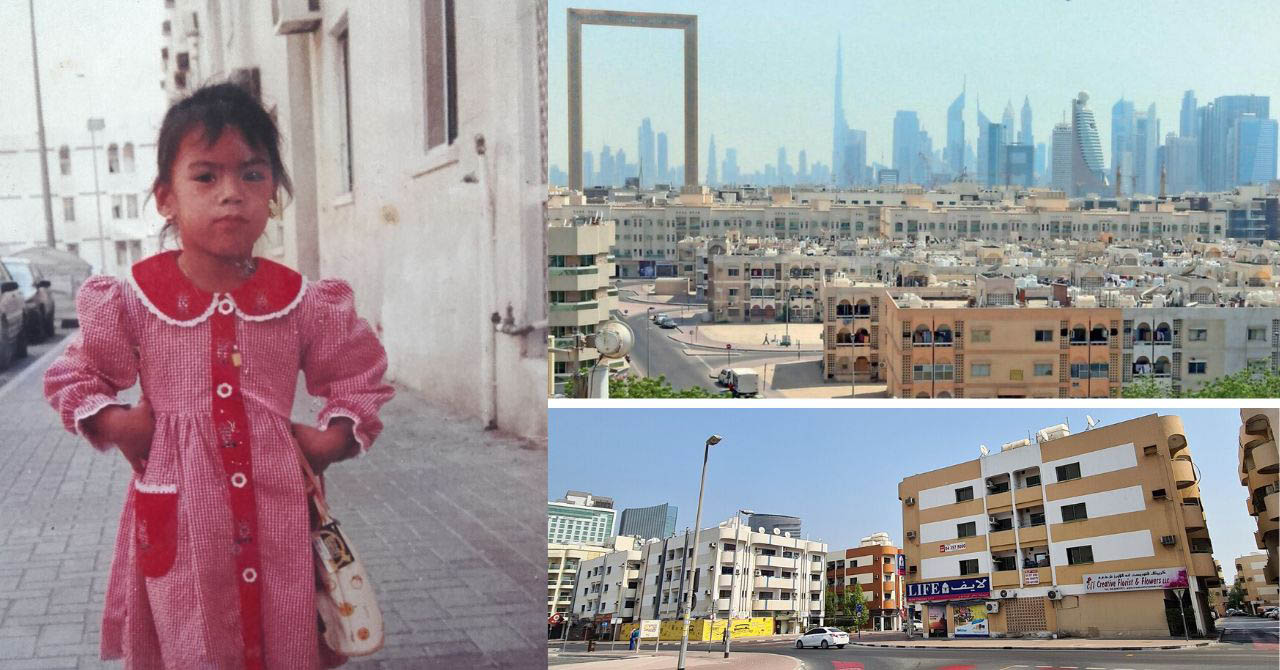 You'll see plenty of old buildings and apartments in Al Karama; some would need to be in a better state while others are new. Al Karama has come a long way from what I knew growing up, but some things in this district still haven't changed. I still know the roads and turns of the area at the back of my hand. Back then, it used to be the Filipino community.
That's why I often saw my parents bond with their friends in the cafeteria or see my grandparents, who came to visit and hang out in Filipino restaurants. Today, Karama is known to be an Indian community. If you're wondering if you should live here, you should give it a go since you'll see the picturesque The Frame standing tall in this district and see plenty of Indian restaurants and cafeterias in this area; if you love Indian food like me, then you'll moving in Al Karama sounds like a great idea! 
2. The Apple International Community School
At age four, I have vivid memories of my childhood in Al Karama since we lived there in the early 2000, mostly getting ready for school and doing activities like drawing or writing. There would always be children like me, and I would always run around. I studied kindergarten in the Apple International School, but back then, the location was in Al Satwa, but not in Al Karama; whenever I passed by the community school, I still felt nostalgic.
Studying in international schools growing up definitely shaped my worldview and my skills as a writer or an artist. When I was in high school, I met some schoolmates who also studied at Apple International School when they were younger, and we had something in common.
Seeing the school filled with students among the old buildings and apartments makes it accessible for the people who lived there to drop their children in school; back then my father would pick and drop me off with our car since it was in Satwa. After school, he would teach me how to write correctly, and after an afternoon nap, we would go to the park in our area. I have many fond memories of showing my mom my excellent star stamps on my hand after school. 
3. Al Karama Bookshop and Stationery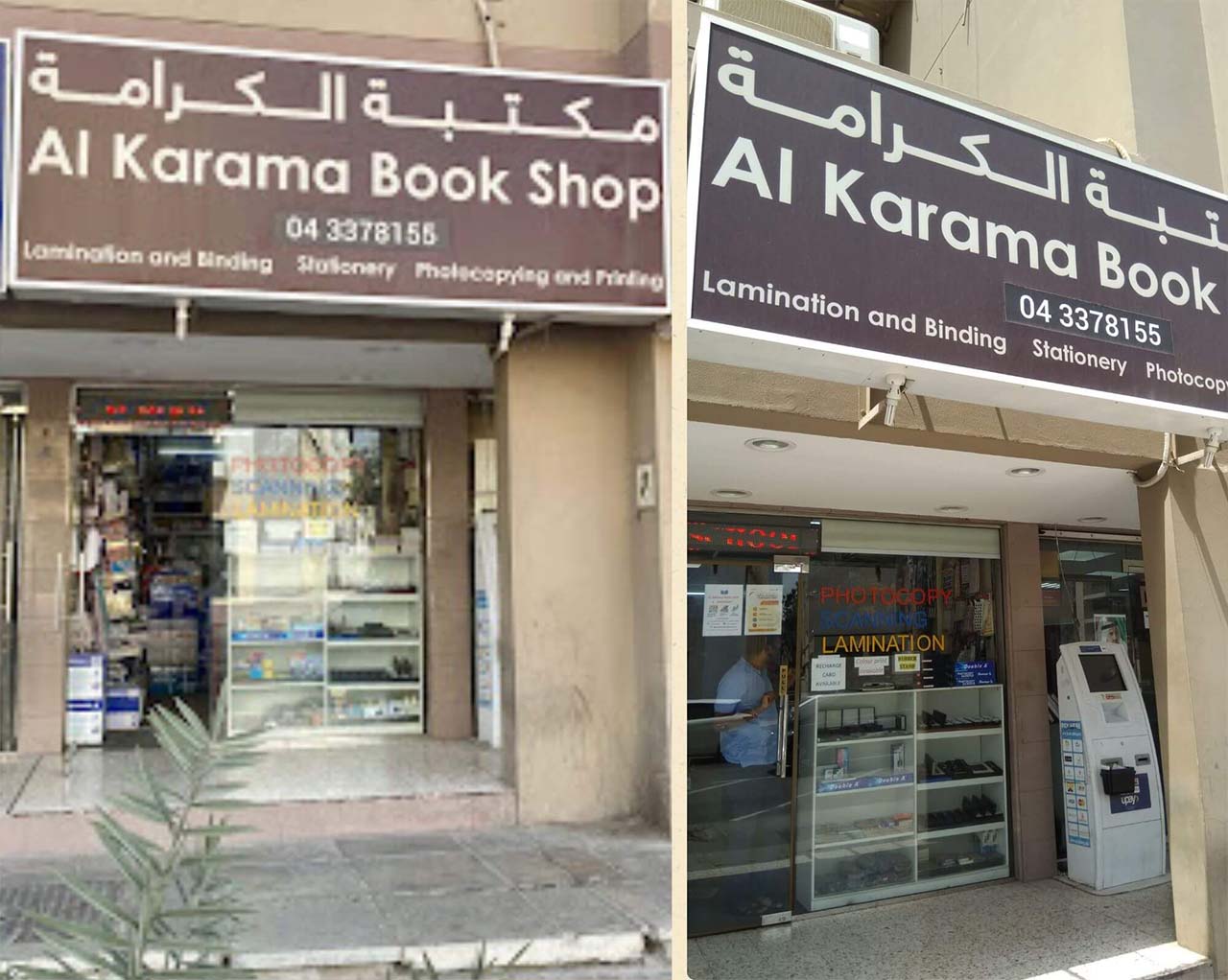 Some things don't change, and for me, it's excitedly going to the bookshop or stationery store! In Al Karama, we would always visit the Al Karama BookShop and Stationery to buy things I would need for school, from pencils to coloring crayons. It's like a magical place for me aside from the libraries! Since the Apple International Community School is accessible, parents or students can conveniently run to this trusty bookshop to buy their school needs! There's plenty of stationery in this shop, like scissors, notebooks, pens, glue, papers, and more!
4. Al Attar Centre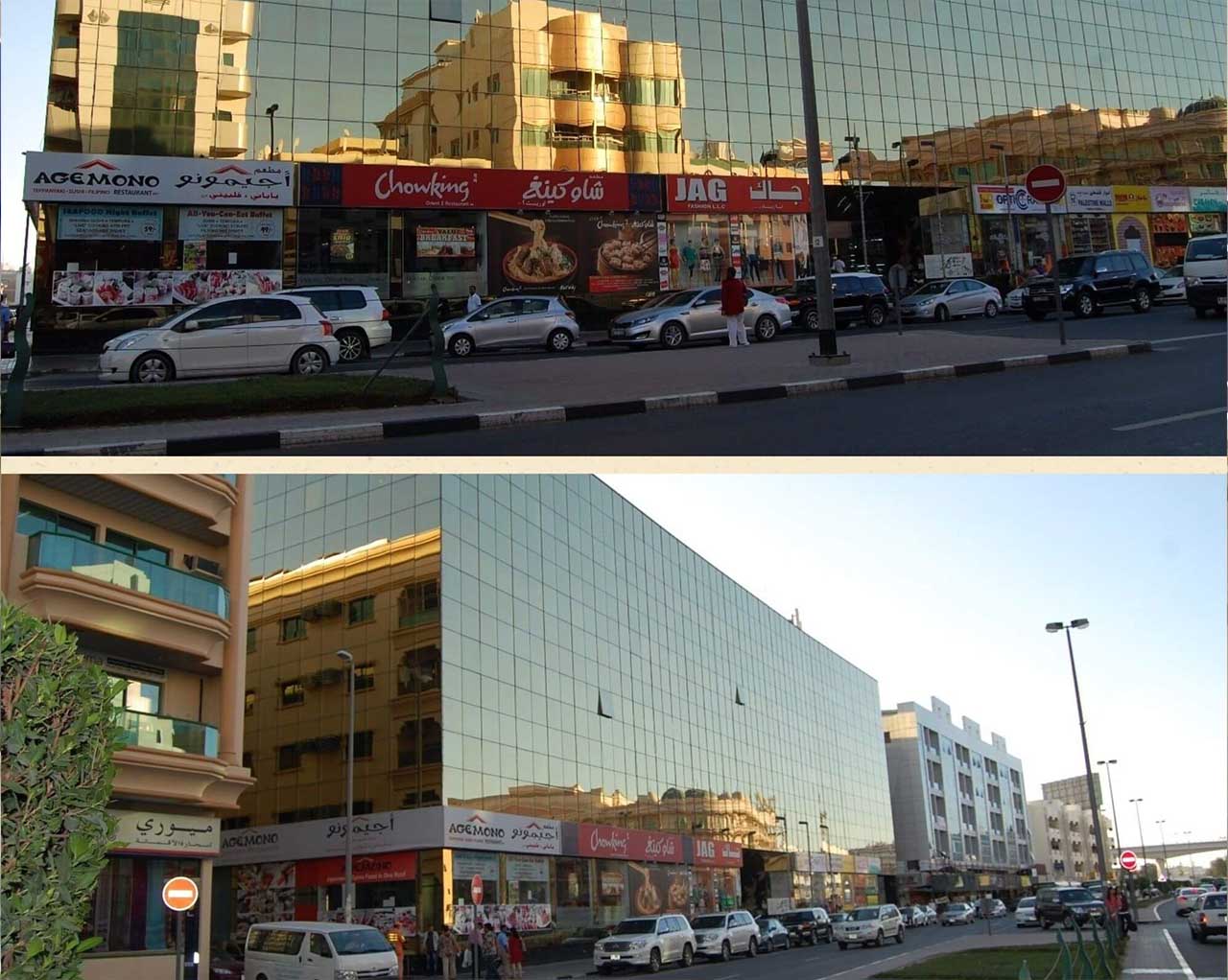 I have good, funny, and bad memories of Al Attar Centre since there used to be a fountain in this shopping centre, and I remember playing there and falling down the fountain. It made my father angry since I was a naughty kid.
You'll find plenty of restaurants and shops in Al Attar Center. We used to own a cellphone store in Al Attar, but sadly it didn't last. If you're wondering where to open your business in Al Karama, check out Al Attar Centre. When I was in high school, I found my dreamy baby pink gown for prom in this shopping centre, this is also the place where my mom bought me a cross necklace as a gift, which matches my baby pink dress for prom. If you ever find yourself hungry from window shopping or shopping in general, you can eat at Chowking or any Filipino restaurant in Al Attar. We first bought our karaoke set in this shopping center in 2007 or 2008! 
5. Day to Day ( Al Karama Branch)
I used to be really excited to shop in Day to Day when I was younger since it meant I could buy all the toys I wanted! It used to be under the Al Waleed 2 building, but now it's in a different location near Karama Centre and has more floors! Day to Day will always be a fan favorite for those who love discount shops. I always visit Day to Day whenever I want to shop for affordable stationary materials like notebooks or pens! Gulf Kids know how this discount centre has been a part of our childhood since it's usually the go-to of parents on the hunt for the latest homeware finds or souvenirs! I remember going in Day to Day with my cousin, and we would run crazy to the store entrance!
6. Al Karama Park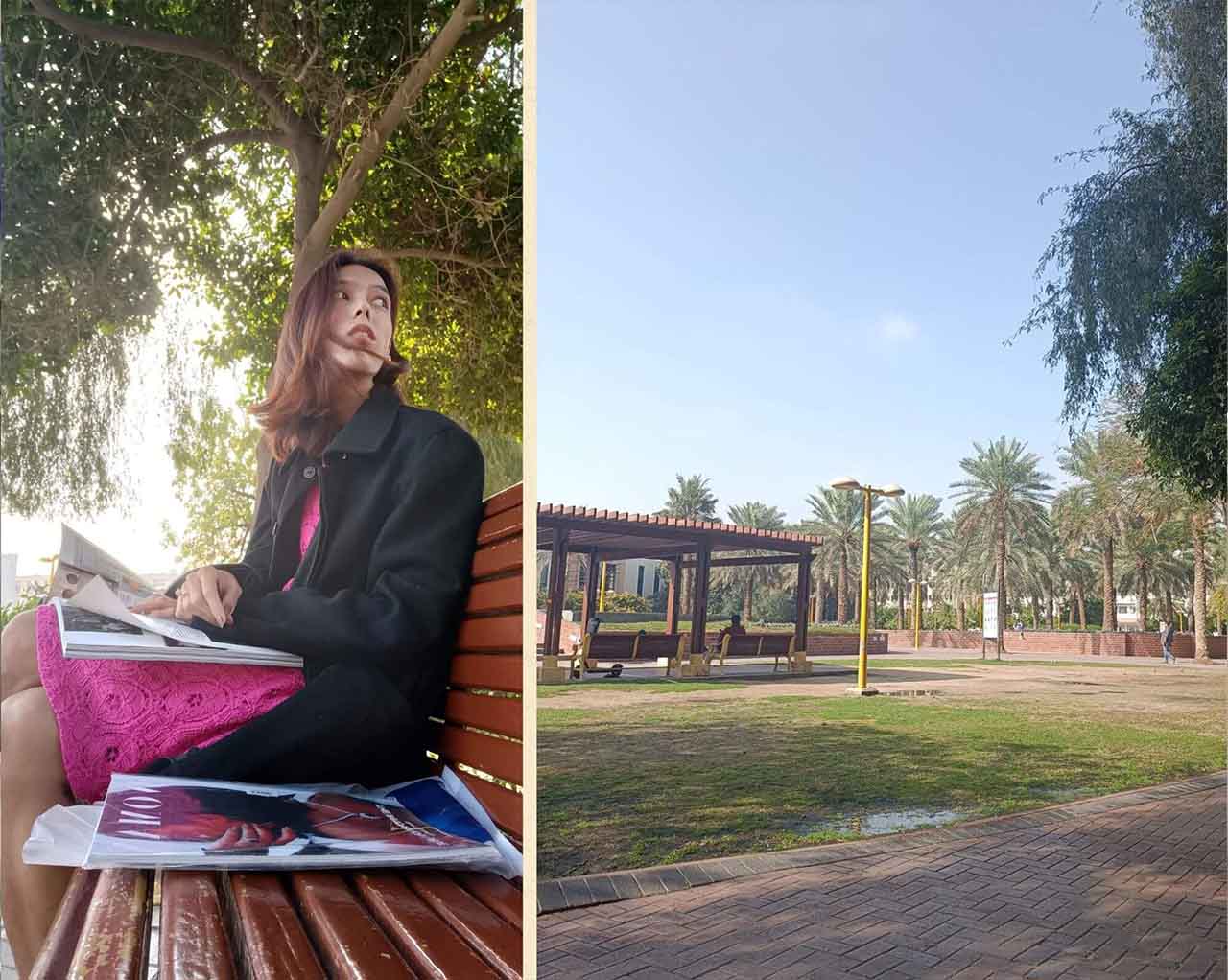 My dad and I always went to Al Karama Park when I was younger. I have happy memories of biking, riding my scooter or playing with my parents in this park. The park would often give a refreshing break whenever you're outside. When I was older, my mom and I would sit in this park, talk about life, and eat snacks.
The Al Karama Park used to be simple and had less greenery, but when you visit the park now, you'll see beautiful landscaped flowers and greenery. The park has clearly developed over the years. Whenever you find yourself bored at home or just want to relax in a public park, Al Karama Park should be your go-to!
For my 25th birthday last February, I spent a quiet afternoon reading, writing in my journal, and reflecting in Al Karama Park! I would often visit the park whenever possible since it always automatically makes me feel nostalgic and happier! There are adorable cats roaming around the park, and you can enjoy the countless beautiful and colorful flowers! Just keep in mind since it's a public park, it can be crowded!
7. Lulu Hypermarket ( Al Karama Branch)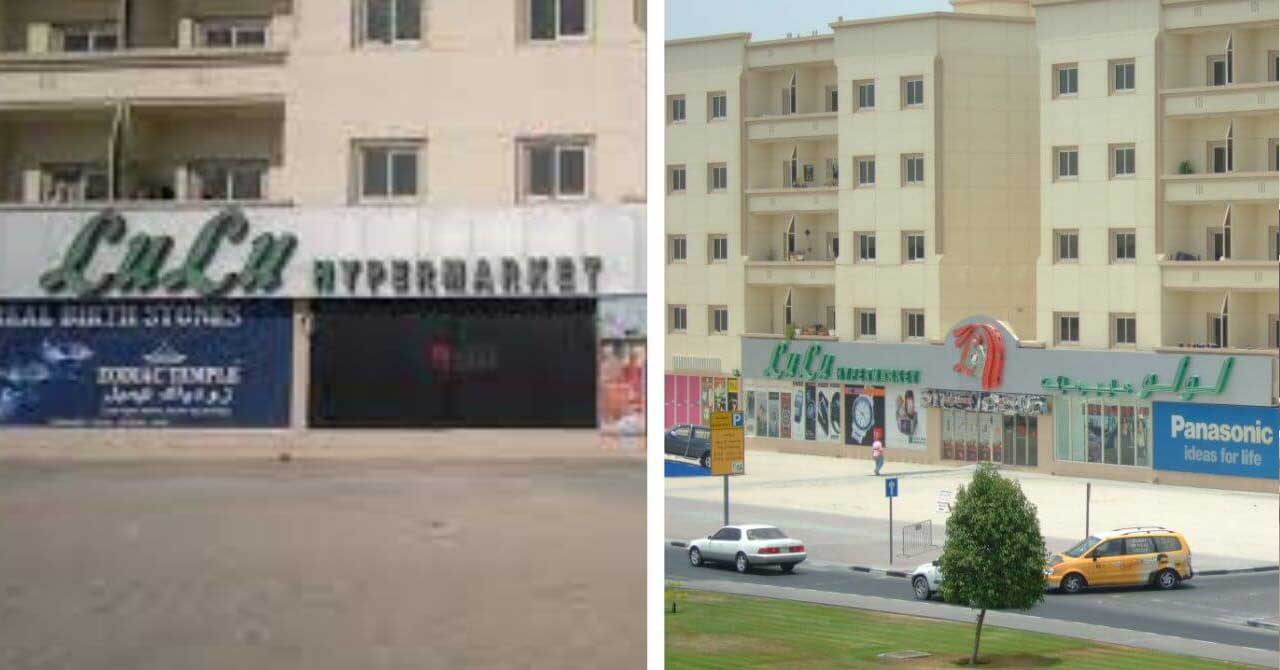 Ah, Lulu Hypermarket, so many grocery trips were done here in that old hypermarket; how can you missed this old landmark whenever you're in Al Karama? You can always stop and buy a refreshing drink or hot ready-made meals in this hypermarket whenever you're on the run, and there's also a department store where you can buy clothes or the latest gadgets. Lulu Hypermarket has always been a part of everyone who has lived in Al Karama!
8. Karama Centre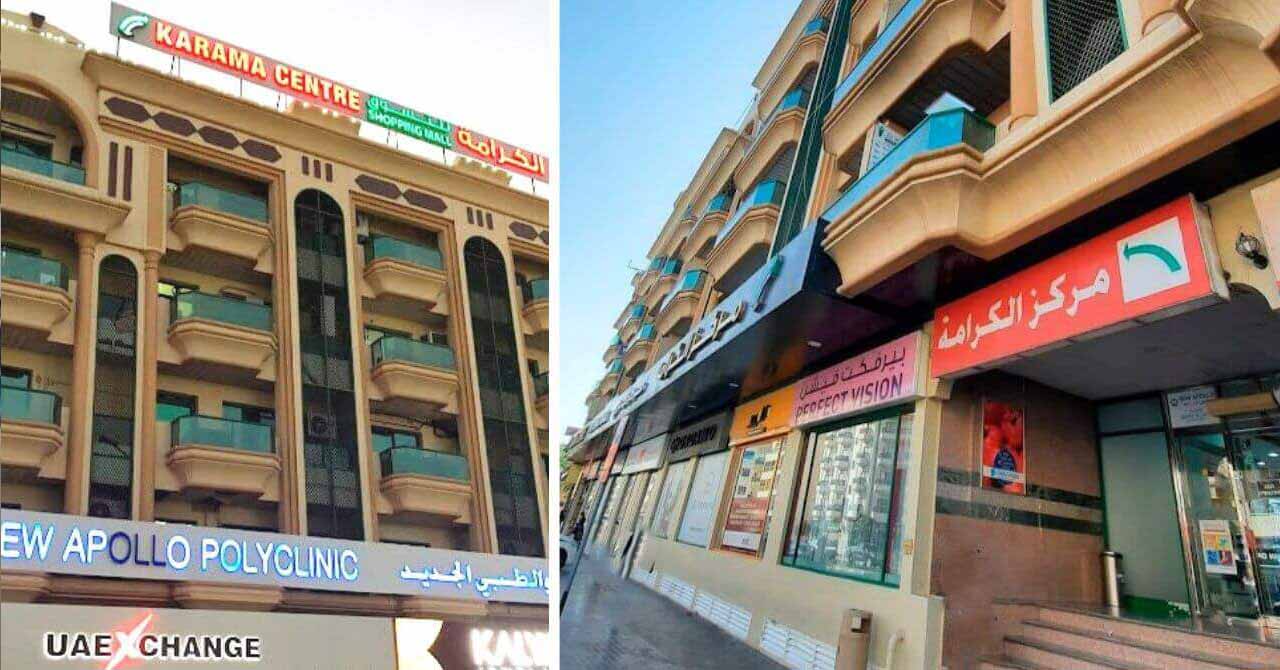 Karama Centre is another go-to for those who live and are visiting Al Karama. There's Karama Medical Centre here. This is where I usually go for general checkups with my mom; until now, I go to my childhood doctor there! You'll see plenty of jewelry shops, gold shops, and Indian partywear shops; this is also the place where I bought my Indian earrings. You'll love shopping in Karama centre since there are many shops to explore if you ever visit this shopping mall!
9. Al Karama Market/ Karama Fish Market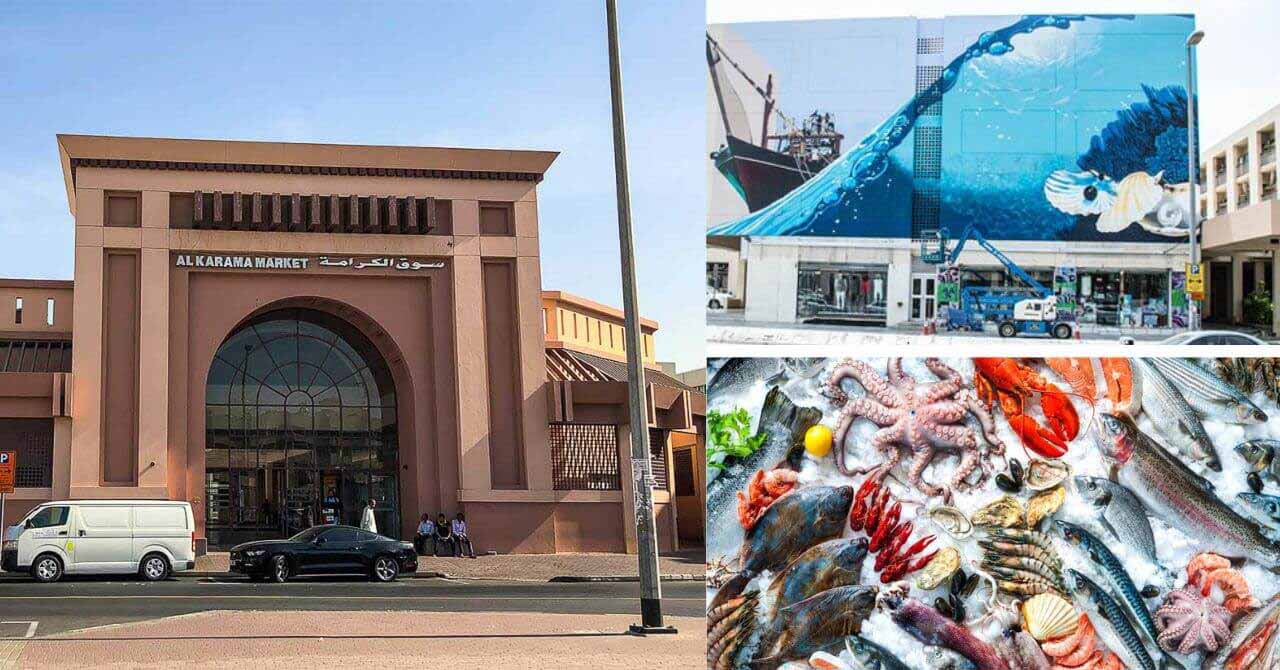 If you ever need fresh produce like fish, vegetables, or meat, you can find them all in the Al Karama Fish Market. I used to have fond memories of accompanying my mom to the market where an Indian fish seller would call me panget endearingly with a smile, but since I was younger, I would tell my mom and point out that same old guy who always called me that, my mom would smile at the seller since they are friends. Unfortunately, he's no longer in the fish market. Al Karama fish market's plenty of fresh produce, and you can always expect fresh yet affordable products for your everyday cooking! It's near Karama Shopping Centre, so you will be able to find its location!
10. Karama Shopping Centre
Karama Shopping Centre is known for finding high-quality replicas of your favorite brands, and there are plenty of shops to visit where you can find fashionable items from t-shirts, polos, pants, belts, and anything you're looking for; you can find them here! There are also plenty of souvenir items from camel stuff toys, Arabic-inspired carpets, and homewares!
I cannot count how many times we've been in these huge blocks of shopping centres when I was younger. I remember shopkeepers would call out to us and enlighten us with their goods. Until now it's still the same, when you visit the Karama Shopping Centre, you'll see shopkeepers busy convincing customers. They will let you sit and give you tea or coffee while shopping. You don't have to worry about shopping here since it's affordable and there are many stores you can check for options. Another fun thing about the Karama Shopping Centre is you'll see many beautiful murals that are instagrammable! 
11. Thomsun Supermarket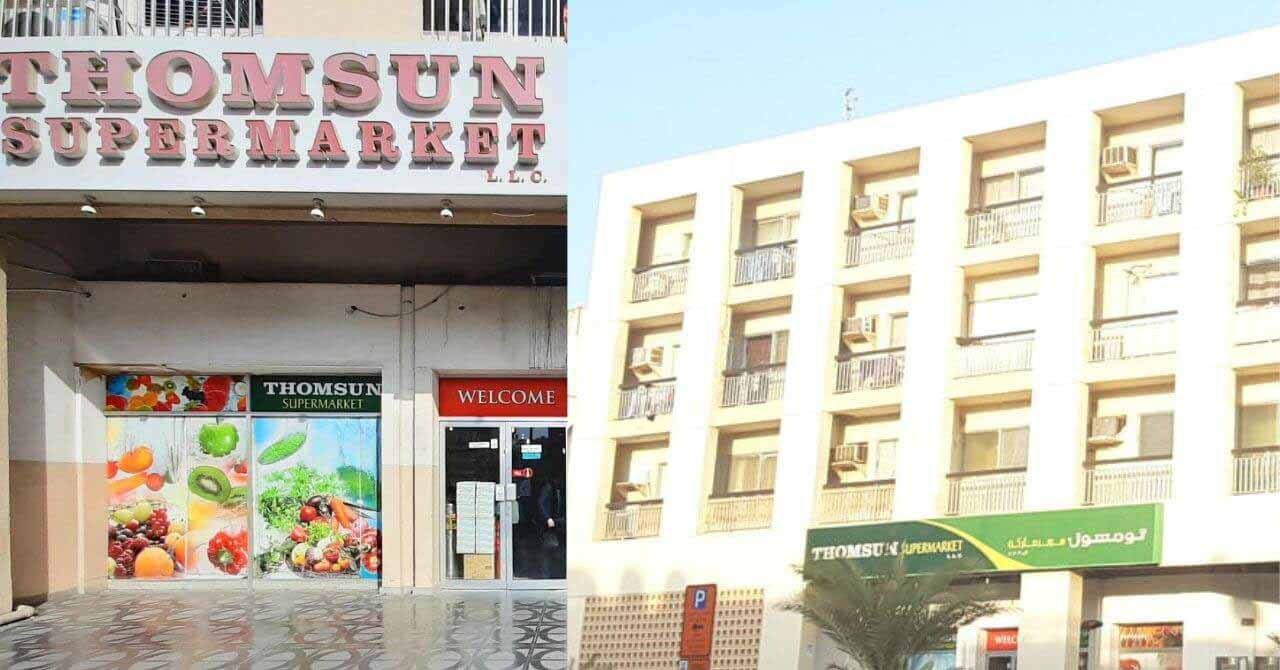 If Lulu Hypermarket is far from your area and you need to run errands immediately, Thomsun Supermarket in Al Karama should be your go-to, especially if you live there. Many times when I was younger my mom and I would stop over at the Thomsun Supermarket and buy ingredients. This quaint supermarket in Al Wasl Building 58, 31B is jam-packed with cooking essentials, food, snacks, and more!
12. Redha Al Ansari Exchange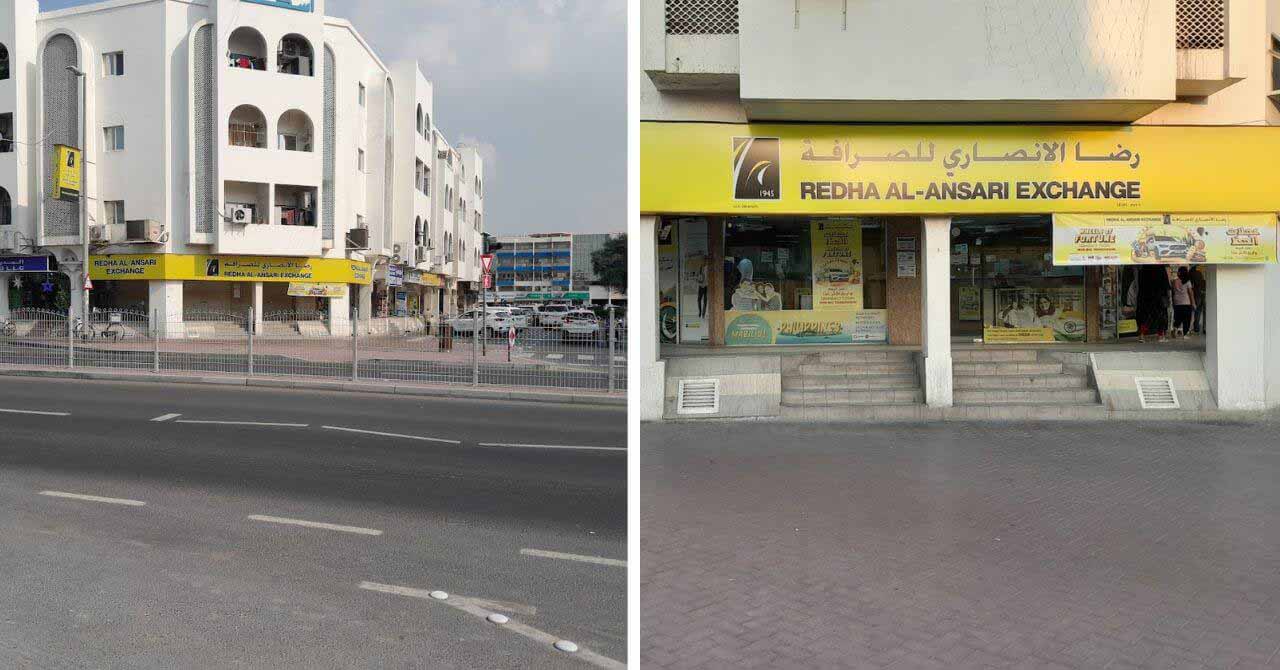 When I was younger, I often accompanied my mom to send money to the Philippines at the Redha Al Ansari Exchange. Of course, I would entertain myself by playing with my toys while I waited for her to finish; gone are the days I was innocent of responsibilities and the harsh reality of being an adult. If you're living in Al Karama, you have to know where you can send money to your loved ones back home, and Redha Al Ansari Exchange Karama branch is around the area, ready to cater to your needs.
13. Delmon Restaurant

If you're craving Filipino food while visiting Al Karama, you can see Delmon Restaurant in Al Kazim Building, opposite the Lulu Hypermarket. My family used to eat in Delmon every time they wanted Filipino food; not only was it delicious, but they had 5 AED meals back then! Of course, the time has changed, and expenses and inflation have affected every nation; the prices in Delmon also changed, but the quality of food is still consistent. You can relish eating kwekwek or lomi whenever you're feeling homesick!
14. Caesar Restaurant and Confectionery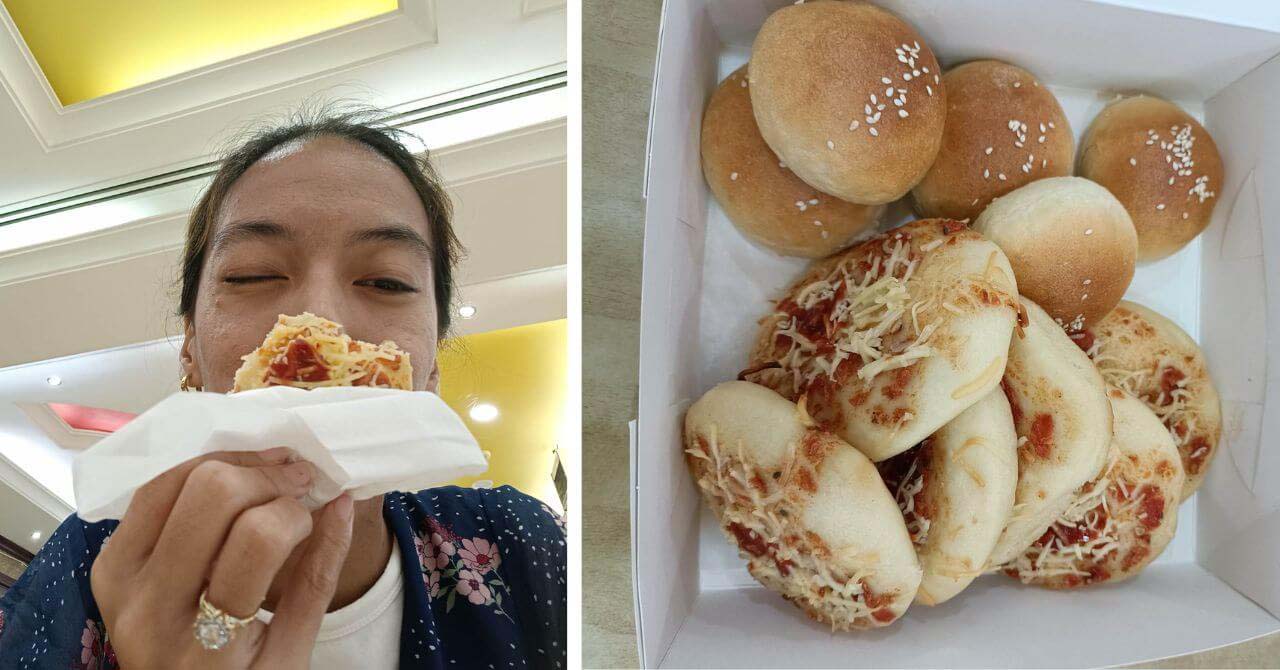 My love for Caesar Restaurant has always been consistent since I first took a bite of their famous mini pizzas which used to be 1 AED! If you ask me if I prefer huge sized branded pizzas or their pizzas? I would say Caesar all the way.
If you're looking for a nice place to eat bread or snacks like samosa, cakes, or any delicious baked goods in Al Karama, you can visit the Caesar Restaurant and Confectionery located in Al Nakheel Building. You can sit down in their spacious restaurant where you can see plenty of cakes and confectionery and have a wonderful time there! I always go back to Caesar's whenever I'm in Al Karama or Mankhool area near the Aster hospital just to get my fill of their mouthwatering baked goods!
15. Chittilappilly Jewelers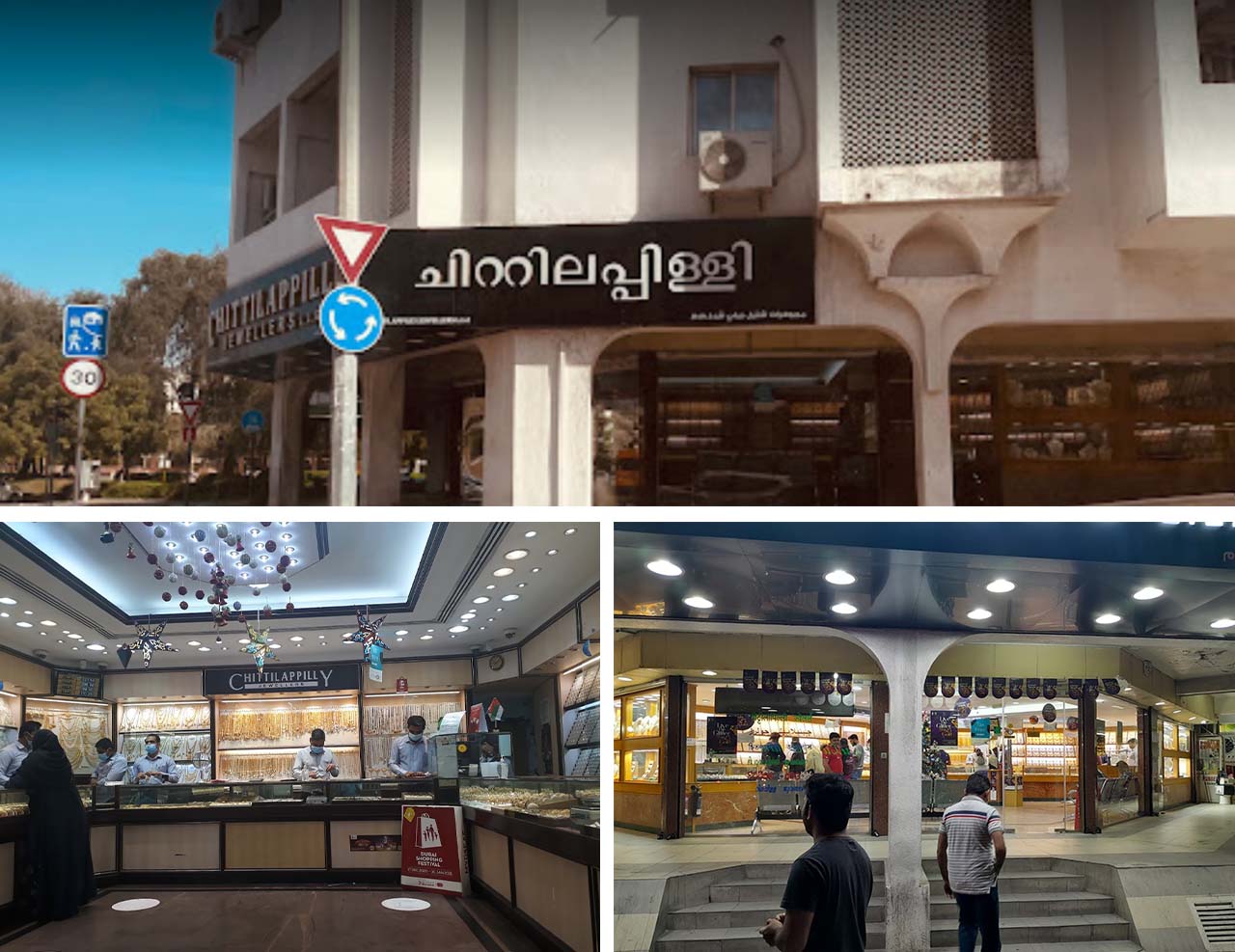 I would often wonder when I was a kid, why the Chittilappilly jewelers are always crowded. Many women and men are buying in this famous yet established jewelry store in Al Karama, it has always been eye-catching due to its crowd and dazzling jewelry that will entice you to take a look inside!
In case you're in Al Karama to find authentic and beautiful jewelry, you can count on Chittilappilly jewelers to find the perfect jewelry! I would still often pass by the jewelry shop and see what jewelry is worth buying! You can find many jewelry in their shop, from gold bracelets to Indian-inspired necklaces. Whatever you're looking for is in here; make sure to bring a friend or family member to help you pick the best one! The store is just across the Lulu Hypermarket and it's impossible for you to miss it!
16. Emirates Post Office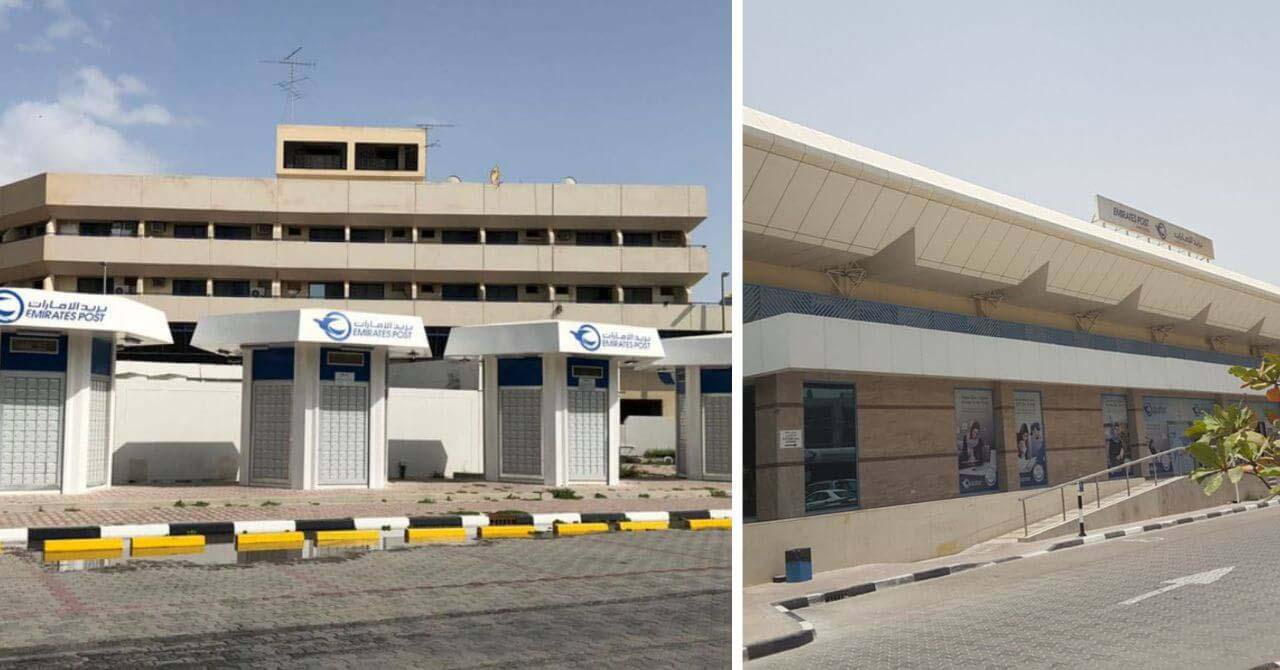 Remember the good old days of sending and receiving letters to loved ones or friends abroad? How about receiving parcels and running to the post office just to get them? My mom and I used to go to the Emirates Post Office in Al Karama to either get parcels or send letters in the early 90s. If you're nostalgic and want to send a parcel or a letter, you can go to the post office and ask how it should be done.
The building externally may look old, but internally, its modern and technologically advanced, a far cry from what I used to know; just like how fast Dubai managed to grow over the years rapidly, change is inevitable. It's for the better, especially for the Emirates Post Office located on Zabeel Street!
17. Burjuman Mall
Burjuman Mall also has a special place in my heart as a Gulf Kid since we had many fun times in this mall! If you're looking for a place to shop, dine, and have fun, then Burjuman Mall is near Al Karama, and you can easily visit this shopping destination in no time! Since 1991 this mall has been one of the OG or original malls since the 90s, aside from the Deira City Centre! You can shop until you drop in Burjuman Mall after visiting Al Karama. If you are coming from Al Karama, you can ride the bus C05 or the metro and go down to Burjuman metro station on the red line.
18. Nesto Hypermarket ( Al Karama Branch)
Nesto Hypermarket is one of the go-to places in Al Karama; if you're wondering what other discount stores you can check out aside from Day to Day, there's an Al Karama branch of the Nesto Hypermarket that is highly accessible once you get out of the ADCB station since it's near! You can buy many discounted items here, from food to souvenirs!
19. Manvaar Restaurant
Since Al Karama is now an Indian community, plenty of restaurants and cafeterias in the area cater to Indian cuisine from Punjabi to Gujarati. If you're a massive fan of Indian food, then you'll have a great time eating at Manvaar Restaurant since they have an aesthetically pleasing Rajasthan interior, and the ambiance is excellent. They also have mouth-watering food from Dahi ke Sooley to Daal Bati Churma! Manvaar restaurant is near the Al Karama Fish Market, which will make it easier for you to visit. You can enjoy a scrumptious meal in this restaurant after running errands!
20. Damyati Express
Another best restaurant to try in Al Karama is the Damyati Express! If you want to eat delectable Egyptian or Levantine food, this restaurant should be your go-to! They are known to offer delicious lamb chops, Arayes, Kebabs, and hummus in the area! If you love Falafel, don't worry, they also have them here! If you're after good food after a long day of strolling in Al Karama, then Damyati Express will quickly satisfy your cravings!
21. Hot Palayok Restaurant
Another Filipino restaurant worth visiting in Al Karama is the Hot Palayok Restaurant! If you're a fan of a buffet restaurant offering authentic and delicious Filipino food, you should add this restaurant to your bucket list! Filipino food is not only being served in this restaurant but Asian food like sushi! If you love ginataang bilo bilo, kakanin, kare kare, and other Filipino dishes, you'll get your fill-in Hot Palayok Restaurant! The spacious, laidback yet neat ambiance makes it great for get-togethers or even intimate wedding feasts! This Instagrammable buffet restaurant is at the Corner of 39th Street and 6C Street Wasl Hub!
22. Dubai Frame
Another famous landmark you can visit around Al Karama is the Dubai Frame since it towers over the district that it's irresistible to pay a visit to. The Frame is about 150 metres high and 95 metres wide, which resembles a picture frame, an ode to the past of Dubai and the present and future of the city. Since Dubai is now modern and technologically advanced as a city, it's a great reminder of its humble and culturally rich heritage. If you're from Al Karama, Dubai Frame is located near Zabeel Park. You can ride the metro and go down the Al Jafiliya station on the red line and from there the Dubai Frame is accessible by walking.
23. Deira Souk Market
Another place near Al Karama you can visit is the Bur Dubai Souk Market or Old Souk. If you're an old soul and want to feel nostalgic, like you're walking in the old Dubai, then you can visit the souk to buy trinkets, souvenirs, jewelry, Arab garments, and more! You can also ride an abra or boat. When you visit the souk market, it's hard not to be in awe of its old charm! From Al Karama, you can ride the bus C03 or go down to Deira City Centre/ Deira metro station, which is on the green line.
There are many nostalgic places in and around Al Karama for Gulf kids or expats who have lived and worked in the UAE for years. No matter where you go, some places will always be special in your heart since they have many happy or painful memories.
Al Karama will always be my happy place in the UAE, and once you visit these treasured places of mine and highly recommended go-to's, remember to leave your mark and create new memories in this city!
———————————-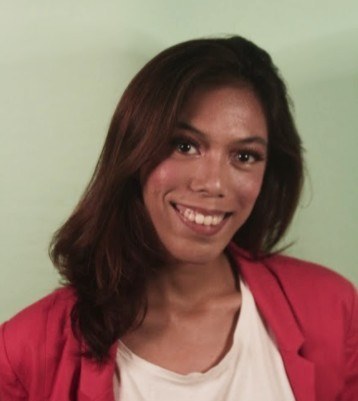 About the Author: Nicole Marie Valdez
Nicole Marie Valdez is a seasoned writer, editor, and publicist for over four years now. She's a mental health advocate and passionate about writing purpose-driven stories.
———————————-