For today's OFW feature, we interviewed Kim, a 31-year-old Filipino expat in Dubai. He is 31 years old, currently working as a Radiographer. He also happens to be a Hobbyist Photographer who takes breathtaking pictures of Dubai's famous attractions!
Previously, Kim had been a Clinical Instructor, College Professor, and Board Exam Review Lecturer in the Philippines. Eventually, he landed his current job in the UAE — a job that he finds fulfilling alongside his other passion: photography. Outside his job, he leads photography workshops for beginner, intermediate, and advanced photographers.
In the following interview, Kim talks about the ups and downs of being an OFW, especially now that a health crisis has hit the UAE and the rest of the world. He encourages fellow kabayans to stay positive amid the current situation, while sharing tips and insights for those who have just started on their OFW journey. Keep on reading to know more about Kim and his unique OFW story!
OFW Feature: Kim, Radiographer and Hobbyist Photographer in UAE
Name: Kim
Age: 31 years old
Current Profession: Radiographer, Hobbyist Photographer
Years in Dubai: Almost 4 years
1. Tell us about yourself.
Hi! My name is Kim, 31 years old, and working as a Radiographer. I graduated with a degree in Bachelor of Science in Radiologic Technology. And no, we are not the technicians fixing radios, for people who are not aware of our profession! We are the ones taking X-rays, CT-scans, MRI, and ultrasound, to name a few.
I have been working in the UAE for nearly 4 years now and currently working in a specialized dental center in Sharjah under a government authority. But due to this crisis, I'm currently assigned to a COVID-19 case surveillance team. Basically, we are contacting people who recently tested positive with the virus and helping to arrange them for isolation. I don't know if that can be considered a frontliner's job — as I don't have direct physical intervention with the patients — but being part of the fight against this pandemic is truly the most fulfilling job for me right now.
I am also a Hobbyist Photographer who ventures out of my hospital work by conducting Photography workshops, which covers Cityscape and Landscape Photography.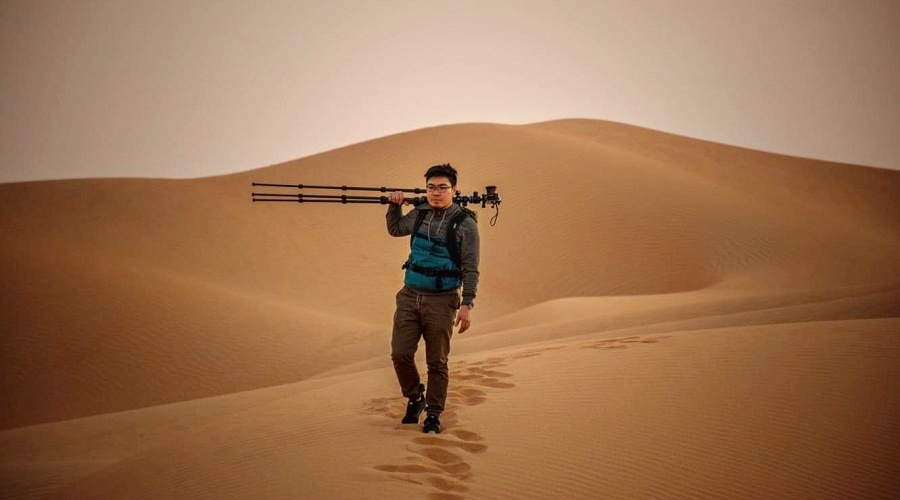 2. Why did you come to Dubai?
I came to Dubai mainly because taking the Radiologic Technology course was planned for me to work abroad, steered by the culture trend years ago in response to the international demand for healthcare workers. Although I tried practicing my profession as a Radiographer back in the Philippines, working abroad is conveniently the best option for most of us paramedical professionals, who are looking for greater opportunities and a more rewarding job. And Dubai is certainly on the top list!
3. What were your previous jobs?
Right after I obtained my PRC license, I was still counting on the fact that finishing this paramedical course and performing well in my board exam will apparently give me the edge of landing a job easily. Nevertheless, I ended up going back to school for a job that brought me to my most dreaded situation of all, which is to stand and talk in front of a crowd, and became a teacher!
I became pressured due to being unemployed for months. And so, I gambled in this rare opportunity offered by a mentor who I really looked up to. At first, I was a Clinical Instructor, visiting and doing paper works for students who were having their internships in different hospitals within Metro Manila. Then I became a College Instructor/Professor in three different schools, as well as a Board Exam Review Lecturer. The struggle of studying and lecturing all the subjects of this course at the same time was a downright grinding job, especially for an indolent student like me from elementary to college!
Nonetheless, I treated these hardships as an investment and trusted the process that this would make my work easier in the long run. It turns out that upholding the expectations of this job truly took a toll on me, my health, as well as my time with my family. So much so that I slowly shifted to practicing my profession in the hospital setting for a few months, then eventually settled for better career opportunities here in Dubai.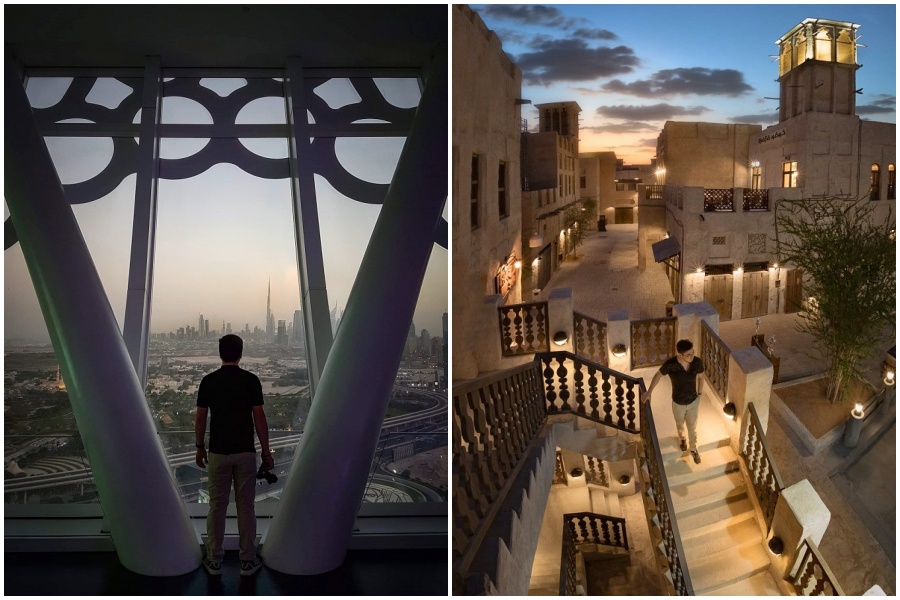 4. How do you find your current job? Are you happy/satisfied with it?
Absolutely! Though I am used to the questions of my friends and former students asking me why I ended up taking x-rays of teeth for a living, considering all those years of studying, I always answer them that I am contented and at peace. And perhaps that is one of the things that one should look for in a job other than the salary.
What I like most in my current job are the duty timings; I can now go to work at times like most normal people do. Lol. Yes, it may not be the best job option that a career in Radiography may offer, and I may not be applying most of the things that I learned — but it is indeed a blessing, and I now have plenty of time to learn and pursue other things beyond my field of work, things which I believe most hospital workers are missing out on due to our complex schedules.
5. Are you able to save in Dubai? Why/How?
My financial situation here is basically a balance between saving money and/or spending it to be with my family back home, yet I tend to do the latter more often. I always travel back to the Philippines whenever I have the chance. I even had some five-day vacations there before! I had several surprise homecomings for my family's birthdays, and seeing them cry out of joy when I pop up in front of them during their special day was truly priceless.
For me as an OFW, this utter compromise of being apart from them that we have to take is also the simplest yet the best gift we can give to them and to ourselves as well while they're still here. It was always well worth it, spending my earnings to be back home. I may not have saved much from the past four years, but it always feels better being debt-free here.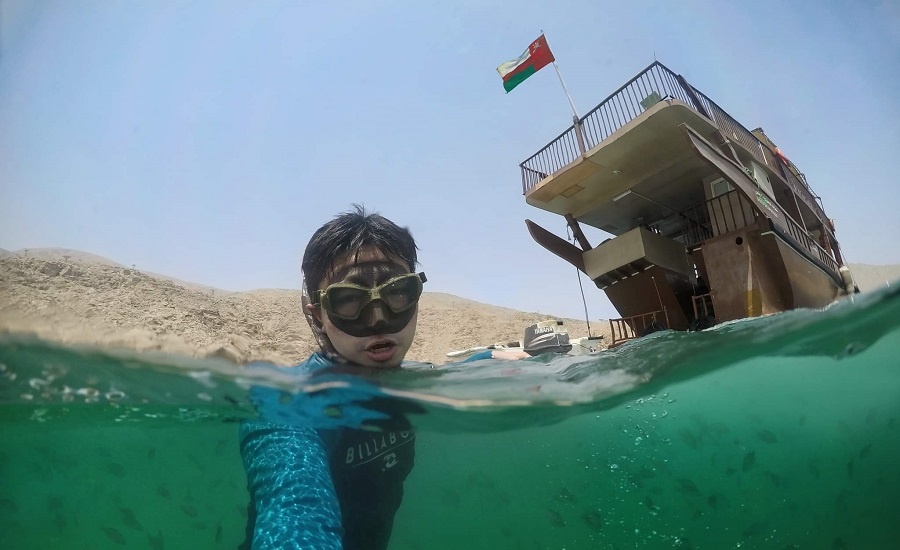 6. Is it difficult to live in Dubai? What are/were your struggles? What's life like outside work?
Well in my case, moving to Dubai five years ago was somewhat a "euphoric" feeling for me. My adjustment period particularly was fun! Coming from being a "mandirigma," an avid, no-choice commuter in Metro Manila where most of my time and energy was spent and wasted — from killer bus to tricycle, taxi to kuliglig, LRT-MRT to jeepney, then add the sense of anxiety of being robbed (holdap) all the time. All of those things were part of my everyday life, to say the least. Moving here was an absolute convenience in every aspect of living. I'm not saying this to demean our own country; it's just me comparing my life experience in Dubai and Metro Manila. It always feels home being there and I can only recall my first "balikbayan" experience when passengers started cheering and crying the moment the plane touched the runway. It might be embarrassing to admit, but I did, too! Lol.
That being said, and considering other OFWs as well as other nationalities working here, I can say that it is not that difficult for me or perhaps I am lucky enough or prepared enough to come and work here. One can agree that everything is difficult when starting out, that's why I am grateful that I have my cousin here living in Abu Dhabi who helped me out and provided me everything I needed, especially during my adjustment period. But doing "exits" and staying in other countries for visa renewal during those times was a different story, particularly the experience at Kish Island in Iran.
Though it may sound or look like Dubai is a perfect place to live in or work abroad, not everyone here gets the opportunity that they're after. Many people here, regardless of nationalities, are struggling just to make ends meet, particularly during this crisis. But no matter how difficult it is here for someone, Dubai always has something to offer for everyone to stay happy and somehow enjoy their lives far from home. For me, I found a way of getting rid of my homesickness by being into a hobby that appreciates the beauty of the new place I am in. Ever since I set foot in this city for job hunting, I can't help but bring my camera along with my folders of dozens of copies of CVs, just to capture these stunning, man-made structures right after a whole day of job applications and interviews. One can't blame someone living or visiting here for becoming an instant photographer, considering the fascinating beauty of Dubai.
7. What do you like about Dubai?
I guess this is the hardest question in this interview, as there is so much to like about this place!
The most notable thing when I moved here is the safety and security. Everyone here is very friendly and obeys the law, probably because a huge majority of the population are expatriates who came here to work, and thus avoid things that risk their career. Of course, things happen from time to time, but it is indeed safer than most cities, even most western countries. Another interesting thing here is the cultural diversity. You can make friends here with people easily because they're more likely from other countries, the same as you. It's like having a long-term vacation and meeting other friends along with your stay.
There are a lot of unique and amazing things to love and experience in Dubai. In fact, these great things are the very reason why I got more into photography. In the beginning, it became my goal to try to share the experience of being here by capturing the cityscapes, people, and what life is like in Dubai — attempting to justify the beauty of this fast-evolving city through this visual art. Also, if I were to be asked what I like about Dubai that I wish other countries could also achieve, it would be this country's Ministry of Happiness. I didn't even have an idea before that such a government agency like it exists!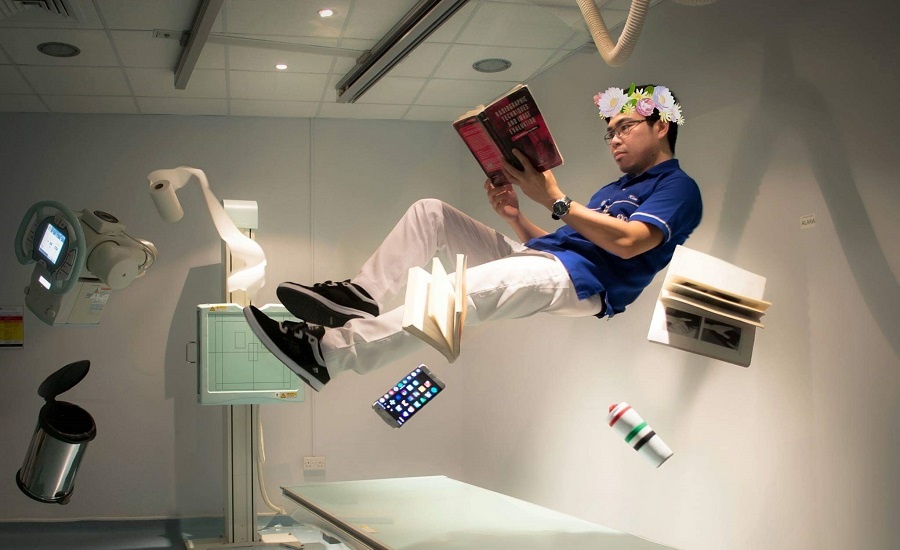 8. What do you NOT Like about Dubai?
Aside from the humid summer heat, the first thing that comes to my mind in general, is the idea that is lurking in the back of our minds and perhaps for the majority of expatriates working here — the idea that no matter how much we love this place, someday, somehow, we have to leave this country and return back home. We are working hard every day, securing a better future for us and our families, and preparing for that time when we return home "for good."
9. What are your plans in your career/family/future?
Career-wise, currently I'm making good use of my free time outside of being a Dental Radiographer, and focusing on my chosen past-time turned passion and now pursuing it to be another form of career opportunity for me. However, I am certainly not a business-minded person, that's why I find it difficult to market myself and to know where and how to start. I came up with the idea of starting from the skill acquired from my previous academe job, going back to being a teacher to share the things I learned here in photography. Then after years of earning courage, gaining some work credibilities and motivations from other people, I started my own group workshops just at the beginning of this year. But needless to say, this pandemic canceled everything for us.
Also keeping in line with my goal for my family, which is to bring my now 12-year-old daughter here with me. I surely can't manage everything alone for the two of us here, that's why we are just waiting for my partner/girlfriend to move here first, who's also currently working as an ER Nurse in KSA.
10. You have any tips for Kabayans when working/finding work/living in Dubai?
For the kabayans who just came here and are looking for work, congratulations po! Just the fact that we made it here is indeed a huge milestone for us, an attempt to climb up from whatever our life was back home. Thousands of people all over the world are risking everything just to get a chance here, so we might as well be grateful and avoid thinking going back empty-handed. I was there just two years ago, doing several exits for visa renewal, buying more time in hopes of finding a job and shelling out 25 thousand pesos monthly without income for a space to stay no bigger than a standard-sized passenger jeepney. Before you think of quitting, try going back to those reasons and sacrifices on why and how you got here, and the people who believe in you. This crisis will soon be over!
For those who are working, congratulations din po! Just having a job during these weird times we are living in now is truly a luxury. Keep adhering to your goals. The sooner we can achieve them, the faster we can move to higher ones. This crisis is emphasizing and reminding us the value of it and how precious our time is here. Let us always strive to be the best in whatever we do and whoever we are with. We OFWs are the representatives of our own country wherever we are and no matter what our job is, not our government nor whatever bad circumstances are happening back home. Be the reason to be proud of being a Filipino.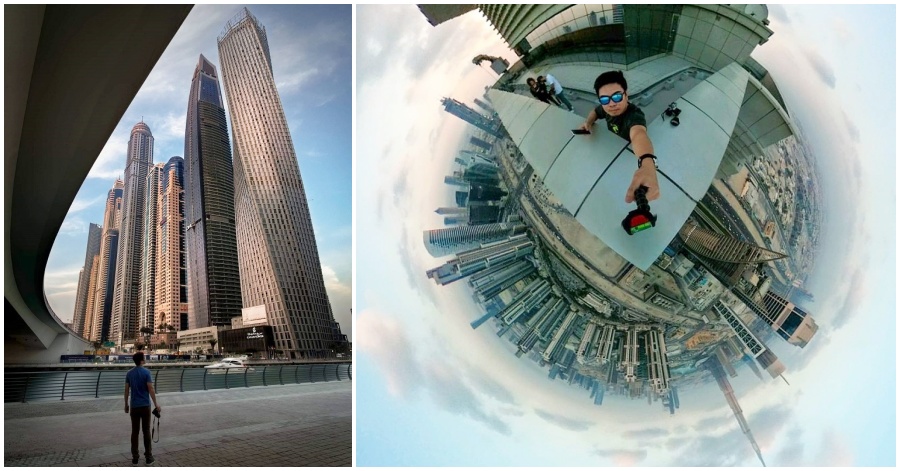 11. How are you coping with the current crisis we are facing?
I've been keeping myself occupied with my indoor hobbies, treating this situation as an opportunity to learn and grow on other things. Fortunately for me, being a natural introvert and having characteristics of a germaphobe doesn't require me that much adjustment for the general safety measures of this pandemic. There's still a lot to be grateful for on what's happening and having a positive mentality is the least I can do right now.
BONUS: Is there anything else you'd like to share with our readers?
I would like to take this opportunity to promote my future photography workshops. It is about capturing cityscapes of Dubai. A cityscape photoshoot from unique locations as well as different post-processing techniques and tutorial sessions for beginner to advanced photographers.
Also, I am now selling prints of my images on a large canvas; you can check out the images in my Facebook and Instagram account links below. Payment for both prints and workshops can be in the form of essential goods/groceries in any amount that you may think is worthy of my work or knowledge you acquired from my workshop. Anything that is necessary for the people affected by this lockdown, particularly the people who lost their jobs and also to contribute to our fellow kabayans who are already tirelessly helping by giving and distributing these goods.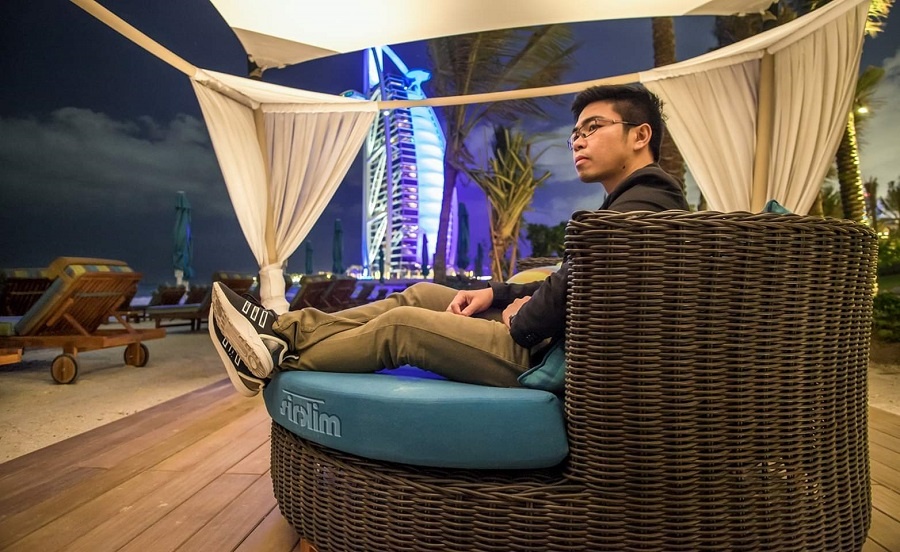 Connect with Kim on Social Media
To know more about Kim, his photography workshops, and cityscape prints, you may follow and contact him through these accounts online:
Instagram: @kimstagram005

—————-
*Photos provided by Kim
Are you an expat in Dubai? Do you want to be featured in the website? Send us an email telling us you want to be featured at admin@dubaiOFW.com and we will send you the set of questions! Let's help other Pinoys who want to come to Dubai understand what life in the UAE is like through your story.