A viral video clip has recently made rounds on social media, where a helicopter is seen showering guests with money and rose petals at a Pakistani wedding.
Weddings are usually showered with petals or grains of rice to symbolize fertility. However, through the ages, this tradition has seen newer and more practical versions.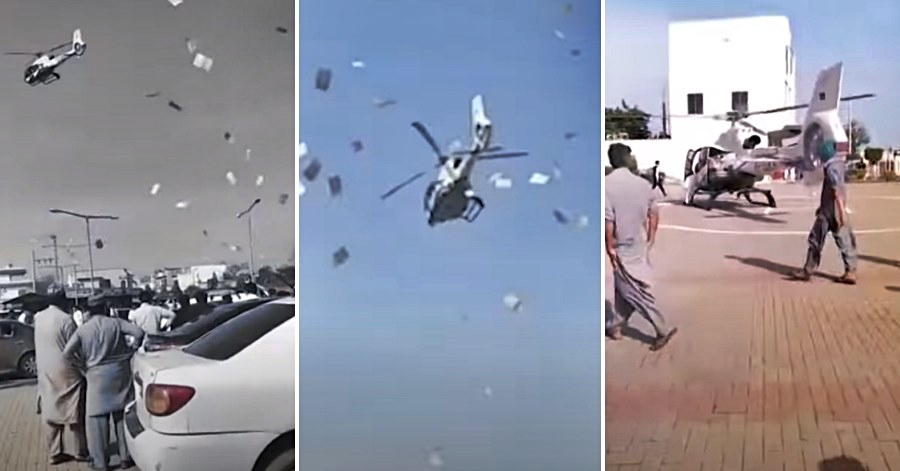 [VIDEO] Helicopter Showers Guests with Cash Notes at Pakistani Wedding
According to ARY News, the siblings of the groom had hired a helicopter to create the spectacle, which took place in Punjab's Mandi Bahauddin.
In the video, the helicopter was seen to take off not too far from the venue sight and showered guests with currency notes and rose petals to celebrate the event with the newlyweds.
Guests appear surprised by the feat but some were confused by what was happening as the helicopter was somewhat flying off the area at a low altitude. Others can even be seen running away from the aerial vehicle, and some were just merely observing the spectacle from afar.
A similar video had made rounds on the internet earlier, showing Sanaullah, an industrialist in Gujranwala, showering guests at his son's wedding procession with dollar bills and Pakistani currency notes.
Catch the impressive spectacle in this video posted by BOL News via YouTube:
READ NEXT: 2 Teens in UAE Jailed for 'Showing Off' COVID-Positive Test Result on Social Media