The Dubai Roads and Transport Authority (RTA), in coordination with Sharjah Police as well as Ciel Marketing and Events, recently held a road safety campaign that awarded cash prizes of AED 1,000 each to drivers, cyclists, and pedestrians who followed road safety practices.
ALSO READ: 9 Safety Reminders for Filipinos in the UAE as Shared by Dubai Police
Winners are chosen for following road safety practices, such as using seat belts and child safety seats, observing speed limits, using indicators, and staying off the phone while driving. For cyclists, these include wearing protective gear and practicing lane discipline.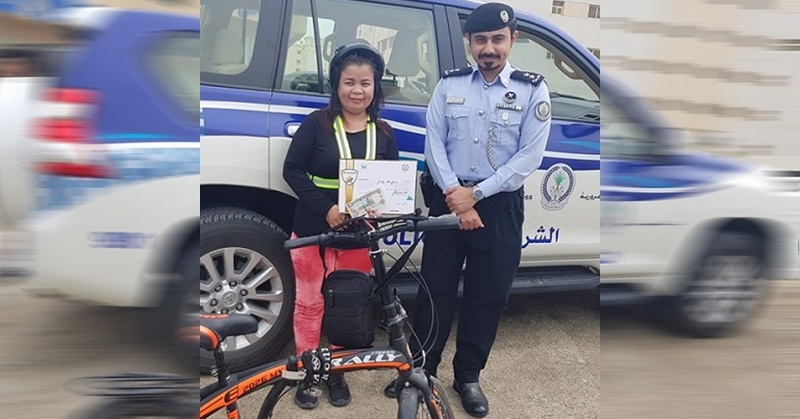 Cash Prize and Certificate Awarded to Pinay Cyclist
On Wednesday, April 10, police officers gave the award to Jenilyn Sta. Juana, who rides her bicycle 40 minutes to work — and then back home again — everyday, Gulf News reported. She cycles to work in full protective gear, wearing a helmet, fluorescent vest, and other items.
Jenilyn, a 49-year-old Filipina, works at a salon in Sharjah as a nail artist. She began riding her bike to work just last October, and shares that she "fell in love with the experience," especially since cycling helps her to keep fit, is eco-friendly, and easy on the pocket!
According to Jenilyn, she was alarmed to see a police vehicle following her the other day. So you can just imagine her surprise when they gave her a cash prize and the Responsible Road Users Award!
"I never thought something like this could lead to an award, I thought I was doing something basic in terms of safety," Jenilyn said. "But it is nice to be appreciated, people might think I am crazy, but this recognition will only strengthen my resolve to continue what I am doing."
ALSO READ: Abu Dhabi Police Issues Road Safety Advisory During Unstable Weather Conditions
Congratulations, Jenilyn, for getting this award! We are proud to see a fellow kabayan setting a good example to all road users. As for everyone, let us remember to follow the UAE's traffic rules and regulations, for our own safety and to avoid getting into trouble!