A seven-month pregnant overseas Filipino worker (OFW) in the UAE had succumbed to COVID-19 with doctors rushing to successfully deliver her baby via Caesarean section.
ALSO READ: Indian doctor surprised by unexpected salute from Dubai Police after being stopped on the road
According to the husband, Joseph Ayson Tiglao, he could not be with his sick wife, Grace Joy, during her last moments as she lay intubated back in late May as he, too, tested positive for COVID-19 and had to be kept in isolation.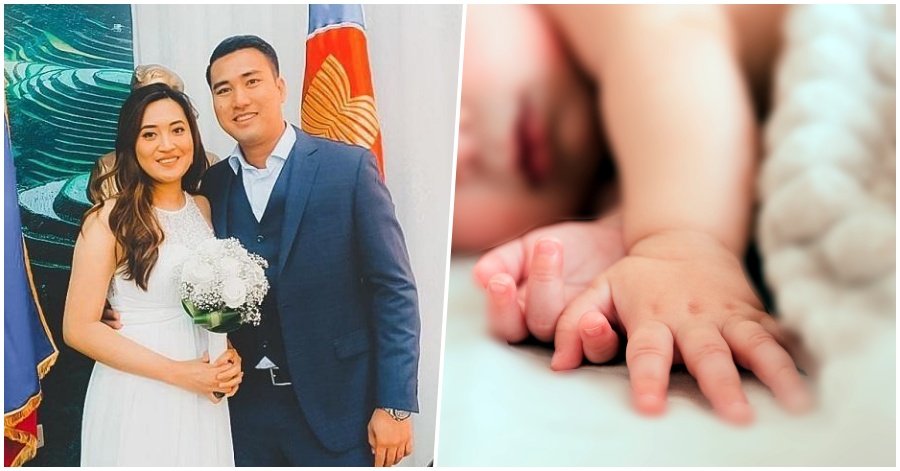 28-Year Old Pregnant OFW in UAE Dies of COVID 19; Baby Saved
Joseph shared in an interview with GMA News Online that during his isolation, he and Grace Joy were able to communicate and Grace Joy told him that she was getting better until things suddenly went downhill.
"Lumalala, sobrang nahihirapan siyang huminga kaya in-intubate. Nag-decide sila na mag-CS operation to save the baby," Joseph said. 
 [T/N: "Things suddenly got worse. She [Grace Joy] struggled to breathe and so she had to be intubated. The doctors then decided to proceed with a CS operation to save the baby."]
Joseph said that their baby girl, Dylhanne Grace, was born at 10:30 p.m.; seven hours later at 5:30 a.m. the following day, her mother died after having a cardiac arrest twice.
He added that he arrived at the hospital around 4 a.m. of the same day following approval from the isolation center.
Joseph shared that he and Grace Joy, who both worked as restaurant staff in Abu Dhabi, had been planning to go home to the Philippines in June.
In the meantime, Baby Dylhanne Grace is under hospital care. Tiglao was declared COVID-free on June 27 after testing negative of the virus twice, his wristband tracking device had been removed. 
The devastating incident with his wife took place on May 23. 
According to Joseph, Grace Joy was asking him to be there next to her because it had already been a week since they last met. He didn't know that it would turn out like that, and she had already been trying to reach out to him to say goodbye. 
"Super sakit isipin kasi nga andito ako wala akong magawa bilang asawa niya. If alam ko lang, hindi ko na siya iniwan sa hospital nun since parehas naman kaming positive," he added.
["It pains me a lot to think that I am here, but she is not. I wasn't able to do anything for her when she needed me. If only I knew… I wouldn't have left her alone in the hospital since both of us had the virus back then."]
According to Labor Attaché Alex Padaen, Tiglao's case is already with the Overseas Workers Welfare Administration (OWWA).
Padaen said that he had already referred the case to OWWA to know if they would qualify for the COVID-19 assistance fund. They are now evaluating the case and will reach out to Joseph. 
"He has already filled out the [application] form. They are just requiring him to submit the medical report so the OWWA could check if they can extend burial assistance for his wife." Padaen explained. 
ALSO READ: Fallen Hero: Filipino Volunteer Dies of COVID-19 in Dubai