You don't need to travel far to immerse yourself in the mesmerizing world of gold and precious gemstones. Nestled in the heart of Sharjah, the cultural gem of the United Arab Emirates lies the enchanting Sharjah Gold Souk a.k.a. the Blue Souk. Step into a vibrant marketplace where centuries-old traditions and modern luxury collide, offering a captivating experience for jewelry enthusiasts and bargain hunters alike.
The Sharjah Gold Souk stands as a testament to the city's rich heritage and a deep-rooted appreciation for exquisite craftsmanship. With its labyrinthine alleys adorned with sparkling displays, this bustling marketplace invites you to explore a treasure trove of gold, diamonds, gemstones, and intricately designed jewelry.
Overview
The Sharjah Gold Souk, known as the Central Souk (Blue Souk), is a must-visit destination when exploring Sharjah.
Recognized by its iconic blue tile-trimmed facade, this souk holds great significance in the UAE's history and is even featured on the five-dirham note.
With over 600 shops spread across two levels, it offers a diverse range of products, from modern watches and clothing to traditional local trinkets and souvenirs.
Decor enthusiasts will be delighted by the upper level, which showcases arts, crafts, handwoven textiles, carpets, and kilims.
Along the lagoon side, a sparkling row of shops specializes in authentic Bedouin jewelry, precious stones, gold, and diamonds, with skilled craftsmen capable of bringing designs to life based on a simple sketch.
The vibrant tapestry of colors displayed in the shop windows is a captivating sight that appeals to both children and adults.
The Central Souk is a complete Middle Eastern shopping experience suitable for the whole family. It stays open until 10 PM daily, making it a fantastic choice for nighttime exploration.
Located centrally, it is conveniently situated near the Sharjah Corniche and a variety of museums, such as the Sharjah Art Foundation and the Sharjah Museum of Islamic Civilization.
Make sure to include a visit to the Central Souk when exploring Sharjah's vibrant cultural scene.
What to Do at the Sharjah Gold Souk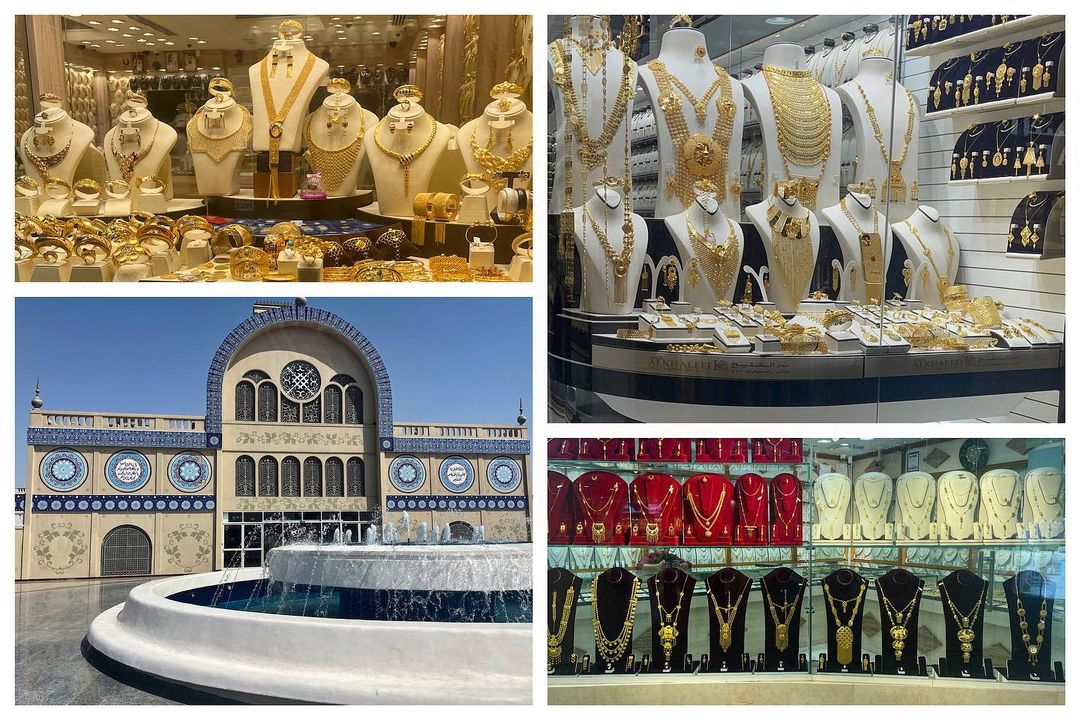 When visiting the Sharjah Gold Souk, there are several exciting activities and experiences to enjoy. Here are some of them:
Shop for Jewelry
The primary attraction of the Sharjah Gold Souk is its vast selection of gold, silver, and precious gemstone jewelry.
Explore the numerous shops and discover stunning pieces crafted by local and international jewelers.
From traditional to contemporary designs, you'll find a wide range of bracelets, necklaces, rings, earrings, and more to suit your taste.
Customize Jewelry
If you have a specific design in mind or want a personalized piece, many stores at Gold Souk offer customization services.
Discuss your ideas with skilled jewelers, and they can create a bespoke item tailored to your preferences.
Bargain and Negotiate
The Sharjah Gold Souk is known for its negotiable prices.
Engage in friendly bargaining to get the best deal on your desired jewelry.
Negotiating craftsmanship and intricate designs can help you find unique pieces at reasonable prices.
Explore International Designs
The Gold Souk features a diverse range of jewelry designs from various countries, including India, Italy, Turkey, and Malaysia.
Take the opportunity to explore different styles and cultural influences to find distinctive pieces that reflect your personal style.
Admire Traditional Crafts
Aside from jewelry, the Gold Souk also offers a selection of traditional crafts, such as handwoven textiles, carpets, and souvenirs.
Take your time to browse through these unique items and appreciate the skilled craftsmanship and cultural heritage they represent.
Capture Memorable Moments
The iconic blue tile-trimmed facade of the Central Souk is a popular backdrop for photographs.
Capture stunning images against this beautiful architectural feature and create lasting memories of your visit to the Gold Souk.
Learn about Gold and Gemstones
Immerse yourself in the world of gold and gemstones by engaging in conversations with knowledgeable jewelers.
Gain insights into the craftsmanship, quality, and value of different jewelry pieces.
Expand your understanding of these precious materials and make informed purchasing decisions.
Visit Nearby Attractions
Take advantage of the Gold Souk's central location and explore nearby attractions.
Visit the Sharjah Art Foundation or the Sharjah Museum of Islamic Civilization to delve deeper into the region's rich cultural heritage and artistic expressions.
Remember to compare prices, quality, and designs before making a purchase.
The Sharjah Gold Souk offers a vibrant shopping experience filled with glittering treasures and a chance to appreciate the artistry of jewellery making.
Enjoy exploring this bustling marketplace and discover the perfect pieces to adorn yourself or find unique gifts for loved ones.
Shopping Options
The Sharjah Gold Souk offers a plethora of shopping options that will satisfy even the most discerning of shoppers.
Step into a world of opulence and explore a wide variety of exquisite jewelry, including bracelets, necklaces, rings, and precious gemstones.
The souk is home to numerous local and international jewelry brands, each offering unique designs and craftsmanship.
Here are some of them to name a few:
Contact number: +97165745594
Address: Blue Souq (Central Market) – Sharjah – United Arab Emirates
Google Map Location:

Joyalukkas, established in 1987, has evolved into a globally renowned jewelry brand, enchanting over 10 million customers across 11 countries through its extensive network of 128 showrooms.
Committed to uncompromising quality, Joyalukkas boasts a team of 8000 dedicated employees. As the world's favorite jeweler, they offer an extensive collection of artistic pieces to cater to customers from all walks of life.
Pioneering industry standards, Joyalukkas takes pride in being the first jewelry retailer to receive prestigious ISO 9001:2008 and 14001:2004 certifications, demonstrating their dedication to quality and environmental management.
Their achievements include being honored with the esteemed title of Retailer of the Year in the Middle East and receiving the prestigious Dubai Quality Awards Certification from HH Sheikh Mohammed Bin Rashid Al Maktoum, the Prime Minister of the UAE and Ruler of Dubai.
At Joyalukkas, they understand the profound significance of jewelry as a symbol of love, celebration, and personal expression.
Their collection encompasses an extensive range of exquisitely crafted pieces, including gold, diamond, and precious stone jewelry, along with both traditional and contemporary designs.
With unmatched craftsmanship, attention to detail, and an unwavering commitment to customer satisfaction, Joyalukkas remains a trusted name in the jewelry industry, offering timeless treasures that will be cherished for generations to come.
Contact number: +97165726154
Address: King Faisal St – Sharjah – United Arab Emirates
Google Map Location:
JJ & Sons is a distinguished jewelry brand that has been synonymous with tradition and excellence since its establishment in 1965.
With a legacy spanning over half a century, this family-owned business, originally from India and now settled in the UAE, has earned a reputation for delivering exquisitely handcrafted and aesthetically designed jewelry to its customers.
Under the visionary leadership of Mr. Tarun Sagar, who took the bold step of shifting to the UAE at the age of 18, JJ & Sons Jewellers has upheld its motto of providing the finest jewelry at affordable prices.
When Mr. Vipul Sagar and Mr. Digesh Sagar, the sons of Mr. Tarun Sagar, joined the family business, they brought their own expertise and added new dimensions to the company's offerings.
In addition to traditional and modern designs of gold and diamond jewelry, JJ & Sons has expanded its product range to include luxury watches, platinum jewelry, and pearl jewelry.
Their commitment to serving customers better has led to the establishment of branches in Dubai, Sharjah, and Ajman, ensuring convenient access for their valued clientele.
Inspired by the trust they have earned across diverse markets, JJ & Sons continues to uphold the highest standards of quality and service.
Their dedication to meeting customer expectations is unwavering, ensuring that every piece of jewelry reflects the utmost craftsmanship and elegance.
With JJ & Sons, customers can expect an unforgettable experience and a timeless collection of exquisite jewelry.
Contact number: +97165731961
Address: Shop No:33 & 34, Block No:1,Central Market,Gold Souk – Sharjah – United Arab Emirates
Google Map Location:
Established in 1995, Al Abyad Jewellers is a renowned and prominent jewelry shop located in Central Market, one of the famous souks in Sharjah.
As a sole proprietorship company, they specialize in dealing with precious metals, offering wholesale and retail services. With a strong presence in the bullion market, Al Abyad Jewellers is a major dealer for shops in Sharjah.
Their product range is extensive, featuring international brands of gold and silver bars, coins, and a remarkable collection of extraordinary coins.
The company is dedicated to providing the finest products for investment purposes, ensuring customers have access to a wide range of options at the best prices.
Al Abyad Jewellers also operates as a distributor for precious metals, offering gold and silver bullion, numismatic coins, and rare stamps.
They take pride in their commitment to competitive pricing, reliable channels, diverse selections, and unparalleled customer service.
Their goal is to help customers diversify their portfolios and safeguard their wealth by acquiring high-quality precious metal assets.
Transparency is a key aspect of their service, as they maintain a clear and upfront pricing policy.
The prices posted online are the prices customers pay, ensuring a transparent and fair transaction process.
With an impressive customer satisfaction rate of 98%, Al Abyad Jewellers continuously strives to deliver exceptional service and meet the diverse needs of their clientele.
Contact number: +97165659916
Address: No. 33, Block 8 Sharjah Central Souq Corniche road – Sharjah – United Arab Emirates
Google Map Location:
Mint Jewels is a trusted and reputable jewelry retailer located in the bustling Sharjah Gold Souk.
Boasting a prominent location and ample parking facilities, Mint Jewels offers a convenient and accessible shopping experience for customers.
With a focus on customer satisfaction, Mint Jewels strives to provide the highest return on investment for those looking to sell their precious metals.
With over 10 years of industry experience, Mint Jewels has established itself as a leading dealer in gold and silver.
The knowledgeable team of experts at Mint Jewels specializes in the evaluation of gold and silver bars, ensuring accurate assessments and fair pricing.
Transparency and integrity are at the core of Mint Jewels' business philosophy, as they take pride in their honest dealings with customers.
Whether you are looking to sell your gold or silver, Mint Jewels offers a safe and reliable destination to encash your precious metals.
Customers can confidently rely on Mint Jewels' expertise and commitment to providing competitive rates.
5. Gold Land Jewellery (مجوهرات ارض الذهب)
Contact number:
Address: Central Market – Sharjah – United Arab Emirates
Google Map Location:
Gold Land Jewellery is a renowned jewelry store that delights customers with its exceptional service and exquisite product offerings.
With the owner's personal involvement in the business, a welcoming atmosphere is created, ensuring that every customer feels valued and well taken care of.
The team at Gold Land Jewellery goes above and beyond to provide an exceptional experience, offering excellent prices and a wide selection of high-quality jewelry.
At Gold Land Jewellery, customers can explore a diverse range of stunning diamond and gold jewelry pieces.
From elegant necklaces and bracelets to intricately crafted rings and earrings, the collection showcases the finest craftsmanship and attention to detail.
Whether you're searching for a timeless design or a contemporary statement piece, you'll find a treasure to suit your style and preferences.
In addition to their impressive selection, Gold Land Jewellery also offers the opportunity for customization.
The skilled artisans are dedicated to bringing your vision to life, creating bespoke pieces that reflect your unique taste and personality.
With their expertise and attention to detail, they ensure that every custom jewelry piece is crafted to perfection.
How to get to Sharjah Gold Souk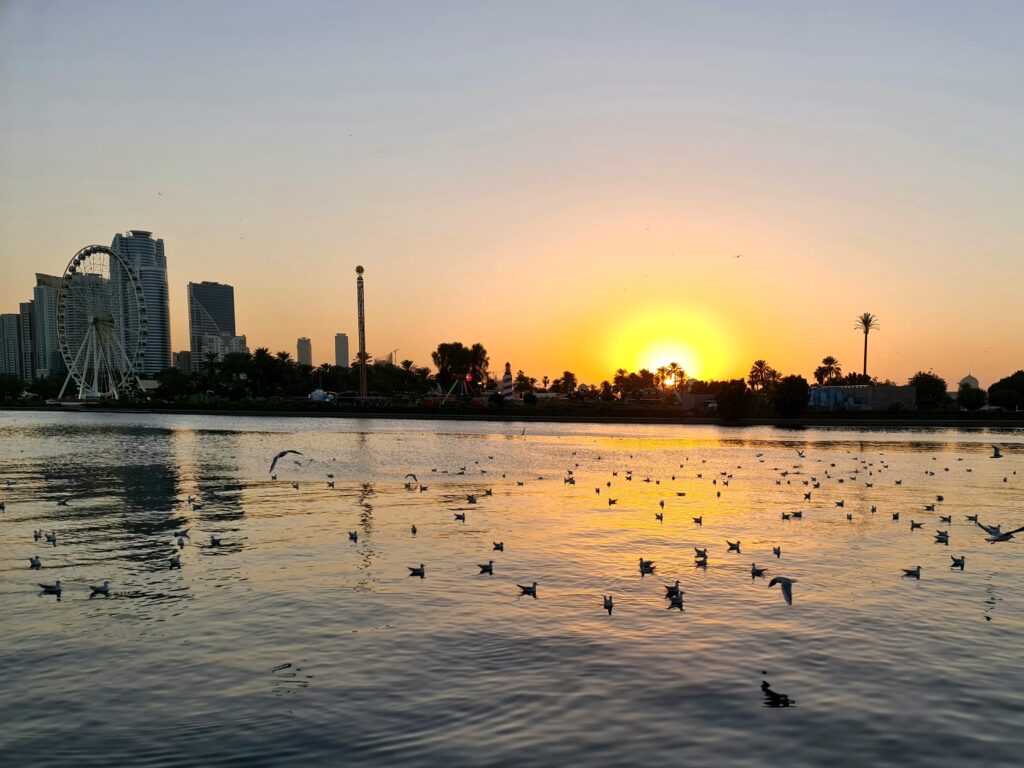 If you're in Dubai and want to visit the Sharjah Gold Souk, here's a guide on how to get there:
By Car: The most convenient way to reach the Sharjah Gold Souk from Dubai is by car.

You can take Sheikh Zayed Road (E11) and continue driving towards Sharjah.
Take the exit towards Al Wahda Street (Sharjah Mega Mall) and continue straight.
Follow the signs for King Faisal Road, which will lead you to the souk.
Parking facilities are available nearby.

By Taxi: Taxis are readily available in Dubai and are a convenient mode of transportation.

You can easily hail a taxi and provide the driver with the location of the Sharjah Gold Souk.
The journey time may vary depending on traffic conditions, but it is typically around 30-40 minutes.
It is advisable to use metered taxis or agree on a fare with the driver before starting the journey.

By Public Transport: If you prefer using public transport, you can take the Dubai Metro to Union Station.

From Union Station, you can transfer to the Sharjah-bound buses or the Dubai Metro feeder buses that go to different areas in Sharjah.
Look for buses heading towards Al Ittihad Square or Sharjah Bus Station, as these will be close to the Gold Souk.
Once you reach the Al Ittihad Square area, you can easily walk to the Sharjah Gold Souk, which is located between King Faisal Road and Khalid Lagoon.
It's always a good idea to check the timings and routes of public transport options in advance to plan your journey accordingly. With these transportation options, you'll be able to reach the Sharjah Gold Souk conveniently and explore its mesmerizing array of jewelry and gold offerings.
Moreover, remember to check the schedules and timings of public transport options, as they may vary. Additionally, consider the traffic conditions, especially during peak hours, when planning your trip by car.
Frequently Asked Questions
1. What are the operating hours of the Sharjah Gold Souk?
The operating hours of the Blue Souk typically vary, but most shops are open from around 9:00 am to 1:00 pm and then reopen from 4:30 pm to 10:00 pm. However, it's advisable to check with individual stores for their specific opening and closing times.
2. Is haggling common at the Sharjah Gold Souk?
Yes, haggling is a common practice at the Blue Souk. Visitors can negotiate prices with the sellers to get the best deal. Remember to approach haggling in a friendly manner while keeping in mind the quality and craftsmanship of the jewelry.
3. Are credit cards accepted at the Sharjah Gold Souk?
Yes, many shops at the Blue Souk accept credit cards. However, it's always recommended to carry some cash as well, as smaller vendors may prefer cash payments.
4. Are there any parking facilities available?
Yes, there are parking facilities available near the Blue Souk. Visitors can find both paid and free parking options in the vicinity. It's advisable to arrive early to secure a parking spot during busy periods.
5. Can I find both gold and silver jewelry at the Sharjah Gold Souk?
Yes, the Blue Souk offers a wide range of jewelry options, including gold and silver. You can find intricate designs in both precious metals, along with gemstone-studded pieces and traditional Emirati designs.
6. Are there any certified jewelers at the Sharjah Gold Souk?
Yes, the souk houses numerous certified jewelers who offer high-quality and authentic jewelry. These jewelers adhere to strict quality standards and provide genuine products.
7. Can I find custom-made jewelry at the Sharjah Gold Souk?
Yes, many shops offer the option of custom-made jewelry. Skilled artisans can create bespoke pieces based on your preferences and specifications. Discuss your requirements with the jeweler, and they will guide you through the process of creating a personalized piece.
Video: Sharjah Gold Souq – Central Market – Blue Souq – Discover Sharjah
Here's an informative video that takes you on a virtual tour of the iconic Souk al-Markazi, better known as the Blue Souk, in Sharjah.
Designed by renowned British architects Michael Lyle & Partners and completed in 1978, this architectural masterpiece stands as the central shopping destination and a prominent landmark in Sharjah.
The visionary guidance of HH Sheikh Dr. Sultan Bin Mohammed Al Qasimi, the Ruler of Sharjah, shaped the design, which beautifully captures the essence of a traditional bazaar on a grand scale.
Situated on the picturesque shore of Khalid Lagoon, the Blue Souk's charm is truly unrivaled, especially when illuminated by the golden hues of a breathtaking sunset reflecting off the tranquil waters.
This video will transport you to this bustling marketplace, showcasing its vibrant atmosphere, diverse shops, and intricate architectural details.
Summary
In the heart of Sharjah, a world of beauty and elegance awaits at the Sharjah Gold Souk.
This captivating marketplace is a haven for those who seek the finest in gold, diamonds, and gemstones.
Stepping into its vibrant alleys, you'll be transported to a realm where tradition and modernity coexist, creating a unique and enchanting atmosphere.
The Sharjah Gold Souk is more than just a shopping destination; it is a cultural treasure that celebrates the city's rich heritage and artistic craftsmanship.
As you wander through its maze-like corridors, you'll be captivated by the dazzling displays that showcase the mastery of jewelry making.
From intricate Arabian designs to contemporary creations, the Souk offers a diverse range of exquisite pieces to suit every taste and occasion.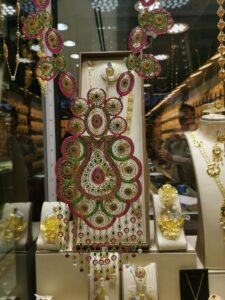 What makes the Sharjah Gold Souk truly special is the experience it offers.  Engage with knowledgeable vendors who take pride in sharing the stories behind their creations.
Bargain and negotiate, as it is an integral part of the Souk's charm.
Whether you're a seasoned collector or a first-time visitor, the Souk's immersive ambiance and a wide array of offerings will leave you in awe.
So, if you find yourself in the UAE, make sure to set aside time to explore the Sharjah Gold Souk.
Immerse yourself in the mesmerizing world of gold and precious gemstones, and discover the beauty that lies within this extraordinary marketplace.
It's an experience that will stay with you long after you leave, carrying the spirit of Sharjah's rich heritage and the allure of exquisite craftsmanship.
READ NEXT: Where to Buy Gold in Dubai
Contact Information
Contact number: +97165566777
Address: 89WM+WH9 – King Faisal St – Sharjah – United Arab Emirates
Timings: Sunday to Thursday – 9 am to 10:30 pm | Friday – 4:30 pm to 1:30 am
Google Map Location: