So you have stumbled upon this article because you want to know where you can buy Selsun Blue shampoo in Dubai, UAE (BUY ONLINE HERE). I, myself, have wondered where I could buy it after Carrefour and other supermarket shops have stopped displaying this type of anti-dandruff shampoo on their shelves.
As a brief answer, you can simply buy Selsun Blue online via Amazon.ae as there are some sellers that deliver this product right at your doorstep.
Check Selsun Blue Price on Amazon.ae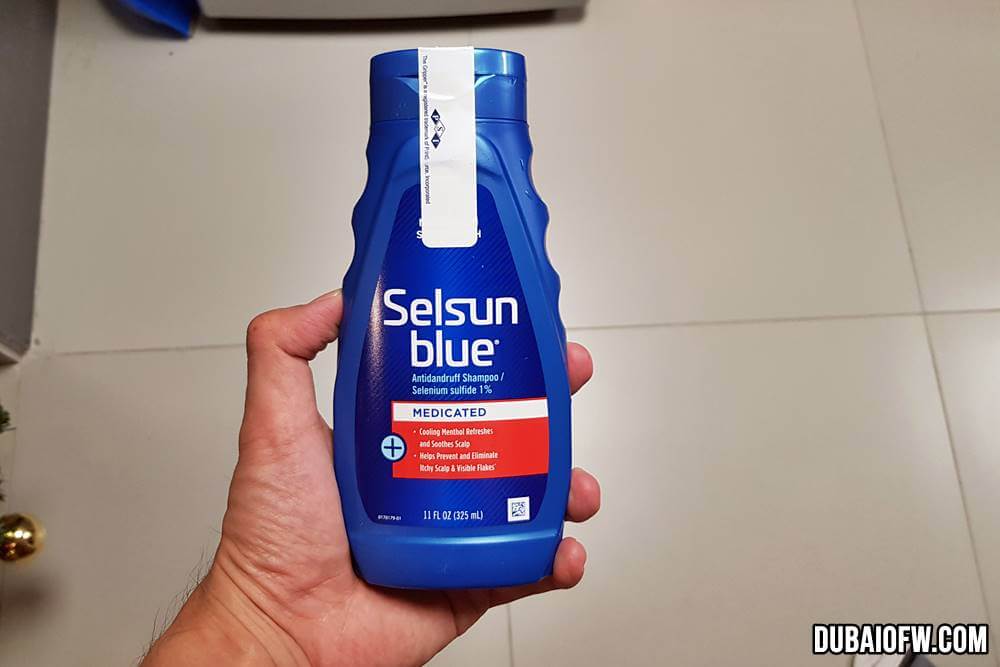 What is Selsun Blue Shampoo?
Selsun Blue is a shampoo that helps to get rid of dandruff, itchy scalp and other scalp conditions. It consists of ingredients like selenium sulfide, which helps to decrease the inflammation on the scalp, and propylene glycol, which moisturizes the scalp.
There are many reasons why people use Selsun Blue shampoo. It is a treatment for dandruff, and it can be used to treat other scalp-related problems such as psoriasis or eczema. It also helps clear up skin conditions like acne, rosacea, and seborrhea dermatitis.
Check Selsun Blue Price on Amazon.ae
Why are there no Selsun Blue Shampoos in Supermarkets in Dubai?
Before knowing about the online shopping site where I normally buy this shampoo, I used to buy Selsun Blue in Carrefour or Lulu Supermarket. However, they seem to have stopped stocking on these items that I really had to research a bit where I can get my stock.
I am not entirely sure what the reason is why they stopped selling these items, but whenever I visit the supermarkets in Dubai, the staff would inform me that they are out of stock or they are no longer selling it. The reason? I don't know. EVen in Pharmacies like Life Pharmacy, Boots, and other pharmacies in Dubai, they said they don't have it.
Why I prefer Selsun Blue over other brands
I have actually tried other anti-dandruff shampoos such as the commercial ones like Head & Shoulders, CLEAR shampoo, and even medicated ones in pharmacies like Nizoral. However, these shampoos do not seem to work from my end. I've tried many times, but my hair problems have not been fixed.
Only when I used Selsun Blue did I notice a decrease in dandruff so that's why I swear to this shampoo. It also doesn't dry out my scalp like the other shampoos tend to do, and it leaves my hair feeling clean for a longer period of time.
Check Selsun Blue Price on Amazon.ae
Summary
In conclusion, if you are looking for where to buy Selsun Blue in Dubai, UAE, you can simply purchase it online via Amazon.ae. Take note that the product has different packaging and it is actually a much bigger bottle online. I like it cause I don't have to keep replenishing because there's a lot of content in the bottle.
The product is available at a relatively cheaper price with free shipping on orders above 100 AED. I have been using this product for over two years now and it has worked incredibly well for me – no more embarrassment from flakes on my clothing! If you've ever suffered from any scalp problems, I would definitely recommend giving Selsun Blue a try. Let me know how it goes!
Note: Be advised that you should talk to a dermatologist or specialist about your particular situation. This product may not be the answer to your hair problems. In my case, I only shared this post so I can help those who are already using this product to let them know where they can purchase it in the UAE.