The UAE is known to host some of the world's biggest retail events in conjunction with international activities hosted by the country such as the upcoming 2020 Dubai Expo.
This month, shoppers will be in for a treat as Amazon, the online retailer, known for offering some of the best discounts, has announced to hold a three-day sale from November 11 to 13.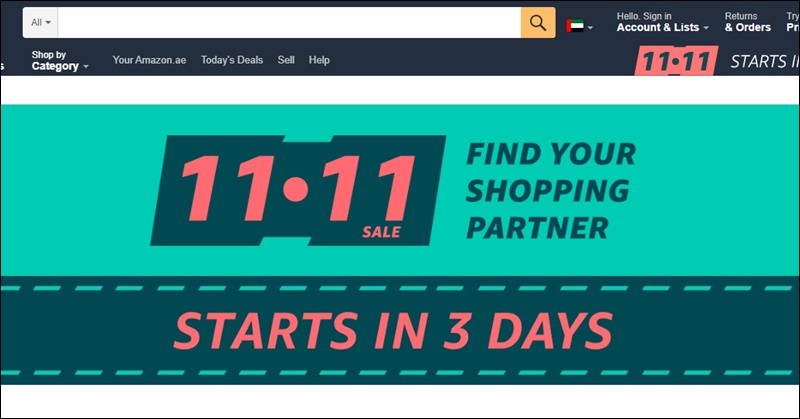 Amazon's Big 3-Day Sale is Coming to the UAE 
Amazon.ae, which took over Souq in 2005, will be offering a 10 percent cash-back and up to AED 100 discount on all payments made using RAK Bank and Mashreq cards. They have also announced offers from Tajawal and IMG World.
Choose from a variety of shopping partners when you install the Amazon app and get up to 40% discount on items ranging from electronics, household appliances, kitchenware, and personal items.  
Around the world, November, being the 11th month of the year and the last one to have 30 days, is widely considered auspicious for shopping. Across various platforms, the 11.11 sale is considered one of the biggest shopping events throughout the year, which opens up to other major retail festivities such as Black Friday, Cyber Monday, and other holiday shopping festivities.
For shoppers who are looking to land some big discounts on a variety of items without having to wrestle against other livid shoppers especially for this coming holiday season, this is your perfect chance to get those prized items delivered straight to your doorstep!
Dubai's ascent to become a world-famous shopping hotspot all happened for a reason as it is a city that knows how to dazzle. And with glamorous new retail hubs springing up regularly, you're spoilt for choice as destinations pack in a mixture of attractions, dining and a selection of stores to keep visitors enthralled. 
Much like the other cosmopolitan cities of the world, Dubai is known as a great tourist and shopping destination which hosts a number of world-class shopping malls, extensive supermarkets, as well as local market shops known as souks.
If you want to know what the best shopping places are in the emirate, check out our list here.    
What's great about online shopping among many things, is the convenience that it offers shoppers – now matched with great prices for quality finds, as Amazon is one of the biggest and most trusted online platforms in the world. 
ALSO READ: Check-in Your Flight While Shopping in Dubai Mall