In case you haven't heard, there's a hot and spicy Korean fire noodle challenge going around, and it's bound to the test the limits of even the most experienced food enthusiasts!
Yes, we are talking about Samyang Hot Chicken Flavor Ramen, touted to be "the spiciest instant noodles in the world." Obviously, the "double spicy" noodles below is a hotter version of the original Hot Chicken Flavor Ramen, which is a product of South Korea.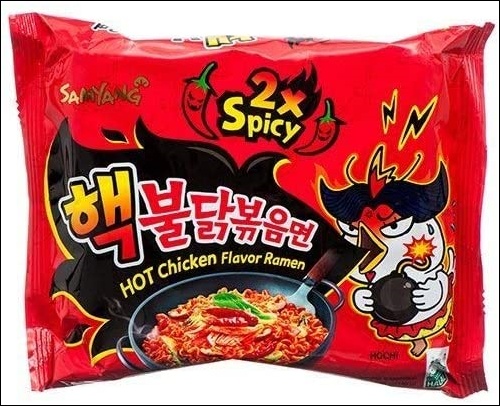 Food Vloggers Try the Samyang Double Spicy Korean Fire Noodles
For quite some time now, Samyang's spicy noodles have been featured all over the Internet, particularly by food vloggers who are holding a mukbang (live food-eating broadcast). Recently, we came across this great video featuring not just one, but three food vloggers who dared to try the Hot Chicken Flavor Ramen (Double Spicy)!
Each vlogger had his own take on the noodles, with some hilarious and interesting results! Check out the full video of their spicy noodles experience below:
The video shows
The Food Ranger
Trevor James teaming up with fellow vloggers Mark Wiens and Sonny from the
Best Ever Food Review Show
. It's quite interesting to see how each one of them fared on the spicy Korean fire noodle challenge!
Right before the noodle challenge, Trevor, who is based in Kuala Lumpur, first shared a Malaysian mukbang feast on a banana leaf, sampling beef curry, chicken curry, fish curry, and red grain rice ordered from local street food outlets near his house. Quite a feast, indeed!
Later, the three vloggers simultaneously prepared their spicy Korean noodles, with each one adding a unique touch to their dishes. Trevor added a Malaysian touch, sprinkling his with some fried anchovies and onions; Mark prepared a Thai-style noodle dish with some prawns; while Sonny topped his noodles with… banana and whipped cream?!!
—————–
Aside from these vloggers, there are other YouTubers who have also tried the now-famous spicy Korean noodles. Here's an earlier video by Erwan Heussaff, who had sneakily added an "extra packet" before serving the dish to his wife, Anne Curtis:
Are You Up for the Challenge?
Do you think you've got what it takes to try — and finish — a pack of Samyang Hot Chicken Flavor Ramen (Double Spicy)? If so, here's how you can order it online.
Keep in mind, however, that if you have a sensitive stomach, we urge you to proceed with caution. Just take a few bites, and, just like The Food Ranger in the video — always have a glass of milk (or water) on hand to help you counter the spicy flavor. Good luck!