I submitted my 30-day employment notice and I'm now in a transition stage where I'm transferring to another employer. From a Limited Licensing Company (LLC) to a Freezone company, I hope that changing employers here in the UAE will be a smooth one. I know there is going to be plenty of issues along the way just to get things done.
I am thinking about the cancellation of the visas, surrendering my UAE Labour card and Emirates ID, and even submitting my passport for the stamp of the visa cancellation. These are just some of the things that are running through my head since it's a bit vague to understand the laws of working here; most especially when a lot of people have different versions of stories.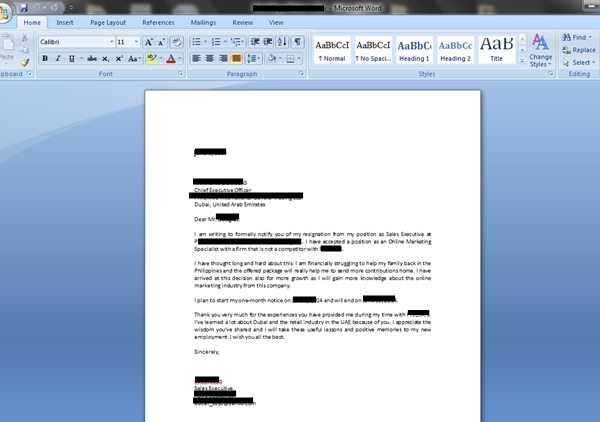 Resignation Letter screenshot
Now I'm just trying to calm myself and file my notice properly. I'm doing my daily routine and tasks to ensure that there wouldn't be any problems along the way. If I had an Unlimited Contract, maybe it would've been a bit easier. Still the process is tedious when you switch employers here in the Emirates.
I hope to keep moving forward as I accept a new role that is more related to my field. I came here to Dubai so I can make money. If I would be earning the same amount that I was currently making back in the Philippines, then there's no point staying longer because time is just to precious to stay in one job post especially when that post was supposed to be a temporary gig only. I'm crossing my fingers that the LLC to a freezone employment transfer will just be smooth-sailing.