Do you have friends and family back home who have always wanted to visit Dubai? Well, now is your chance to give them that dream vacation by winning two (2) free Emirates tickets!!!
ALSO READ: Emirates Named World's Safest Airlines of 2017
Through the #MyDubai initiative, Dubai Tourism has recently launched a contest, Khaleej Times reported. Simply by posting on social media, Dubai residents have the opportunity to win flight tickets for their family and friends to visit the emirate. Winners will be announced every week!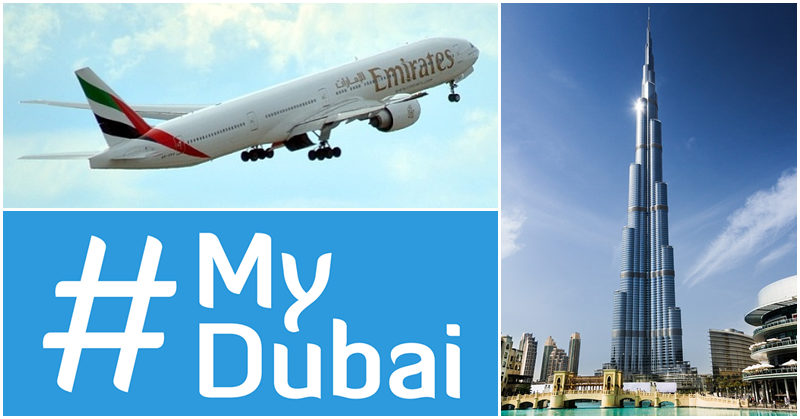 Join #MyDubai Contest & Win Emirates Tickets for Friends
According to the CEO of Dubai Corporation for Tourism & Commerce Marketing, Issam Kazim, there are more than 200 nationalities residing in Dubai. Many of them love to post on social media about the amazing sights they've seen and their unforgettable experiences in the city.
Hence, Dubai Tourism introduced the #MyDubai initiative, which has become "the world's first autobiography of a city." By posting about their real-life adventures and memorable experiences, Dubai residents have actively participated in sharing unique stories about the emirate, Kazim shared.
How to Join the Contest
Here are the steps to joining the #MyDubai contest:
Post a photo or video about your Dubai experience on your personal Twitter, Instagram, or at the MyDubai Facebook page.
Tag 2 friends whom you would like to come and visit Dubai.
Don't forget to include the hashtags #MyDubai and #MyInvite in your post.
NOTE: The contest runs from 15th October 2018 to 31st January 2019. For the next 15 weeks, two (2) lucky winners will be picked each week!!! For more information about the contest, please visit the official MyDubai Facebook page.
ALSO READ: UAE, Philippines Among Top 10 Destinations for MENA Travellers
It's not every day that you get the chance to win Emirates tickets — not only for yourself, but also for your friends. Who knows? One of the lucky winners could be you and your friends, and pretty soon, you'll be telling them about the many places to see and things to do in Dubai!