At some point in our careers, there comes a time when we decide to step down and bid our jobs goodbye… a time when we inform our employers about our intention to resign. Whether we plan to go back to our home country or find other job opportunities in other companies, it's good that we resign properly to avoid work issues and continue establishing ties with out colleagues/employers.
ALSO READ: What to Expect When You Resign from Your Job in the UAE
Before you submit your 30-day notice, however, be sure to compose a proper resignation letter first. The general aim is to state your intention to leave… with formality and courtesy. Here we share a step by step guide how we can write our letter of resignation for your reference.

Guide to Writing a Proper Resignation Letter
Planning to resign from your job but wondering where to start? Here are some tips for writing a proper resignation letter:
#1 – Begin with a formal opening.
As in most formal letters, write the date on the top-left side of the document, followed by your boss' name, title or position, and company address below. A simple "Dear Mr./Ms. (your boss' name)" in the beginning would suffice.
#2 – State your intention to resign (and reason for leaving).
Obviously, stating your intention to resign triggers the question "why?" so it's important to think about this beforehand. Although it is not necessary to give your reason for leaving, it's still wise to provide an explanation. Whether you're resigning because of medical reasons, retirement, personal matters, or as part of a career move (e.g. you've accepted a new job offer), stating the reason would help your boss to better understand your situation.
#3 – Give at least a one-month notice.
Most companies require at least one-month notice, though there are some that might be okay with a two-week notice. This period provides time for your employer to find a replacement, especially if your job is one that shouldn't remain vacant for a long time.

#4 – Offer to help during the transition period.
As a kind gesture, state your willingness to help during the transition period. This involves preparing materials that will be turned over, as well as training the candidate that is likely to replace the job that you will vacate.
#5 – Express your gratitude to the company.
Regardless of your reason(s) for leaving, expressing your gratitude is important and helps by ending your letter on a positive note. You could mention how the company has influenced your career, and how the job has helped you towards becoming a better person.
#6 – End with a nice closing.
Using terms like "Warm Regards," "All the best," or "Sincerely" is a nice way to close your letter. Adding your name, address, and contact information (either at the top or bottom of the document) is also an indirect way of saying, "you can reach me again anytime."
Sample Resignation Letter
Below is a sample resignation letter that you may use as a guide. Simply edit or revise the information based on your preference or situation: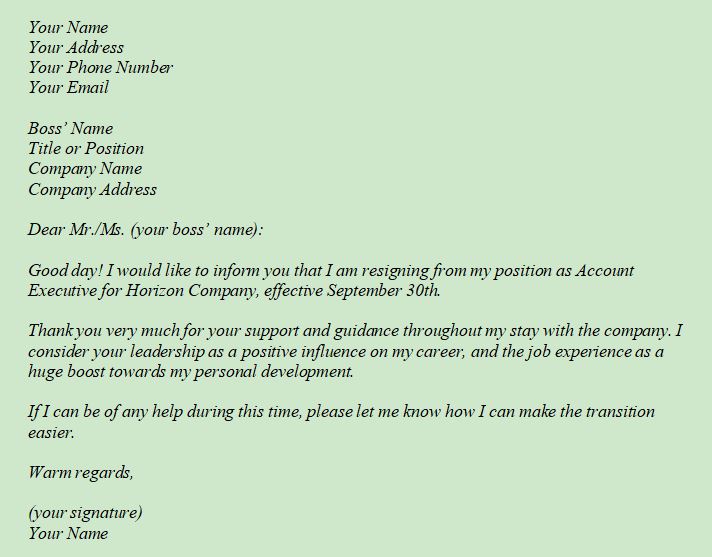 ALSO READ: Things You Should Know Before Resigning from Your Job in UAE
Below is the sample letter for your reference:
————————————-
Your Name
Your Address
You Phone Number
Your Email
Boss' Name
Title or Position
Company Name
Company Address
Dear Mr./Ms. (your boss' name):
Good day! I would like to inform yo that I am resigning from my position as Account Executive for Horizon Company, effective September 30th.
Thank you very much for your support and guidance throughout my stay with the company. I consider your leadership as a positive influence on my career, and the job experience as a huge boost towards my personal development.
If I can be of any help during this time, please let me know how I an make the transition easier.
Warm regards,
(your signature)
Your Name
————————————-
Note: Please change the underlined text according to your situation.
Leaving a job doesn't have to be a negative or unpleasant experience, and it involves writing a proper resignation letter. Again, we should always maintain a professional relationship with our employers. After all, we are based in another country and while we should be aware of our rights while working in the UAE, learning to leave in a positive manner also tells a lot about a person's character.
Meanwhile, here's another thing that you should know before leaving your job — learn how to calculate your gratuity or end-of-service pay in the UAE.