Experience an exhilarating fusion of culture and modernity at Dubai's exciting Chinatown, situated in the bustling Dubai Mall. Boasting scintillating LED lighting and a towering panda statue for photo-ops, this colorful new landmark is sure to be a hit with tourists from around the world!
Also Read: List of Top Malls in Dubai, UAE
Step through the burnished golden gate and be swept away to a world of Eastern enchantment. Gaze in awe at glittering red lanterns that shimmer against the night sky; stand mesmerized by fragrant cherry blossoms swaying with each gentle breeze; explore majestic infrastructure filled with wonders from yesteryear.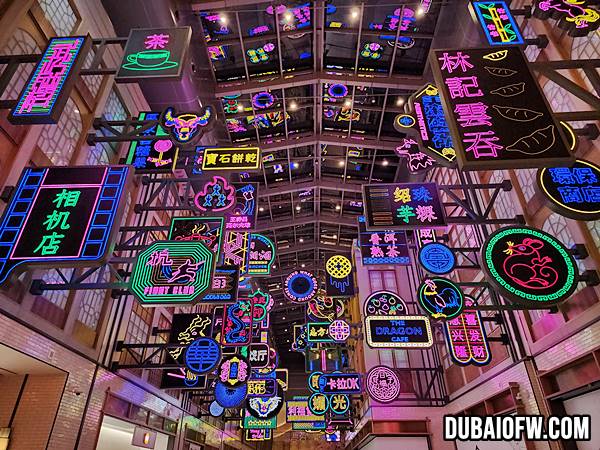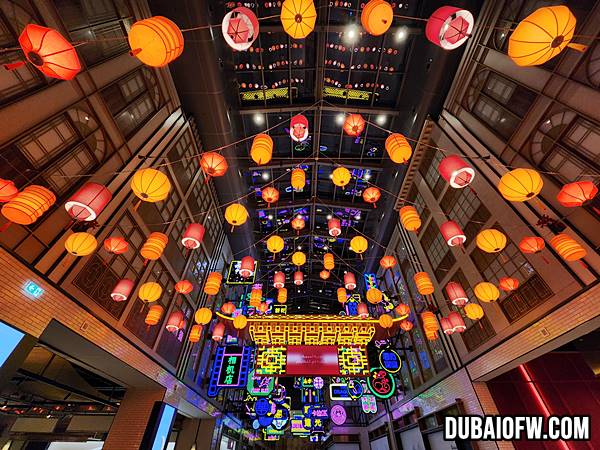 What is Chinatown in Dubai Mall?
Chinatown is the newest addition to Dubai Mall – a vibrant cultural destination and shopping extravaganza full of unique experiences. Located on the first floor opposite Ice Rink, Chinatown offers visitors an exciting fusion of culture and modernity with its dazzling LED lighting, towering panda statue for photo-ops, cherry blossoms that fill the breeze with their fragrant scent, and much more!
Whether you're looking to explore Asian cuisine or grab a well-deserved massage after some serious shopping, you can expect these experiences in this new attraction.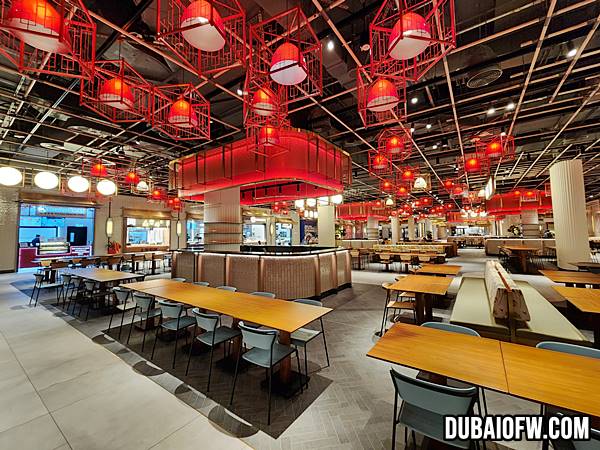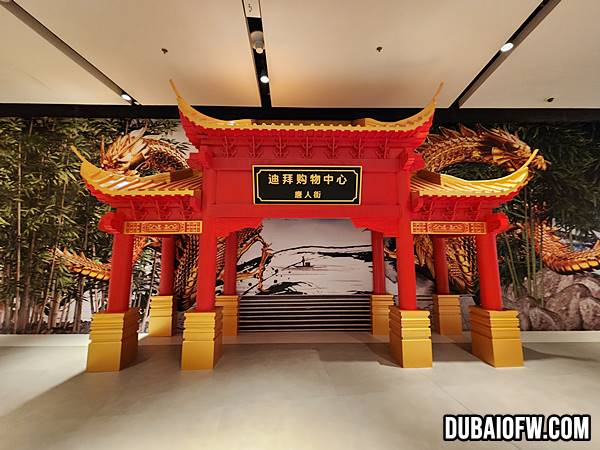 What to Expect at Dubai Mall's Chinatown
At Chinatown, you can explore the traditional hustle and bustle of an Asian market without ever leaving Dubai. Sample delicious dishes from street carts, enjoy some aromatherapy at the massage parlor, shop for authentic souvenirs or simply sit back and people-watch – it's all here. Here are the top 3 experiences you can expect here:
Chinese Food Court – Are you passionate about Asian cuisine? Then, a fantastic food court awaits that tantalizes your taste buds with dishes from all around Asia. There are already several eateries open and even more coming soon! So don't miss out on this amazing opportunity to savor the flavors of Asia!
Shopping – Chinatown is not just about Asian food – it's also a great place to pick up authentic souvenirs and gifts. A variety of stores offer everything from jewelry to clothing, shoes, accessories, incense, and more.
Chinese Spa Massage – After a day of discovering the limitless stores in Chinatown, why not reward yourself with some much-needed rest and relaxation? Complete your journey with an energizing massage or calming session at the spa – you'll be glad you did!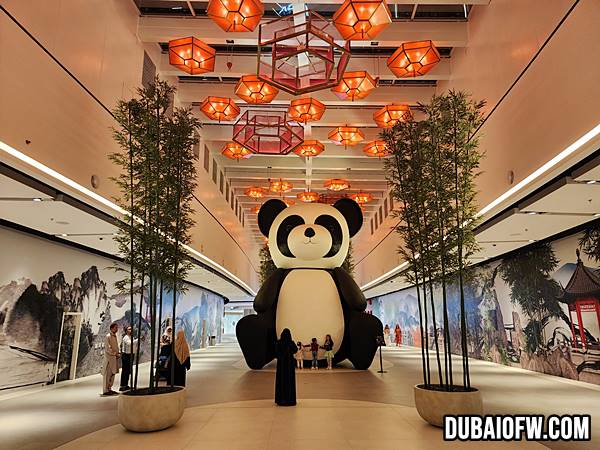 List of Restaurants in Chinatown Dubai Mall
In case you are wondering what eateries are available in Chinatown Dubai Mall, here is a list of restaurants located there.
Golden Joy Express – Experience the true flavor of Asian cuisine at Jim Golden Joy Express situated in the Food court of Dubai Mall Chinatown.
Haidilao – Haidilao, an award-winning Sichuan Hot Pot Restaurant from China renowned for its delicious Chinese cuisine and unique customer experience, strives to provide patrons with truly unforgettable experiences. This restaurant chain has conquered the world by branching out across multiple countries— Hong Kong, Singapore, Australia, United Kingdom, Canada, United States, South Korea Japan, and now in the UAE. With only your taste buds as a judge of quality -come try it today!
Hawker Chan – From humble beginnings as a street vendor, Chef Chan Hon Meng is set to share his award-winning dishes and three decades of culinary expertise with the world through HawkerChan.
KOI Thé – KOI Thé has mastered the art of hand-crafted tea with a selection of freshly harvested ingredients, traditional brewing methods to preserve its unspoiled flavors and precision in every cup. We guarantee first class service that is warm and peaceful for all tea enthusiasts alike!
Lanzhou Beef Noodle – With a history of over 100 years, 1919 Lanzhou Beef Noodle's secret recipe has long tantalized taste buds and spread the Chinese noodle culture globally. Their mission is to bring this classic flavor everywhere for all noodle lovers to savor!
Nine Squares Restaurant – Established in 2016, Nine Squares Restaurant is dedicated to providing a unique dining experience with its unparalleled traditional Chinese hot pot dishes and warm service.
Starbucks – Partaking in the Starbucks Experience is not just about drinking coffee; it's a journey that celebrates the long-standing tradition of java while also providing an atmosphere of community and comfort.
Sushi Joy Express – Experience the true taste of Asian sushi cuisines at Sushi Joy Express in Dubai Mall Chinatown's Food court!
Also Read: 72 PHOTOS: WEMART Hypermarket and Food Court in Deira – What to Expect
Hawker Chan Restaurant in Dubai
Hawker Chan is a Michelin-starred street food hawker stall in Singapore, which is run by chef Chan Hon Meng. It first opened its doors in 2009 and has since become one of the most popular hawker stalls in the city. The stall serves up simple yet delicious dishes like crisp soy sauce chicken wings. All of these dishes are made with high-quality ingredients and prepared with care, resulting in rich flavors that have earned Hawker Chan its Michelin star.
Aside from the delicious food, what really sets Hawker Chan apart is its affordable prices. Guests in Dubai can now sample Hawker Chan in Dubai through the food court area in Chinatown Dubai Mall!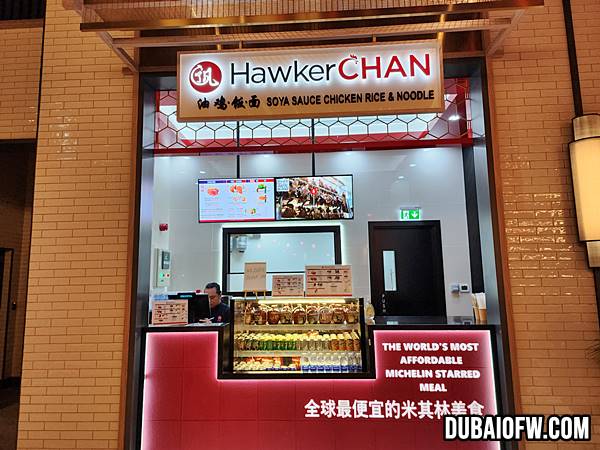 Hawker Chan Dubai – The World's Most affordable Michelin-Starred meal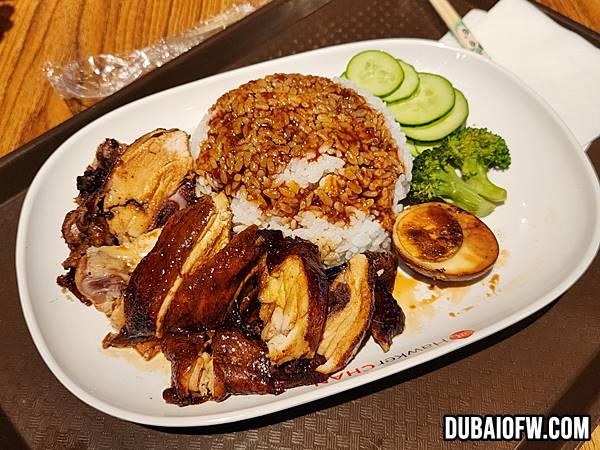 ordered roasted chicken meal (cause the roasted duck was sold out)
As you can see, if you're looking for authentic Chinese cuisine and international favorites, you'll find it all in Chinatown Dubai Mall.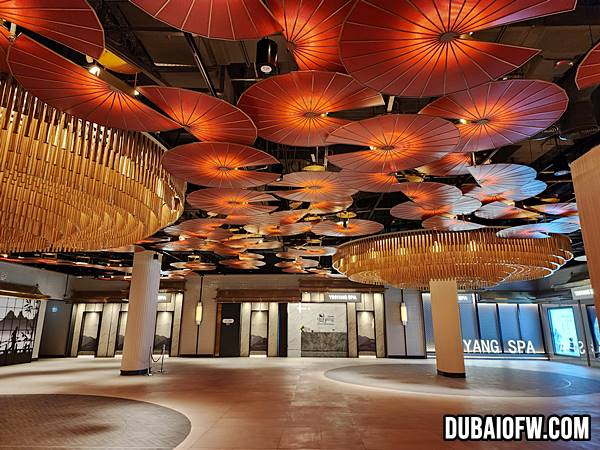 Yin Yang Spa Massage
At Yinyang Massage Center in Dubai, you can experience a holistic approach to healing based on the principles of Traditional Chinese Medicine (TCM). They feature treatments that are focused on restoring balance and harmony by simultaneously dispelling pathogens and supporting healthy energy.
Xiaomi Store
Xiaomi, the tech titan of China, is committed to delivering a superior user experience with its consumer electronics and smart manufacturing products. At its core lies smartphones connected by an internet-of-things platform that provides users with intuitive access to all sorts of devices. Aiming for nothing short of being "the coolest company in everyone's hearts," Xiaomi strives hard on offering groundbreaking innovations, high-quality performance, and ultimate efficiency through technology advancements.
ftNFT
Let ftNFT revolutionize your art experience at Dubai Mall! Explore our unique phygital gallery, where you can purchase NFTs with ease using a card terminal and discover the world of digital-physical artwork. Experience full-body 3D scanning, be astounded by mind-blowing visuals, and join in on the transformation of NFT space – all under one roof! Come visit us to make history today.
Video: Dubai Mall China Town Walk-through Experience
Here's a video clip of the Chinatown Dubai Mall, where you can explore all the attractions this destination has to offer. From Chinese cuisine and traditional massage therapy, to tech giants and innovative galleries, Chinatown Dubai Mall is a must-visit spot for those looking for a unique shopping experience!
35 Photos of China Town in Dubai Mall
Check out these pictures during our visit to the China Town district in Dubai Mall to give you an idea what to expect when you drop by this place:
Frequently Asked Questions
1. What is the history of Chinatown Dubai Mall?
Opened in 2018, Chinatown Dubai Mall is a unique destination that celebrates the Chinese culture and heritage. It is located in the heart of Deira downtown, which makes it easily accessible for tourists and locals alike. The mall offers a vast selection of stores, restaurants, entertainment and more.
2. What kind of activities can I do at Chinatown Dubai Mall?
At Chinatown Dubai Mall there are plenty of activities to choose from! You can shop at one of the many stores or grab a bite to eat at one of the tasty restaurants. You can also experience something out of the ordinary with virtual reality games, archery ranges, trampoline parks, and much more!
3. Are there any traditional Chinese treatments available at Chinatown Dubai Mall?
Yes! Yinyang Connection is a Traditional Chinese Medicine (TCM) clinic located inside the mall that offers a variety of services such as acupuncture, massage therapy, cupping therapy, herbal medicine and more. All treatments are guided by experienced practitioners experienced in TCM principles.
4. What kind of technology can I find at Chinatown Dubai Mall?
Xiaomi's flagship store is located inside the mall and offers customers access to their latest products such as smartphones and smart hardware connected by an IoT platform. Meanwhile NFT terminals offer customers an easy way to purchase non-fungible tokens with their credit card. Lastly 3D scanning booths are also available for those interested in capturing their image in full body 3D form!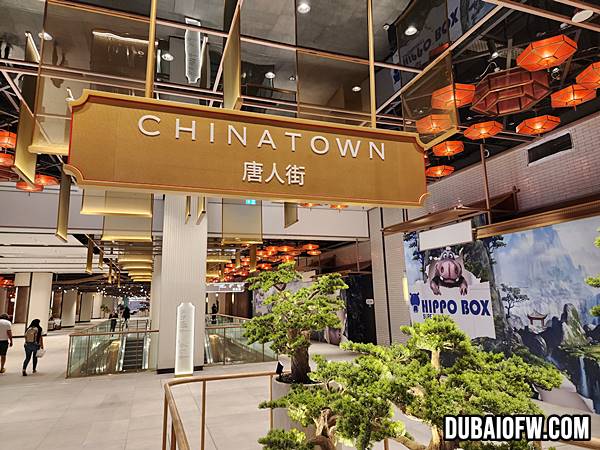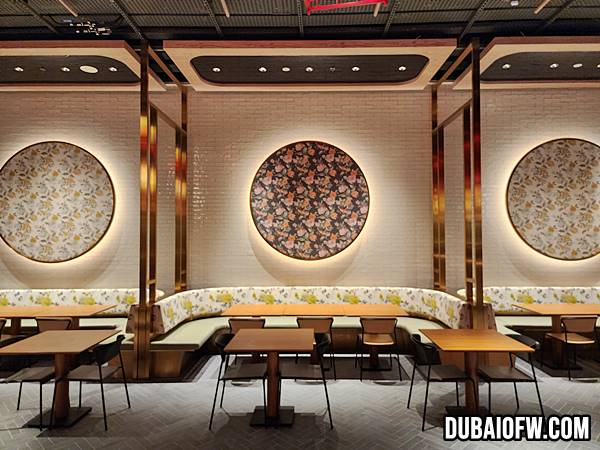 How to Get There
Nearest Parking is P3 Cinema Parking Dubai Mall
Contact Information
Chinatown Dubai Mall
Address: First Floor Dubai Mall – opposite Dubai Ice Rink
Telephone Number: 800 38224 6255
Website: https://thedubaimall.com/en/chinatown/
Facebook: https://www.facebook.com/TheDubaiMall
Instagram: https://www.instagram.com/thedubaimall/
Google Map Location
Here's a map guide to the location of China Town in Dubai Mall: