Looking for work in UAE? You should know exactly what you need to do during the early stages of your application. By being prepared, your goal of becoming an OFW is much smoother, with fewer hassles and less mistakes.
This article shares the documents you must prepare and present to your potential employers in UAE. So better have these papers ready. In fact, these documents are actually basic requirements even if you are going to work in other countries abroad.
Disclaimer: The information posted here is based on the experience shared by an OFW in the video below. Any of these information may change without prior notice. Please let this post serve as a guide only.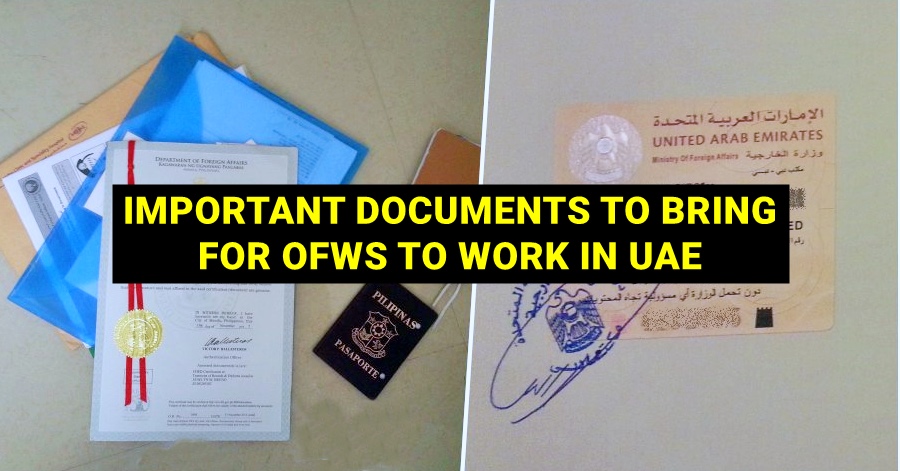 What to Bring When Applying for Work in UAE
What documents do you need to bring so you can work in UAE? What are the processes you need to go through to be able to work in UAE? These and more questions will be answered in this article, which is a summary of the thoughts given by Lerma from the YouTube channel Pinay Abroad Vlogs.
Documents You Need to Bring to UAE
As you enter UAE for the first time, here are the documents you need to bring:
Passport – A passport is your identification in UAE; the one that proves you're a Filipino national.
Transcript of Records (TOR) with Red Ribbon Authentication – the Red Ribbon signifies that your transcript of records and other important documents are authenticated by the authorized bodies.
IMPORTANT NOTE: There is no more attached red color ribbon for DFA-authenticated documents. However, the process is still the same to authenticate them. 
How to Process DFA Authentication and MOFA Attestation
Here are the steps for having your TOR authenticated:
Go to your school and get a certified true copy of your TOR
Inform them that you need it for the UAE embassy – they usually have an idea that you need it authenticated for employment purpose.
In Lerma's case, the TOR was then sent to the UAE, then back to the Philippines through a courier like DHL. She mentioned spending around 1,000 to 2,000 pesos for the process.
The Importance of a Red Ribbon-ed TOR
An authenticated TOR is really important when looking for a job. This is one of the very first things your potential employer will look for.
Note that they will not take the original copy, just a photocopy.
Lerma shared that it is better to go to the UAE with these authenticated documents ready. Yes, you can have these documents authenticated in UAE, but that is a much more expensive process.
Documents that may not be useful but are still important
Lerma shared that the following documents weren't used at all when she started applying for jobs in UAE.
However, it really depends on the employer, and so it is much safer to bring these document as well:
Certificates from your previous school
Certificate of employment from previous employers in the Philippines
Certificates from previous work. – Some employers might ask you for more proof regarding your expertise. For this, you can show them training certificates, relevant seminars attended, NC II, and more.
NSO Birth certificate – This wasn't needed when Lerma applied. As mentioned above, the passport above is enough as a proof of identification.
Certifications from previous companies may be important because some employers might ask for these, training certificates, NC 2 Certifications, and more.
Some important processes prior to employment
The value of health screening in advance
It is important that you do a health check at government approved health centers. You should test for communicable diseases like TB or HIV.
It wouldn't be wise to have the testing done in UAE when you arrive there.
What if they detect that you have a communicable disease? You've spent lots of money to go to the UAE, only to find out you won't be qualified to work there.
If you have a health screening in the Philippines prior to leaving for UAE, then any negative test result will help you stop going abroad altogether, at least until you are healthy again.
National ID
Once you pass the interviews, submit all documents, and passed the health screening, you will then be given a National ID called the Emirates ID.
You will have to pay for your Emirates ID. It's around 270 AED.
You will also get a medical card for your health insurance, normally free because its shouldered by your company.
Aside from being sources of identification, the medical card will help you with the costs of hospitalization.
There you have it. These are some of the important documents you will need to bring so you can finally become an OFW in Dubai.