Being a Muslim city, anyone would think that drinking alcohol in Dubai is impossible. The city adheres to Sharia Law, which forbids drinking for Muslims. But if you are a tourist, and a non-Muslim at that, then you are allowed to drink alcohol every now and then under certain conditions.
Also Read: Where to Buy Pork in UAE
Yes, drinking is tolerated (for Non-Muslims) in Dubai. But you cannot just buy alcohol and drink it anywhere you want. Before you open a bottle of wine or grab a can of beer, there are certain rules that you should be aware of. Otherwise, there are some pretty serious consequences!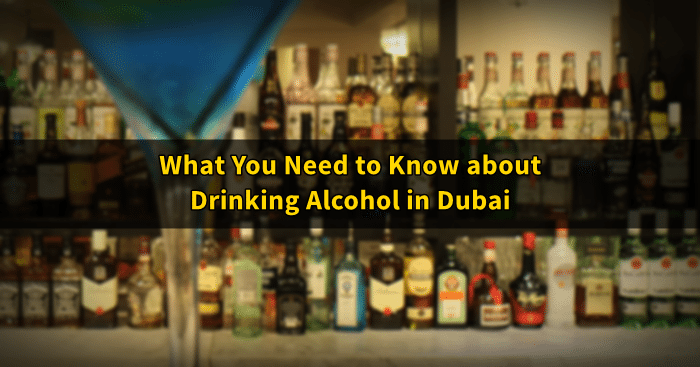 5 Things to Know When Drinking Liquor in Dubai
Here are some important things you need to know about drinking in Dubai:
1. You need a license to buy and consume alcohol.
You must be 21 or older and earning at least 3000 AED a month to obtain a license for buying alcohol. This rule applies to tourists as well as to local residents.
2. You can drink, but only in licensed places.
In Dubai, drinking is allowed only in licensed hotels, restaurants, bars and in the privacy of your home. You should avoid drinking in public areas such as parks, shopping centers, and beaches. If you get caught drinking in these places, you will be asked to pay a hefty fine, or worse, serve up to six months in jail! You should also know that there are undercover police officers around, so don't get any ideas.
3. You cannot walk on the street while drunk or while carrying alcohol.
You should not be seen in public carrying the bottles you've purchased nor should you be seen drunk in public. Don't be loud and proud of your drunken state.
4. You cannot have alcohol in your system while driving.
Dubai has a zero tolerance of driving under the influence of alcohol (and/or drugs). The Fine for getting caught will be decided by court, you get 24 Black Points, and your car could be confiscated for up to 50 days.
Related Post: List of RTA Driving Violations and Fines in Dubai
5. You should be careful what you post on social media.
If you are active on social media, "think before you click" applies to posts about alcohol — or any other subject, for that matter. Your Facebook, Twitter, or Instagram may be personal accounts, but it wouldn't hurt to be responsible when posting about alcohol. The more vague or general your post is, the better. A simple "having a nightcap at the hotel" would suffice.
As long as you follow these rules, then you shouldn't worry about drinking in Dubai. In fact, you'd be impressed by the liquor selections available in the city's hotels and restaurants. Here, you can find bartenders serving some of the best beer, wine, and cocktails around.
Dubai is one of the most active business and tourist hubs in the world today. But it is still a Muslim city, with its own rules and regulations. And as expats living in this thriving city, we should always follow these rules and drink responsibly.