The entry of the New Year this 2020 will be brighter as the Dubai Frame is inviting everyone to witness the upcoming fireworks display on New Year's Eve.
The famous Dubai landmark – which frames impressive views of Old and New Dubai – will host a three-minute fireworks display which will be followed by a laser light show.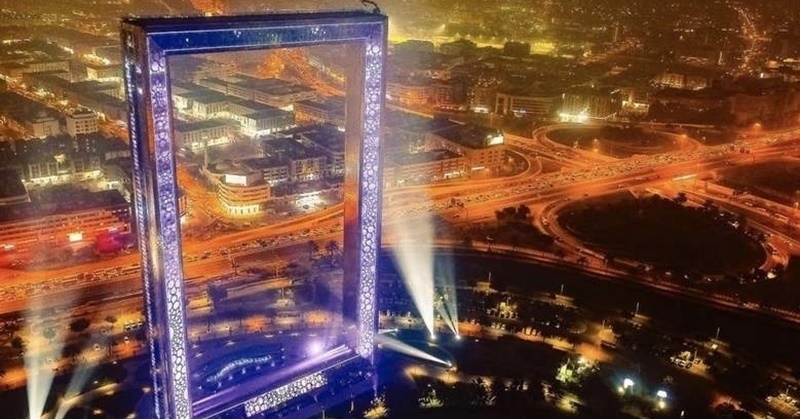 Dubai Frame to Light Up on New Year's Eve with Fireworks Display
Across the emirate, popular NYE spots are already gearing up for the celebrations, with just a couple of weeks to go before 2019 ends, as shared in a report by the Khaleej Times.
Among these, the Burj Khalifa and the Dubai Fountains promise to leave the city in glowing awe with a 'parade of fireworks' that has been drawing thousands of visitors from around the world every year.
Also, Burj Al Arab's remarkable display is another New Year tribute people are looking forward to, and the hotel is offering prime firework viewing spots at its Terrace.
Meanwhile, those who wish to dive into a fun beach extravaganza, La Mer is preparing an exciting show, while revelers who want to pair the festivities with a historical experience may opt for Al Seef. The Beach, Dubai's iconic waterfront complex, is also set to showcase breathtaking views.
But locals and tourists need not go too far or outside the emirate to catch a dazzling show on New Year's Eve as the iconic Duba Frame, which will be celebrating its 2nd year anniversary will be hosting a bigger and more extravagant celebration on NYE.
A post on its official IG announced with exciting caption: "With the entry of the new year, it will become # Barwaz_ Dubai two years!"
"We are waiting for you to join us in double and bigger celebrations than ever before, don't miss it," the post revealed.
The iconic landmark, which measures a height of 150 meters and width of 93 meters with over 9,900 cubic meters of reinforced concrete, 2,000 tons of steel and 2,900 square meters of laminated glass used in its construction, is among Dubai's prime locations where exciting events take place on a regular basis.
The Dubai Frame's rectangular design was inspired by the 'golden ratio' of 1.618, which many architects and artists believed that form an ideal structural balance, the elevator to the Sky deck can carry visitors 48 floors in just 75 seconds.
With its strategic location and outstanding design, the Dubai Frame offers one of the most spectacular panoramic views across the city.
Here's a video posted by Dubai Frame on its official IG page:
ALSO READ: 32 Photos: Christmas in Dubai, Festive Market at Madinat Jumeirah!