Thinking about where to usher in the New Year in the UAE? Well, anywhere is fine – really. But if you wish to catch some amazing fireworks show to make the event a more exciting and memorable one, especially if you're celebrating it here for the first time, then check out our top picks on where to celebrate New Year's Eve with a bang in the UAE.
As you know, the UAE is composed of several emirates, and with that, there are several choice spots to check out for exciting events especially on New Year's Eve.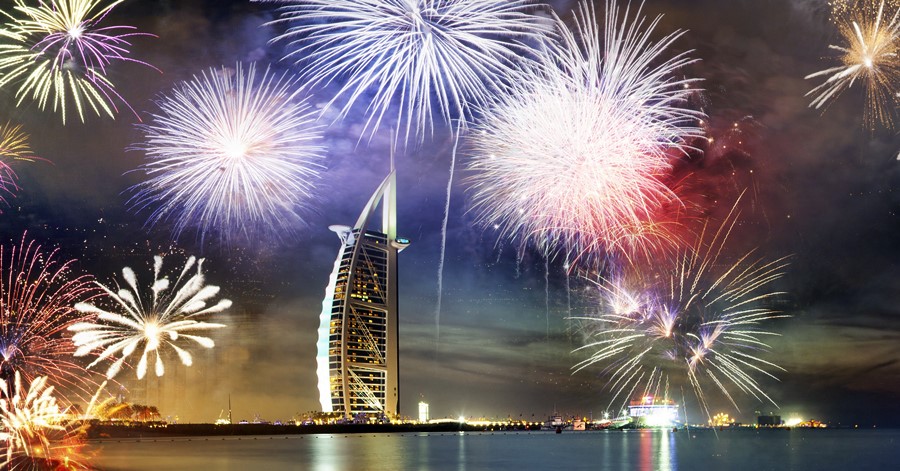 Here are the Best Spots to Catch the New Year's Eve Fireworks in the UAE
In this post, we will share our top 5 picks on where to catch exhilarating fireworks and light shows across the UAE. If you have the chance to travel to any of these spots, be sure to do so. Otherwise, visiting the closest spot/s isn't such a bad alternative, too.
#1 Burj Khalifa
The world-renowned New Year's Eve show with a firework display on the Burj Khalifa, and will once again be hosted by

Emaar

.

This will incorporate fireworks, animation on the Burj Khalifa LED Facade, music composition, and a fountain show. 

In line with this, the Dubai Fountains will feature the world's longest choreographed fountain show ever.

One of the best family places to go to for this event is the family viewing areas in Downtown Dubai to witness the iconic show, which is expected to be viewed live by millions on television and 

online

 across the globe.

Moreover, dozens of pop-up food and beverage stalls will be available for visitors to enjoy during the countdown to New Year's Eve 2020.

#2 Burj Al Arab
Burj Al Arab in Jumeirah, throughout the years, has definitely marked a place on the map for their show-stopping NYE celebrations.
Year after year, spectators from across the globe look on as the world's most iconic hotel takes centre stage in a skyline glittering with fireworks. This is Burj Al Arab. This is the world's most extraordinary New Year's Eve. Click here to view the brochure.
#3 The Dubai Frame
#4 Global Village
At the stroke of midnight in seven different time zones, guests at the Global Village will be treated to impressive fireworks display every hour from 8 pm.

At exactly 8 pm, the Global Village will ring in the New Year in the 

Philippines

 with fireworks, followed by 

Thailand

 at 9 pm; 

Kyrgyzstan

 at 10 pm; 

India

 at 10:30 pm; 

Pakistan

 at 11 pm and the 

UAE

 at midnight. Meanwhile, the final show will be at 1 am for 

Turkey

.

Celebrations in the Global Village will run up until January 7th.

As part of the exciting offerings at the venue, guests will be able to take selfies with a huge 21-meter high tree lavishly decorated with gifts received from around the world.

To make the event extra special, seven (7) holiday packages will be given to seven unsuspecting families.

Also, children below seven (7) years will be offered free entry to the Global Village.
#5 Dubai Festival City
D

ubai Festival City Mall is going to have a line-up of four fireworks displays starting at 7pm.

The fireworks display shows will take place 7pm, 9pm, 11pm and finally, at 12 midnight.
There will also be the IMAGE light show which includes a light, water, and laser display show on the fountain area.
#6 Palm Jumeirah
The Palm Jumeirah is one of Dubai's most iconic landmarks. Every year, organisers put together a lavish and magnificent fireworks display to welcome the New Year!
#6 Al Majaz Waterfront, Sharjah
Al Majaz Waterfront in Sharjah will ring in the New Year with a spectacular 10-minute long fireworks display, launched from 16 massive barges.

This will be complemented by a colorful fountain show.

Furthermore, guests will also be treated to a variety of cuisines they can choose from.
#7 Abu Dhabi
The UAE capital will usher in 2020 with big events including Resolution, a two-day festival.

Bruno Mars will also headline the Yas Island's du Arena's New Year's Eve performance as part of Resolution by Night.

Meanwhile, fans of Arab music will be delighted by performances from Egyptian superstar Tamer Hosny and Lebanese sensation Nancy Ajram on Al Maryah Island.

Utilizing three pyrotechnic towers, the 10-minute fireworks display on the Abu Dhabi Corniche will be open for viewing to all.

And finally, Resolution by Day, an all-encompassing family entertainment festival held on New Year's Day, will bring New Year joy to du Arena through an exciting range of activities, performances, and dining options.
#8 Ras Al Khaimah
There will be additional public viewing areas to be set up along Al Marjan Island, the main location of the New Year Eve celebrations in the emirate.

Be sure to watch out for the special features of this year's fireworks display which will deploy pyro-drones that will start with the countdown to the New Year and going on to recreating the key monuments in the emirate through laser displays and pyrotechnics.

These drones will also be used for a culminating performance that marks the bid for a Guinness World Record.

Another thing to watch out for is the Japanese aerial shell fireworks display, which is being brought to the region for the very first time.
The annual celebration on New Year's Eve will be made much more colorful and exciting through unique showcases to be offered by the above prime locations in the country, so be sure to check them out!
ALSO READ: Dubai Shopping Festival on 26 Dec 2019 to 1 Feb 2020