In the current crisis we are facing, we are seeing a number of volunteers in Dubai giving their time, money, and energy in helping fellow expats who are gravely affected by the situation. It's nice to see people helping each other in times of need. For those who are wondering what other options they can do to help, why not try to donating blood in Dubai?
Also Read: Jobless Pinay in Dubai Distributes Free Packed Meals for Filipino Community
The other day, we walked in at the Dubai Blood Donation Center in order to donate blood. We arrived at the site and noticed that there weren't many people around (only about 2 other people) which was good for us so we didn't have to wait long for our turn.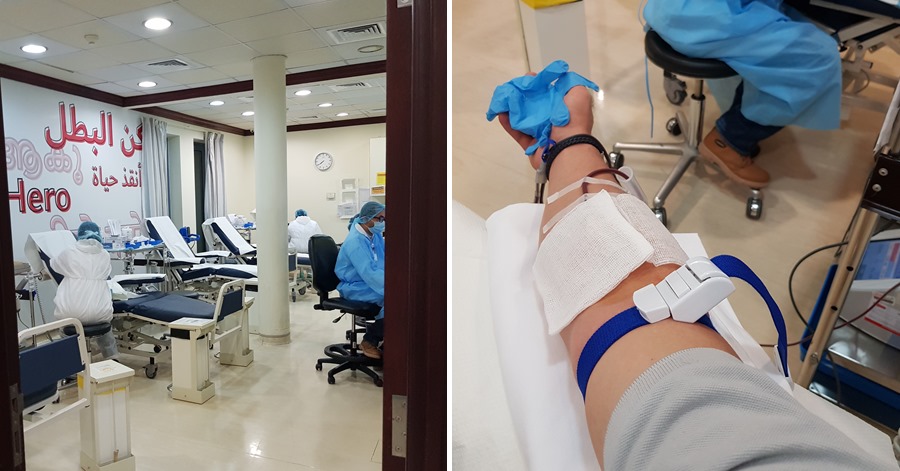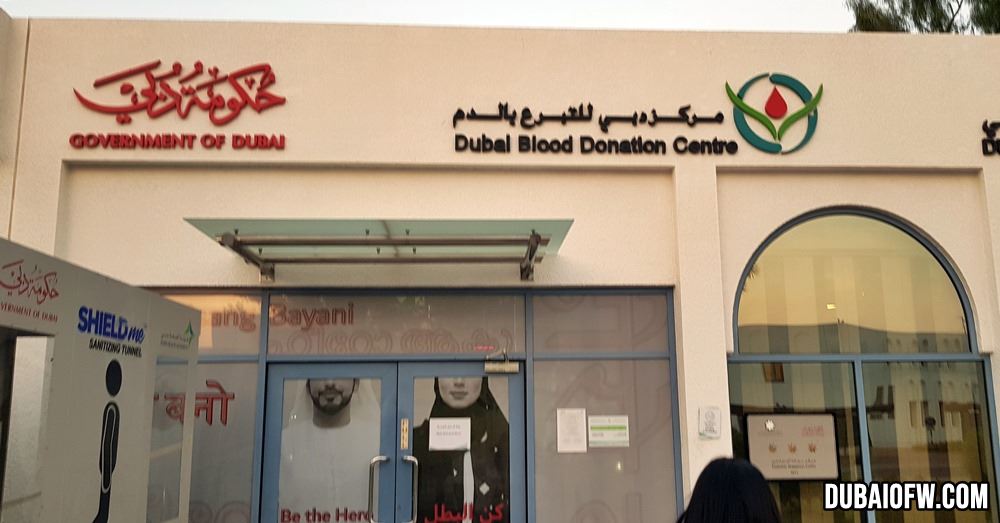 Dubai Blood Donation Center for UAE Residents
For those of you who are wondering how you can donate blood in Dubai, here's a step by step guide based on our experience when we visited the Dubai Health Authority blood donation center. They will need your Emirates ID as part of their requirements.
Step 1: Present your Emirates ID at the reception so they can register you. You will be given a queue number so wait for your number to be called.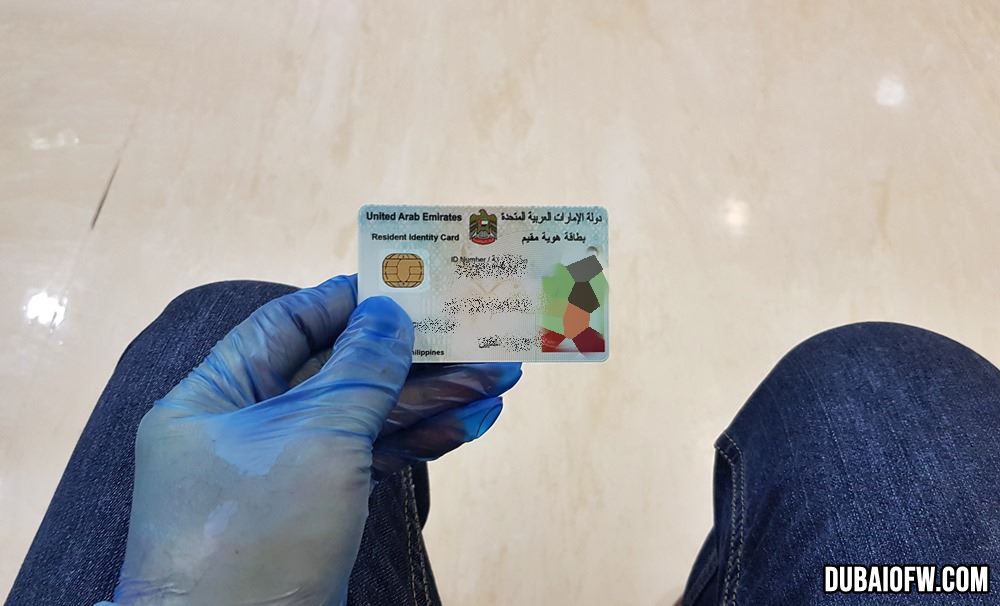 Step 2: Head to the medical screening area where you will sit and answer a questionnaire on a digital tablet. This will determine your qualifications to donate blood.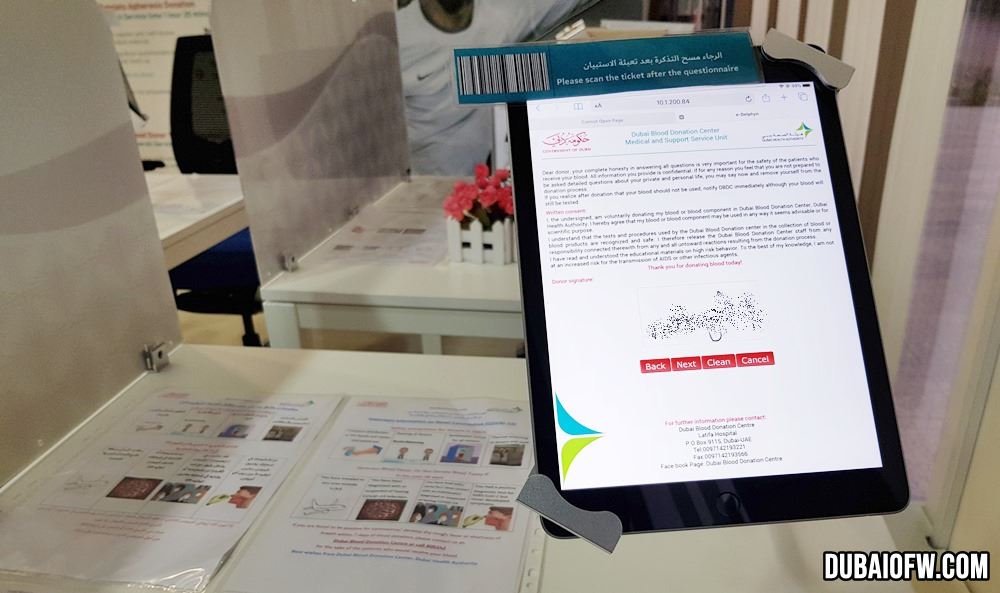 Step 3: Once completed, you will be asked to go to an office where there will a blood sample will be taken from you. This will also determine if you are eligible to donate.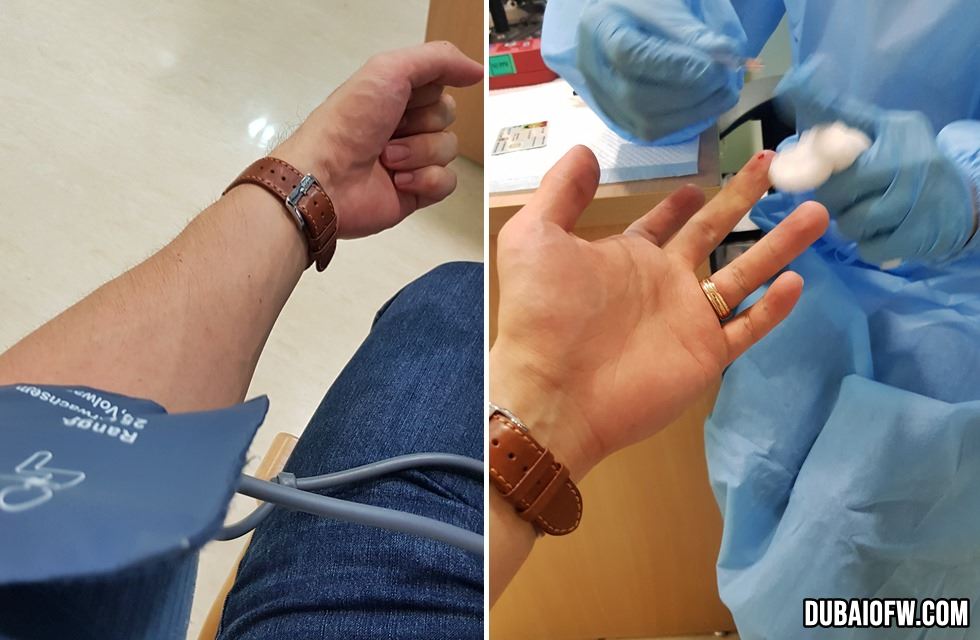 Step 4: Once eligible to donate, you will be sent to the blood collection room. You will sit on a comfy chair and the process lasts for about 10-15 minutes for the staff to collect your blood.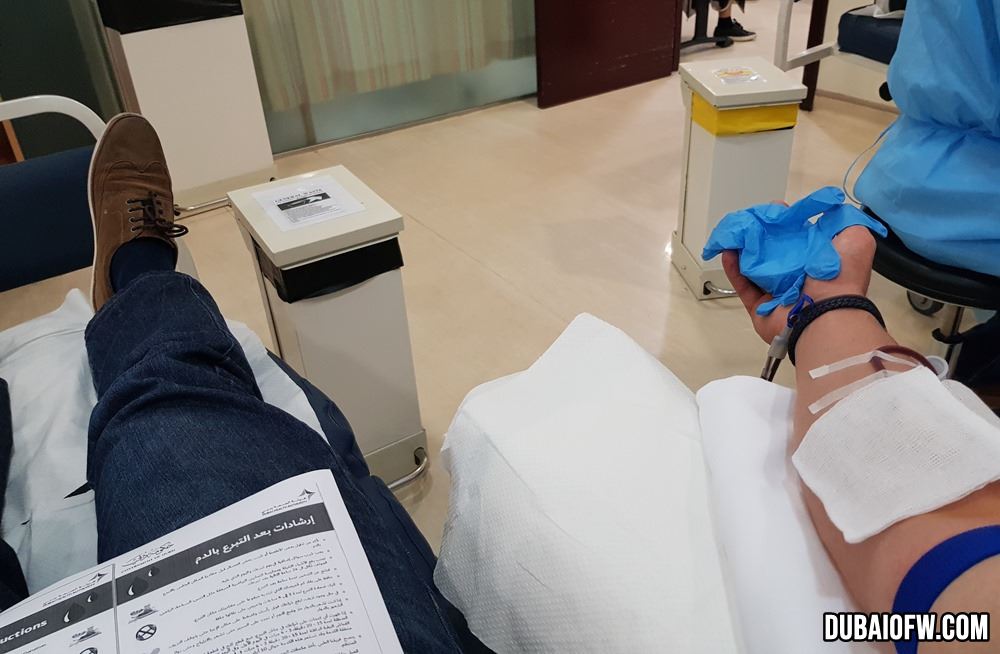 Step 5: You are done! They have a snack bar where you can get some snacks after your blood collection. They will also advise you to take care of yourself and not to do any strenuous activity (go to the gym, etc.) for 24 hours.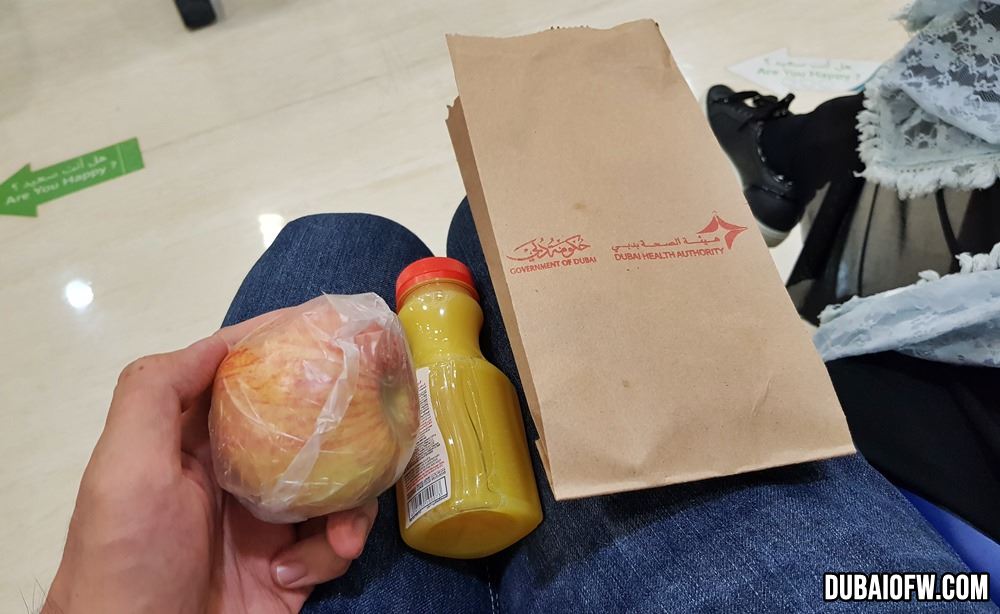 I was advised by the health staff that I can donate blood again after 2 months.
There will be a health assessment questionnaire which will check if you are qualified to donate. You will be also interviewed by a trained health professional. The actual blood donation is around 10 minutes and the overall experience may last about 30 minutes.
Once you have successfully donated blood for the first time, you will be given a blood donor card which indicates your blood type and you can bring this card every time you donate in the future.
Eligibility Requirements
Below are the specific requirements in order for you to donate in Dubai:
Age 18-65
Should present an ID issued from UAE.
Should not be less than 50kg
Should be in good general health condition.
Blood pressure should be between 60/100 to 100/160mm Hg
Pulse Rate should be between 60-100 pulse/minute
Temperature should not be more than 37.5° C
Notes:
As per Federal Health Regulation, persons on visit visa/transit visa are not eligible to donate.
Pregnant and lactating women are not recommended to donate blood.
4 Reasons Why You Should Donate Blood
You are NOT required to donate blood. But in case you do, here are four benefits of regularly donating:
1. It is an act of kindness which can help save lives of people needing it.
2. Regularly donating blood will help decrease the chances of strokes and heart diseases.
3. Your body will reproduce new blood cells.
4. Helps your body get rid of excess iron.
Nutrition & Diet (Iron-Rich Foods)
In order to help those in need of blood, you need to have adequate levels of iron in your body. Below are some iron-rich food items you should include in your diet as shared by the Medical Care Unit of the Dubai Blood Donation Center:
Red Meat
Eggs
Shell Fish
Chicken and Turkey
Beet Root
Vitamin C – increases absorption of iron in blood
Pomegranate
Leafy Greens
Almonds
Lentils and Seeds
Broccoli
Dates
Apricot
Carrots
Spinach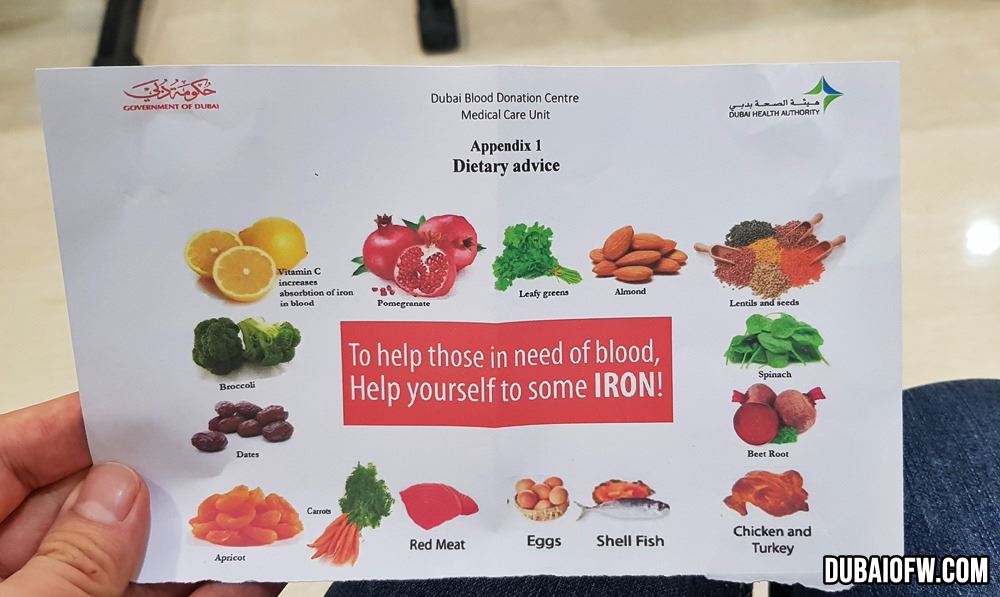 Additional Rules and Safety Precautions
Frequent disinfection of hands
Spacing of donors / social distancing
Sanitation tunnel for all visitors
Thermal screening of donors and staff
Do not donate blood if in the past 28 days,
You have traveled to any area outside the UAE.
You have been diagnosed with or suspected of the virus infection.
You have lived with/cared for close contact with an individual or suspected of having the virus.
You had a positive diagnostic test for SARS-CoV-2 but never developed symptoms.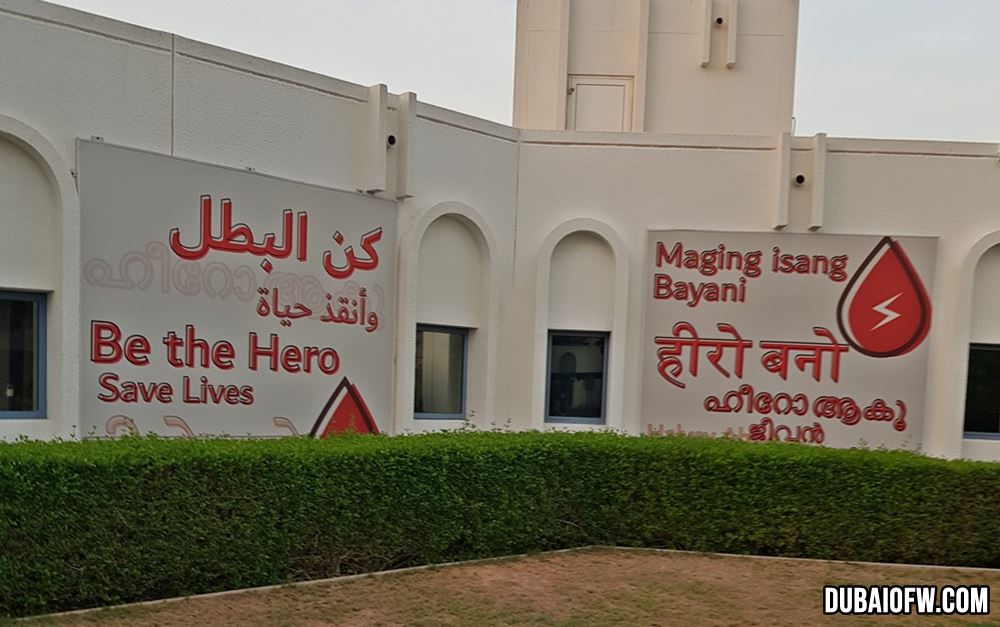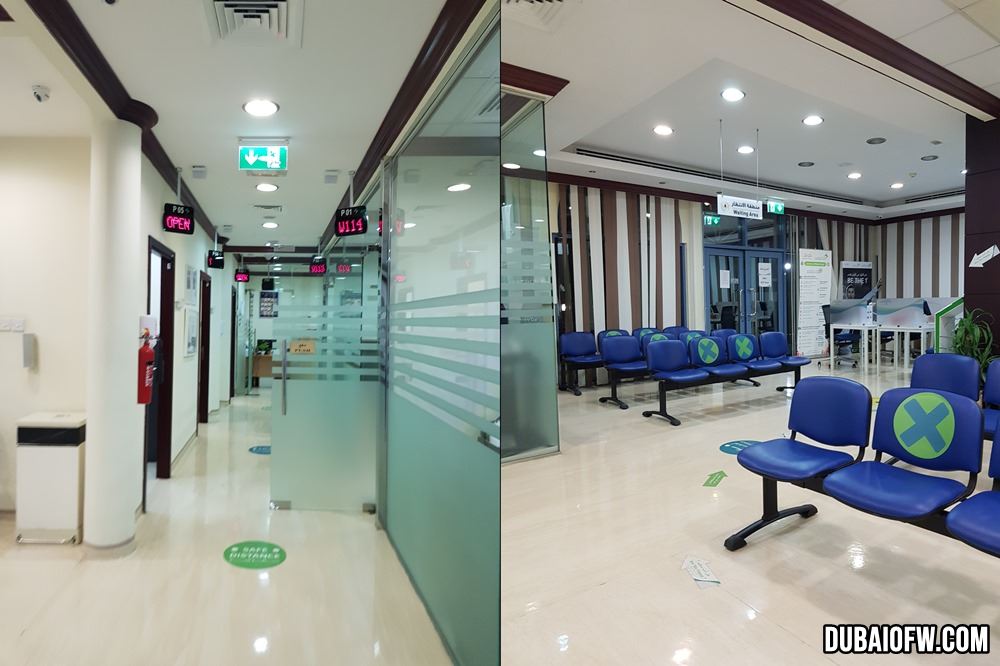 Frequently Asked Questions / FAQs
Where is the location of the blood center in Dubai?
You can find the location of the Dubai Blood Donation Center here – https://goo.gl/maps/oT9voSCMyHHjt6CfA
We initially got lost as we were searching for Latifa Hospital (since the center is near the hospital). So just make sure you type "Dubai Blood Donation Center" on Google Maps.
Am I eligible to donate?
Most healthy people between 18-65 years old. Please check the eligibility requirements above on specific health and documents you need to donate.
What types of blood can I donate?
Whole Blood donation (single unit), Double Red Cells donation, and /orPlatelets donation
How frequent can I donate blood? 
You can donate every 2 months.
How much blood will be collected from my Body?
One Blood Unit or 450ml. Each unit of blood donated can aid as many as 3-4 patients
What will happen to me (my body) after I have donated blood?
Your body will replace the amount of blood you donate. It is important that you do not perform any strenuous activity within 24 hours. You will also need to get good rest/sleep and nutrition.
What happens to the blood that I have donated?
After donating blood, DHA will send the bag to their laboratory for futher testing and storage. The donated blood will be transported to private hospitals and DHA hospitals in Dubai.
Do I need to donate blood?
No, you are not required to donate blood. Instead donating blood is a voluntary humanitarian act.
Will I be paid to donate blood?
As this a donation facility, you will not be compensated for your donation. Remember, you are already saving lives through your generous donation.
Dubai is too far, where else as a UAE resident can I donate blood?
In case you live in other emirates of the UAE, you can go to the blood donation center near you. Below is a list of blood donation centers in other Emirates
Abu Dhabi Blood Bank
Location: Al Khalidiyah, Abu Dhabi
Contact: +9712 665 6508
Sharjah Blood Transfusion and Research Centre
Location: Sheikh Mohammed bin Zayed Street, Sharjah
Contact: +971 6 558 2111
Al Ain Regional Blood Bank
Location: Al Mu'tarid Civic Centre, Al Ain, United Arab Emirates
Contact: +971 3 707 4567
Blood Bank in Umm Al Quwain
Location: Al Rawdha Street, Umm Al Quwain
Contact: +971 6 706 0500
Blood Bank in Ras Al Khaimah
Location: Al Juwais, Ras al Khaimah, United Arab Emirates
Contact: +971 7 222 3666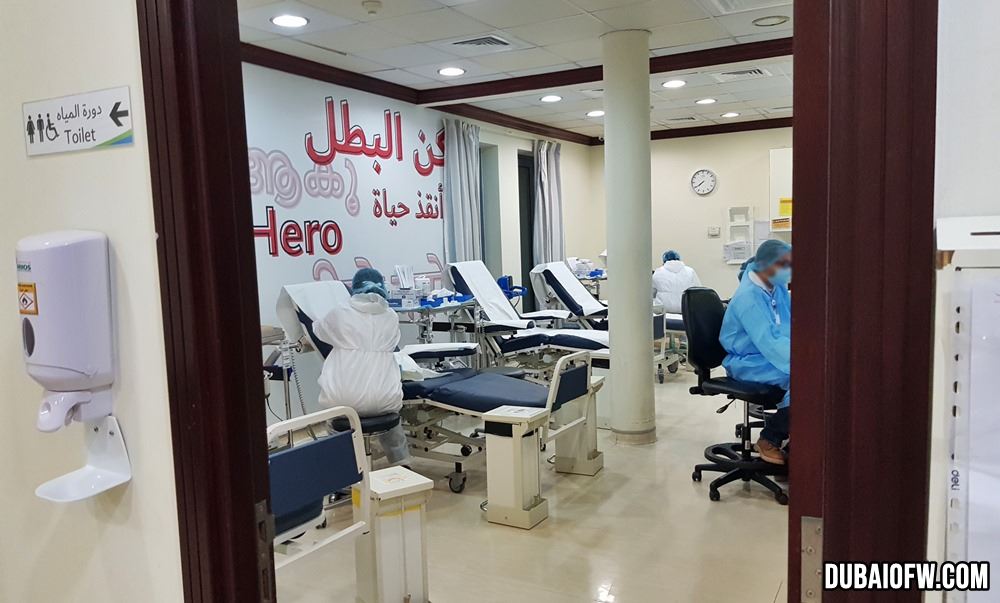 Contact Information
Dubai Blood Donation Center
Opening Hours – Sunday to Thursday – 7:30 am to 7pm
Website: http://www.dha.gov.ae/
Email: dbdc@dha.gov.ae
Telephone Number: 800 DHA (342)
Outside the UAE: +971 4 219 8888
Google Map Location
Below is a map guide to the location of the Dubai Blood Donation Centre. Please follow the map below: