One lucky Indian national, who picked a lottery ticket using her apartment number, has become a million dollar richer after winning at the Dubai Duty Free (DDF) Millennium Millionaire and Finest Surprise Series 308 draw held on Tuesday (August 20).
The 34-year old Dubai-based Indian national, Beejal O, picked ticket number 4111, which incidentally is also her apartment number.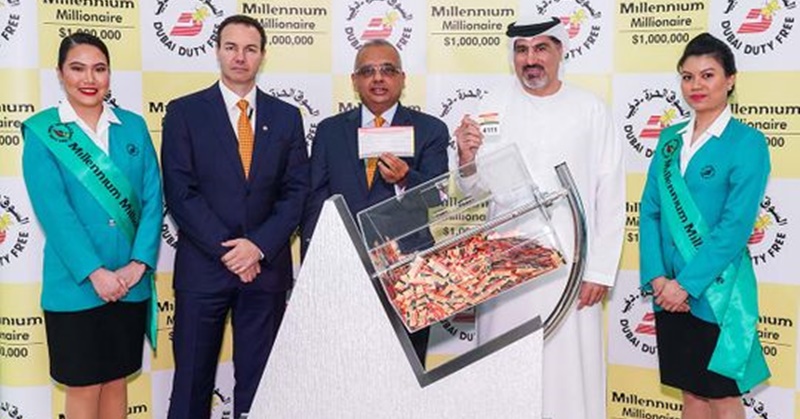 Dubai Expat Wins USD 1M Cash in Raffle Using Apartment Number
The new millionaire, who was a resident of Dubai for seven years and a regular participant in the DDF promotion, shared that she was speechless and beyond grateful for winning such a big prize from Dubai Duty Free, as shared in a report by the Khaleej Times.
However, when asked about her initial plans with her winnings, Beejal shared that the first thought that came into her mind was charity.
Beejal got a hold of the ticket when she travelled to India on July 25, and will now become the 148th Indian national to win in the DDF, since its inception in 1999.
There were four more winners in the Dubai Duty Free Finest Surprise Promotion, Jahanzeb Arif, a Pakistani national, won a Nissan GTR Premium Edition car in Series 1727 with ticket number 0149, which he purchased online.
Another lucky winner, Annie Espy Dias, a 40-year-old Portuguese national based in the UK won a Porsche Cayenne S in Series 1728 with ticket number 0631. In her case, Dias bought her winning ticket on her way back to the UK after celebrating her 40th birthday and 12th wedding anniversary in Dubai with her husband. Dias is only the fourth Portuguese to win in the DDF Finest Surprise promotion.
In response to her winning, Dias shared: "Dubai Duty Free's promotion is a beautiful idea and I really like it! I've been living in the UK for eight years now, but I still love Dubai that's why I keep coming back whenever I have a chance to visit and I also never missed a chance to buy tickets to your promotion. Thank you so much Dubai Duty Free."
Shaheen Sheik, a 28-year-old Indian national based in Dubai, also won a Moto Guzzi California Touring motorbike in Series 375 with ticket number 0141, while Ghulam Ameeri, a Bahraini, won an Aprilia Tuono RR 1100 motorbike in Series 376 with ticket number 0883.
All the raffle draws were held at Concourse B, Terminal 3, of Dubai International Airport.
Congratulations to all the lucky winners!
ALSO READ: Indian Expat Wins 15 Million AED in Big Ticket Raffle