A Pakistani national is now one million dollars richer, thanks to the first Dubai Duty Free Millennium Millionaire and Finest Surprise Draw for 2018. The man has won USD 1 million, which is equivalent to about AED 3.67 million!
Three other winners won luxury vehicles during the same draw. Previously, an Indian national won a huge prize at the Big Ticket Abu Dhabi Raffle, which was also held recently. Indeed, the year is certainly off to a great start for these lucky winners!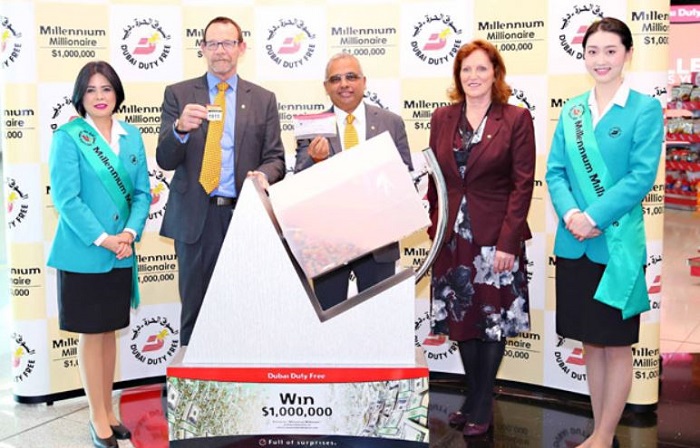 Raffle Winners Receive Cash Prize & Luxury Vehicles
The Dubai Duty Free draw was held at Concourse A West, Terminal 3, at Dubai International Airport. Ticket No. 1915 was drawn for the USD 1 million prize, and it belonged to Muhammad Akbar Khan, a Pakistani national from Islamabad.
Meanwhile, three other people won the following major prizes:
BMW i8 Crystal White Pear Car – won by Tsubasa Mizogami, a Japanese national from Hanoi, Vietnam
BMW S 1000 XR Ocean Blue Motorbike – won by Clara Lasrado, an Indian national based in Dubai
BMW R 1200 RS Frozen Bronze Black Motorbike – won by Dmitri, a Russian national from St. Petersburg
Lasrado was on her way to India for a holiday when she bought her second ticket that won the prize. ""It was an unexpected call and I was really surprised," she stated. "Big thank you Dubai Duty Free!"
Presentation of Prizes
Aside from these latest draws, a presentation to a previous Millennium Millionaire winner was also held. Suleyman Cem Gunal, a Turkish national from Istanbul, won the cash prize last December.
"I am thrilled to finally receive my winning [prize] and I thank Dubai Duty Free for this wonderful gift," he stated.
The latest Dubai Duty Free draw was conducted by Ramesh Cidambi, Chief Operating Officer; Nic Bruwer, Executive Vice President – Commercial; Sinead El Sibai, Senior Vice President – Marketing; Sean Staunton, Senior Vice President – Retail Sales; and Michael Schmidt, Senior Vice President – Retail Support.
Congratulations to all the lucky winners! As for other hopefuls, let's keep on joining these contests. At the same time, let us all look forward to an abundant and prosperous 2018!