Our next OFW interview is about Anthony, who lived in Dubai for 7.5 years and came back last 2016. Currently, he is the Group Training Manager for SFC Group. From being a server to becoming an international trainer, he worked his way up to becoming a manager and general director! His story motivates us to keep moving forward to develop and succeed in our chosen careers.
According to Anthony, he loves to travel and check out new restaurants and sights. His work has taken him all over the UAE, the Middle East, and even to the United States! Despite all his success, however, he remains humble and keeps his feet on the ground. He also likes to keep learning and finding ways to improve himself.
More importantly, Anthony is devoted to his family back in the Philippines. Aside from having a house and a farm in the province, he hopes to establish a house in Manila and manage a business there. Read more about Anthony's experiences, thoughts, and insights in this inspiring OFW feature.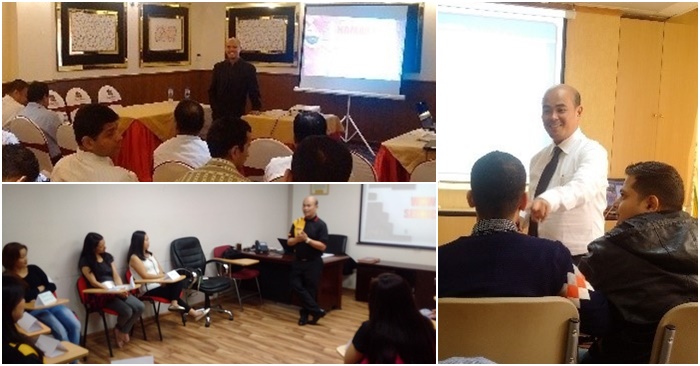 OFW Profile: Group Training Manager & Director in Dubai
Name: Anthony Gacis
Age: 45 years old
Current Profession: Group Training Manager for SFC Group
College Course: Bachelor in Commercial Science
Years in Dubai: 8 years
1. Tell me about yourself.
Hi! I'm Anthony Gacis, 45 years old, Group Training Manager for SFC Group. I graduated from Jose Rizal University, with a Bachelor's degree in Commercial Science. I have been in Dubai for a total of 7.5 years.
2. Why did you come to Dubai?
I was a Trainer for TGI Friday's in the Philippines when an opportunity came to me. They took a Filipino batch to open TGI Friday's Dubai in 1996. I considered this as the "light" that I had seen to help provide a better future for my mother and my siblings. Going back to Dubai has always been in my mind. I love Dubai!
3. What were your previous jobs?
I started in Sheikh Zayed Road as a Server at TGI Friday's. I got promoted to In-Store Trainer, and later I became an International Trainer for Middle East Opening. I have helped open restaurants in Kuwait, Saudi Arabia, Lebanon, Pakistan, UAE, Egypt, Malta, Oman, and the USA (Tennessee) for TGIF and Ruby Tuesday.
I have also worked as a Guest Service Manager, Quality Manager, General Manager, Director for International Training Center, and Middle East GM Trainer.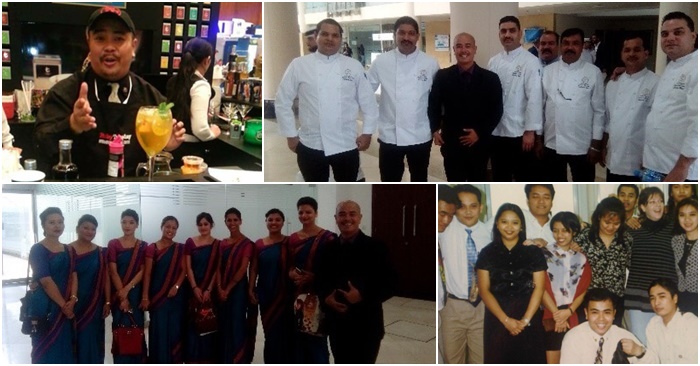 4. How do you find your current job? Are you happy/satisfied with it?
I was opening a restaurant at Dalma Mall in Abu Dhabi when a friend of mine called and told me that SFC Group would like to speak to me about a job offer. I went and the interview just flowed smoothly! I never thought I would be selected as the Training Manager for more than 40 restaurants all over the UAE.
I am so happy and lucky at the same time! The company is supportive and has treated me as family right from the beginning. The people and the job is a "dream come true!"
5. Are you able to save in Dubai? Why/How?
Yes! Not so much, but yes. I've been to many countries, since Dubai has been like "magic" for me in terms of savings. Here, I have a lot of choices: choices to spend less or spend more. In the beginning, back in 1996, I was excited to buy a lot of stuff that my family and I have dreamed of. Along with this, I always focused on my financial targets.
Of course, peer pressure and inggit would come to you when you see your friends in shopping sprees, buying and eating in posh restaurants — especially when your family compares themselves with others. Tao ka lang, para maghangad to give better things for your loved ones and be a little flashy.
However, I would always look at what I really have and what I can afford to spend, especially in the rainy season. So, that motivates me to "tighten my belt" most of the time. I also discovered that "spending" and "saving" is a choice. I take pleasure and happiness in spending money while keeping some, too. (10 % lang naman ang minimum, but kung may extra I can go more). Mas masarap ang lagi kang may cash kaysa mga gamit.
Furthermore, Dubai has both good income and choices na mas mura. If may money, go ako sa good restaurant paminsan-minsan. Kung hindi keri, cooking at home na lang…hahahah. It's all about adjustment. I do not try to fit in the size of pocket that I have.
6. Is it difficult to live in Dubai? What are/were your struggles? What's life like outside work?
Honestly, I feel at home sa Dubai. All the things I need is already here: food, clothing, entertainment, gadgets, etc.
The biggest struggle I have is to keep my job while going up the career ladder. Grabe… You really have to be humble and focused.  Medyo bawas sa pride and just keep your feet always on the ground. Plus, have a never ending quest for learning. Today, you're the star. Then suddenly, a younger, more educated, and skilled employee would come. So I always try to keep learning. In fact, I'm taking a Culinary Class now for career update and to be competitive always. Bawal ang mag-slide or patamad-tamad..hahahaha.
Outside work, I go to dinners, meet new and old friends, join back-to-school activities. (Believe it or not, I still go to school! hahaha… mahirap na maiwanan). Sometimes, senti-senti sa beach or walking lang by myself. I always chat with my family; they are the source of my strength.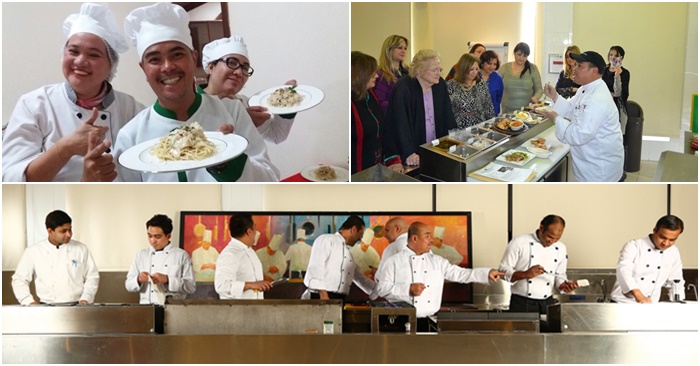 7. What do you Like about Dubai?
I like the diversity and beauty of the city. I love that I am working in a cosmopolitan place, seeing people from around the world and having so many places to go to enjoy my life.
There are also lots of food choices and restaurants. I love to see restaurants as it is part of my career. Lahat na yata ng cuisine, you can find here. Mostly, I also like the Metro. Whenever I come to the terminal feeling ko nasa airport ako and the train is amazingly clean and organized. Ang sosyal talaga! hahahah.. I love it!
8. What do you NOT Like about Dubai?
I'm thinking about the taxi fare and the recession threat…hahaha. It's scary to think that you'll be affected one day!
9. What are your plans in your career/family/future?
As a Group Training Manager, I would want to continue helping the employees, both the new hires and the current staff. Business is so competitive here. I do not want anybody losing jobs because of business failure, and people are the key towards business development. I would also want to be the Corporate Training Director.
With my family, I would like to provide them with a house and business in Manila that we can run together, when the time comes that I have to go back. I'm good in the province. (May bahay at lupa na bigay ni Mommy. hehehe). Sa Manila na lang. It's good to have a business running in the city while enjoying the farm.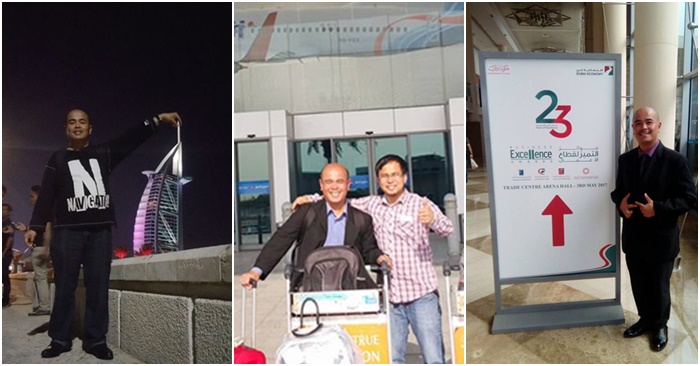 10. You have any tips for Kabayans when working/finding work/living in Dubai?
Enjoy your saga, do not give up and do not forget yourself… Why you came and why you are still staying. Always focus on yourself! We may have a good (or bad!) life in Dubai, but we are all here for a reason and a purpose. One day, all of us will have to go back. No matter how we move from one job to another, we will go back sa Philippines. Make sure that you invest now for the future.
For the newcomers: don't be afraid; be smart and hardworking! Learn to adjust by appreciating the differences of each individual — race, religion, etc. Give kindness and you'll get it, too. Work hard and you will be rewarded. Help and be humble enough to ask for help when needed.
Learn to forgive and practice the "art of moving on." Be fair and huwag manlalamang… Matakot ka sa karma! hahahaha. Also, learn to choose your friends or who you spend most of your time with. As the saying goes, "Tell me who your friends are, and I'll tell you who you are!"
More importantly — all the time — pray and trust the Almighty that all things happen for a purpose. When the purpose is completed, then we are done.
——————–
*Photos provided by Anthony
Are you an Expat in Dubai? Do you want to be featured in the website? Send us an email telling us you want to be featured at admin@dubaiOFW.com and we will send you the set of questions! Let's help other Pinoys who want to come to Dubai understand what life in the UAE is like through your story.