We are all adapting to the new normal of social distancing when going out in public. We are glad that we get to dine in restaurants and do certain activities provided that we follow social distancing rules. After all, in these times of crisis, we should consider our health and safety as of utmost importance.
Establishments such as shops, restaurants, and leisure destinations are also required to follow high standards and strict protocols before they can operate. Jollibee UAE has adapted to these guidelines and has launched its contactless dine-in feature across its UAE stores.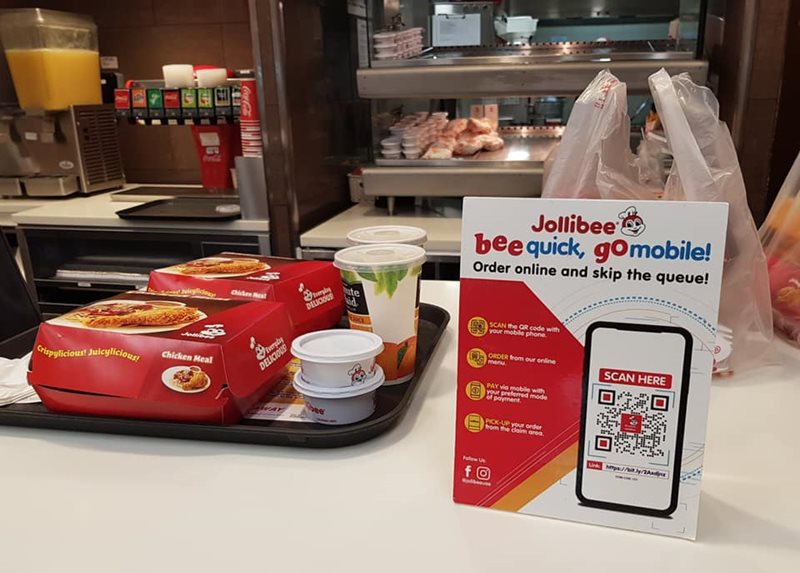 Order online via QR code and practice less contact during dine-in!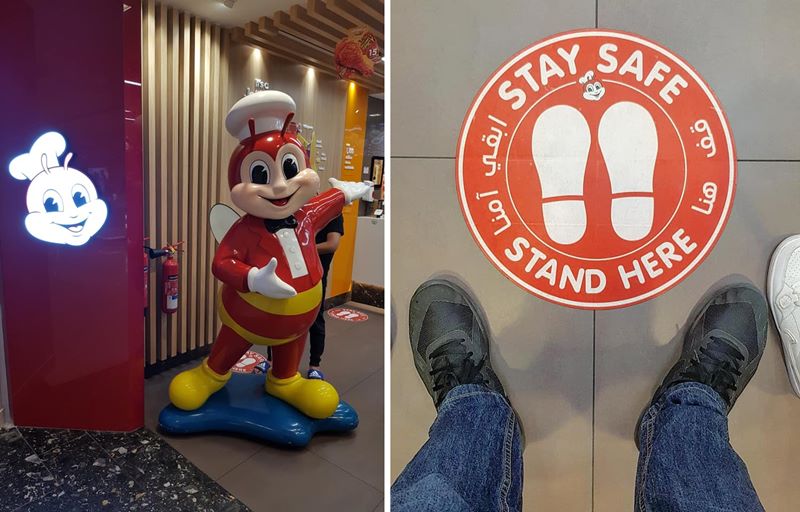 Jollibee safety precautions
Jollibee Contactless Dine-in – Safety and Sanitization Practices
Guests of Jollibee can now order via Smartphone by doing the following steps:
Scan the QR code with your mobile phone.
Order from their online menu.
Pay via mobile with your preferred mode of payment.
Pick-up their order from the claim area.
Having the contactless menu option promotes a safer way to transact and order your favourite Jollibee items.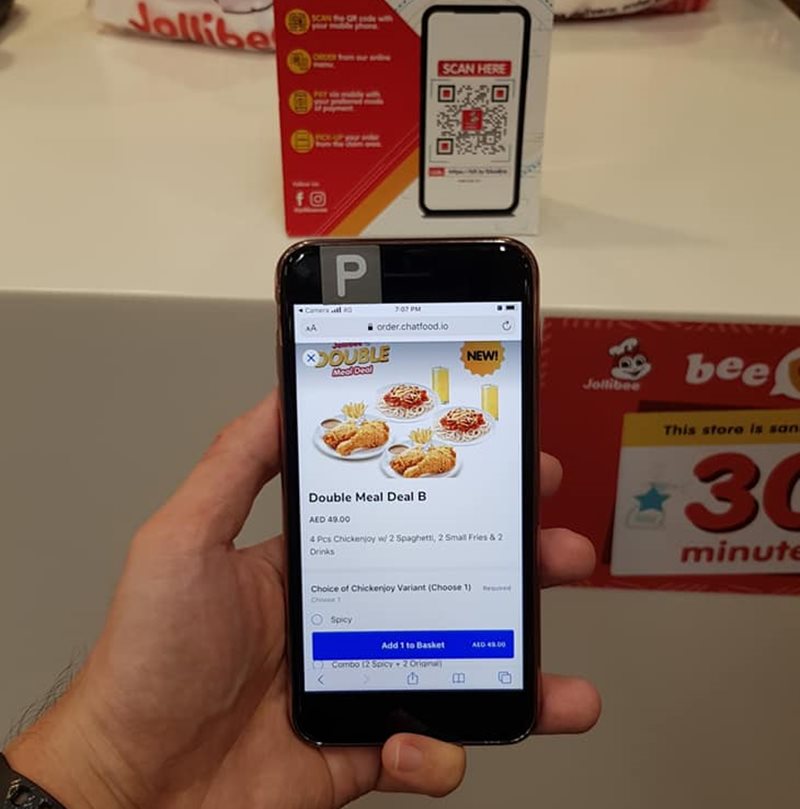 order via QR code
Other Safety Precautions
Jollibee UAE has been doing its best in implementing strict safety and sanitization practices. Below are the following precautions they've set up for all their branches:
Promote contactless ordering.
All staff are wearing masks and gloves at all times.
Floors, tables and chairs have stickers to advise diners about social distancing rules.
Reminders to customers of how food is being prepared as per safety guidelines.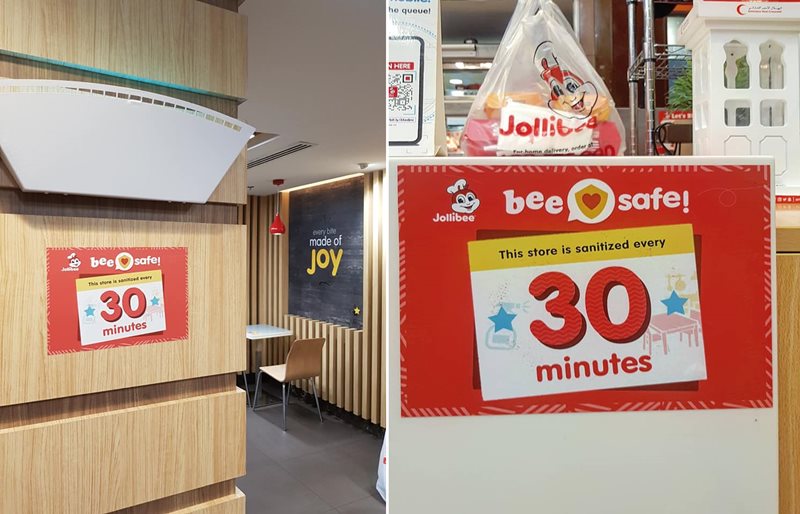 store is sanitized every 30 minutes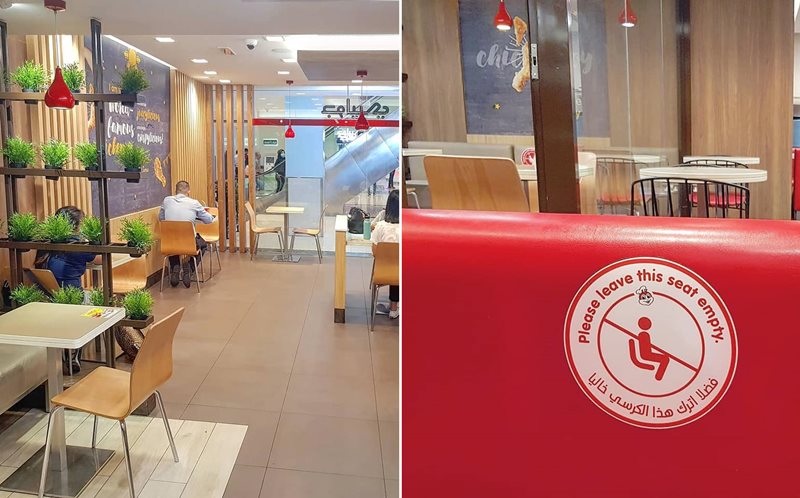 stickers reminding guests to observe proper social distancing
Trying New Items During Our Recent Visit
On another note, we recently visited the Jollibee City Centre Sharjah branch and tried their new items such as the Bacon & Egg Muffin and the Flavored Fries.
Jollibee Bacon & Egg Muffin
This is a muffin bread garnished with a rich maple butter spread, egg, crisp bacon and sliced cheese. Jollibee UAE is the first Jollibee worldwide to launch this product.
You can get the Bacon & Egg Muffin for AED 9 – solo, or AED 13 – with drinks. It is available during breakfast hours (until 11am only).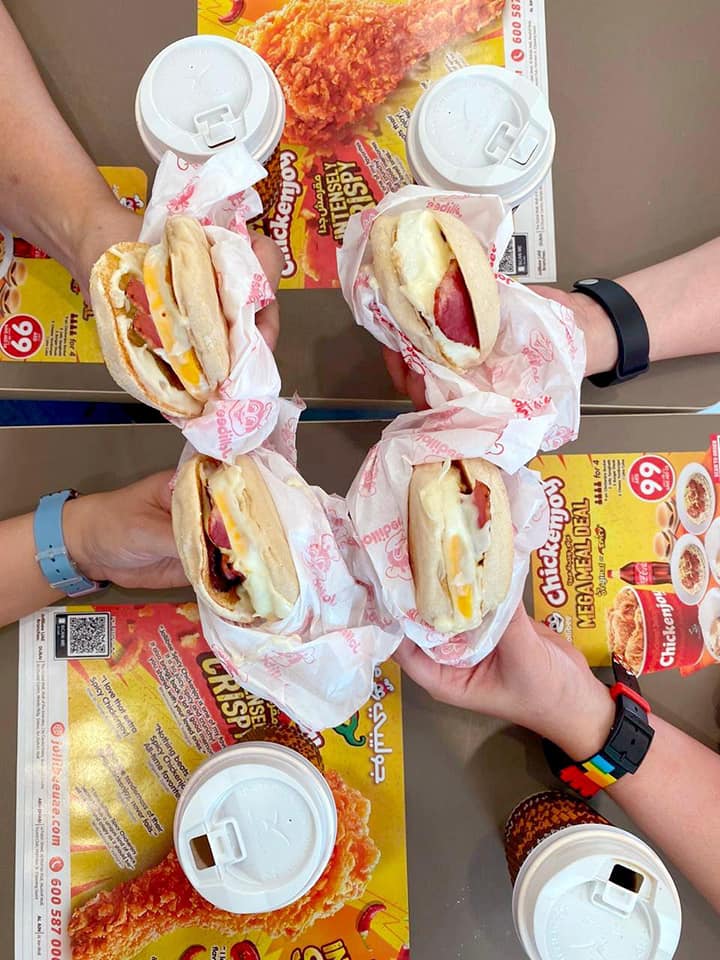 Jollibee Bacon & Egg Muffin
Jollibee Flavored Fries
Spicy Barbecue – crisp, orange-brown fries sprinkeled with blend of spicy and hint of barbecue flavor and taste.
Chili Pepper – Crisp, golden-brown fries sprinkled with blend of chili and peppery flavor and taste.
These flavored fries are priced at AED 8 for Regular Solo Size or you can add AED 1 only to upgrade your regular fries to Flavored Fries. Among these 2 flavors, we preferred the Spicy Barbecue.
Flavored Fries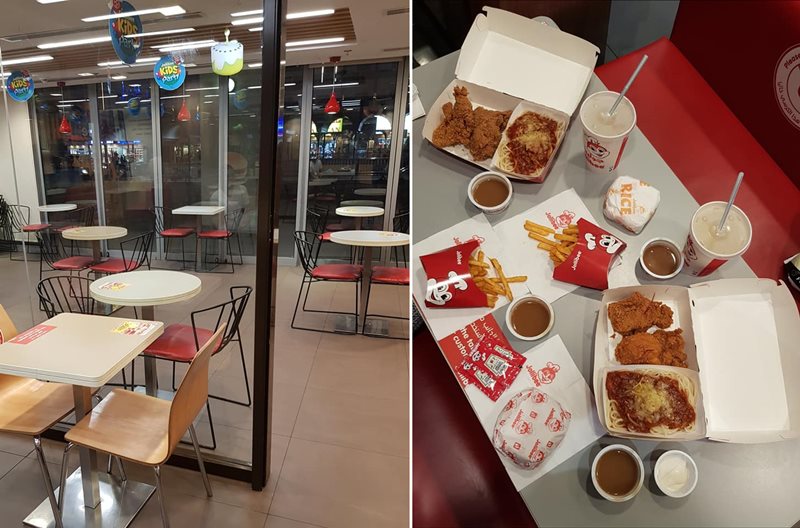 enjoying our dinner while feeling at ease given that the store and its guests are adhering to the rules
As Filipinos in Dubai, Jollibee has been a go-to place whenever we miss a taste of home. It's good that people are following instructions and were cautiously maintaining social distancing protocols.
May we all continue to stay safe as we combat the virus and get accustomed to the new normal.