Dubai is known for its stunning architecture, which includes the word's tallest tower, a seven-star hotel, a larger than life "picture frame," and other iconic landmarks. Pretty soon, residents in the emirate will witness a new addition to the list: One Za'abeel.
One Za'abeel is one of the most-awaited luxury developments not only in Dubai, but globally as well. After all, it's not everyday that people would get a chance to see the world's longest cantilever, which will connect the two towers of One Za'abeel into a single, eye-catching structure!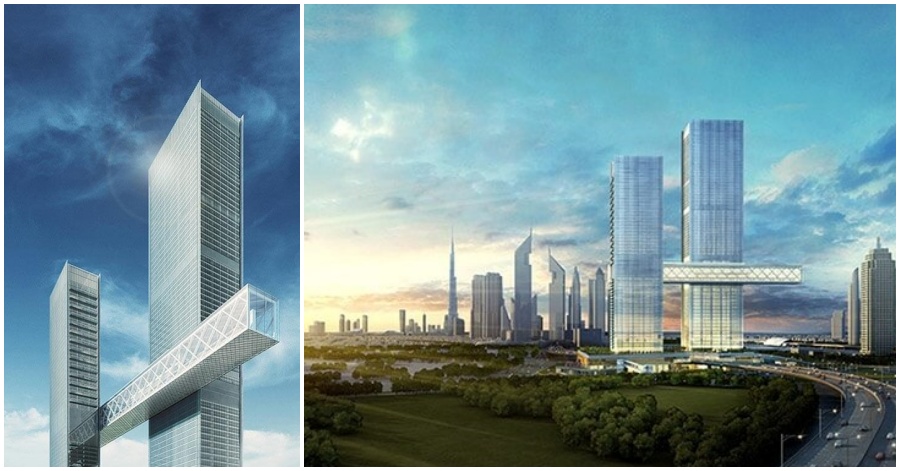 All About One Za'abeel, a Luxury Landmark Development in Dubai
One Za'abeel is an urban development project that combines luxury residences, businesses, and leisure experiences into one dynamic destination. It aspires to be "a symbol of ambition, innovation, and the pioneering spirit of Dubai," according to the developers' official website.
Notably, One Za'abeel is a project of Ithra Dubai, a leading real estate developer that brought to us some exciting destinations, such as Villa Ria in Al Barsha, Mushrif Village in Mirdif, and the Waterfront Market, which is part of Ithra Dubai's much wider Deira Enrichment Project.
Premiere Features of One Za'abeel – What to Expect
What can we expect to see once the project is completed? Here are some highlights:
1. The Link 
As mentioned earlier, One Za'abeel features two towers connected by the world's longest cantilever, "The Link." This rises 100 metres above the ground, offering a breathtaking, panoramic sky view that would be seen from the site's fine restaurants and lounges!
2. The Gallery
This section of One Za'abeel would feature a variety of high-end retail and leisure experiences — something for everyone to look forward too, indeed!
3. The Residences
The Residences at One Za'abeel will include "luxury simplexes and duplexes," enticing people to come and enjoy an uplifting lifestyle.
4. The Offices
This section presents ideal headquarters for local businesses as well as multinational companies, who can take advantage of the project's prime location.
5. One&Only One Za'abeel
One Za'abeel is set to be the first One&Only brand's luxury urban resort in the business district of Dubai — thus joining the ranks of some of the world's most inspiring hospitality resort destinations. To put it simply, One Za'abeel would feature "a tranquil resort at the heart of a bustling city."
3rd September 2020 UPDATE – The Link connecting the 2 towers is Lifted  100 metres above ground level
In a recent news update, a new milestone was accomplished with the lift of the 192-meter long first section of The Link, now connecting the two towers of the iconic One Za'abeel 100 meters above ground level.

The master real estate developer carried out over 12 days one of the heaviest lifts in the region, weighing in at around 8,500 tonnes. More than 110 special jacks and heavy-duty strand jacks were used for the operation, calling for a concerted effort by a team of global experts in the fields of construction, engineering and contracting.
The first section of the Link is now in its final position. The second lift of 900 tonnes scheduled for October, will complete the Link structure to reach its final length of 226 metres. The Link will top the list of engineering marvels and is set to break an international record for the longest cantilevered building in the world.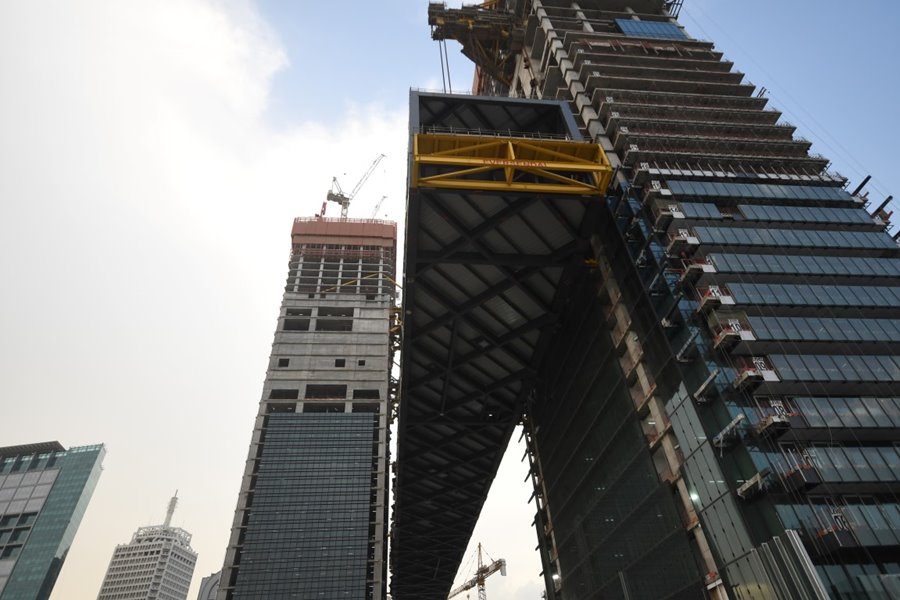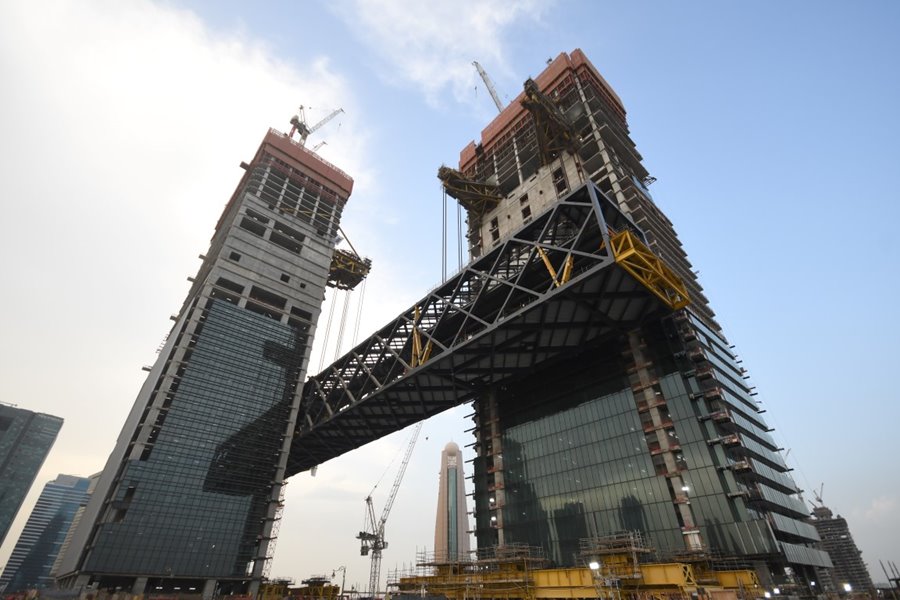 Issam Galadari, Director and CEO of Ithra Dubai, said, "Ithra Dubai's One Za'abeel and its iconic Link are modern marvels of engineering and design, a tribute to Dubai's Vision and the city's greatness. The boundless ingenuity exhibited in this project will attract visitors from all over the world by offering the best in business and leisure. One Za'abeel will soon join the list of wonders attributed to Dubai."
The multi-award winner mixed-use development estimated to be completed in late 2021 embodies Dubai's avant-gardism, modeling its offerings after the city itself.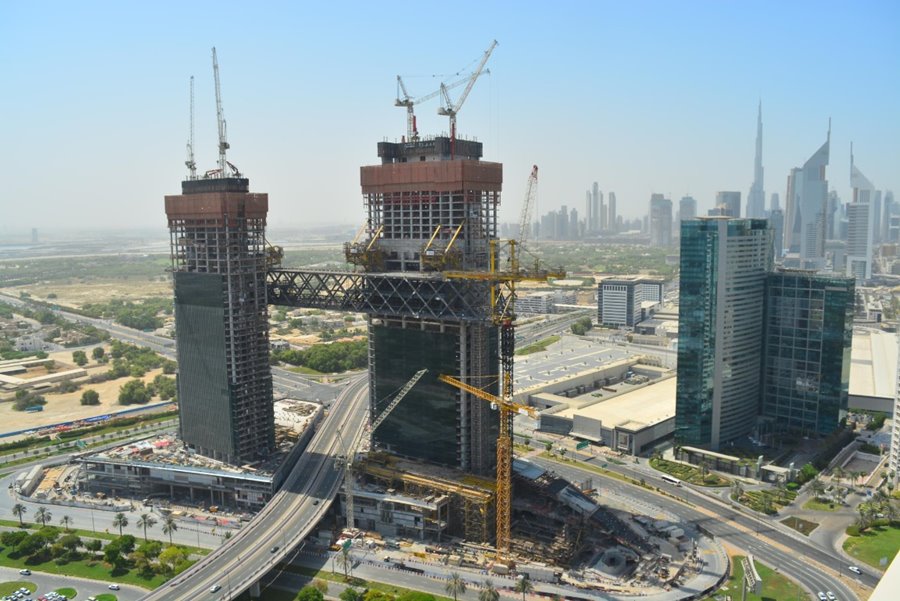 Over a total built-up area of 470,700 square metres, it will include premium office space, 263 high-end residential units, three floors of retail space, 497 ultra-luxury hotel rooms and serviced apartments and the world's first One & Only urban resort. It is also aiming for Gold LEED certification, in line with the UAE Vision 2021 and its sustainable development goals.
The Iconic One Za'abeel is the gate to the financial district of Dubai DIFC, with an overhead link to the Dubai World Trade Center.
Gallery: 9 Photos of One Za'abeel
From an artist's perspective, here are some beautiful renderings of One Za'abeel, including the two towers and The Link, the world's longest cantilever: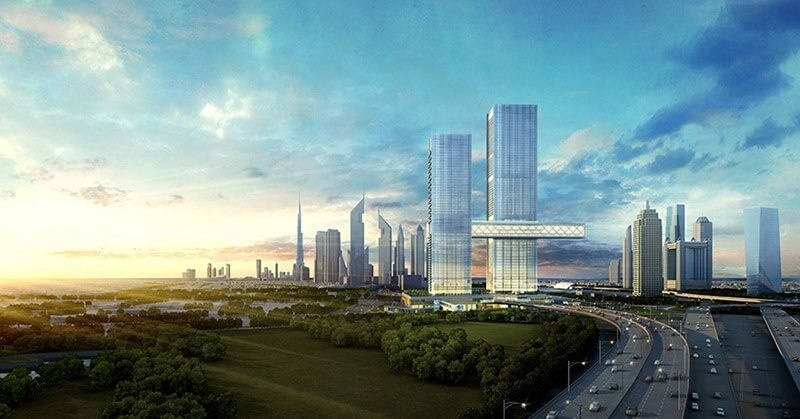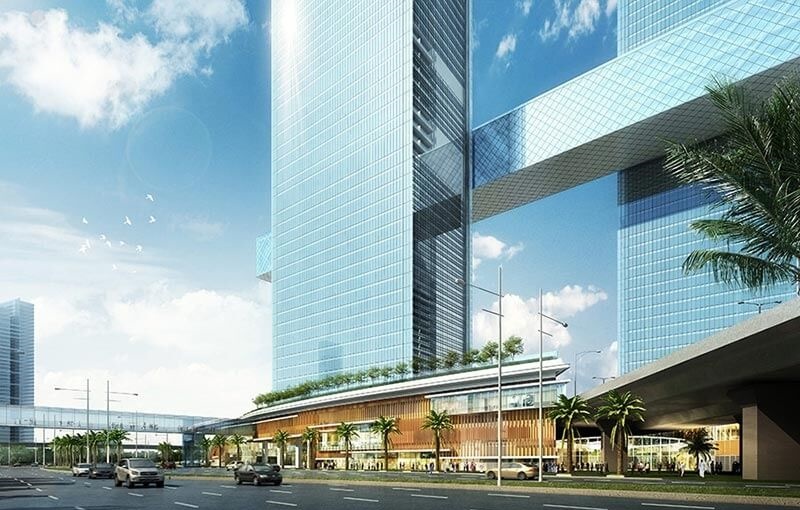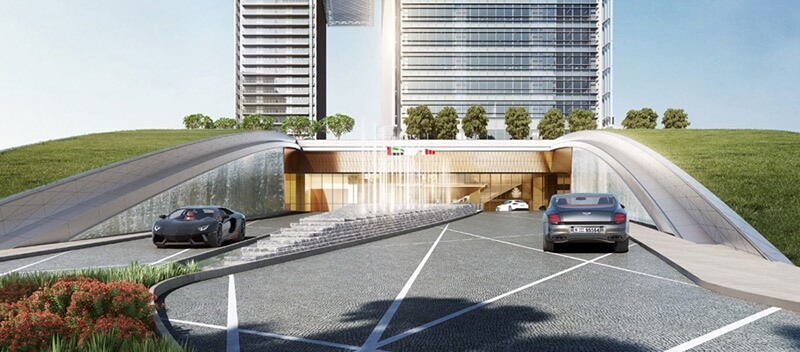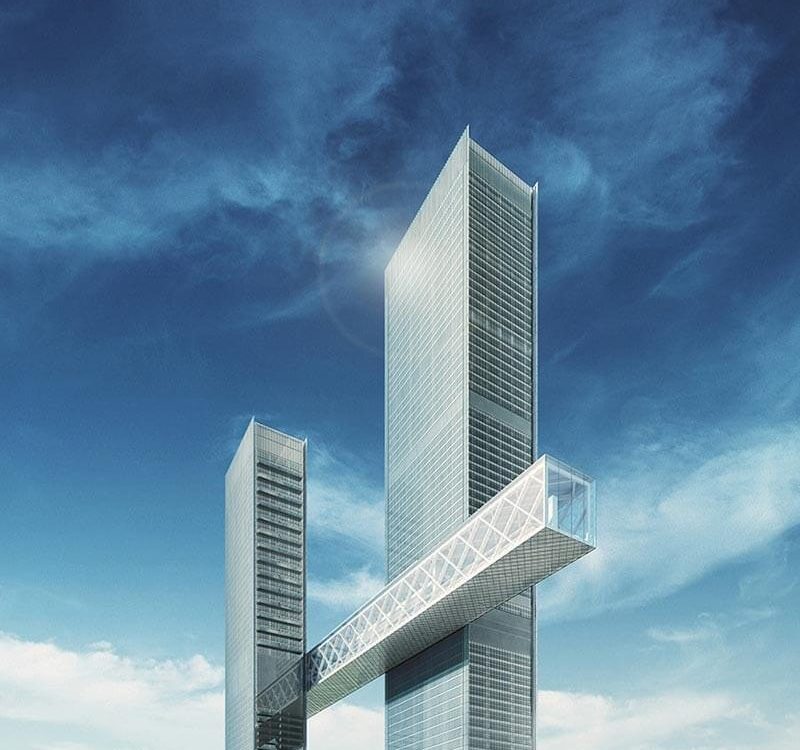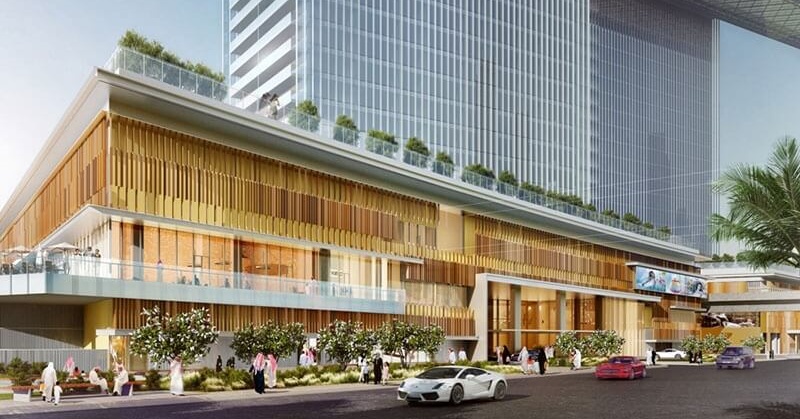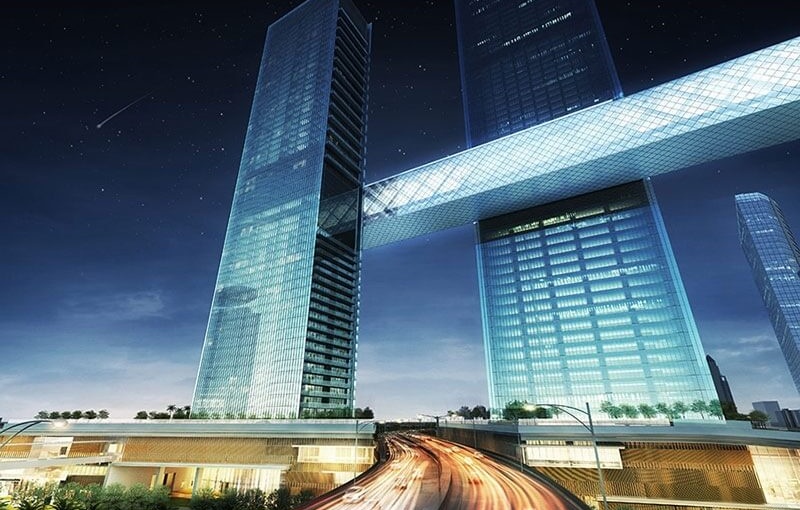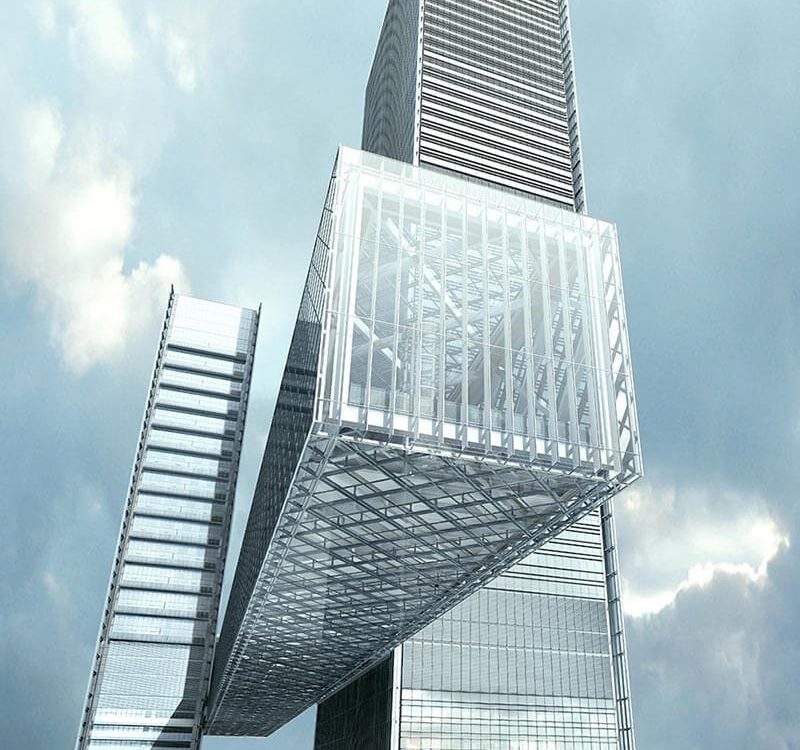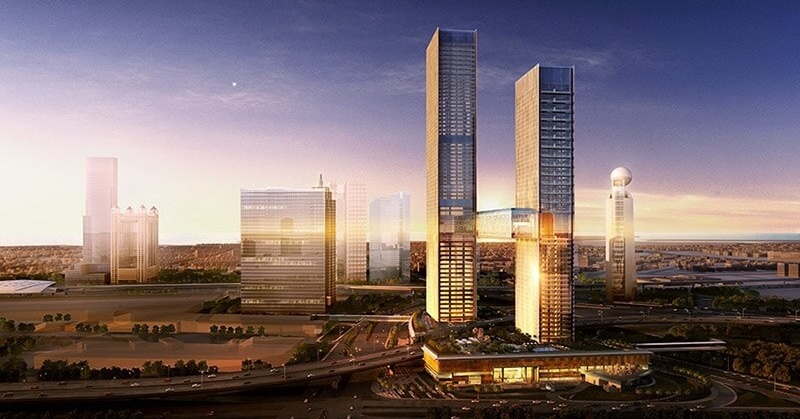 Without a doubt, One Za'abeel is set to be one of Dubai's newest and most popular destinations that would be enjoyed by citizens, residents, and tourists alike. It will certainly be among the many places to see in the emirate, along with other must-visit attractions.
Contact Information – One Za'abeel
Address: Za'abeel 1, Dubai, UAE
Telephone: +971 (4) 707 1500
Email: info@ithradubai.com
Website: https://ithradubai.com/portfolio/one-zaabeel/
How to Get There
One Za'abeel lies in the centre of Dubai, with direct connectivity to the Dubai World Trade Centre (DWTC) and Zabeel Park. It would serve as a spectacular "gateway" to the emirate's bustling business district.
Here is the Google Map Location of One Za'abeel: