The birth of every newborn Filipino child needs to be reported and registered at the Philippine embassy to make sure proper records are created. Here are the steps on how to process a "Report of Birth" in the UAE.
Please take note that when you process the Report of birth, a new passport for the infant also needs to be processed. The report should be computerized and signed by the Filipino parents.
Fee to Report Child's Birth: 100 AED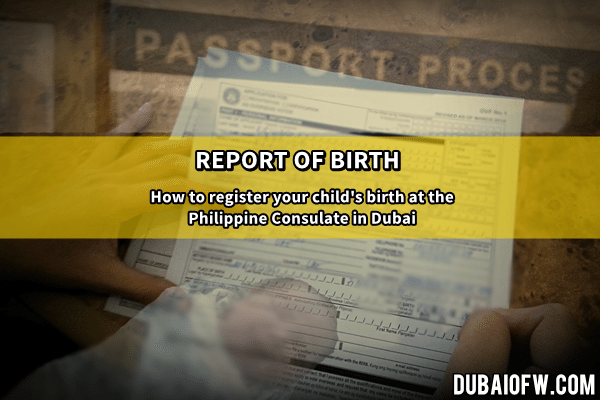 Requirements & Documents Needed:
Report of Birth Form –  (6 copies) – Download Here
E-Passport Application Form – Download Here
Birth certificate (original) – authenticated by Ministry of Foreign Affairs and UAE Ministry of Health (6 copies)
Passport Photocopies of Each Parent (6 copies, data page only)
DFA authenticated NSO Marriage Certificate or NSO Report of Marriage, (6 copies)
Personal appearance of Filipino parent(s) and infant/child;
How to Process Report of Birth in Philippine Consulate General – Dubai
Fill out Report of Birth Form (Download Here).
Go to the Passport Processing Area and submit the required documents.
Pay the Courier fee.
Proceed to the Cashier  for payment. Fee : AED 100.00
The dispatch number/reference number and date when the document was endorsed shall be made available. This is required by the NSO in securing an authenticated copy of the Birth Certificate.
Note: One (1) set of photocopied documents will be used for the Enrolment step in the Passport application process (see Philippine Passports Section for First-Time Applicants )
Source: https://dubaipcg.dfa.gov.ph/services/2014-04-16-10-38-13/2021-04-16-10-37-39
Other Helpful Articles: