The opening of the Dubai Global Village's 24th season is almost here, and with it comes a brand new and exciting museum attraction… Ripley's Believe It or Not! Woohoo!
ALSO READ: Exploring the Dubai Global Village
With more than 100 attractions in 10 countries, Ripley's is a global leader when it comes to 'infotainment.' Owned by Ripley Entertainment, which also owns Guinness World Records Attractions, Ripley's is set to debut the MENA region's first edition at Dubai Global Village.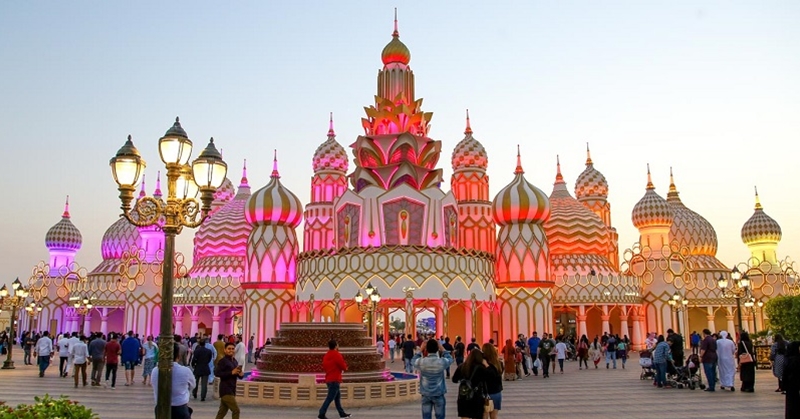 Region's First 'Ripley's' Edition Happening at Global Village
The latest season of Dubai Global Village is all set to open on 29th October 2019, the Dubai Media Office stated in a press release. And this year, we can expect a taste of the 'amazing' and 'unusual' with the addition of a Ripley's Believe It or Not! museum attraction.
The Ripley's museum attraction at Dubai Global Village will include:
Six unique galleries that showcase rare exhibits and interactive experiences;
Over 150 rare artifacts, exhibits, wax figures, a Vortex Tunnel, and interactive games;
Ripley's Marvelouse Mirror Maze featuring over 100 mirrors with sound and lighting; and
A Ripley's retail shop selling 'curious' gifts.
Interestingly, among the Ripley's exhibits at Dubai Global Village will be:
A shark jaw of an enormous Megalodon;
A large iron Gibeon meteorite that is thousands of years old;
The smallest assembly-line manufactured, road-legal car ever made in the world;
The world's only roadworthy, fully wooden Ferrari that operates on ground and on water;
… and many more 'unbelievable' artifacts!
"With the launch of each season of Global Village, we continuously strive to provide UAE audiences with out-of-this-world attractions and experiences that are of the highest international calibre and standards," declared Bader Anwahi, CEO of Global Village.
"Our steadfast ambition has culminated in the milestone introduction of Ripley's Believe It or Not! to the UAE and MENA," he added. "We are confident the weird and the wonderful world of Ripley's will leave a lasting impression on our guests, which is why we are proud to be delivering on our commitment to bringing exceptional entertainment and cultural showcases from across the world to the UAE."
Likewise, Victor Danau, Director of Asia Pacific Operations & Development for Ripley Entertainment, stated: "It's an incredible achievement to be bringing a legacy of wonder to the UAE with the launch of the region's first official Ripley's Believe it or Not! attractions. Dubai is a melting pot of world-class entertainment and we are proud to expand the Ripley's brand to the UAE."
"For decades, Ripley's has brought to fans the most extraordinary, unique, bizarre and one-of-a-kind exhibits and experiences the world has to offer," he shared. "We are thrilled to be bringing over a 'century of strange' to UAE and Middle Eastern fans. By partnering with Global Village to bring our unique brand of family fun to the Middle East, we believe this partnership will set a new standard for entertainment in the UAE, the region."
Notably, the inclusion of Ripley's to the Dubai Global Village goes in line with the UAE's tourism strategy under the directives of His Highness Sheikh Mohammed bin Rashid Al Maktoum, Vice President and Prime Minister of the UAE, and Ruler of Dubai. Through this strategy, the UAE aims to make Dubai the most-visited city in the world by 2025.
ALSO READ: Cheapest Way to Global Village – Public Transport
While a trip to the Dubai Global Village is always something to look forward to, the addition of attractions like Ripley's makes it even more fun! Meanwhile, if you are looking for more places to explore, check out this list of top family-friendly attractions in Dubai!