UAE residents who plan to visit Sri Lanka and may need to get a visa before-hand, here's a step by step guide how to get an eVisa online prior to your travel to this Asian country. Take note that some nationalities may or may not need to get an tourist visa on hand as it would depend on your passport. But for those who may do, here's a procedure shared by one of DubaiOFW contributors based on their experience.
Please be guided that this article acts only as a tip to help fellow expats who are planning to travel to Sri Lanka for tourism purpose. For updates/changes, it is best to contact legit travel agencies or the Sri Lanka embassy/consulate in the city.
Step by Step Guide to Getting a Sri Lankan Tourist Visa via Online Application
If you are holding a Philippine passport like me you can consider the below information and guide on how you can apply for an Electronic Travel Authorization (ETA) in Sri Lanka.
For those who are planning to visit Sri Lanka, all visitors must obtain an ETA prior to arrival or on arrival to Sri Lanka.
However, the below nationals of the following countries & category are exempt for ETA.
Nationals
The Republic of Singapore
The Republic of Seychelles
The Republic of Maldives
Category
Crew members of flight / ship
Children under 12 years old
Documents required:
Valid Philippine Passport – should have at least six months of validity from the date you arrive in Sri Lanka.
Completed ETA application form (https://eta.gov.lk/etaslvisa/etaNavServ?payType=1)
Passport Copies – Face page & UAE Residence Visa page (if you are residing in UAE)
Return air ticket
Proof of hotel accommodation or an invitation from hosts in Sri Lanka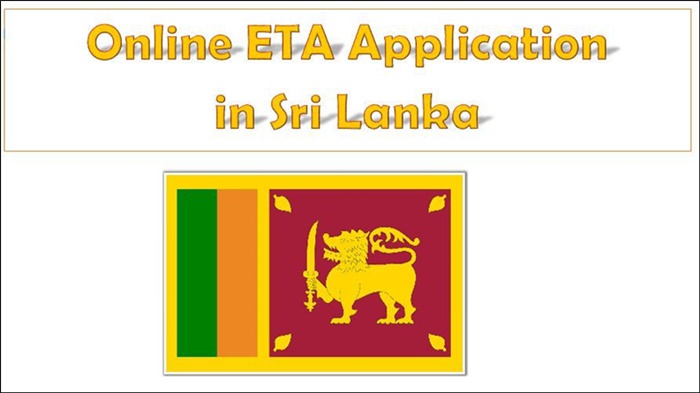 Here are the 3 easy steps:
Fill out the application form and submit it online. Make sure that you have your passport number, address in Sri Lanka, and intended arrival date as you need to input those details in the application.
Once you finish filling up the form, you can then proceed on the payment section. Payment Options – Pay via credit or debit card. I paid 35 USD
For SAARC region Passport Holders – US$ 20 (AED 73.44)
For All Other Country Passport Holders – US$ 35 (AED 128.52)
The online payment must be paid with a valid debit or credit card.

After payment submission, you will then receive ETA confirmation. Wait for the acknowledgment from the Department of Immigration & Emigration, which will be sent to you via e-mail. Please see sample email. I've got mine within 2 minutes.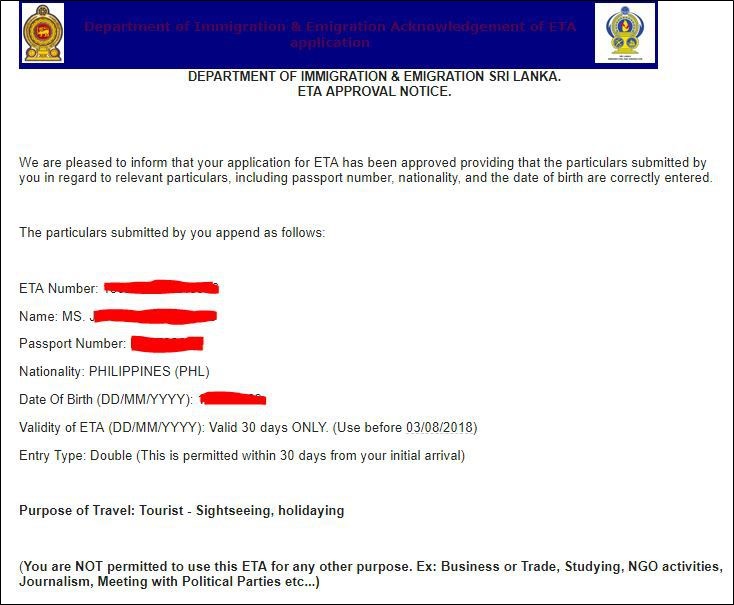 I suggest that it is best to get your ETA in advance as it's cheaper and faster rather than getting it upon your arrival.
I also advise to keep a copy of the ETA approval notice to be produced at the port of entry in Sri Lanka.
Note: Your Sri Lankan ETA visa is electronically linked to your passport number, you will not need a stamp, nor will one be issued.
See you Sri Lanka!!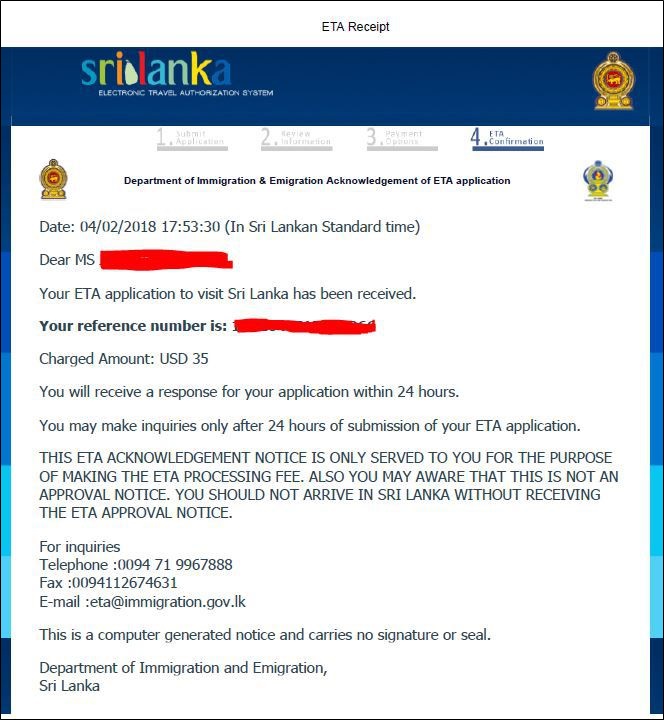 Consulate General of Sri Lanka in Dubai Contact Information
Address: Villa No 2, Plot B-44, Street 322-B, 8C Street Mankhool Road, Dubai, UAE
Phone: +971 4 398 6535
Website: http://slcgdxb.com
Google Map Location: Sri Lanka Consulate in Dubai
Below is a Google map location to guide you in case you have any queries from the Consulate Gen of Sri Lanka in Dubai located in Mankhool Street.
---
About the Author: Jenny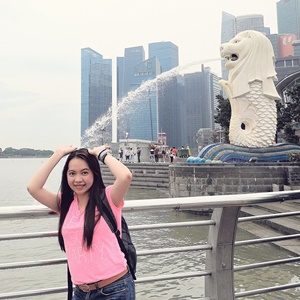 Jenny is a perky chic traveler who started travelling at the age of 23. She is a white-collar worker living in Dubai and loves to explore the world. When she isn't in the office or not travelling, she's a behind-the-scene volunteer in UAE. Read more of her travel stories at perkychicontheroad.wordpress.com
---
Share your thoughts. Contribute an article to DubaiOFW.com
Want to publish your experience? Share your everyday stories, food trips, travel, photo stories, or tips in Dubai to our growing community. More information here – Become a Dubai OFW Contributor!