We have often shared tips for Filipinos who are planning to visit or work in Dubai, including this guide for those who are going to the emirate. Today, we will talk about the other way round… planning a visit to the Philippines.
Whether you're an OFW going on vacation, or a non-Filipino eager to see the Philippine islands, this article is for you. We have gathered a list of the top reasons why you should visit this country, and to see for yourself why many people declare, "It's more fun in the Philippines!"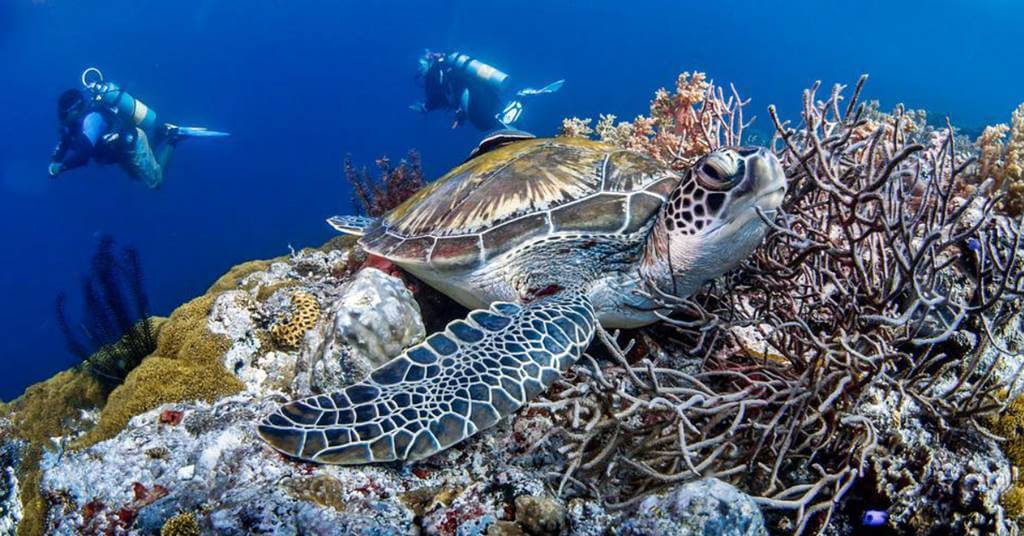 Top Reasons to Visit the Philippines
Featuring numerous islands and lots of exciting destinations, a whole week — or even a month — is not enough to explore everything that this country has to offer. Still, all the more reason to keep coming back, right? And so, without further ado, here is a list of the top reasons why you should come and visit the Philippines!
1. Ease of Travel
There are 18 weekly flights between Dubai (DXB) and Manila (MNL), according to the Emirates official website. Every day of the week, there's a 3:35am and a 9:35am flight from DXB to MNL.
Meanwhile, every Tuesday, Thursday, Friday, and Saturday — there's a 5:20pm flight from Dubai to Manila. All of these are direct flights, by the way, and each trip takes about eight and a half hours.
Of course, before you go the Philippines, make sure that you meet all the travel requirements. At present, travelers from 157 countries are allowed to enter the Philippines without a visa, for a period ranging from 14 to 59 days. Be sure to check the latest information to know your specific requirements and allowed travel period.
2. Accommodation Options
Regardless of your budget, you are bound to find a good place to stay, wherever you may be in the Philippines. There are luxury hotels, resorts, and budget hotels, along with guest houses and apartments in some places. Simply go online and start searching for accommodations. You could also ask your friends for recommendations.
3. Beautiful Islands
The Philippines has more than 7,107 islands… so where to begin? Each island has its own unique natural wonders and cultural heritage. Still, if you're after the ultimate beach experience, then you should definitely visit Bantayan Island (Cebu City), Boracay Island (Aklan), Calaguas Islands (Camarines Norte), Caramoan Islands (Camarines Sur), and Coron (Palawan)… to name a few!
If your time is limited and you'd rather visit a beach near Manila, consider heading to Pangasinan (north) or Batangas (south), and you will find lots of beautiful beaches.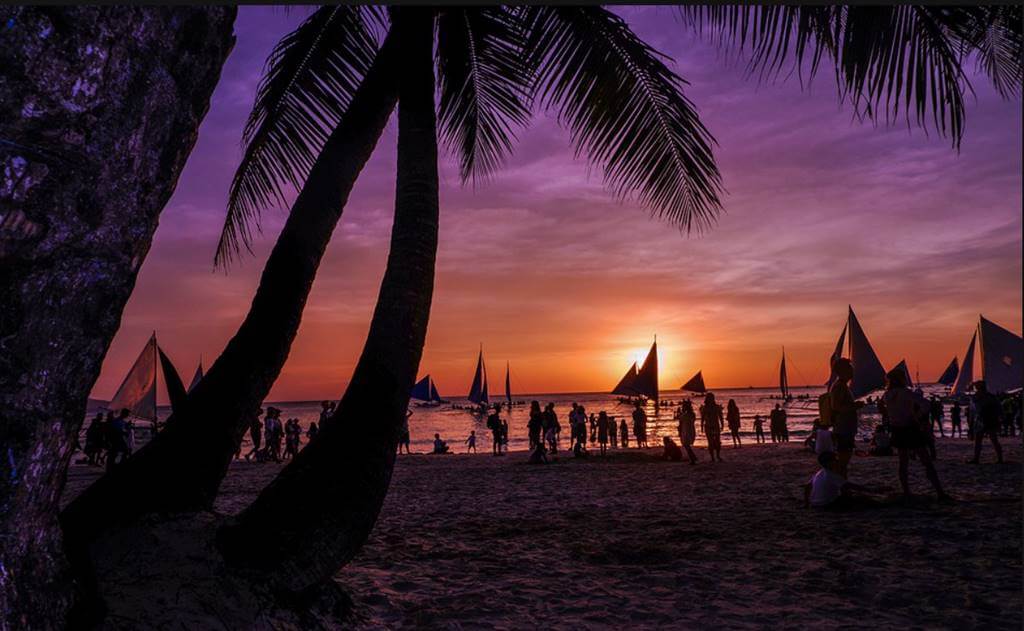 4. Water Sports
Speaking of beaches, you know what that means… swimming, sailing, snorkeling, scuba diving, and other exciting water activities. You will find plenty of beaches and diving spots in the Philippines, while getting up close and personal with marine life. In Oslob, Cebu, you can observe whale sharks, who are super large… yet super friendly, too!
5. Gorgeous Lakes
The Philippines has no shortage of lakes as well. The most popular ones include Kayangan Lake in Coron, Palawan, along with San Pablo, Laguna — which is actually known as the "City of Seven Lakes."
Also in Laguna, there's the picturesque Caliraya Lake, a man-made lake that spans the towns of Lumban and Cavinti. Most of these lakes are dotted with restaurants, hotels, and resorts where you can enjoy some rest and relaxation!
6. Mountain Climbing
If you're interested in hiking or mountain climbing, there are many places in the Philippines that you can explore. Among the most popular ones is Mount Apo in Davao; it is the country's highest peak at 2,954 metres.
Other exciting options include Mount Pulag, Mount Batulao, Mount Dulang-Dulang, Mount Maculot, and many others. Each site varies in terms of mountain height and level of difficulty (of the hike/climb) — but all offer stunning views from the top!
7. Volcano Adventure
Speaking of mountains, some natural wonders in the Philippines are not just "mountains," but volcanoes. The most popular ones are Mount Mayon in Legazpi, Albay (a volcano known for its perfect cone shape), and Taal Volcano in Tagaytay City (which recently had an eruption). In any case, it's best to read the latest news for volcano updates before making any plans to visit these places.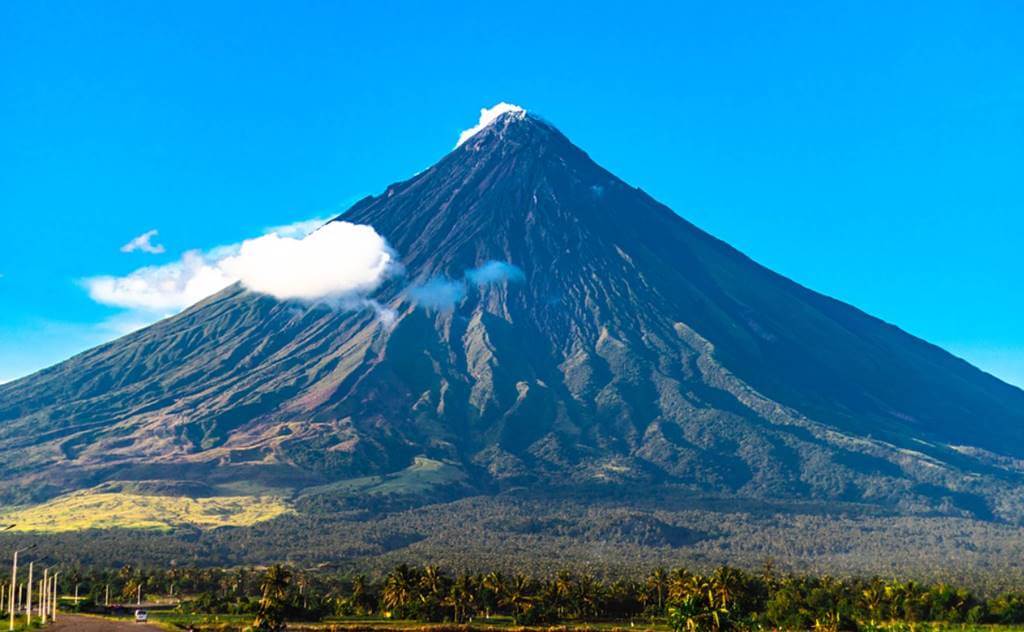 8. Cave Exploring
Of course, where there are many mountains and islands, there are bound to be lots of caves, too. You may have heard of the world-famous Underground River in Palawan, or the Sumaguing Cave up north, in Sagada. These caves feature unique formations that are definitely worth seeing!
Recently, there's another destination that also offers cave exploring for thrill-seekers. The Underground Caves in Cavinti are pretty amazing; plus, these are located in Laguna province, just about three hours south of Manila.
9. Amazing Wildlife
Other than having mountains, lakes, and other natural wonders, the Philippines is also home to a wide range of birds, mammals, reptiles, amphibians, and marine life. Some of these can be found only in the Philippines.
When you go to Bohol province, there's the tarsier, which is one of the world's smallest species of monkeys. Meanwhile, in Cebu, groups of friendly whale sharks can be observed at sea. Also worth mentioning is the Pandaca pygmea, which happens to be the smallest fish in the world — and it's right here, in the Philippines!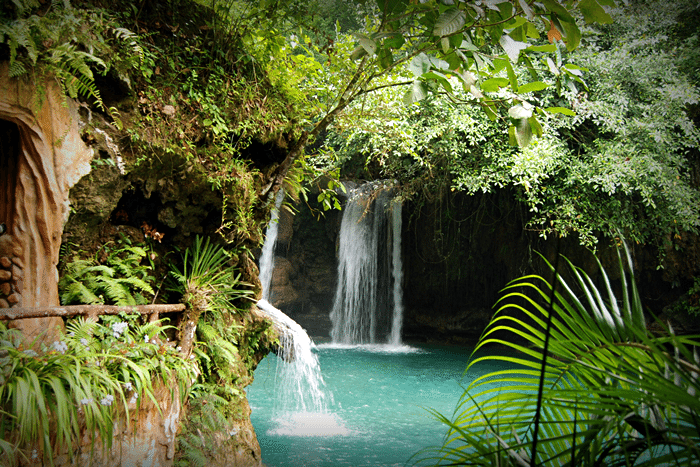 10. Cultural Sites
The Philippines has a long and colourful history. Perhaps the most notable are the country's 300-year colonisation under the Spanish regime. As a result, there are many structures and cultural heritage (e.g. food, language) that are drawn from this era.
In Manila, for instance, you could visit Intramuros, a walled city that was established during the Spanish period. Also worth a visit is the city of Vigan in Ilocos Sur, which happens to be a UNESCO World Heritage Site. Up to this day, parts of the city are lined with cobblestone streets and centuries-old houses. You can take a city tour by riding a kalesa (horse-drawn carriage), and be "transported" back to earlier times!
11. Year-Round Festivals
Almost every week, there is bound to be a festival happening somewhere in the country. You see, each town or city has a patron saint or a legendary feature that inspires the locals to celebrate annually.
Some popular examples include Panagbenga Festival in Baguio City, Moriones Festival in Marinduque, and Sinulog Festival in Cebu City. Colourful costumes, street parades, dancing, talent contests, and of course — lots of food — are usually part of the festivities.
Other notable events are Pahiyas Festival in Lucban, Quezon and Bangkero Festival in Pagsanjan, Laguna. Each festival is unique, so you can expect to have memorable experiences during these occasions!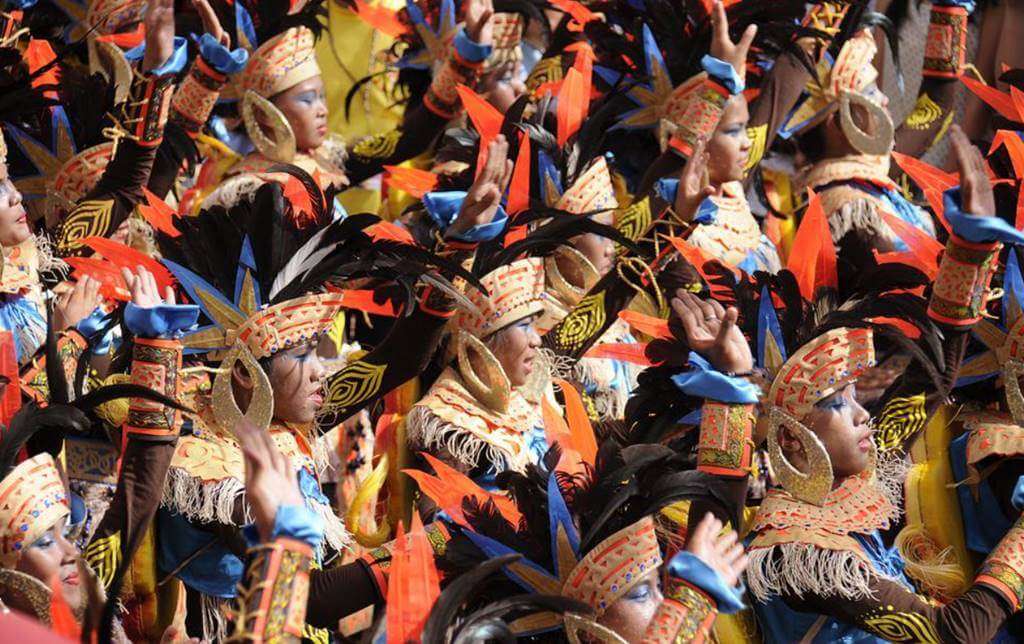 12. Delicious Food
Philippine cuisine is actually a mix of Chinese, Spanish, Malay, and even American influences. Moreover, each place has its own popular "dish." Examples include lechon (roasted pig) from Cebu, pansit habhab (noodles) from Quezon province, and bulalo (beef stew) from Batangas province.
Of course, when you enter a Philippine restaurant, you should try some staple dishes: adobo (marinated pork or chicken), sinigang (tamarind-based soup), and kare-kare (beef stew with peanut sauce). For dessert, don't miss the halo-halo (translation: mix-mix), which is literally a combination of fruits, beans, ube (purple yam), and other sweet treats… placed on crushed ice and topped with lots of milk and ice cream!
If you're the "adventurous" type, then don't hesitate to try Filipino street food, such as balut (egg with duck embryo), isaw (grilled pork or chicken intestines), calamares (squid rings), and "adidas" (grilled chicken feet). Are you ready?! Go!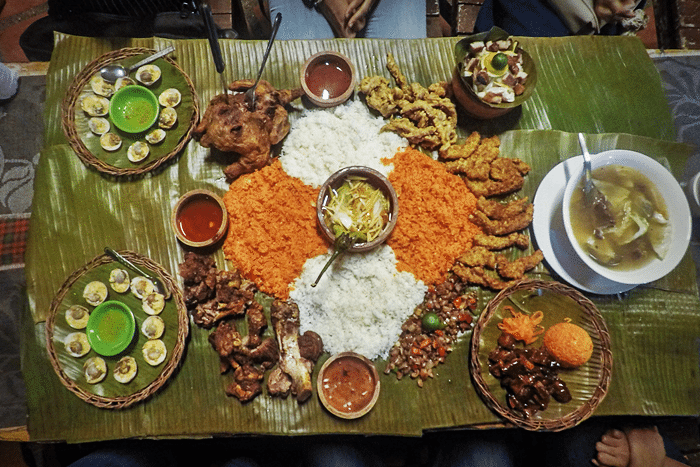 13. Jeepney Rides
After the second world war, the U.S. troops left some old military jeeps in the country. The Filipinos decided to transform these vehicles by opening the back, installing two long benches, and giving the outer appearance a more colourful "makeover." The result? The Philippine jeepney, which is now being used as a public transport mode all over the country.
One jeepney can carry around 16 to 20 passengers, aside from the driver and two more passengers up front. If you've never been on a jeepney, then you should definitely ride one when you come and visit the Philippines!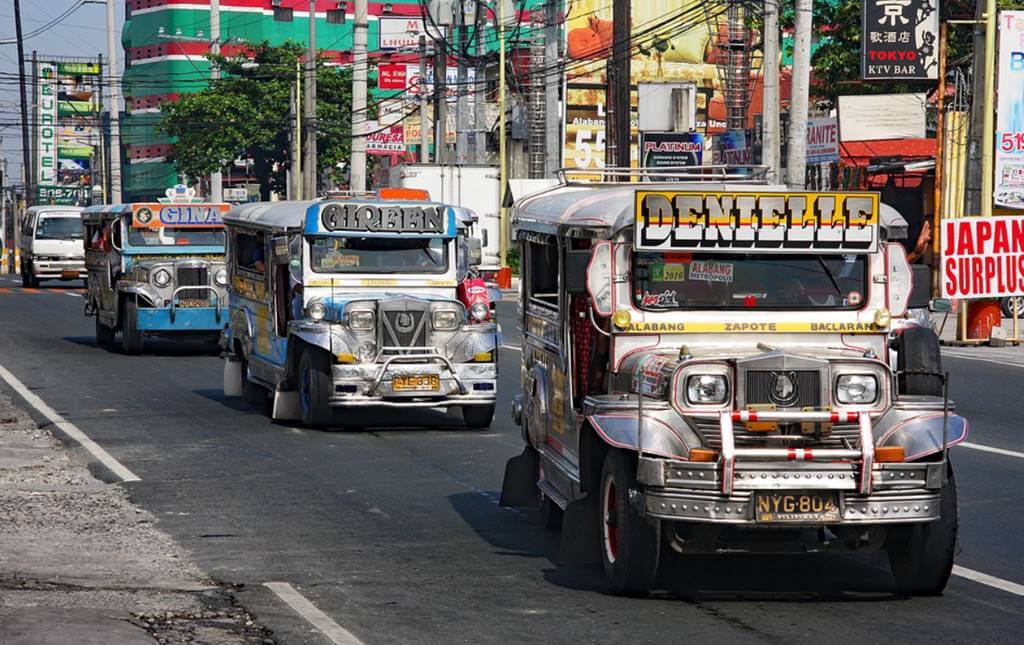 14. Shopping Galore
When it comes to shopping, you will surely enjoy exploring the country's shopping destinations. In the National Capital Region (NCR) alone, there are numerous malls, including: SM City North EDSA (Quezon City), which is known as the biggest mall in Southeast Asia; and SM Mall of Asia (Pasay City), the second largest mall in the Philippines and the world's fourth largest shopping mall! How incredible!
In most cities, there's bound to be an SM Mall, Robinson's Mall, or other huge shopping destinations where people go to buy local and international brands, dine in restaurants, watch the latest movies, or play in gaming arcades. On the other hand, if you are on a budget, you could go to places like Divisoria or Greenhills Shopping Centre in Manila, which offer plenty of products at more affordable prices.
15. Friendly People
Filipinos are known to be some of the friendliest and most hospitable people on the planet; no doubt about that! Wherever you go, you'll be greeted with welcoming smiles and handshakes. If you have a question or if you need any help, simply ask the nearest local and you'll get the help you need!
Another great thing about the Filipino people is their ability to speak English. The language is part of their formal schooling, so don't be surprised to see young kids and even the elderly speak English fluently. It's pretty amazing, actually! Most Filipinos are bilingual or multilingual, being able to speak English, Filipino (the national language), and usually a native language (e.g. Ilocano, Cebuano, Kapampangan, Bicolano, etc).
As you can see, there is never a dull moment in the Philippines. From breathtaking natural wonders, delicious food, to cultural festivals — there is always something going on in these 7,107+ islands. To know more about this beautiful country, read this article about Emaratino Traveler, a vlogger who made a video about his exciting visit to the Philippines.