For Filipinos wanting to renew their Philippine Passport in Dubai, or needing to upgrade to the ePassport, this is a post to guide you about the process. If your passport is about to expire, don't wait further as you might get denied to travel.
You will have a hard time travelling back to the Philippines or to any other country if you will wait 6 months before your passport will expire. Better to process it as soon as possible to avoid inconvenience.
The PCG (Philippine Consulate General) embassy in Dubai is the office where you will process your passport. They have enlisted steps to take in order to process your application.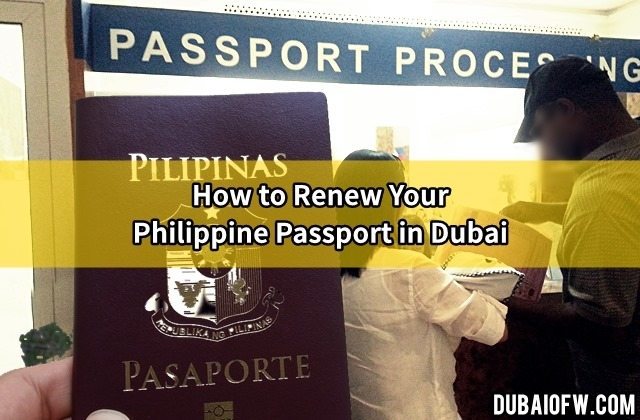 Steps to Apply for a Philippine Passport in Dubai / Renewal of Philippine Passport
Here are the steps for you to apply to renew your passport while you're in the Emirates.
1. Book an appointment online. Schedule an appointment by going to the website and choosing the available dates. – http://dubaipcg.checkappointments.com/
2. On date of appointment or appearance, go to the Philippine Consulate Embassy located in Al Qusais (directions at the bottom of this post). Fill out the E-passport Application Form.
3. Proceed to Passport Processing Area [1]
4. Proceed to Cashier [2] to pay the fee. 240 AED.
5. Proceed to Passport Encoding Area [3] – this is where they will ask for your name, birthday, and other information needed to type in the new passport as well as your photo to be taken.
6. Proceed to Releasing Section on date of release [4]
Requirements during the Appointment/Appearance:
Things to Bring During the Appearance:
Money to pay the fee of the ePassport – 240 AED
Old passport, Photocopy of the Data page and Visa page (UAE Visa Page)
During the date of the appointment, since you already have a scheduled appointment, it will take about 2 hours for everything to be finished. The staff will process your biometrics, taking of photo and entering of your data in your new passport.
Release of the ePassport
After going through the renewal process, you will wait for about 4-8 weeks for them to issue your passport. Don't bother calling the embassy every time you want to inquire as they will tell you to wait for an announcement on the website. For your convenience, here's an article to check the status of your Philippine passport application online.
—————————-
Other Important Information about the PCG Dubai office:
Address Location: 35 Beirut St., Extension 2, Al Qusais 3, Dubai, United Arab Emirates
PCG Dubai Office Hours:
Sunday to Thursday (Except Holidays)
8am – 12nn – Morning
12nn – 1pm – Lunch Break – Compound will be closed
1pm – 5pm – Afternoon
4pm – Cashier Payment closes
PG Dubai Website Contact Information
PCG Dubai Facebook Page – PCG Dubai and N. Emirates Facebook Page
PCG Dubai Website – http://www.dubaipcg.dfa.gov.ph/
How to Get There:
Metro and Taxi seems to be the most convenient way to get to the Consulate embassy. Here are the directions to get there:
Red line – Drop off at Emirates Station or Rashidiya Metro station. Take a taxi and pay about 20 Dirhams for the fare.
Green Line – Drop off at Al Qusais Metro Station, and you can also take a taxicab as it might get very hot if you walk (around 3 blocks away)
Other Helpful Articles: