After trying the adventure zone of AdventureHQ in Times Square Center, we still had time to kill that we spent the remaining hour checking out the merchandise being sold in the Adventure HQ retail shop.
This store is a unique shop that sells a wide range of gears for thrill-seekers. This is an amazing shop for those with an active lifestyle.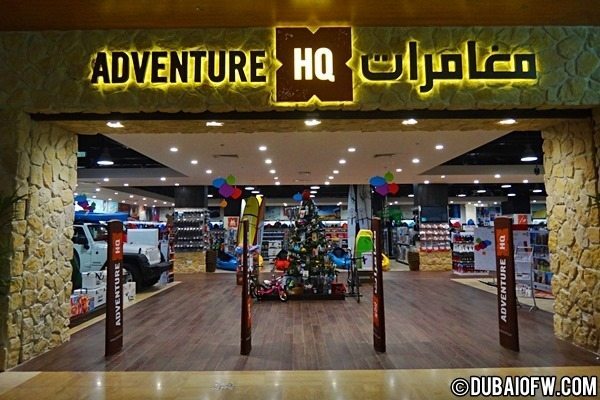 Choose your Adventure!
Adventure Headquarters Retail Store in Sheikh Zayed
Aside from the wall climbing and obstacle course facility housed in the shop, exploring the store itself is something you would enjoy. This is not an ordinary shop selling products for sports, this is a niche shop for adventure seekers.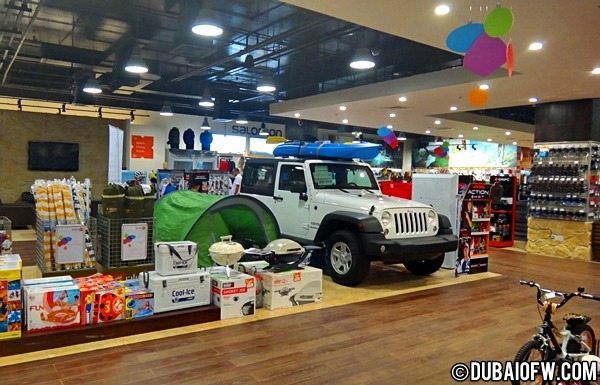 So many stuff for anybody who has an active lifestyle!
Just looking at the products inside the store already makes me want to get lost and just look at the various retail merchandise they have. The remaining time was well spent inside. This Adventure HQ reminds me of the R.O.X. shops back in the Philippines. Both are recreational outdoor shops, but this one was really huge!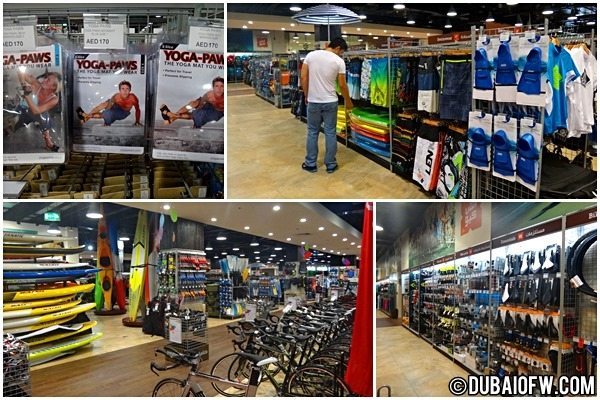 stuff for all sorts of adventures: indoor and outdoor. land, water or air!
Even without the wall climbing facility, it's such a treat to look at the different displays of merchandise being sold by this AdventureHQ shop in Dubai. This is a very unique retail shop and I wish it was located a little nearer Old Dubai because I want to be here everyday!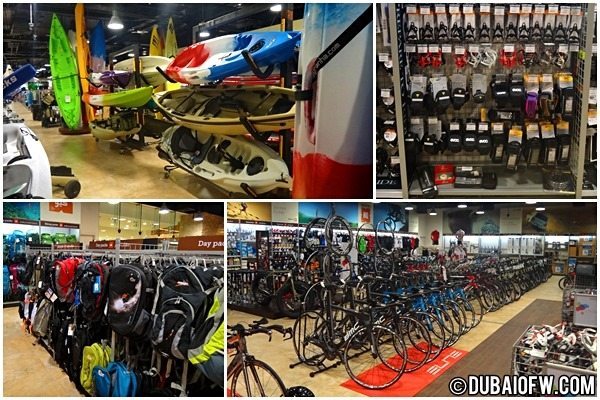 backpacks, kayaks, bikes on bike racks!
Different Adventure Products
Biking, scuba diving, kayaking, yoga, camping, surfing, swimming, paddleboarding, snowboarding, climbing, mountaineering, etc. – They have so many products for different kinds of adventures! You can simply  choose your adventure, and choose your equipment.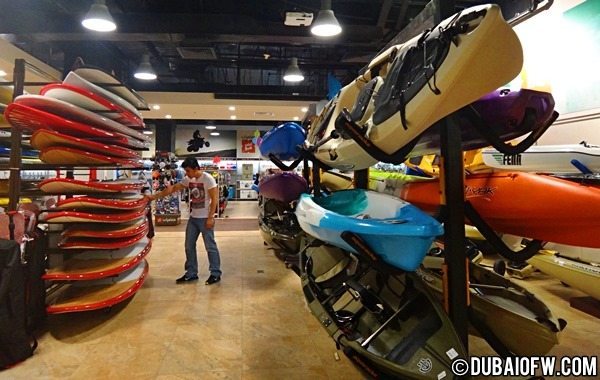 a
great stuff for the adventure buffs!
Adventure HQ is a dedicated outdoor adventure retail specialist offering equipment for a wide range of active lifestyle pursuits such as: fishing, kayaking, diving, camping, hiking, cycling, off-roading plus plenty more.

– from AdventureHQ.com
How to Get There:
Ride the metro heading to Noor Islamic Bank. When you exit, you can either hail a taxi or ride a bus to Time Square Mall. We opted to take the taxi since it was much faster.
Location: AdventureHQ, Time Square Mall
Nearest Metro Station: Noor Islamic Bank – Red Line
Adventure HQ Contact Details:
Telephone Number: +971 4 346 6824
Toll free: 800-ADVENTURE (238368873)
Email: info@adventurehq.ae
Website: www.adventurehq.ae
Adventure HQ Store Hours:
Saturday – Wednesday 10 am to 10 pm
Thursday – Friday 10 am to Midnight
Social Media Pages:
Facebook: www.facebook.com/adventurehqme
Twitter: www.twitter.com/adventure_hq
Instagram: www.instagram.com/adventurehq
YouTube: http://www.youtube.com/user/AdventureHQ