Among the most popular shopping malls in Sharjah is City Centre Sharjah, which is situated along Al Wahda Road. It is developed and managed by Majid Al Futtaim, one of the leading developers in the UAE and the entire Middle East and North Africa (MENA) region. This is the same company that has built world-class attractions, such as Mall of the Emirates, Mirdif City Centre, and Ski Dubai, among many other destinations.
ALSO READ: Up to 75% OFF in Sharjah Summer Promotions
City Centre Sharjah features more than 140 retails outlets, a wide variety of dining concepts, and several entertainment options, including a Magic Planet family center and a 12-screen VOX Cinemas premium movie experience — the first of its kind in Sharjah!

Shop, Dine, and Play at City Centre Sharjah in Al Wahda Street
Indeed, City Centre Sharjah is a one-stop shopping, leisure, and lifestyle destination for citizens, residents, and tourists alike. Here's what you can expect to enjoy at the mall:
All-Around Shopping Experience
Whether you're looking for men's, women's, or children's fashions, City Centre Sharjah has everything you need to upgrade the whole family's wardrobe! Dresses, suits, shirts, jeans, skirts, jumpers, and more — you will find these at the mall's numerous retail outlets. Popular brands/stores include G2000, H&M, Levi's, Max, 7 Camicie, and Splash.
Ladies' fashion outlets at the mall include Al Muznah, Annabelle, Brand Bazzaar, Joanna, Khaadi, Max, Naomi, and Nishat Linen. Meanwhile, Eternity Style, Gentle Park, Gio Ferrari, Maldini, Park Avenue, and Springfield all offer the latest in men's fashion. As for handbags, shoes, and other trendy accessories, you can find these at K Corner, Lovisa, Red Trees, Shoemart, Shoes4us, and Shoexpress.
Looking to buy a watch or jewellery for someone special? Visit these outlets at the mall: Citizen, Ahmed Seddeqi & Sons, Basel Watch, Damas Jewellery, G-Shock Casio, Jawhara, Lifestyle Fine Jewelry, Malabar Gold & Diamonds, Pure Gold Jewellers, and Rivoli. The mall's retail outlets also offers home furnishings such as carpets, curtains, and beddings, along with mobile phones, computers, books, toys, office supplies, and more!
Need to make a quick grocery run? City Centre Sharjah has a Carrefour hypermarket where you can buy food, snacks, toiletries, and many other household items. Be sure to take advantage of the store's sales and discount promos, which is offered regularly!
As for banking, you don't have to worry as there are many ATMs around the mall, simply enter "ATM" on the Store Locator to find the nearest one. If you need to send money, pay bills, or make over-the-counter transactions, there are banks and financial services available: Al Ansari Exchange, Al Rostamani Exchange, Citibank, Dubai Islamic Bank, Emirates NBD, Redha Al Ansari Exchange, UAE Exchange, and Wall Street Exchange.
Variety of Dining Concepts
Craving for a quick snack — burgers, sandwiches, or donuts, perhaps? Check out these cafes at the mall: Cafe Barbera, Dunkin' Donuts, Krispy Kreme, McCafe, and Tim Hortons. Need your chocolate or ice cream fix? Order some sweet goodies at Baskin Robbins, Candy Hearts, Cold Stone Creamery, Gelato Divino, and Papa Fluffy!
Of course, you must be hungry after all that shopping. Fortunately, City Centre Sharjah features the following restaurants, where you can have a variety of cuisines: Chowking, Food Point, Gazebo, Jollibee, Hardee's, KFC, McDonald's, Panda Chinese, and Pizza Hut.
Non-stop Play and Entertainment
As mentioned earlier, the mall includes Magic Planet, which offers exciting games and activities for the whole family! Located on Level 1 near Parking Entrance C, this entertainment centre is open from 10:00 am to 10:00 pm.
Ready to catch the latest action, adventure, romance, or comedy film? City Center Sharjah features VOX Cinemas, a 12-screen cinema complex offering 3 premium movie experiences: MAX, KIDS, and GOLD. Cool! Also open from 10:00 am to 10:00 pm, VOX Cinemas is situated on Level 1, near Parking Entrance A.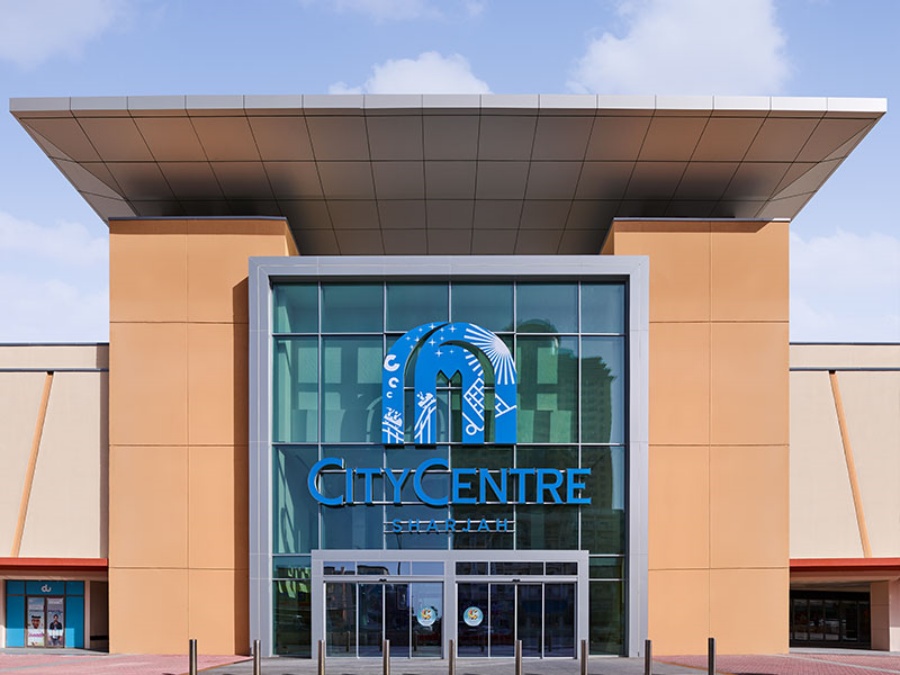 Guest Services at the Mall
As for other basic services, the mall has got you covered! These services include: baby changing rooms, car wash services, currency exchange, customer service, first aid, lost and found, mobile phone charging stations, prayer rooms, tourist information, valet parking, wheelchairs, and more. Communication shouldn't be a problem, since the mall also offers free Wi-Fi!
Mall Operating Hours
City Centre Sharjah is open between 10:00 am and 10:00 pm from Saturday to Wednesday, and between 10:00 am and 12:00 am (midnight) from Thursday to Friday. Meanwhile, the Carrefour hypermarket at the mall is open from 9:00 am until 12:00 am everyday.
Video: City Centre Sharjah Mall
Check out this video tour to give you an idea what you can expect when you visit this mall in Sharjah:
Video: City Centre Sharjah
Wondering what to expect at City Centre Sharjah? Here is a video featuring some highlights and amazing deals, shared via the mall's official Facebook page:
How to Get There
If you are traveling by car through the Dubai-Sharjah "Etihad Road," simply cross Al Khan Intersection going towards Al Wahda. From there, follow the signs that would guide you towards City Centre Sharjah.
On the other hand, if you are traveling from Ajman, here's a quick guide: With City Centre Ajman on your left, turn right after the first roundabout. This will lead you to "Book Roundabout," which is another roundabout. After the fourth traffic signal, take a right, drive through two traffic signals, then you will arrive at City Centre Sharjah.

If you happen to be in Sharjah and you are eager to shop, dine, and "play," be sure to include City Centre Sharjah in your itinerary. Without a doubt, you will make some great shopping finds, enjoy delicious food, and have fun at the mall's entertainment centres!
Aside from Sharjah, you will find other City Centre malls across the UAE, including City Centre Deira and Mirdif City Centre. The company has also established malls in other countries, such as City Centre Bahrain in Manama and City Centre Muscat in Oman.
READ NEXT: 16 Best Online Shopping Websites in the UAE
Contact Information
To learn more about City Centre Sharjah, or to get in touch with their customer service, you may contact them through the following details:
Address: Al Wahda Road, Industrial Area 1, Sharjah, UAE
Telephone: +971 800 226255
Email: info.cc@maf.ae
Website: https://www.citycentresharjah.com/
Facebook: https://www.facebook.com/CityCentreSharjah/
Twitter: https://www.twitter.com/CityCtrSharjah
Instagram: https://www.instagram.com/citycentresharjah
Google Map Location
Below is the location of City Centre Sharjah on Google Maps, for your reference: