The Dubai International Airport (DXB) is not only one of the busiest airports in the world; it also offers state-of-the art amenities and facilities, including free, high-speed Wi-Fi Internet. Whether you're traveling to Dubai or simply passing by on your way to another destination, you can easily stay updated and connected with your family and friends.
Since December 4, 2016, Dubai Airports has upgraded the system at DXB as well as at Al Maktoum International Airport (DWC). The upgrade was made in response to customer expectations. It included implementing a more user-friendly Wi-Fi landing page, where it only takes one click to connect to the Wi-Fi Network! Notably, the connection speed is among the fastest globally, and is claimed to be a benchmark for airports around the world.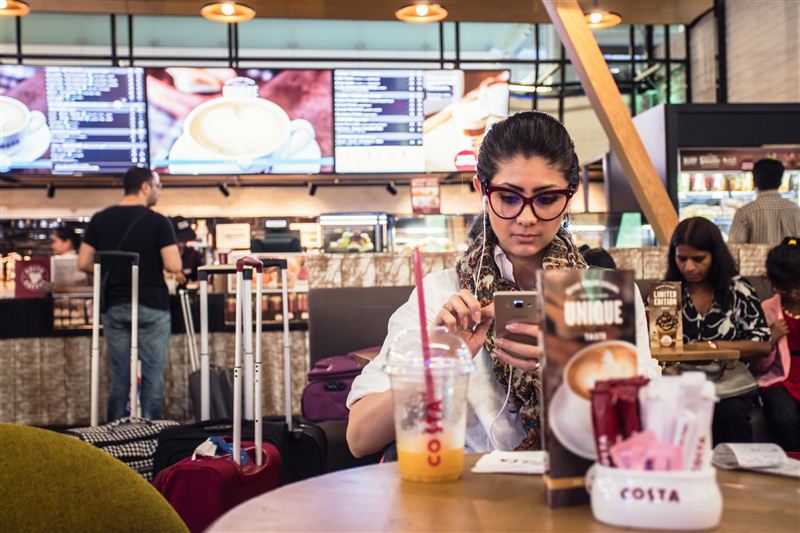 Photo Credit: Supplied by mediaoffice.ae
Free High-Speed Wi-Fi at DXB and DWC Airports
Dubai Airports invested in about 6,000 additional access points to upgrade the wireless network setup at DXB and DWC. Internet links are boosted to more than 5Gbps, which is enough power to service a small city and ensure bandwidth capacity! To improve information dissemination for the benefit of passengers, Web-based apps were also introduced.
"As the world's largest international hub, we are the heart of many journeys across the world today," Executive Vice President of Business Technology at Dubai Airports, Michael Ibbitson, had stated in a press release.
"When our passengers arrive in Dubai after a long journey, they now expect to keep in touch with friends and family all over the world," he explained. "To enable this, Dubai Airports has invested heavily in developing a state-of-the-art infrastructure to deliver industry leading Wi-Fi capability. It is just one of many initiatives we have undertaken to serve and delight the 83 million passengers that will pass through our airports this year."
Today, passengers at DXB can use the free, high-speed Wi-Fi for 60 minutes, thus enhancing their experience and making it easier for them to stay updated and connected while traveling.
How to Connect to the Wi-Fi at Dubai Airports
Connecting to the free Wi-Fi at DXB and DWC is easy, whether you're using Android devices or iPhones.
A. Using an Android Device
Follow these steps to connect to the free Wi-Fi using an Android device:
Tap or press "Home," then tap "Settings."
Navigate to "Wireless & Networks," and turn on the Wi-Fi.
Under "Available Networks," tap "DXB Free WiFi" to connect to the free Wi-Fi.
Open the web browser and tap "Get Online Now" to enjoy the free Wi-Fi at Dubai Airports.
B. Using an iPhone
If you're using an iPhone, follow these steps:
Go to "Settings" and tap "Wi-Fi" to turn it on.
Under "Public Networks," tap "DXB Free WiFi" to connect to the free Wi-Fi.
Open the web browser and tap "Get Online Now" to enjoy the free Wi-Fi at Dubai Airports.
NOTE: If you are using iOS 13 or iPadOS, you might see "DXB Free WiFi" under "My Networks" or "Public Networks."
Is There a Charge for Additional Wi-Fi?
As cited earlier, each passenger transiting through DXB and DWC can access free Wi-Fi for 60 minutes. If you need to use the Internet for a longer period, you can avail of additional Wi-Fi at these rates: AED 19.95/hour (mobile devices) or AED 29.95/day (laptops).
An alternative option would be to subscribe to Boingo's Worldwide Program, which costs AED 49.95/month. Through this program, you can access over 1,000,000 hotspots around the world. It's the perfect plan for jetsetters!
Other Things to Do at Dubai International Airport
Aside from offering free Wi-Fi, DXB provides other amenities and facilities, such as currency exchange, taxi services, shower rooms, sleeping pods, free newspapers, and more!
If you're on a layover, you might find yourself with several hours of free time. What can you do then? Fortunately, there are plenty of things you can do at Dubai International Airport:
1. Go shopping.
The airport has quite a number of duty-free shops, all of which are open 24/7. Here, you can buy premium accessories such as bags, watches, and sunglasses. You can also purchase dates, chocolates, and other souvenirs for your family and friends back home.
2. Eat up!
There are around 135 cafes and restaurants at Dubai International Airport. Plenty of local and international cuisines to choose from!
3. Rest and relax.
Located near Gates B7 and B27 in Terminal 3 is the Zen Gardens. Filled with lush trees, benches, and a fish pond, it's the perfect spot to rest and relax at Dubai International Airport!
4. Head to the lounge.
For AED 195, you can purchase a lounge pass to access any of the premium lounges at Dubai International Airport. These lounges have Wi-Fi, TV, magazines, newspapers, a flight information monitor, and other amenities. For AED 53, you can also get a shower kit and take a shower at the lounge's shower facility.
Free Wi-Fi, duty-free shopping, cafes, restaurants, and lounges – these are some of the things you can enjoy at Dubai Airports. Of course, if you will be staying in Dubai for 9 hours or more, then consider taking a quick tour of the city instead. For this you might need to apply for a transit visa, which would enable you to enter and explore the city. Enjoy!