P-pop sensation SB19 is coming back to Dubai! Get ready to be blown away as they perform LIVE at the Dubai World Trade Centre Sheik Rashid Hall on the 29th of October for their first-ever world tour, the 'WYAT (Where You At)' Tour. Get tickets here: https://bit.ly/3CCCgeV
SB19 is a five-member Filipino boy group composed of Pablo, Josh, Stell, Ken, and Justin that debuted in October 2018. The "SB" in SB19 stands for "Sound Break" which represents their goal to break into the music scene of the Philippines with their new and fresh sound, and uplift the Filipino music and culture to the global scene.
This talented and multi-awarded group's meteoric rise to fame began when the dance practice video for their sophomore release 'Go Up' went viral in 2019. Since then, the group has gone on to become the first Filipino and Southeast Asian act to be nominated at the 2021 Billboard Music Awards for the Top Social Artist Category. Their latest record-breaking hit 'Bazinga' stayed for 7 weeks at no. 1 on Billboard's Hot Trending Songs chart, making them the first Filipino act to reach that milestone. In July, the group made it to Teen Vogue's "Favorite Boy Bands of All Time" list.
This P-pop phenomenon has several hits to their name, including 'What?' and 'Hanggang sa Huli'. The rousing ballad 'MAPA', a portmanteau of "mama" and "papa" and a tribute to parents, currently has more than 38 million streams on Spotify.
SB19 is now back with a new single 'WYAT (Where You At)', a disco-pop track that highlights the urgency of disconnection to reconnection of the times. Coinciding with this new release, the boys are now embarking on their first-ever world tour, the 'WYAT (Where You At)' Tour.
The group kicked off the tour with a sold-out concert in Manila at the Araneta Coliseum on September 17, followed by local stops in Cebu, Clark, and Davao. SB19 will then return to Dubai on the 29th of October, months after their Expo 2020 Dubai stint earlier this year which sold out in just less than 24 hours after the concert was announced.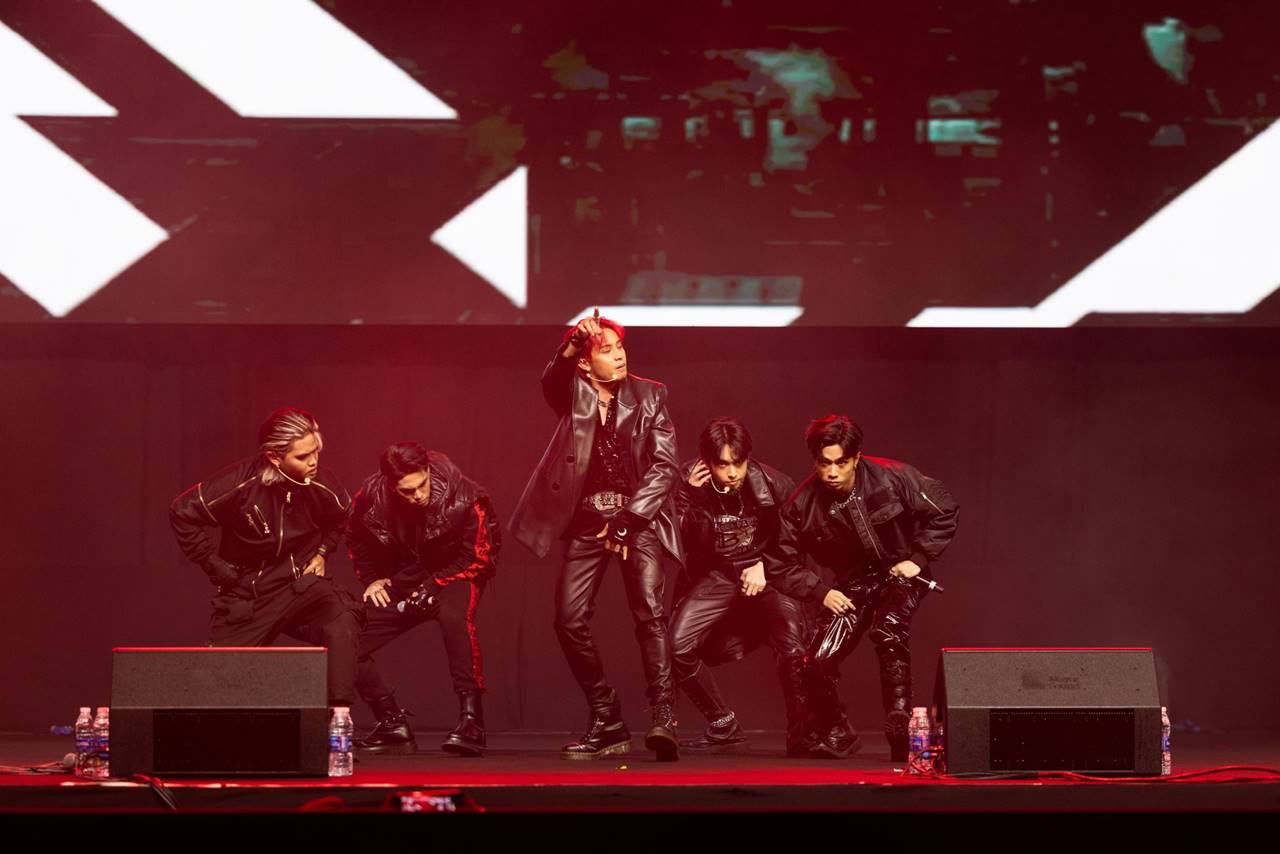 In November, SB19 will then fly to New York, Los Angeles, and San Francisco, marking their US debut, before heading back to Asia for their Singapore concert.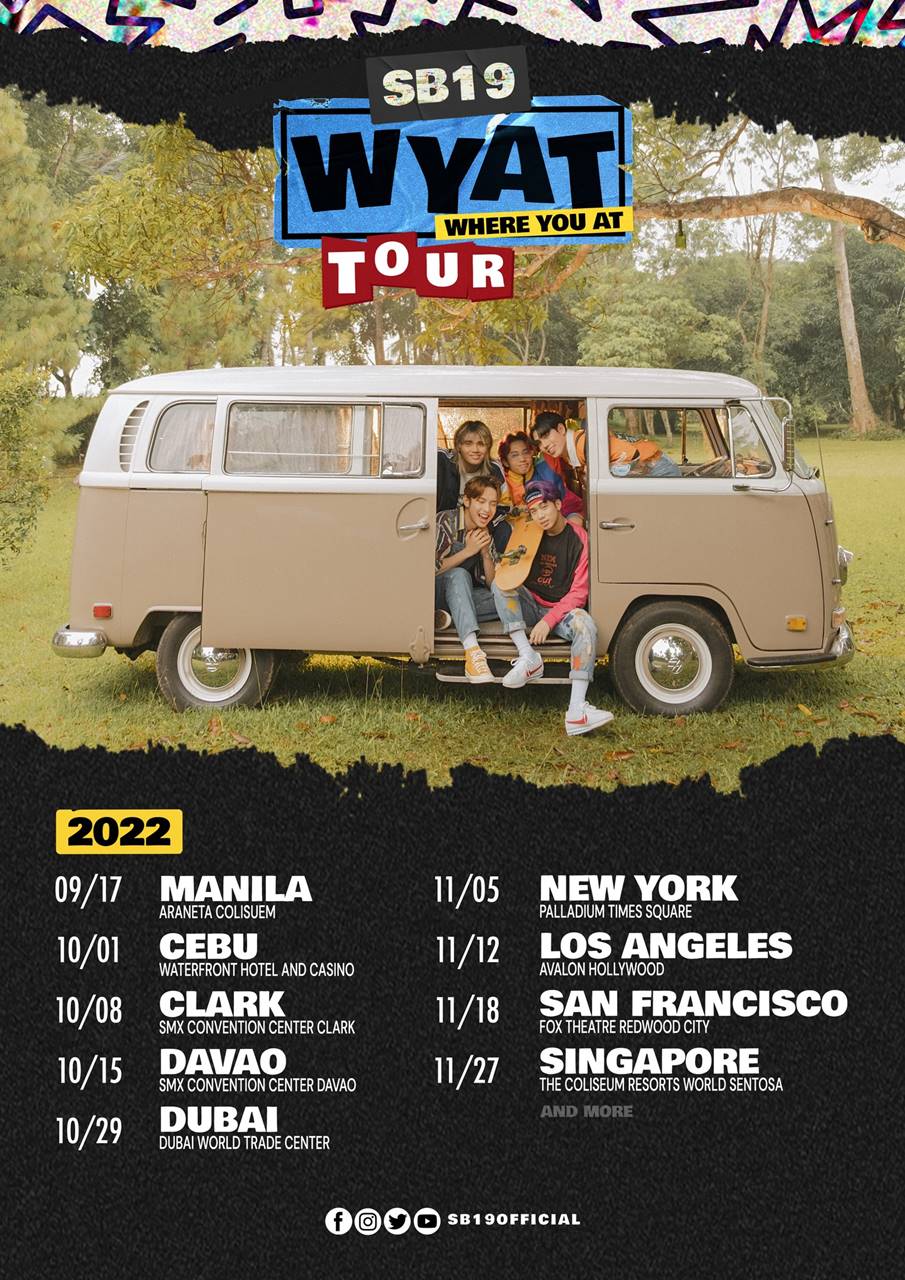 "We're excited to meet our international fans. If I may put it: we were caterpillars inside cocoons when we were just starting, and now, we've turned into butterflies ready to spread our wings," SB19 member Josh stated in an earlier press release.
SB19 WYAT Tour in Dubai is presented by Sound Cloud Events and Black Star Entertainment. Tickets are exclusively available via PlatinumList.net.
Get tickets here: https://bit.ly/3CCCgeV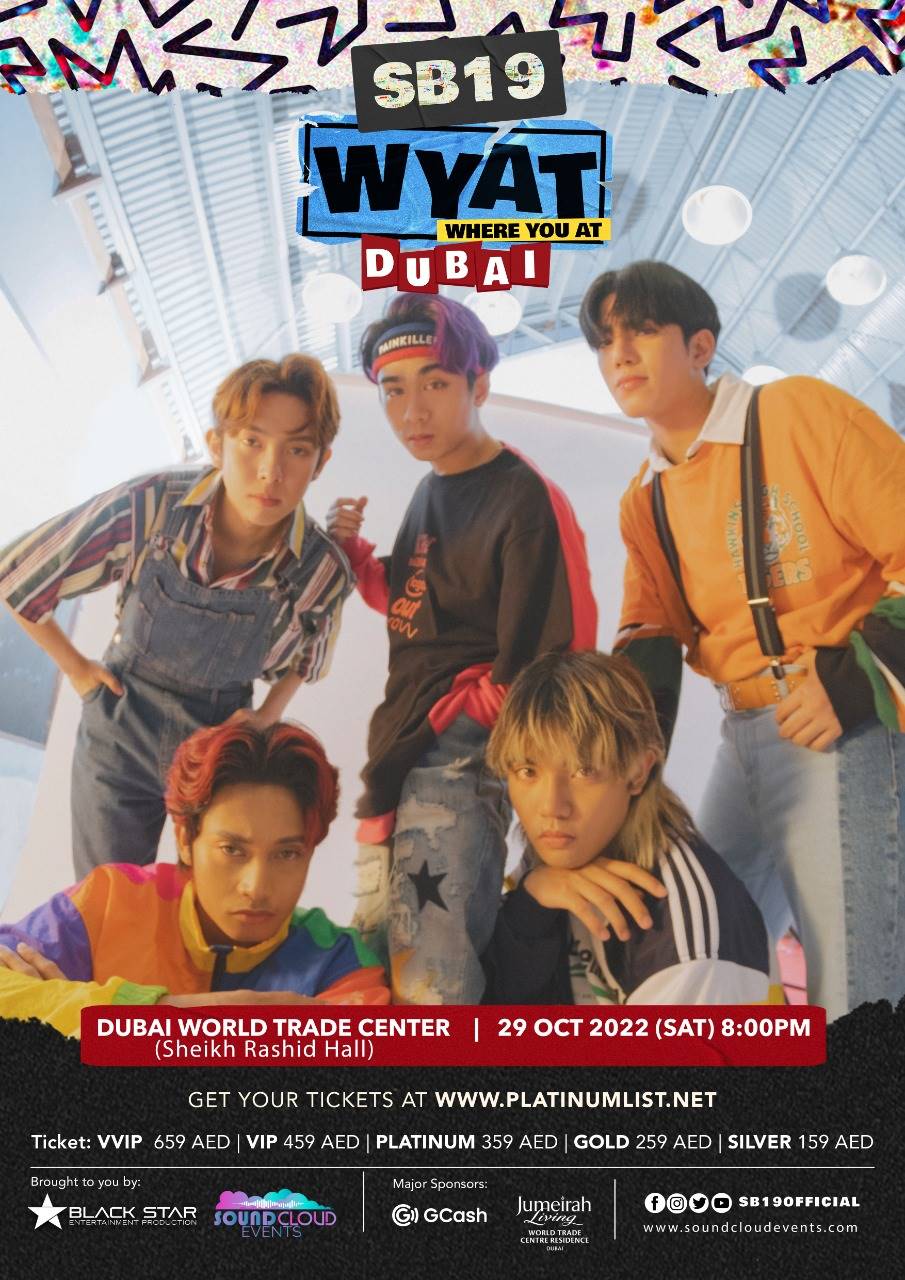 Follow SB19's social media accounts for more updates: