Among the seven emirates of the UAE, Dubai is the second-largest emirate. Surrounded by desert and situated on the coast of the Persian Gulf, Dubai often experiences extremely hot summers and warm "winters." Still, many people have been thinking… Does it snow in Dubai?
In this article, we will discuss the typical climate, seasons, and weather conditions in Dubai. We will also talk about some of the "snow" attractions and activities that people can enjoy during the winter season, or even all year round!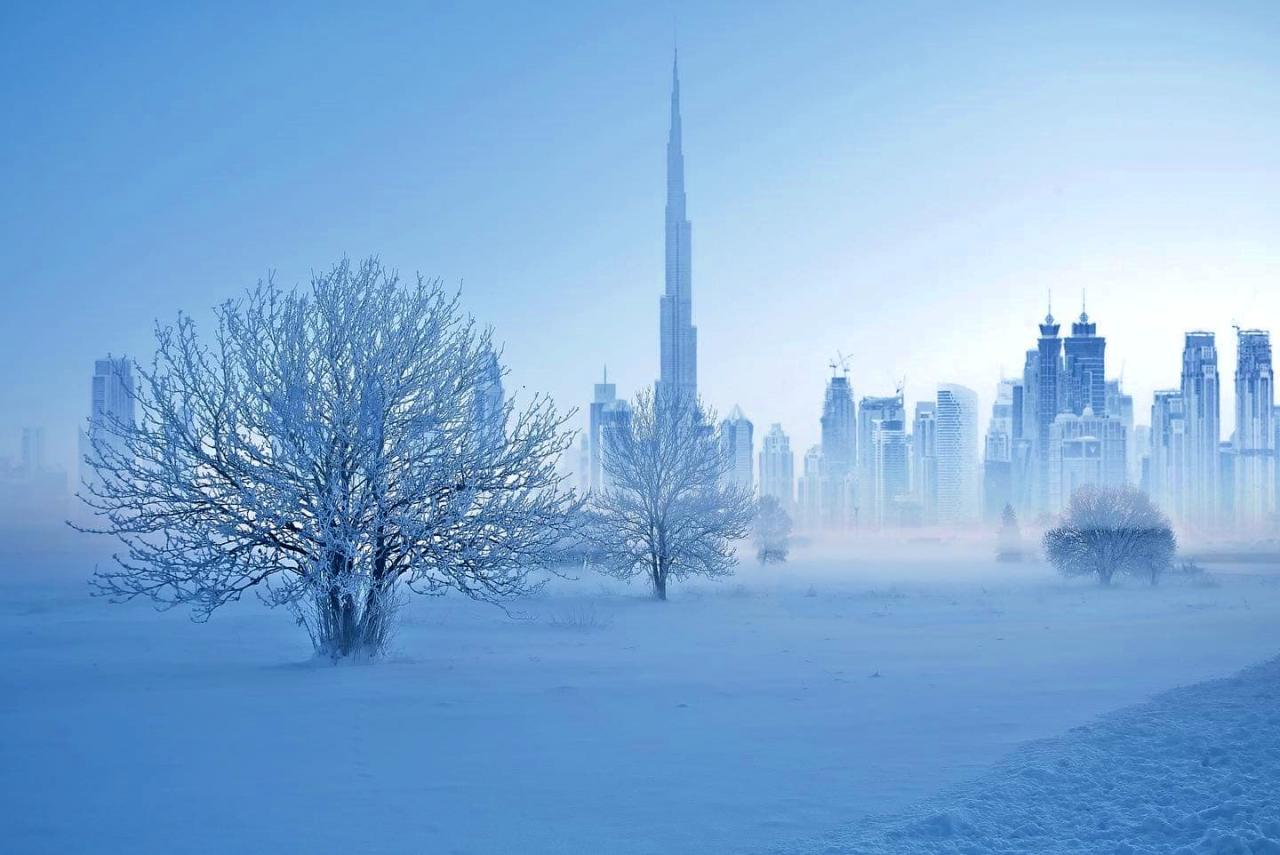 Can I See Snow in Dubai?
Last year, Dubai resident digital artist Jyo John Mulloor shared some pretty amazing scenes of the city covered in snow. In an interview with The National, Mulloor stated that he had a vivid dream where he was looking out the window and it was snowing.
The digital artist decided to turn his dream into art, creating an image of Zabeel Park blanketed in white. Eventually, he created more "Snowy Dubai" scenes, featuring familiar landmarks such as the Burj Al Arab, Downtown Dubai, Expo 2020 Dubai, Global Village, and Museum of the Future, among others.
Indeed, while Mulloor's images are captivating, it does makes one wonder… does it really snow in Dubai? To better answer this question, let us discuss the seasons in the emirate.
Seasons in Dubai
Generally speaking, there are two major seasons in Dubai: dry season (summer) and wet season (winter).
1. Dry Season
The dry season or "summer" in Dubai usually takes place between May and September. These are the hottest months, with temperatures reaching 40 degrees Celsius (104 degrees Fahrenheit). In the evenings, the temperature usually drops to around 26 degrees Celsius (79 degrees Fahrenheit).
During this season, there is little rain, and dust storms often occur, due to hot winds and high humidity. That being said, since Dubai is close to the sea, its summer temperatures are cooler compared to other Gulf cities, such as Riyadh, for example.
2. Wet Season
Meanwhile, the wet season or "winter" in Dubai typically takes place between October and April. The average temperature is around 22 degrees Celsius (72 degrees Fahrenheit) during the day and as low as 12 degrees Celsius (54 degrees Fahrenheit) at night.
During this season, Dubai experiences frequent rains and strong winds. In fact, there has been an increase in rainfall — now at 130 mm yearly — over the past few decades. In particular, the months of December and January are the coolest.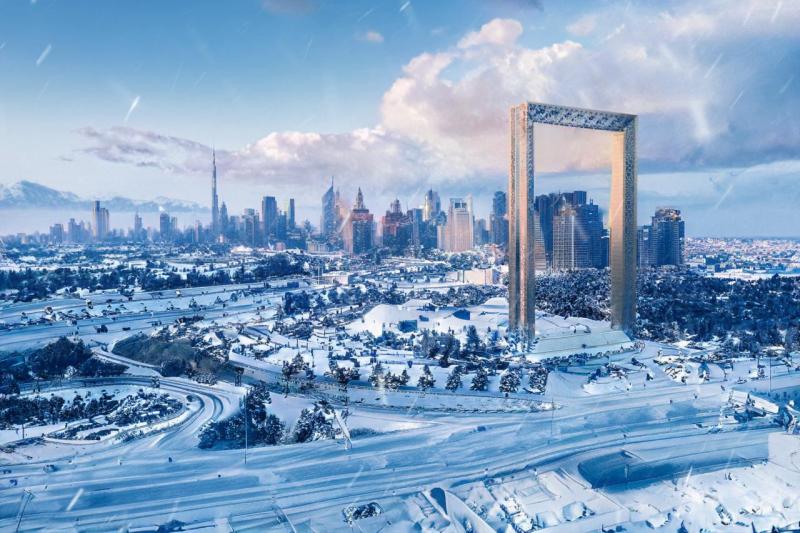 Is There Snow in Dubai?
Now that we know a little bit more about the seasons in the emirate, including the wet or "winter" season… Does it snow in Dubai?
The short and simple answer to this question is "no." It doesn't snow in Dubai simply because the emirate's tropical desert environment is not conducive for snow production and snowfall.
Typically, an atmosphere below the freezing point of zero degrees Celsius (32 degrees Fahrenheit) is necessary for snow production. However, since the temperature in Dubai never drops this low, snow cannot form, even during the coldest "winter" day.
Is There Natural Snow in Dubai?
No, there has never been evidence of natural snow in Dubai. However, over the past two decades, snow has been reported four times in another emirate — Ras Al Khaimah. Specifically, snow has been spotted in the tallest peak of Jebel Jais, which is considered to be the highest peak in the country.
So again, the answer is "no," there is no natural snow in Dubai… But who says the city can't enjoy artificial snow?!
Places with Snow in Dubai
Although it doesn't snow "naturally" in Dubai, there are places where you can enjoy artificial snow, including ice rinks, indoor ski slopes, and even "ice lounges!" Here is a list of some of the coolest, icy and snowy destinations in Dubai:
1. Dubai Ice Rink
Situated in The Dubai Mall , the Dubai Ice Rink is one of the most popular and "coolest" leisure attractions in the city. Beginners as well as advanced ice skaters will definitely enjoy this rink, where the cool temperature is managed through a state-of-the-art climate-control system.
Since the Dubai Ice Rink is Olympic-sized, it also serves as a venue for various events and competitions, including hockey matches and figure skating exhibitions. For more details about this rink, please visit its official website.
2. Chillout Ice Lounge
As the name says, this is a lounge where customers can simply "chill out." The Chillout Ice Lounge stays cool at only 6 degrees Celsius, so it's a fantastic place to seek respite from the summer heat!
What's more, almost everything inside is made of ice, including the walls, lighting fixtures, and murals. There are also plenty of ice sculptures that are truly impressive, indeed!
Even the glasses and utensils in the Chillout Ice Lounge are made of ice. But don't worry, they will give you a thick coat and a hat to keep you warm! For more information about this place, just head to their official website.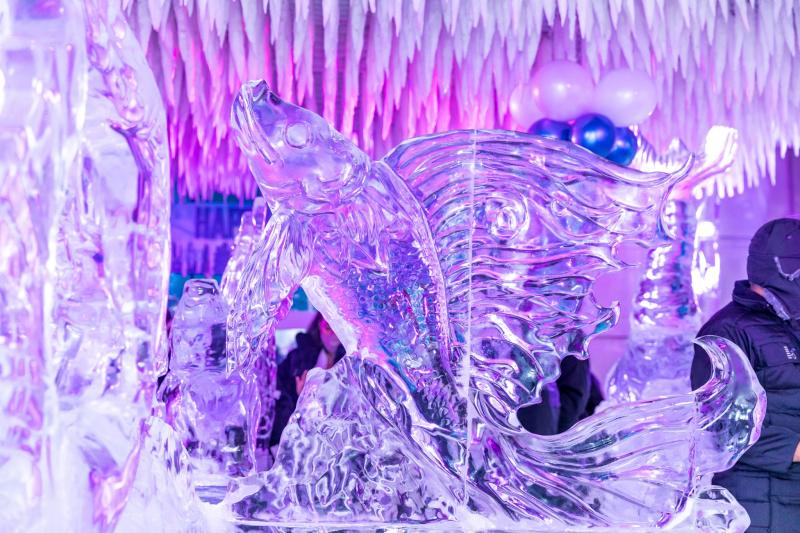 3. Nakheel Mall
Last December, Nakheel Mall featured a "winter fun zone" where kids (and kids at heart) can join fun workshops and games. One of the most popular attractions was a "snow station," which served edible snow. That's right… snow you can eat!
This year, perhaps we can look forward to another exciting winter zone at Nakheel Mall, come December. To learn more about the mall's latest events and updates, you can visit its official website.
4. Winter City
Also last December, Expo City featured "Winter City" inside Al Wasl Dome. Snow was falling above a 52-foot tree, plus there was a "letter to Santa" station where the young ones can write their requests and have these shipped to the North Pole.
Come winter time, we can expect another amazing attraction at Expo City. To know more about their latest announcements and events, please visit their official website.
5. Ski Dubai
And last, but certainly not the least, there's Ski Dubai. Located inside the Mall of the Emirates, this 22,500-square metre area maintains a temperature of -1 to 2 degrees Celsius. In other words, it's basically a winter wonderland all year round!
What can you expect to see at Ski Dubai? For starters, it has an 86-metre high "mountain" and five slopes, each with its own level of difficulty. Perfect for skiing and snowboarding! In addition, there's a 3000-square-metre Snow Park, which is a play area for young children.
Finally, Ski Dubai is cold enough to serve as a habitat for… penguins! How awesome is that? For more details about Ski Dubai, just head to its official website.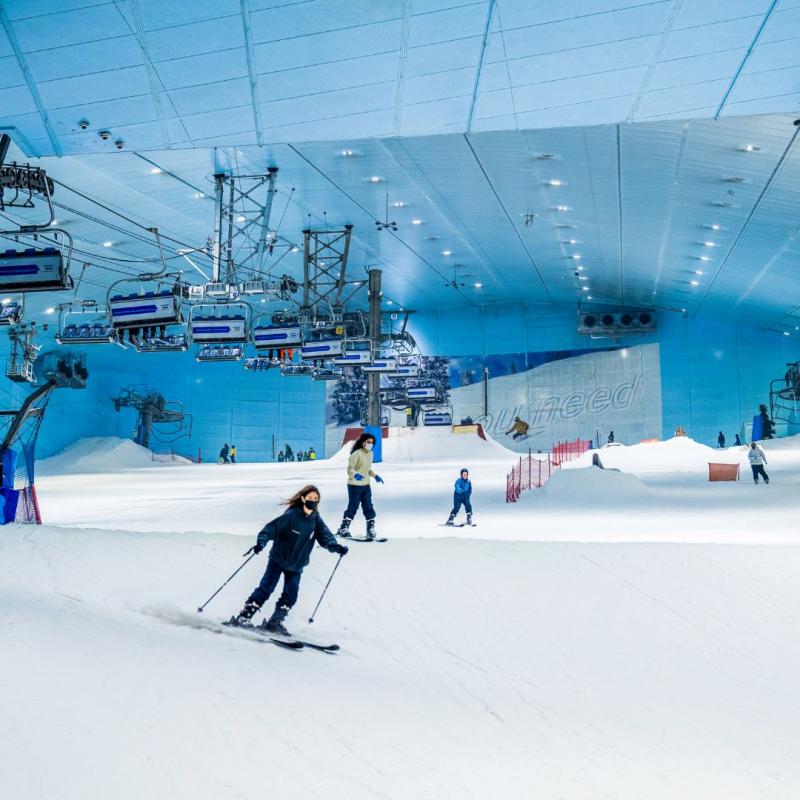 The Bottom Line
Due to Dubai's tropical desert environment, there is no natural snow in the city. However, it doesn't stop the city's residents and visitors from enjoying artificial snow in places like the Chillout Ice Lounge, Dubai Ice Rink, and Ski Dubai.
Thanks to these attractions, everyone can "chill" and play in the ice or snow, despite the extremely hot weather outside! In the meantime, here are some more things that first-time tourists should know when visiting Dubai and the UAE.