"No one lights a lamp in order to hide it behind the door: the purpose of light is to create more light, to open people's eyes, to reveal the marvels around." – Paulo Coelho
I've been planning to explore Romania since October 2015 after I had my solo travel in Georgia last September 2015. However, I delayed the plan due to difficulty in getting leave from work, hassle of visa processing and lack of money to spend with.
And like after a year of dreaming of Romania, I finally turned this dream into reality. I was in this beautiful country for 13 days from October 9-21, 2016.
Related Post: How to Apply for a Romania Tourist Visa in Dubai
Though Romania is my fourth solo travel, I still feel fidgety every time I'm off for another adventure. My trips weren't perfect, though the flaws that come with it made traveling more exciting and challenging.
From the success and mishaps of my previous travels, I have come up with these general tips that I consider before venturing out somewhere:
If possible, I avoid traveling during holidays as the airfare tends to be expensive unless I booked my flights in advance
When checking travel dates, I consider when my monthly period will come. Nobody wants to ruin a holiday because of abdominal cramps, menstrual migraine headaches and sudden mood change because of hormonal changes
I always leave my travel details to at least one person including my flights, accommodations, contact persons and travel insurance details.
At the airport, you always hear the reminder not to leave your baggage unattended and decline carrying bags or parcels from other people; it's a must to adhere with these reminders.
For tours, I spare a day or two to go on my own and for the rest; I go for a group tour. I don't book online, as there's a big difference with the prices. Book your tour once you reach your destination.
Make a plan of what you want to see in a certain place. For me, I don't pressure myself to see everything. I wander slow and enjoy every moment. I want to know more and experience culture and traditions like that of food, drinks, costumes, dance and so on. I try to balance to see a bit of historical places like Churches, monasteries, castles, museums; go nature trip; do something I haven't done before; visit animal sanctuary if any; and I love long walks alone.
As much as I love to go on the outskirts, I listen to my instinct.
Sometimes, communication is a problem. So I always keep a photo of a place in my phone to show it to the locals in case I can't find my way.
I confess that I can't even interpret a map, so I keep on reminding myself to remember those landmarks but as I am awed with what I see, I forget all the landmarks. So what I do is to keep the map with me and I usually ask my host to mark the places where I want to go and write the place's name in local letters. I still get lost and ride wrong buses in Abu Dhabi though. If you met a girl that looks like being lost in Dubai, maybe that's me.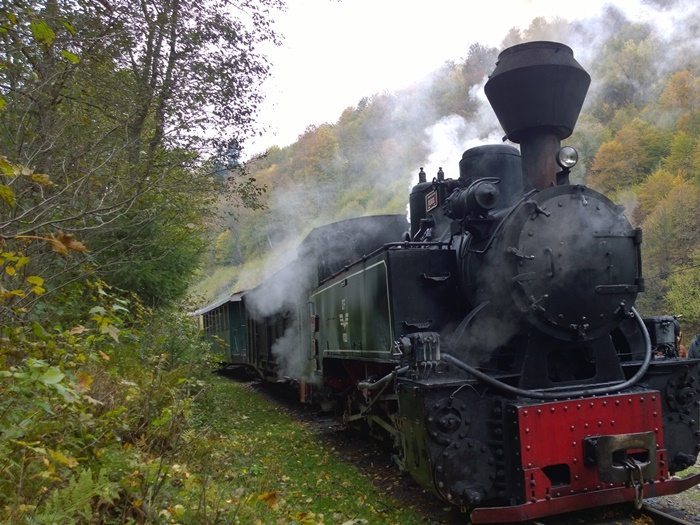 The Mocanita Train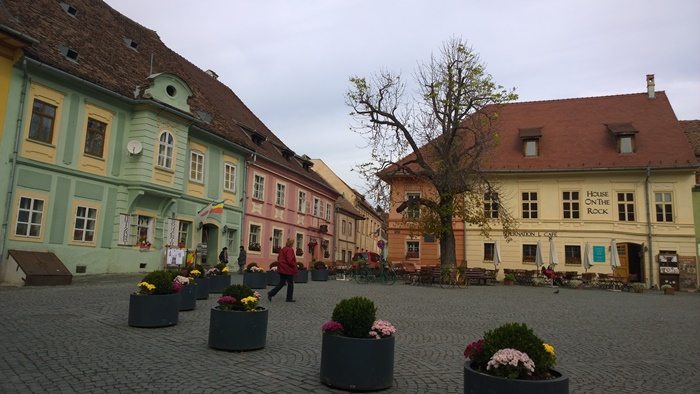 Sighisoara, the Birthplace of Vlad Tepes
And for the recent trip to Romania, here are the preparations I did:
How will I reach Romania?
I search online about the low cost airline that has direct flight from UAE to Romania.
Having the idea with the airlines, I search their Facebook Page and follow it. I prefer it this way, so if they have any promotions I can just see it on my newsfeed.
I was choosing between Fly Dubai, Wizz Air and Tarom Airline
When should I travel?
I made sure that I still have available annual leaves left and my company has approved those leaves
Romania has four distinct season (summer, autumn, winter, spring)
I chose autumn to see the colorful foliage and the weather is a bit cooler by this time
However, in any season, Romania has so much to offer.
Why I should travel to Romania?
To discover what is in the Land Beyond the Forest
I don't have much idea about the country so I am more challenged to explore the place
And to be honest, I was so fed up with something that I just want to escape then and enjoy life rather
Find your "emotional why" it will help you define your purpose of traveling
Where should I go and stay in Romania?
Making itinerary is an exciting part prior to traveling and it is essential in planning.
I did mine through research and reading online
Connected with somebody who has been there
Contacted or sent e-mail to the locals
Sent messages to bloggers who I follow online and they were happy to share information.
What should I prepare to be able to go to Romania?
Travel documents such as passport and Romanian tourist visa
Travel tickets
Travel insurance is a must
Clothing appropriate for the weather
Should I travel with backpack or suitcase? I chose backpack as it is easier to move around.
How much money I need? I have a budget of 250 AED per day. It was just enough and there were days I spent around 100 AED only.
Who will forget his or her camera? Power bank is a must to bring also.
And prepare yourself for many surprises along the road. The best days are still ahead of you.
Who I will travel with? With But, why alone?
Decision making is easier when alone
It is difficult to wait for others
I am more of an introvert person and I found more freedom traveling alone
Others might have other preference of their way of traveling
I feel more empowered and,
There's nothing wrong with a female traveling alone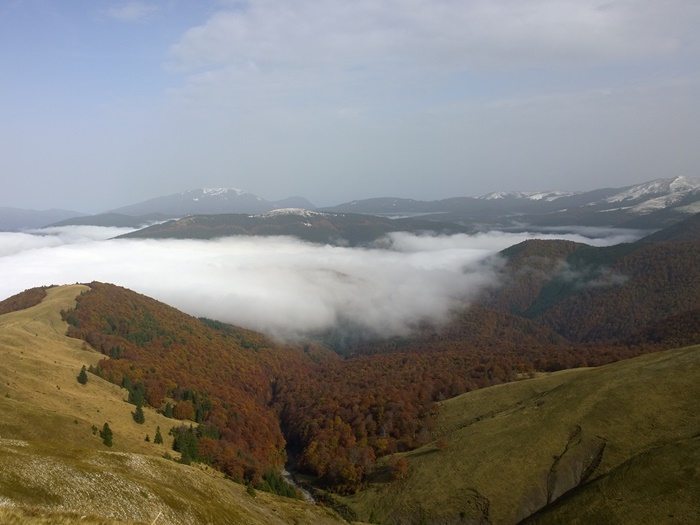 Baiului Mountain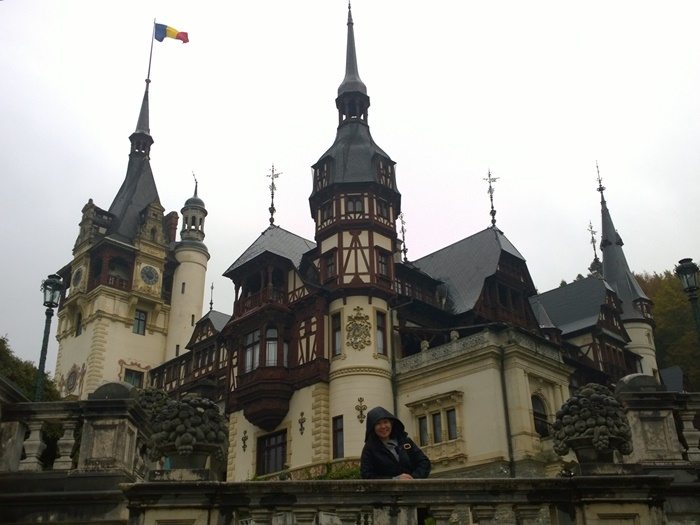 The Peles Castle
Traveling solo isn't easy but once you have booked your flight and conquered those fears of the unknown, you'll realize that it is one of the best decisions you ever did.
The main concern for traveling alone especially for females is SAFETY. In anywhere in the world, this is the upmost issue and concern.
And how do I face this concern in connection with traveling?
It is just the same preparations the first time I left our home country to come for work here in the Middle East. I familiarize myself with the norms and policies and respect the culture of the country I am going to. I become more alert, smarter and aware of what's going around. I apply it every time I'm on the road.
Listen also to that special gift of intuition and instinct. We, women are gifted with more of this; don't neglect what our instinct is telling us.
But don't stress out too much yourself for safety issues. Traveling should be fun, easy, safe and relaxing. You'll be surprised that along the way you'll meet many brave souls traveling all alone. Actually solo traveling will just open you to opportunity to have an encounter with many beautiful, kind and friendly people.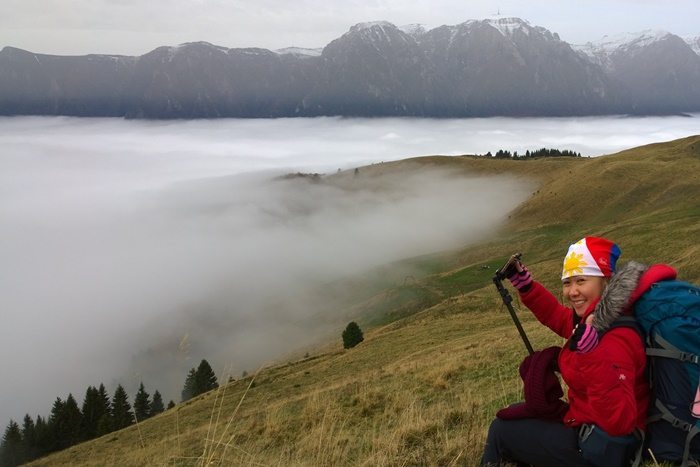 Filipina backpacking Romania for 13 days
I hope that the above- mentioned will inspire you to embrace the big world out there. The universe is waiting for you.
Go girl, book that flight now and explore that dream country of yours. Whatever situation you are right now, may it will encourage you to keep on chasing your dreams.
---
About the Author: Louiela

Louiela Ann Analista is a Pinoy expat in Abu Dhabi, a Nurse by profession and a nomad by heart… She's also the person behind Beyond Chasing Dreams and www.beyondchasingdreams.com
"Hi, thank you for passing by. May you keep on chasing your dreams whatever it is."}
---
Share your thoughts. Contribute an article to DubaiOFW.com
Want to publish your experience? Share your everyday stories, food trips, travel, photo stories, or tips in Dubai to our growing community. More information here – Become a Dubai OFW Contributor!