Accruing a total of over 110 visa waivers mostly in the last three years, the UAE's travel document has been honored by Passport Index as the greatest passport of the decade based on a report that measures the global mobility score of nations.
Clinching the top spot with an outstanding 161 percent increase in passport power and with a record-breaking 179 in mobility score, the UAE passport also marked the meteoric rise in the country's diplomatic power.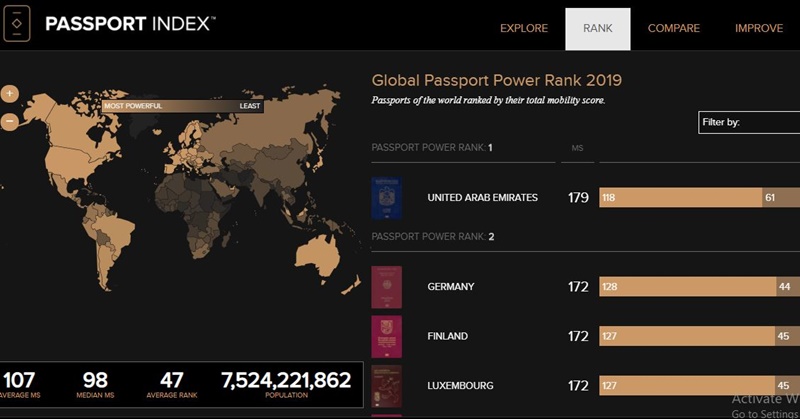 UAE Passport Hailed as 'Greatest Passport of the Decade'
According to the report shared by the Khaleej Times, the Passport Index noted that since the inception of the Passport Force Initiative in 2017, they have closely followed and documented the progress of the UAE passport. As the UAE's goal to rise within the top 5 was achieved three years ahead of time, their momentum and mission grew stronger as they surpassed other equally powerful countries to reach 1st place before the end of 2018.
Among the other top climbers, Taiwan and Ukraine followed the UAE in second and third positions and island nations like Vanuatu and Timor Leste are among others who scored high, setting a new trend in global mobility, the report shared.
The report also noted, "Triumphing and maintaining the lead for over a year to date, the UAE's meteoric rise became one of the most intriguing examples of an accomplished national goal."  
It can be noted that the UAE overtook Singapore and Germany to become the world's most powerful passport in December 2018. With this status, UAE passport holders last year could gain entry to 167 countries without obtaining a prior visa, including visa-free entry to 113 countries and visas on arrival in 54 countries.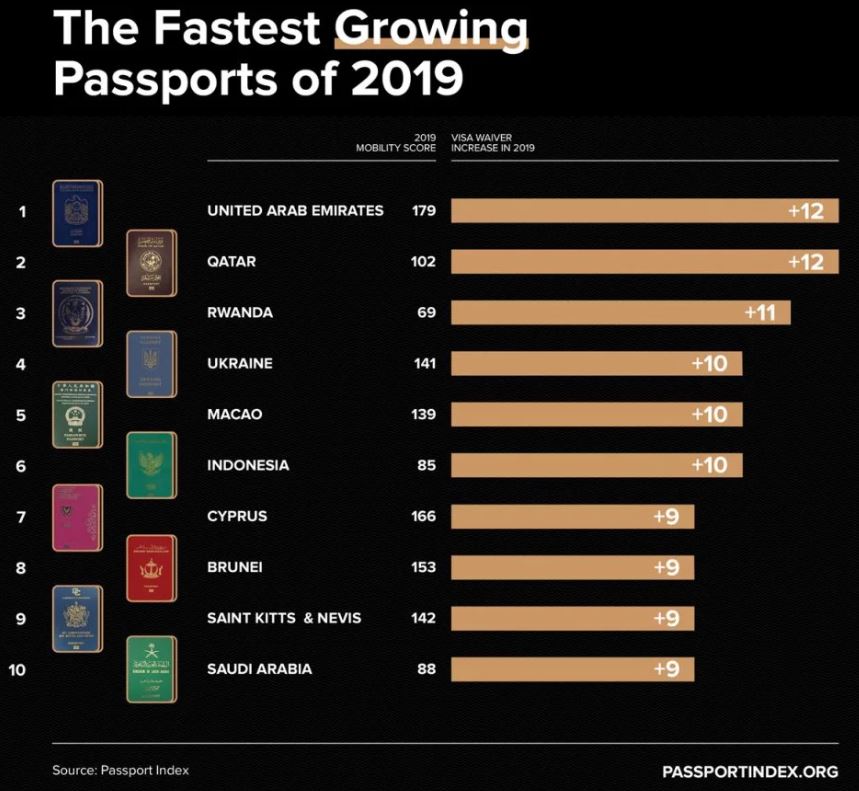 Commenting on this feat, Sheikh Abdullah bin Zayed Al Nahyan, the UAE's Minister of Foreign Affairs and International Cooperation said: "This achievement is a true reflection of the legacy of Sheikh Zayed, the founding father of the UAE. It also underscores what can be achieved through positive diplomacy, reflecting the UAE as a confident and engaged force at the global stage."
With this distinction, the benefits that come with the Greatest Passport of the Decade include having the most mobility, with the passport gaining a total of 111+ visa waivers in the last 3 years. Emirati passport holders can now travel either visa-free or receive visa-on-arrival in 90 percent of the world.
Congratulations to the UAE government and to the entire nation for such a culminating feat in terms of mobility and international diplomacy during the last decade!
ALSO READ: Good News: UAE Citizens to Enjoy Visa-free Entry to Kiribati Soon